VOA's Free App for Mobile and Tablet Devices
Our mobile applications are available for iPhones, iPads, iPod Touch, phones/tablets that use Android and Symbian mobile devices.
Customization for more than 40 international languages and dialects including English
Enjoy photos, video, audio and text content
Integrated proxy available in the settings to get around Internet blocking
Breaking news notifications
Stream radio podcasts without downloading
Save download time and data costs with the Low-Bandwidth mode in the settings
Download content for offline reading, watching, and listening
VOA Mobile Streamer App
The free, *official* VOA Mobile Streamer application serves broadcast audio news in more than 40 different languages to your Android phones and iPhone. VOA (Voice of America) operates one of the world's largest international news media networks on TV, radio and digital properties with a total weekly audience of more than 200 million people in countries including Africa, The Middle East, Asia and beyond. VOA produces more than 2,100 radio and tv broadcast hours of content a week and this application showcases the best of those programs. To do this, VOA employs more than 1,100 full time staff and thousands of journalists around the world, focused on countries without a free or established press or free and open internet access.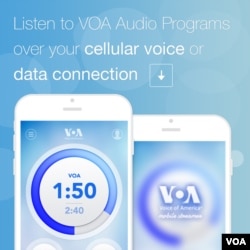 Download VOA News app from the iTunes store
Download VOA News app from the Google Play store
VOA Mobile Streamer features:
Listen to hundreds of radio news programs on-demand in more than 40 different languages
Hear radio broadcasts streaming live in dozens of languages
Choose between listening to audio over your phone cellular connection or data connection to save money and bandwidth
Save download time and data costs with the Low-Bandwidth Mode in the settings
Share your favorite audio by e-mail, Twitter, Facebook, Google+ and other social media services