Student Union
Rights Protection Group Sues US Over New Campus Sex Assault Rules
Saying Secretary of Education Betsy DeVos has created a double standard that is devastating for survivors of sexual harassment and assault, the American Civil Liberties Union (ACLU) filed a lawsuit Thursday to block recently published rules on handling campus assaults.
The rule changes published last week "slash schools' obligations to respond to reports of sexual harassment and assault" and create a "second-class standard for reports of sexual harassment and assault," the lawsuit claims.
The ACLU filed the suit on behalf of four advocacy groups, including Know Your IX (a reference to the 1972 education law known as Title IX) and Stop Sexual Assault in Schools, to block DeVos' rule changes before they are implemented August 14.
"Betsy DeVos has created a double standard that is devastating for survivors of sexual harassment and assault, who are overwhelmingly women and girls. We are suing to make sure this double standard never takes effect," Ria Tabacco Mar, director of the ACLU's Women's Rights Project, said in a statement.
The U.S. Education Department issued the new rules that modify Title IX, a law that prohibits "discrimination based on sex in education programs or activities that receive federal financial assistance."
The new provisions bolster the rights of due process of the accused, reduce legal liabilities for schools and colleges, and narrow the scope of cases schools will be required to investigate.
DeVos argued that the new rules would replace policies from the Obama administration that pressured schools to violate the rights of accused students.
"This new regulation requires schools to act in meaningful ways to support survivors of sexual misconduct, without sacrificing important safeguards to ensure a fair and transparent process. We can and must continue to fight sexual misconduct in our nation's schools, and this rule makes certain that fight continues," she said in a statement last week.
The ACLU and law firm Stroock & Stroock & Lavan LLP challenged her assertion, saying in a released statement that, "the rule subjects reports of sexual harassment to a different and more skeptical review than reports of harassment based on race, national origin, or disability," and will lead to 32% fewer reports of sexual harassment and assault.
The suit also argues that under the new rule, schools will not be required to investigate alleged sexual assault incidents that happen off-campus or during a study abroad program. A study published five months ago by the American Psychological Association found that students experience a significantly increased risk of rape and other forms of sexual assault while studying abroad in non-English-speaking countries.
"The new Title IX regulations are a blatant threat to the years of work to create safe, supportive academic environments for students across the gender spectrum," Ashley Sawyer, a policy director at Girls for Gender Equity, said in a statement. "We want to do everything we can to ensure that the true spirit and original intent of Title IX remains, to ensure that everyone has meaningful access to education, without being hindered by sexual violence."

See all News Updates of the Day
Want an MBA from a US School? Here's How One Man Made It from Indonesia to Wharton
A student from Indonesia writes about his path to studying for an MBA at the Wharton School of the University of Pennsylvania. Among his suggestions: apply to a range of schools and craft a compelling personal essay. Read more here. (August 2023)
Academic Integrity in the US: What International Students Need to Know
International students have many things to learn about the U.S. when they arrive on American campuses. U.S. News & World Report delves into a less-common topic: academic integrity.
The magazine explores basic expectations at many U.S. schools, including how to use quotes and citations in papers, how to avoid plagiarism and navigating artificial intelligence pitfalls.
Read the full story here. (August 2023)
Chinese Interest Grows for US Study Tours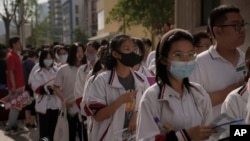 A surge in inquiries from China for overseas study tours to the U.S. suggests that parents of children from primary to high school are willing to pay the big money so their offspring can have an American classroom experience during their summer vacations.
Yvonne Shi, director of Offer Education Consulting in El Monte, California, said study tours offer children authentic American courses, the experience of living with American families or in school dormitories, a variety of extracurricular activities, English classes and visits to schools where they could enroll full time.
Shi told VOA Mandarin that this year, despite the simmering tension between Beijing and Washington, "the number of inquiries we got has increased exponentially compared with that during the pandemic."
She added, "We have also noticed that the age of the children studying abroad is getting younger. In the past, the main market for study tours was in high schools, and in recent years, it has gone into junior high schools and even elementary schools."
Shi and others who help Chinese parents to plan overseas study tours said most of the children are sent to study abroad so that they can experience the education methods and systems in the U.S. to broaden their horizons. Some parents hope the summer experience will serve as the first step to future full-time studies in the U.S.
For other parents, the consultants said, summer tours that focus on athletics are a bigger draw than academics. The athletic programs are designed to expose children to different training techniques than they might have in China and improve their skills.
The tours offer opportunities to play with local sports teams at professional venues. But as is true of the academic tours, the athletic tours usually include visits to a school where the children could enroll full time.
Unless the children enroll in courses for credit, which would require a student visa, the children come to the U.S. on tourist visas, according to the consultants, and return from both types of tours with improved English language skills.
Faith Li is a mother from Hangzhou, in China's Zhejiang Province. She decided to send her son, Caleb Lu, to an American high school after he participated in a summer program at San Gabriel Christian School in San Gabriel, California, in 2016.
Today, the school's website offers information for international students who want to enroll fulltime with a tuition of $24,750 plus fees as, well as information about the 2024 summer program.
"I [was] really not interested in the education methods in China," Li told VOA Mandarin. "When my son was a child, he went to an elementary school with a good reputation. The class was overcrowded, with more than 40 students in one class, and we had to give the teachers red envelopes with money on various holidays.
"Sometimes, at parent-teacher meetings, the teachers were not direct with what they meant, and you would have to guess what they really wanted to say. … The school's education method was not diverse, just like cram-feeding. They only evaluate students with test scores," she said.
Now, Lu is enrolled at Pacific Union College, a private liberal arts college in Angwin, California. He's pursuing a double major in pharmacology and business at the school, which is affiliated with the Seventh-day Adventist Church. He wants to pursue a doctorate in pharmacology from nearby Loma Linda University, which is affiliated with the same Christian group.
Li said, "We made a plan for him to study in the U.S. in 2016. Because only private schools in the U.S. could issue F1 visas, we applied for a private high school."
After Pacific Union College accepted Lu, Li said she and her husband moved to the U.S., where the family attends church every week.
Lu said that the education methods and learning environments in the U.S. are very different from what he experienced in Hangzhou, where he attended primary school before coming to the United States to attend high school and college.
"In China, when teachers teach, there is only one correct answer, which is what the teachers tell you," he told VOA Mandarin.
"In the U.S., we can have free discussions," he said. "Usually, my classmates and I will read articles together and have group discussions, and everyone will have the right to speak.
"Even when the teachers are teaching, we can ask questions, and the teachers encourage us to actively participate in class discussions to find answers," Lu said.
Congress Could Stall a Landmark Research Funding Bill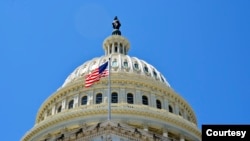 The CHIPS and Science Act was signed into law a year ago and promised billions of dollars in funding for science at U.S. colleges and universities. However, Congress is already falling short of the funding targets called for by the legislation, instead focusing on investments in America's semiconductor industry.
Katherine Knott explains the situation for Inside Higher Ed. (August 2023)
Financial Savvy for International Students in US