Student Union
The U.S. in Words #9: All Good Things Come to an End
The ninth in a series looking at U.S. life and culture through its idioms. View previous entries.
All good things come to an end = English idiom
I've just finished my program at Susquehanna University. Even though my column is called "The U.S. in Words," there are hardly enough words to explain how I feel.
When I first heard I had gotten a Fulbright Scholarship to come to the United States, I knew I would fall deeply in love with this country. I always expected it would be hard to leave, but the moment to do so was always distant enough for me to forget all about it. But time flew, and now it's time to go home—and I was right, I
do not
want to leave. And yet, I know that, for a lot of different reasons, I have to.
When you finish up your time studying abroad, I guarantee you will feel something like
this weird and confusing conflict
between staying and going.
Why I don't want to leave
Reverse culture shock
Everybody told me about the culture shock I'd experience going abroad, but no one mentioned that there would also be
reverse
culture shock. I have changed so much that when I go back home, I assume I will find
everything is different
—my country, my family, my house, my friends—now that I am looking at them with new eyes. That isn't in itself bad, but it is definitely challenging.
Re-adapting to old habits
, from the simplest things like meal times to the most complex ones like new family dynamics, is scary.
Plus, after a year living abroad, I've gotten used to so many things that are uncommon in my country that leaving all that behind and learning to live without them will be difficult too. Going home seems like it should be a return to the familiar, but all of a sudden it seems to also present so many unexpected challenges, and I
will have to adapt once again
, just like I did when I arrived in the U.S.
Unemployed
I have a serious practical worry about going home as well, which is that once I get back to Uruguay,
I won't have a job
. I had to quit my old job, which was quite stable, in order to come here. The thought of going back and having to depend on my parents after being independent for so many years just freaks me out!
And it's not only about having my own money. It's also about putting my head to work; I need to be busy, and I don't know what I will do without a job to focus my energy on. I'm afraid of falling into a lethargic state of mind.
I expect that my experience in the U.S. will contribute to getting a good job in the future, but the job search will be particularly difficult at this time of the year since I'm in education, and the school year In Uruguay started in March. I trust that I am well-prepared enough to be able to find something temporary, like a substitution, while I wait for the beginning of the new year, but it's still a scary prospect to be job-hunting again.
O lands! O all so dear to me—Walt Whitman
Oh dear, will I miss traveling! I was able
to travel so much
during my year here, thanks to a combination of hard work, lots of vacation time, a good stipend, and the stubborn determination to spend every penny and free second getting to know this massive country. I've visited more than ten states, several cities, and innumerable landscapes and landmarks; I've flown, sailed, ridden trains, buses and bikes, and skated my way around; I've met exceptional people.
I simply won't be able to do that as easily once I go back to Uruguay, even assuming I can get a job. The 20 hours a week I worked in the U.S. is only equivalent to a part-time position in Uruguay. In addition, salaries are also very different, so I'd probably have to work at least twice as many hours when I go back in order to make what I made here. What's more, airfares from Uruguay are very expensive, adding another reason why going abroad on vacation is less likely.
Speaking English
Even though I've been teaching Spanish in Pennsylvania, and I am a teacher of English in Uruguay, I will miss speaking in English for everyday situations.
Grocery shopping
in English,
watching sports
in English ... everywhere I go here I learn something new about the language, and I am going to miss that very much.
Sheer fear
Besides all these rational reasons that I'm nervous about leaving or wishing I could say, there's something else: truth be told, I'm terrified. I'm scared that I'll go back and slack off into old habits and lose all
the determination I've collected to do more about my future
. I'm scared about facing the ex-boyfriend I ended things with during my time here. I'm scared of going back to live with my family and whether that's going to work. I'm afraid that my friends will think I've changed too much, or worse, that they'll get tired of hearing me talk about what things were like here. It's simply overwhelming to think about what it will really be like returning to all these things.
And yet, I feel very strongly that I
need
to leave, no matter what my emotions are doing to me whenever I think about it. After a year in the States, it's time to go back to Uruguay for a bit.
Why I need to leave
I miss my friends and family
I've been away from my family and old friends for almost a year, and even though I've made my own family and fantastic friends here, there are some things my family and friends back home can give me that I can never get here. I need to feel to the comfort of being surrounded by people who know me really deeply and who understand me: friends who won't be shocked if I kiss them in the cheek, a mom who will cook my favorite foods, a dad and a brother who will watch my favorite movie with me - all the people with whom I can share a single look and that's enough for us to understand each other.
I've been lucky that my mom has been able to come visit me this year, and each time it has only reminded me even more how much I miss these things! Besides, I can't wait to share with them all the wonderful experiences I've had in the U.S. this year!
Unfinished business
One thing I decided this year is that I want to continue studying abroad in the future. I've already
begun thinking about where I want to apply
and chosen a couple of programs. But if I want to make this a reality, I need to go back and finish things I left incomplete when I came here.
I was working on a Master's degree before I left for the U.S., and I would like to finish that degree to make sure I have other possibilities for my future in case I don't get accepted to a grad school abroad on my first attempt. And even if I do, having another degree will help me develop as a professional, whether that's in Uruguay or anywhere else. I was also working on an article about English as a Second Language that I was planning to submit for publication to a magazine, and I'd like to get back to that. Again, it's something I was working on in my professional life which will always help in my career because each project gives me a particular kind of experience.
Giving back
I learned a lot in my time teaching and studying in the U.S., and I want to share that with my professional community back home. I am an ESL teacher (English as a Second language) and the cultural experience of studying in the U.S. is something that my ESL colleagues and students in Uruguay teach and learn about. But not all of them have been able to experience it like I have. I think it will be enriching to exchange that experience with them, and the best way to do it is by
being
there with them, showing them as curiosity or necessity emerges; not just writing an article or giving a presentation about my year abroad.
Go
out to
take
in.
I have seen so much, heard so much, smelled so much, tasted so much, touched so much, experienced so much, learned so much,
breathed
so much, that only if I get away from the source of so much stimuli, will I be able to actually take it all in and understand what it all has meant to me.
I am already quite aware of many of the things I have learned while being here about
cultural differences with the U.S.
and other countries; about English, Spanish and other languages; about places and people; about work and academia; and about myself especially. But I am also sure that when I go back home, these things will take on a different dimension, and many things that don't strike me as extraordinary now will end up being more important when I think back on my experience.
No matter how much I think I have learned about myself, I think that I will keep on learning more once I have time to stop and actually process everything I've gone through.
Anyway, whether I want to leave or not, the fact of the matter is that I
am
leaving in a matter of days. Eventually everything comes to an end. And it is a good thing, because things that end leave room for things that begin; at least that's how I try to see it. I believe my future is full of possibilities that will emerge as I make space for them to happen, so I'm willing to face all my fears, connect back with my roots and give this astounding experience the best closure it could have had.
See all News Updates of the Day
Check Out These Lesser-known Scholarships Available to International Students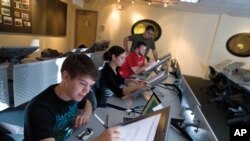 Most students looking to study in the United States are already familiar with prospects for financial aid, but there are some lesser-known scholarships available.
The Times of India has compiled a listing of scholarships — many offered by individual schools — that can benefit students from other countries. (August 2023).
Despite Challenges, Afghan Refugee Students in the US Are Thriving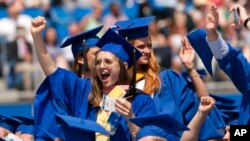 Two years after the Taliban took Kabul, Karin Fischer of the Chronicle of Higher Education profiles a group of Afghan women at the University of Delaware who fled Kabul.
After learning English, mastering U.S. cultural norms and surviving the trauma of separation from their families, these students are now mentoring other new arrivals. (August 2023)
Know the Details, and Risks, of Student Loans
After School Africa takes a look at student loans and international students.
"Normally, many people do not like the idea of loans, and it is not the first option in the minds of many people," the article notes. "However, student loans can be the only option for some students who want to actualize their goals."
Read about the various types of student loans, and their potential risks, here. (August 2023)
Want an MBA from a US School? Here's How One Man Made It from Indonesia to Wharton
A student from Indonesia writes about his path to studying for an MBA at the Wharton School of the University of Pennsylvania. Among his suggestions: apply to a range of schools and craft a compelling personal essay. Read more here. (August 2023)
Academic Integrity in the US: What International Students Need to Know
International students have many things to learn about the U.S. when they arrive on American campuses. U.S. News & World Report delves into a less-common topic: academic integrity.
The magazine explores basic expectations at many U.S. schools, including how to use quotes and citations in papers, how to avoid plagiarism and navigating artificial intelligence pitfalls.
Read the full story here. (August 2023)