Student Union
Asian-Americans Largest Group of Naturalized Immigrants
Applications for citizenship have steadily increased in recent decades, and Asian-Americans have the highest naturalization rates in the United States, according to the Department of Homeland Security (DHS).
Thirty-five percent -- or 261,374 of the 730,259 new Americans in 2015 -- were Asian-American. Legal permanent residents, or green card holders, from India, Philippines and China were among the top nationals applying for U.S. naturalization.
The countdown to become a naturalized citizen begins when an immigrant obtains a green card. The green card program gives them "permanent resident" status, allowing them to live and work in the U.S. After five years, a permanent resident can apply for naturalization. If they became legal residents by marrying a citizen, the wait is three years.
Naturalization, or citizenship, gives new Americans the right to vote, a U.S. passport, and the right to hold elected office in most states and counties.
But only a small fraction apply. In 2013, 8 million people were eligible to become citizens, DHS said. One reason is cost, said Marita Etcubanez, director of strategic initiatives at AAJC. Citizenship applicants must pay $725.
Soo Yee moved to the U.S. from South Korea in 2000 on a student visa. She has a bachelor's degree in psychology from the University of Maryland and a master's degree in health education from Baylor University in Texas.
[For more stories about student visas, see here.]
After she became a naturalized U.S. citizen, she sponsored her parents to emigrate to the U.S. Now they live with her in Virginia.
She is the president of Korean American Outreach Group and is a certified health education specialist, consultant and educator.
"Without their support, it's difficult for me to work," said Yee, a certified health education specialist, consultant and educator.
She is also the founder of the Korean American Outreach Group, which helps other Asian immigrants with green cards to apply for naturalization. Without her parents, Yee said at a weekend meeting, "I wouldn't be here on a Saturday morning."
Organizations, such as the Asian Americans Advancing Justice Center (AAJC), where Yee also volunteers, frequently hold citizenship clinics to help green card holders navigate the process.
The AAJC clinics are part of a nationwide initiative called the New Americans campaign, funded by private foundations that help community groups help as many immigrants as possible to naturalize.
Relatives and government jobs
Twenty volunteers at a recent clinic in suburban Maryland helped immigrants check in, fill out a 20-page form, and verify necessary documents.
"I understand how difficult it is. Even for myself … every time I try to fill in any government application, it's overwhelming," Yee said. She received the same assistance when she was applying for U.S. citizenship.
"[I tell them] every angle of their lives matter [when] they're citizens because it's the only way they can voice their needs," Yee said. "They gain the ownership of where they live. And the more Asians get citizenship [status], that means more votes. That means more power to address their voice."
Most Asian applicants like herself, Yee said, are most interested in sponsoring relatives or getting federal government jobs.
Yee and other advocates said the Asian community sees federal employment as steady income, good benefits and stability for the family.
Surge expected
Etcubanez projects a surge in naturalization applications in the coming months.
A lot has to do with fear, she said, about President Donald Trump's executive orders to ban travelers from six nations and to stop illegal immigration. A set of guidelines issued in February by DHS Secretary John Kelly expanded the priority list for immigrants who face immediate removal, summarized a plan to hire thousands of enforcement agents, and assigned local authorities to act as immigration officers to apply immigration laws.
Green card holders are not generally subject to arrest and deportation, but Etcubanez says, "Folks are concerned."
Citizenship seems like a safe harbor.
"Once you become a U.S. citizen you don't have to worry about deportation," Etcubanez said. "You're not in danger. You don't have to worry about jeopardizing your immigration status in any way, right. You're set."
See all News Updates of the Day
Grad Student from Pakistan Reflects on New Life in US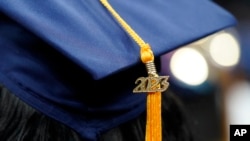 Aisha Lakhani, a graduate student at Anna Maria College, talks about the path that led her from Pakistan to the school in Paxton, Massachusetts.
She's studying counseling psychology and working with students as a residential specialist, a role in which she creates events and supports students. She talks about her experiences here. (September 2023)
Test-Optional Admissions Could Worsen Inequality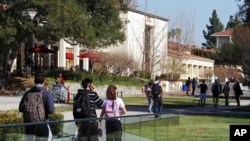 Many colleges no longer require admissions tests like the SAT. They say the tests don't meaningfully measure intelligence and are easily gamed by wealthier or more privileged students. However, it seems wealthy students are still taking the tests, while poorer ones are forgoing them. Since the tests are still weighed in admissions, the result may be an even larger admissions gap. Maggie Bigelow argues for getting rid of the tests altogether in The Hechinger Report. (August 2023)
By the Numbers, College Is Still Worth It
Writing in the Baltimore Sun, Jay A. Perman, chancellor of the University of Maryland system, says that despite falling enrollments and public trust in universities, graduates still earn more, live longer and happier lives, and even volunteer more often.
Read the op-ed here. (September 2023)
Should We Rethink the College Syllabus?
Syllabi used to be an intellectual map, showing students what they could expect to learn. But academic and video game designer Ian Bogost argues that syllabi have become boring, rote and describe college policies and regulations instead of academic material. Read his argument in The Atlantic. (August 2023)
International Students Detail US Workplace Culture Shocks
International students at Michigan State University talk about workplace culture shocks in the U.S.
Sophomore Shreshta Sinha of India, who's studying computational and cognitive neuroscience, says that unlike India, the U.S. tends to stress work over education.
Read the full story here. (September 2023)