Student Union
Bannon to Speak at Berkeley 'Free Speech' Event
Former White House chief strategist and Breitbart editor Steve Bannon has been invited to speak at the University of California-Berkeley's "Free Speech Week" at the end of September.
Bannon was invited by the event organizer, the Berkeley Patriot, a conservative student group.
This year, the campus has become engulfed in protests over planned speeches by conservative commentators and has struggling to ensure security. This week, the school said it spent $600,000 on security measures, deploying scores of extra police to protect a speech by Ben Shapiro, a conservative writer.
Next week could see even bigger security measures.
Speakers denounce restrictions
Conservative commentators Milo Yiannopoulos, Ann Coulter and Steve Bannon are expected to speak during four days of events marking "Free Speech Week."
Universities have struggled over how to ensure security at such contentious events, in some cases canceling them after worries that police were not equipped to handle angry crowds. The issue is especially potent at Berkeley, a school is famous for its role in free-speech protests in the 1960s that turned student protests into national debates.
Some conservatives see the focus on security as a way to restrict speech.
"The greatest threat to your future, the greatest risk to the American republic, is from the unprecedented assault on free speech committed by the media, Silicon Valley, politicians, Hollywood producers and the Academy," Yiannopoulos announced on his YouTube page.
Berkeley's policy is not to deny any student group their choice of speaker. However the university's student newspaper Daily Californian reported Tuesday that the school had yet to receive confirmation on when and where Bannon will speak.
The school also has not received the necessary contract filing from the Berkeley Patriot, specifying the event and security needed, according to university spokesperson Dan Mogulof.
He said the police "can't do their job without the information that they rely on." The Berkeley Patriot said all but one document of the paperwork has been filed.
As of Friday evening, the university had not indicated if the event had made the required deadline.
Security worries
Berkeley requires the on-campus organization to submit a contract eight weeks before the event. Mogulof said the university gave the Berkeley Patriot an extension, but the contract needed to be submitted by late Friday afternoon.
"They've missed every single deadline and time is running out," Mogulof said.
In February, the Berkeley campus erupted in protests the night Yiannopoulos was scheduled to speak at an event hosted by the school's College Republicans. While Yiannopoulos' campus speeches drew protests at other universities, the February incident at UC-Berkeley turned violent.
Groups such as antifa (short for anti-fascist) and other left-wing protesters looted Berkeley's streets in the hilly city outside of San Francisco.
"What happened around the Yiannopoulos event was unprecedented," Mogulof said.
The incident got so much coverage, President Donald Trump weighed in on Twitter.
"If U.C. Berkeley does not allow free speech and practices violence on innocent people with a different point of view - NO FEDERAL FUNDS?" the president tweeted.
"Our police department did a comprehensive review and has adapted accordingly," Mogulof said, "We want these students to have a safe and successful event."
He said campus police will stop people wearing masks and arrest anybody who refuses to take them off.
Tolerating offensive speech
Conservatives are not the only ones who have been silenced by Berkeley in recent years. In 2014, liberal talk-show host Bill Maher was uninvited from giving the commencement speech at university's December graduation. The Berkeley administration did not honor that vote and Maher delivered the speech at the December graduation.
"The UC Berkeley administration cannot and will not accept this decision, which appears to have been based solely on Mr. Maher's opinions and beliefs, which he conveyed through constitutionally protected speech," the school said in a statement to CNN in October 2014.
"The law is extremely clear, that these speakers are protected by the First Amendment. They have every right to be here," Mogulof said, "We have no discretion and we want no discretion when it comes to the First Amendment."
In February, Yiannopoulos' appearance on campus ignited violence between supporters and counter-demonstrators. Faculty members sent a letter to then-Chancellor Nicholas Dirks, asking him to cancel Yiannopoulos' event.
"We support both freedom of speech and academic freedom on campus and realize that controversial views must be tolerated in any campus community dedicated to open debate and opposed to censorship," the letter stated.
"Although we object strenuously to Yiannopoulos' views— he advocates white supremacy, transphobia, and misogyny — it is rather his harmful conduct to which we call attention in asking for the cancellation of this event."
The university canceled the event, citing safety concerns.
With news of the appearance of Bannon and others, 132 UC Berkeley faculty members have called to boycott classes and other campus activities during "Free Speech Week."
UC Berkeley's Chancellor Carol Christ advocates varied voices on campus and says she is tolerant to peaceful protests.
"If you choose to protest, do so peacefully. That is your right, and we will defend it with vigor. We will not tolerate violence, and we will hold anyone accountable who engages in it."
See all News Updates of the Day
Psychologists at Virginia University Aim to Make International Students Feel at Home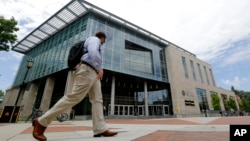 Virginia Commonwealth University has two staff psychologists specializing in intercultural issues. Their mission? To help international students adjust to life in the U.S. as seamlessly as possible. Read the full story here. (June 2023)
Are Declining Enrollments in the US a Hidden Opportunity for Students Abroad?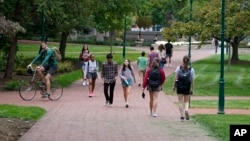 Allen Goodman, CEO of the Institute for Higher Education, writes that empty seats at U.S. colleges could drive a boom in international education. The U.S. has lost market share among host countries, but unlike its competitors, its university system is so large and underutilized that it could easily recruit more students. Because international students become "friends for life" with the U.S., and bring valuable expertise (and tuition dollars), Goodman argues the U.S. should recruit 2 million students by the end of the decade.
Weigh his argument for yourself in Times Higher Education. (May 2023)
What Could a Bitter Lawsuit Tell Us About International Education in the US?
In 2010, the University of South Florida signed a 30-year contract with INTO, a company that provides support services for international students. INTO built a "pathway program" at the university that taught students English and basic academic skills before they began their higher-education degrees. But after years of enrollment declines, the university ended the contract, and now both parties are fighting an "acrimonious" court case. The news comes as many of INTO's programs at other schools are being shuttered. While management and financial issues may play a role, so does the post-pandemic educational landscape: pathway programs can now be easily offered online.
Liam Knox of Inside Higher Ed has more. (May 2023)
Croatian Student Earning Simultaneous Ph.D.s in US, Croatia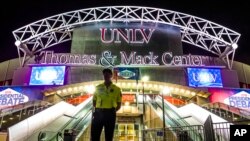 A Croatian student is earning two Ph.D.s simultaneously, one in Croatia and one at the University of Nevada, Las Vegas.
Borna Nemet spends his days at UNLV studying educational leadership and effectiveness. At night, he uses Zoom to teach students at the University of Zagreb in Croatia. Read the full story here. (May 2023)
It's Graduation Season – Who Might Speak at Yours?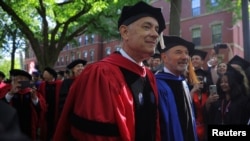 U.S. graduation ceremonies usually feature a public figure who offers advice to young people starting their careers. This spring, graduates have heard from President Joe Biden, actor Tom Hanks, Nobel Peace Prize winner Maria Ressa and even Ukrainian President Volodymyr Zelenskyy. Finnish Prime Minister Sanna Marin, who became the youngest prime minister in the world at age 34, told her audience that change cannot wait, even at their age. "To change things," she said, "you have to take over."
Read the story from Dan Friedell of VOA Learning English. (May 2023)