Student Union
Can't Live Without It
Ten silly things I already miss about the U.S.
Having lived in a foreign country for almost an entire year leaves a mark in who you are, and as a consequence, there are innumerable experiences that are unforgettable. I miss every person that cared for me, every friend I made, I miss every day of my life at Susquehanna. Nonetheless, I am also blissful at home, catching up with everything I missed, seeing my friends and sharing stories, and kissing and hugging a lot—something so typical of my culture that I incredibly missed it. However, there were a few everyday things back in the U.S that made my life so easy that it's hard not to miss them right away. So here's a ranked list of those silly—but oh, incredibly useful—gadgets, services or customs that I really, really miss.
10. Respect of traffic rules
Here in Uruguay nobody seems to care about traffic signs, pedestrians, or other drivers for that matter. I've heard tons of stories about the Italians' bad-driving habits—well, we must have inherited them somehow. As a good friend of mine would say, stop signs become simple "stoptionals" where people only yield if they feel like doing so. Pedestrian crossings are more respected in smaller cities, but in a big city like Montevideo, you shouldn`t dare to cross one of them if you want to survive the walk. But that's not all—motorcycles and bicycles have taken the streets to themselves, neglecting traffic lights altogether and riding one-way streets in the opposite direction. Having driven in these conditions since I was a teenager, I immediately adapted, but I can't say I don't miss the strict organization of streets and highways alike, and the general respect that drivers have of traffic rules and other people— whether they`re on wheels or on foot.
9. Efficient online shopping
Pick the color, the model, and click—and you`re ready. And three days later it's in your house. With this method, I bought a camera, clothes, Latin foods, books, magazines, gadgets, presents, and more. It was so simple! Online shopping
does
exist in Uruguay, but in a country as small as the state of Washington, a three-day delivery seems hardly efficient, aside from the fact that only high end stores have online shopping.
8. Refills – especially iced tea!
Seriously? Can I have some more and not pay more for it? Forget it! Refilling wouldn't work out as a marketing strategy in Uruguay, since restaurants probably would lose money. I quickly got used to servers' starting you out with drinks and then filling them without asking every time they see the glass (almost) empty. I especially loved drinking iced tea, and my glass was never empty. To top it all, if I was on a budget, I could always drink water for free, which I can't do here. In spite of this, I was astonished when I met a friend for a typical
merienda
on my first days in Uruguay and the waiter announced that coffee, tea and milk could be refilled as many times as we wanted.
7. Doggie bags
It was completely normal to ask your server to put your leftovers in a container for you to take home when I was in the U.S. Here, however, asking for a doggie bag can be very badly viewed, even though the servings are huge, and you are unlikely to finish the whole plate.
6. Sunday brunch
Aww... I think about Sunday brunch with my friends, each of us contributing with something, or a late brunch after a night out in New York, Boston or Philly, or a touristy brunch tasting the typical flavors of a certain region, like when I went to New Orleans. Sunday brunch was always an excuse to catch up with friends, to have a great time, and to eat more than necessary. I have recreated part of those delicious brunches here at home, but I can't get the company I used to have or the thrill of eating a new brunch in a new city.
5. Bus schedules, screens and stop-requesting wires
Well, traveling is a part of my everyday life—I commute for a couple of hours each way to and from work. For this reason, I am more than familiar with the roads that the buses take, where I'm supposed to get off and at what time I'll arrive. Nevertheless, I find myself in trouble when I have to take a bus I've never been on. I would get easily lost weren't it for the driver's willingness to help me out. This was a lot easier when I was in the U.S., since in most of the places I visited, there was a schedule in every bus stop and on the bus, and there were screens to let you know what corner you were approaching, which made it a lot easier. On top of that, you could request the stop directly from your seat and get up once the bus had drawn to a stop, which was extremely useful when I had to see a certain landmark in order to find out the correct stop.
4. Debit cards and split checks
I got so used to paying with plastic that carrying cash seems now obsolete and even dangerous. I've tried to pay with a debit card several times, each with little success. If it's difficult just paying with a debit card, imagine trying to split a restaurant check! When I go out with my friends, we always end up making calculations and paying to the one who has the largest bill or the one who pays credit.
3. Public Restrooms
O.K. It's neither that every single place in the U.S. has spotless bathrooms for public use, nor that every bathroom in Uruguay is for private use. Here, malls have clean bathrooms. Most restaurants have decent ones too, but you can only use them if you eat there; same thing goes for cafes and the like. There's no Starbucks to go to just to use the bathroom without buying its coffee. So if you often feel like you're going in your pants, you'd better start learning to hold that soon. I remember stopping at a random cafe or store in most cities in the U.S. to use their bathrooms, but the good part was not only being able to use them—it was the accoutrement in them: paper seats and motion-activated taps, soap dispensers and hand dryers.
2. Wifi and power outlets
Oh, wifi, I miss you so! In my cellphone, on the bus, at restaurants and stores, everywhere!! As I mentioned before, I commute to work, and I use that time to work or study, for which I desperately need good Internet connection. Unfortunately, I haven't been able to get a connection whatsoever. For me, being connected all the time when I was in those northern lands was of great help: I used the Internet to get oriented when I was traveling, to stay in touch with my family, to read work emails while I was away, and for many other reasons. It was so easy that I got used to it immediately and I find it hard to live without it now, even though it sounds silly. Interesting as well was the possibility to plug your phone or computer wherever you were, from an airport departure lounge to a public restroom.
1. Prices! (Or, should I say, shopping!)
Thinking that a $30 pair of jeans or dress is expensive is a habit I need to drop A.S.A.P. I found my country extremely expensive after buying $10 tees and renting a hybrid luxury car for $80 a weekend. Shopping is one of the activities that I did often while I was living abroad that I won't be able to do as heavily for a while. Of course, I have also ranked things that I found back at home that I didn't find in the United States and probably wouldn't find anywhere else, but that is for another blog post. ;)
See all News Updates of the Day
Neglecting Nutrition and Exercise can Cause Problems for College Students
In the rush and excitement of American college life, it's easy for students to ignore the basics of good nutrition and regular exercise.
But University Press warns that inadequate nutrition and exercise can affect mental and physical health, social life and academic performance. (November 2023)
US College Football Traditions Can be Lost on International Students
American-style football is a big part of college life on many campuses – with chants, songs, rivalries and homecoming celebrations.
But the celebration can be lost on international students, who aren't typically familiar with the sport. The World reports Colorado State University offers a noncredit course to help students understand American football. (November 2023)
Donor Threatens to Withdraw $100 Million From University After Congressional Hearing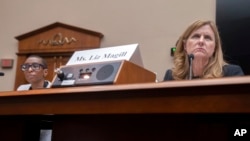 A University of Pennsylvania donor has threatened to withdraw a $100 million donation from The Wharton School, the university's business school, following the appearance of the university's president before Congress.
University of Pennsylvania President Elizabeth Magill appeared before Congress Tuesday along with leaders of two other Ivy League schools - Harvard President Claudine Gay and Sally Kornbluth of MIT.
During a hearing, none of the presidents answered "yes" or "no" to the question: "Does calling for the genocide of Jews violate [your university's] code of conduct or rules regarding bullying and harassment?"
All three presidents told the panel that they did not condone antisemitism and were taking steps to prevent it on campus, but on the specific question they cited free speech rights and said any discipline would depend on the specific circumstances.
Hate speech and acts — both antisemitic and Islamophobic — have erupted on U.S. college campuses since the Hamas-Israel war began in October.
All the presidents have received criticism because of their refusal to give a definitive answer to the question.
Stone Ridge Asset Management CEO Ross Stevens says he will withdraw his donation, now worth $100 million, to the Wharton School's Stevens Center for Innovation in Finance if Magill is not removed from office.
Proposal Would Remove Student Aid for Those Who Support Some Palestinian Groups
A Florida lawmaker has proposed eliminating scholarships, tuition breaks and fee waivers for students who are suspected of "promoting terrorist organizations."
According to WOKV television, the bill appears to be in line with Florida efforts to disband pro-Palestinian groups on college campuses. (November 2023)
International College Student Enrollment in US Soars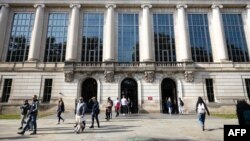 International student enrollment at U.S. schools has bounded back from pandemic lows, Forbes reports. It increased 12% in 2022-23, the fastest growth rate in more than 40 years. Read the full story here. (November 2023)