Student Union
Caste System Seen as Diversity Issue on US Campuses
WATERVILLE, MAINE —
Colby College is banning discrimination based on caste, a system of inherited social class, becoming one of the nation's earliest colleges to do so.
The private liberal arts college revised its nondiscrimination policy to add caste to its list of protections for the campus community.
The efforts were led by a professor who took an interest in caste discrimination across the country and realized the college needed to recognize it as a form of discrimination, the Bangor Daily News reported.
"You have to first name what it is to say: This exists, we name it, we stand against it," said Sonja Thomas, associate professor and department chair of women's, gender and sexuality studies at Colby.
While caste is often associated with South Asia, such class-based systems come into play across religions, cultures and countries, and even in technology industries and academia, Thomas said.
Of the more than 1 million international students in the U.S., half are from China or India, according to the Institute of International Education in New York.
Colby doesn't have a large student population from South Asia, but it's increasing the diversity of its student population, so "it's important that we take a step back, reflect on on the polices that we call upon to promote inclusivity and safeguard members of the community," said Tayo Clyburn, dean of diversity, equity and inclusion.
Colby College's updated policy, announced this week, follows one at Brandeis University in Massachusetts, which declared in late 2019 that it would prohibit caste discrimination on its campus.
See all News Updates of the Day
Medical Students Are Skipping Lectures; is That Such a Bad Thing?
In the United States, the first two years of medical school are classroom-based. During the pandemic, students took these courses virtually, and even now skip the lectures and rely on recordings. Students report learning better when they can rewind and pause the material, but also that getting feedback and building relationships with faculty are more difficult. Now, as Brown University considers making these classes partially virtual, a student and a professor share their ideas on how to digitize medical learning. Read the op-ed from Alexander P. Philips and Philip Gruppuso in NPR. (June 2023)
Will College Affirmative Action Survive in US?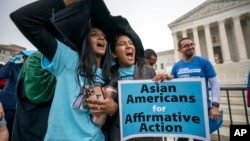 Colleges and universities are allowed to give underrepresented minorities a boost when applying. But later this month, the U.S. Supreme Court is widely expected to ban colleges from considering race in admissions. How will the schools respond? Read this story from Dan Friedell of VOA Learning English, adapted from a piece by Reuters. (June 2023)
Psychologists at Virginia University Aim to Make International Students Feel at Home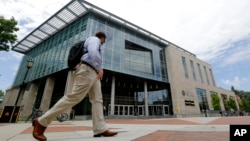 Virginia Commonwealth University has two staff psychologists specializing in intercultural issues. Their mission? To help international students adjust to life in the U.S. as seamlessly as possible. Read the full story here. (June 2023)
Are Declining Enrollments in the US a Hidden Opportunity for Students Abroad?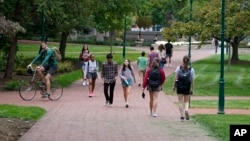 Allen Goodman, CEO of the Institute for Higher Education, writes that empty seats at U.S. colleges could drive a boom in international education. The U.S. has lost market share among host countries, but unlike its competitors, its university system is so large and underutilized that it could easily recruit more students. Because international students become "friends for life" with the U.S., and bring valuable expertise (and tuition dollars), Goodman argues the U.S. should recruit 2 million students by the end of the decade.
Weigh his argument for yourself in Times Higher Education. (May 2023)
What Could a Bitter Lawsuit Tell Us About International Education in the US?
In 2010, the University of South Florida signed a 30-year contract with INTO, a company that provides support services for international students. INTO built a "pathway program" at the university that taught students English and basic academic skills before they began their higher-education degrees. But after years of enrollment declines, the university ended the contract, and now both parties are fighting an "acrimonious" court case. The news comes as many of INTO's programs at other schools are being shuttered. While management and financial issues may play a role, so does the post-pandemic educational landscape: pathway programs can now be easily offered online.
Liam Knox of Inside Higher Ed has more. (May 2023)