A former Chinese government minister says Beijing is considering relaxing the country's controversial one-child policy, as the world's most populous nation deals with an aging population.
Zhang Wei-qing, the former minister of the National Population and Family Planning Commission, told the official
China Daily
Wednesday the government is reviewing action plans to loosen the long-standing policy.
Changes considered
One of the proposed changes would exempt parents from the one-child policy, even if one of the them is not an only child. Under the current laws, only parents who do not have siblings may apply to have a second child.
Zhang says the policy might first be implemented in areas facing greater "demographic challenges," such as an aging population or an influx of migrant workers. But he predicts there will not be a sharp rise in population.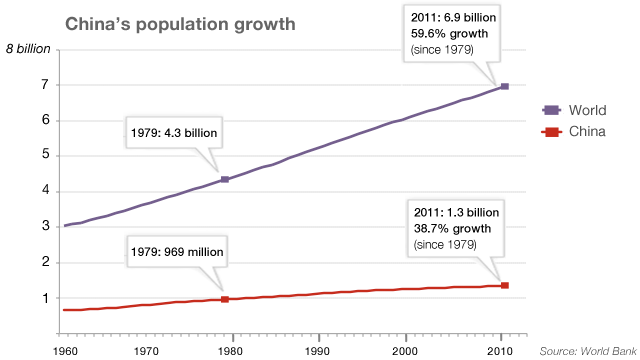 The paper says China's fertility rate currently stands at about 1.7, far below the replacement level fertility rate of 2.1. Zhang, who now serves on China's congressional advisory body, says the ideal rate would be 1.8.
Beijing has recently signaled a willingness to do away the one-child policy, which was implemented nationwide in 1979 to correct rapid population growth encouraged by revolutionary leader Mao Zedong.
Last month, the government-linked China Development Research Foundation recommended that Beijing allow two children per family by 2015 and that all birth restrictions be lifted by 2020.
Demographic imbalance
An increasing number of academics and activists have also begun openly questioning the policy, saying it has resulted in social conflict, forced abortions, and a long-term gender imbalance that favors boys over girls.
Chinese officials have defended the one-child policy, saying it has prevented hundreds of millions of births and lifted many families out of poverty. But they have also gradually eased the policy, making exceptions for minorities, rural residents and other groups.
It is estimated today that nearly 36 percent of China's population, about 480 million people, is still legally bound to have only one child.