Fake news about the coronavirus can do real harm. Polygraph.info is spotlighting fact-checks from other reliable sources here​.
Daily Debunk
Claim: Research illustrates a clear correlation between vitamin D deficiencies and (higher) COVID-19 mortality rates.
Verdict: True
Read the full story at: PolitiFact
Social Media Disinfo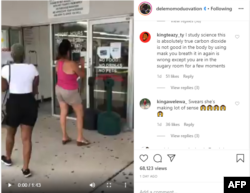 Circulating on social media: Claim that masks do not protect from COVID-19 and that their use makes you sick.
Verdict: False
Read the full story at: Agence France-Presse
Factual Reads on Coronavirus

How the world can avoid screwing up the response to Covid-19 again
STAT ... asked 11 experts in infectious disease, epidemiology, and pandemic preparedness how to avoid the mistakes, poor decisions, and incompetence of this spring.
-- Stat, June 5
Does drug touted by Trump work on COVID-19? After data debacle, we still don't know
Hydroxychloroquine was shown in laboratory experiments earlier this year to be able to block the SARS-CoV-2 virus that causes COVID-19, but this effect has not been replicated in rigorous trials in people.
-- Reuters, June 4