Fake news about the coronavirus can do real harm. Polygraph.info is spotlighting fact-checks from other reliable sources here​.
Daily Debunk
Claim: A scientific study "confirmed" that the Pfizer vaccine causes neurological damage.
Verdict: False
Read the full story at: Snopes
Social Media Disinfo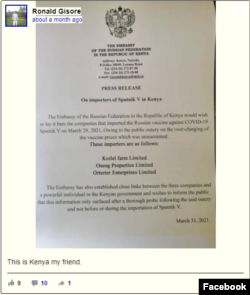 Circulating on social media: Claim that the Russian Embassy in Kenya put out a press release talking about three companies overpricing Sputnik V COVID-19 vaccines in Kenya.
Verdict: False
Read the full story at: Check Your Fact
Factual Reads on Coronavirus
Vaccinations are plateauing. Don't blame it on 'resistance'
Instead of talking up hesitancy, it's time to talk about what motivates people to get vaccinated and identify the ongoing barriers to vaccination.
-- Stat, April 27