Student Union
Dear Student Union Community...
Dear Student Union community,
When we launched the Student Union
almost exactly three years ago
, we didn't really know what we were doing. Or, more accurately, I had no idea what I was doing. All I knew was that it should be a place for international students to share their stories - stories to help other students who were going through the same things and to inform prospective students who were just starting to pursue their dreams.
I think the only guidance I gave writers at the beginning was: "Make it more profound than your diary and more personal than an advising service."
Not exactly the most refined concept. But boy, have you guys run with it.
You've shared stories about
unexpected and fascinating
cultural differences - like
seeing a left-handed professor
for the first time, or
the way Americans complain
about every perceived inequality - and the tension between
embracing these differences
and
retaining your own identity
.
You've given firsthand perspectives on
some very real concerns
- like
whether Muslims are discriminated
against, whether
Americans actually like international students
, or how high
the extra costs of studying in the U.S.
can actually get - and told
inspiring stories of persevering
through adversity.
You've shown
how you've succeeded
and
how you've failed
- both
in
and
out
of the classroom - so others
can learn from your efforts
.
I hope that in return we've been able to give you an honest account of
the positives and negatives
of studying in the U.S., to help you formulate advice that's right for you and your unique path, and to impart to you that success in life
is about your own drive and resilience
and not about
achieving any specific goal
(not even if that goal is studying at a U.S. university).
And I hope we've
been able to have some fun
together. I'm pretty sure we've at least
succeeded at that one
.
I feel profoundly lucky to have met so many amazing students from all over the world through my role as editor of this site. You have all inspired me and taught me and pushed me to do better, and I cannot thank you enough for that.
So it is with some separation anxiety, but also a lot of excitement about the future (both for myself and for the site), that I am turning the Student Union over to a new editor,
Doug Bernard
.
Doug is a talented journalist and a great guy, and I can't think of better hands to put the Student Union into. I can't wait to see where he - together with you - takes the site in the future. (Seriously,
check out how cool he is!
)
Anyone who's written for me over the past three years knows, and has probably come to dread, my rules for giving advice. "Don't write 'you should' and tell people what to do," I remind writers all the time. "Write 'I did' and let your readers learn from your experience." So I'm not going to leave you with any profound advice, but just share one last thing that I've learned from this experience.
It is this: People want to help you. Every
EducationUSA adviser
, every
professor
, every
university official
, every
student
, every alumnus I've met has been genuine in their eagerness to guide others. Most people are.
Don't be afraid to reach out
to those in a position to advise you, direct you, and help you when you need it.
But remember, when you do ask for someone's time or assistance, it's your responsibility to
show that you're deserving of it
- that you're making an effort to help yourself. Do your own research first using all the resources available (and there are many - our
weekly events list
and
resources page
can direct you to some of them) so you come in armed with knowledge and ready to ask the important questions.
Few people are braver and more tenacious than an international student. You kind of have to be to decide you want to move to a new country with a new culture
and language
, no less to actually do it and thrive there. So be brave
in reaching out to those who can help you
, and be tenacious in taking advantage of everything that's already out there to help you help yourself.
... Okay, maybe I lied. That edged into "you should" territory, didn't it? Oh well. In that case, I'll break my own rules completely and end with one final "you should."
You should: Apply to write for the Student Union during the 2013-2014 school year! Send resumes and writing samples
to Doug
if you're studying in the States and interested in being a regular contributor. (Of course,
you're always welcome to share your stories
, even if you're not on our staff.)
Thanks again for an amazing three years, and I can't wait to see this community grow and flourish with more stories, more experiences and more advice ("I did" advice, of course) in the years to come.
Your grateful and humbled former editor,
Jessica
See all News Updates of the Day
It's Graduation Season – Who Might Speak at Yours?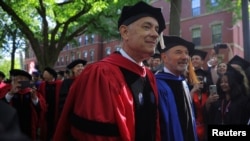 U.S. graduation ceremonies usually feature a public figure who offers advice to young people starting their careers. This spring, graduates have heard from President Joe Biden, actor Tom Hanks, Nobel Peace Prize winner Maria Ressa and even Ukrainian President Volodymyr Zelenskyy. Finnish Prime Minister Sanna Marin, who became the youngest prime minister in the world at age 34, told her audience that change cannot wait, even at their age. "To change things," she said, "you have to take over."
Read the story from Dan Friedell of VOA Learning English. (May 2023)
What Did Justin, a Golden Retriever Mix, Do to Earn a Diploma?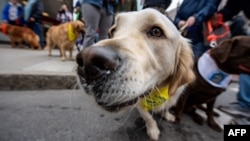 Justin is a service dog and accompanied his owner (who graduated with honors) to every single class for four years. The student's university honored the dog's hard work with his very own diploma, which he accepted, tail wagging, in front a cheering stadium of other graduates.
See Justin's walk across the stage in this story from Bill Chappell of NPR. (May 2023)
What Are US Diplomats Doing to Further International Education?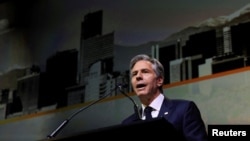 U.S. Secretary of State Antony Blinken touted his department's achievements in a recent address to NAFSA: Association of International Educators. The State Department has relaxed student visa and study abroad requirements. In fact, it issued over a half-million student visas last year – the highest number in five years. Blinken, who spent part of his childhood in France, thanked educators for "helping us to see the world through another's eyes."
Watch his remarks in this press release from the State Department. (May 2023)
Soon-to-Be Graduates Put COVID Behind Them
During the COVID-19 pandemic, learning lagged for students around the world, including the U.S., where many had access to online learning. Now these soon-to-be graduates say they are behind in certain subjects because of time missed at school. VOA's Laurel Bowman sat down with high school seniors on the cusp of graduation. Camera: Adam Greenbaum, Saqib Ul Islam.
Former US Congresswoman Liz Cheney Urges Graduates Not to Compromise With the Truth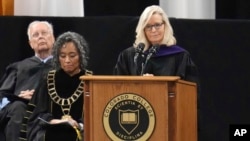 Former U.S. Congresswoman Liz Cheney implored new college graduates to not compromise when it comes to the truth, excoriating her House Republican colleagues for not doing enough to combat former President Donald Trump's lies that the 2020 election was stolen.
In a commencement speech at Colorado College, the Wyoming Republican repeated her fierce criticisms of Trump but steered clear of talking about his 2024 reelection campaign or her own political future.
Cheney, who graduated from Colorado College in 1988, recalled being a political science student walking into a campus building where a Bible verse was inscribed above the entrance that read, "Ye shall know the truth and the truth shall make you free."
"After the 2020 election and the attack of January 6th, my fellow Republicans wanted me to lie. They wanted me to say the 2020 election was stolen, the attack of January 6th wasn't a big deal, and Donald Trump wasn't dangerous," Cheney said Sunday in Colorado Springs, connecting her experiences as a student to her work in the U.S. House of Representatives. "I had to choose between lying and losing my position in House leadership."
In three terms in office, Cheney rose to the No. 3 GOP leadership position in the House, a job she lost after voting to impeach Trump for the Jan. 6, 2021, insurrection at the Capitol and then not relenting in her criticism of the former president.
Cheney's speech touched on themes similar to those she has promoted since leaving office in January: addressing her work on the House committee investigating the Jan. 6 2021 attack on the U.S. Capitol and standing up to the threat she believes Trump poses to democracy. She also encouraged more women to run for office and criticized one of the election-denying attorneys who worked for Trump after the 2020 election for recent remarks about college students voting.
"Cleta Mitchell, an election denier and adviser to former President Trump, told a gathering of Republicans recently that it is crucially important to make sure that college students don't vote," Cheney said. "Those who are trying to unravel the foundations of our republic, who are threatening the rule of law and the sanctity of our elections, know they can't succeed if you vote."
In an audio recording of Mitchell's presentation from a recent Republican National Committee retreat, she warns of polling places on college campuses and the ease of voting as potential problems, The Washington Post reported.
Most students and parents in the audience applauded throughout Cheney's remarks, yet some booed. Some students opposing the choice of Cheney as speaker turned their chairs away from the stage as she spoke.
Cheney's busy speaking schedule and subject matter have fueled speculation about whether she may enter the 2024 GOP presidential primary since she left office. Candidates ranging from Florida Gov. Ron DeSantis to former South Carolina Gov. Nikki Haley have calibrated their remarks about Trump, aiming to counter his attacks without alienating the supporters that won him the White House seven years ago.
Though some have offered measured criticisms, no declared or potential challenger has embraced anti-Trump messaging to the same extent as Cheney. She did not reference her plans on Sunday but has previously said she remains undecided about whether she wants to run for president.
Though she would face an uphill battle, Cheney's fierce anti-Trump stance and her role as vice chairwoman of the House committee elevated her platform high enough to call on a national network of donors and Trump critics to support a White House run.
A super PAC organized to support of her candidacy has remained active, including purchasing attack ads on New Hampshire airwaves against Trump this month.
After leaving office and being replaced by a Trump-backed Republican who defeated her in last year's primary, Cheney was appointed to a professorship at the University of Virginia and wrote "Oath and Honor," a memoir scheduled to hit shelves in November.
Two of Cheney's five children as well as her mother are also graduates of the liberal arts college.
Cheney's speaking tour appears to be picking up. She is scheduled to appear Thursday at the Mackinac Policy Conference in Michigan.