Native Americans
Feds Want Justices to End Navajo Fight for Colorado River Water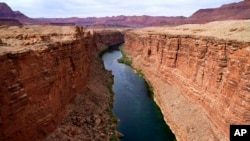 States that rely on water from the over-tapped Colorado River want the U.S. Supreme Court to block a lawsuit from the Navajo Nation that could upend how water is shared in the Western U.S.
The tribe doesn't have enough water and says that the federal government is at fault. Roughly a third of residents on the vast Navajo Nation don't have running water in their homes.
More than 150 years ago, the U.S. government and the tribe signed treaties that promised the tribe a "permanent home" — a promise the Navajo Nation says includes a sufficient supply of water. The tribe says the government broke its promise to ensure the tribe has enough water and that people are suffering as a result.
The federal government disputes that claim. And states, such as Arizona, California and Nevada, argue that more water for the Navajo Nation would cut into already scarce supplies for cities, agriculture and business growth.
The high court will hold oral arguments Monday in a case with critical implications for how water from the drought-stricken Colorado River is shared and the extent of the U.S. government's obligations to Native American tribes.
A win for the Navajo Nation won't directly result in more water for the roughly 175,000 people who live on the largest reservation in the U.S. But it's a piece of what has been a multi-faceted approach over decades to obtain a basic need.
Tina Becenti, a mother of five, made two or three short trips a day to her mom's house or a public water spot to haul water back home, filling several five-gallon buckets and liter-sized pickle jars. They filled slowly, sapping hours from her day. Her sons would sometimes help lift the heavy containers into her Nissan SUV that she'd drive carefully back home to avoid spills.
"Every drop really matters," Becenti said.
That water had to be heated then poured into a tub to bathe her young twin girls. Becenti's mother had running water, so her three older children would sometimes go there to shower. After a couple of years, Becenti finally got a large tank installed by the nonprofit DigDeep so she could use her sink.
DigDeep, which filed a legal brief in support of the Navajo Nation's case, has worked to help tribal members gain access to water as larger water-rights claims are pressed.
Extending water lines to the sparsely populated sections of the 69,000-square-kilometer reservation that spans three states is difficult and costly. But tribal officials say additional water supplies would help ease the burden and create equity.
"You drive to Flagstaff, you drive to Albuquerque, you drive to Phoenix, there is water everywhere, everything is green, everything is watered up," said Rex Kontz, deputy general manager of the Navajo Tribal Utility Authority. "You don't see that on Navajo."
The tribe primarily relies on groundwater to serve homes and businesses.
For decades, the Navajo Nation has fought for access to surface water, including the Colorado River and its tributaries, that it can pipe to more remote locations for homes, businesses and government offices.
It's a legal fight that resonates with tribes across the U.S., said Dylan Hedden-Nicely, the director of the Native American Law Program at the University of Idaho and an attorney representing tribal organizations that filed a brief in support of the Navajo Nation.
The Navajo Nation has reached settlements for water from the San Juan River in New Mexico and Utah. Both of those settlements draw from the Colorado River's Upper Basin.
The tribe has yet to reach agreement with Arizona and the federal government for water rights from the Colorado River in the Lower Basin that includes the states of California, Arizona and Nevada. It also has sought water from a tributary, the Little Colorado River, another major legal dispute that's playing out separately.
In the U.S Supreme Court case, the Navajo Nation wants the U.S. Department of the Interior to account for the tribe's needs in Arizona and come up with a plan to meet those needs.
A federal appeals court ruled the Navajo Nation's lawsuit could move forward, overturning a decision from a lower court.
Attorneys for the Navajo Nation base their claims on two treaties the tribe and the U.S. signed in 1849 and 1868. The latter allowed Navajos to return to their ancestral homelands in the Four Corners region after being forcibly marched to a desolate tract in eastern New Mexico.
The Navajo Nation wants the Supreme Court to find that those treaties guaranteed them enough water to sustain their homeland. And the tribe wants a chance to make its case before a lower federal court.
The federal government says it has helped the tribe get water from the Colorado River's tributaries, but no treaty or law forces officials to address the tribe's general water needs. The Interior Department declined to comment on the pending case.
"We absolutely think they're entitled to water, but we don't think the lower Colorado River is the source," said Rita Maguire, the attorney representing states in the Lower Basin who oppose the tribe's claims.
If the Supreme Court sides with the Navajo Nation, other tribes might make similar demands, Maguire said.
Arizona, Nevada and California contend the Navajo Nation is making an end run around another Supreme Court case that divvied up water in the Colorado River's Lower Basin.
"The first question in front of the court now is: why is the lower court dealing with the issue at all?" said Grant Christensen, a federal Indian law expert and professor at Stetson University.
Even if the justices side with the Navajo Nation, the tribe wouldn't immediately get water. The case would go back to the U.S. District Court in Arizona, and rights to more water still could be years, if not, decades away. The Navajo Nation also could reach a settlement with Arizona and the federal government for rights to water from the Colorado River and funding to deliver it to tribal communities.
Tribal water rights often are tied to the date a reservation was established, which would give the Navajo Nation one of the highest priority rights to Colorado River water and could force conservation on others, said Hedden-Nicely of the University of Idaho.
Given the likelihood of a long road ahead, Kontz of the Navajo Tribal Utility Authority says many older Navajo won't live to see running water in their homes.
Becenti, the 42-year-old mother of five, remembers shedding tears of joy when running water finally was installed in her house and her family could use a flushable indoor toilet.
It was a relief to "go to the facility without having to worry about bugs, lizards, snakes," she said.
See all News Updates of the Day
Artist Paints Contemporary Native American Life
Artist Danielle SeeWalker says she is attempting to paint an accurate and insightful representation of contemporary Native American life. Her work is on exhibit in the Western U.S. state of Colorado. VOA's Scott Stearns gives us a look. Camera: Scott Stearns
Navajo Tech First Among US Tribal Universities to Offer PhD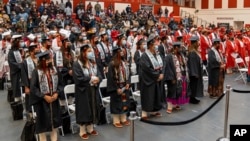 A university on the largest Native American reservation in the U.S. launched its accredited doctoral program, becoming the first among more than 30 accredited tribal colleges and universities across the country to offer such a high-level degree.
The program at Navajo Technical University will be dedicated to sustaining Diné culture and language. Dine is the Navajo word meaning "the people" and is commonly what tribal members call themselves.
A celebration is planned on the Crownpoint campus in western New Mexico in April, and the school already started accepting applications for the fall semester.
The offering marks a milestone for the university, which already has more than 30 degree and certificate programs spanning science, technology, engineering, business and liberal arts, Navajo Tech President Elmer Guy said.
Guy told The Associated Press on Friday that he believes the program in which students will receive a Ph.D. in Dine Culture and Language Sustainability will have a profound impact on the future of the tribe's language and culture. He said he's excited to see how students shape their dissertations.
The idea was to create a program that would lead to employment opportunities and effect change for Navajo communities on the reservation that stretches into New Mexico, Arizona and Utah.
"I thought it would be important to make that connection," Guy said, explaining that it's a step beyond the call by tribal leaders for their people to learn the language and stay engaged with their culture. "Individuals will get a degree and they'll be professionals. You have to make it applicable. By making it more meaningful, people will have an interest in it."
The effort is paying off. About 20 students have applied so far and will be vying for five coveted spots in the inaugural class, said Wafa Hozien, an administrator who helped with the program's creation.
A collaboration with other academic institutions and community partners, the doctoral program was developed with the help of tribal elders, university professors and linguistic experts. Community-based research and internships will be part of the curriculum so students gain practical experience they can apply in the real world.
Guy said he's hopeful this inspires other tribal colleges and universities to create their own programs.
Hozien said Navajo Tech's program represents a paradigm shift in that learning through a Dine lens — with culture and language — creates leaders who can advocate for their people in the judicial system, education, land management, business, technology and health care, for example.
Guy said the work done by the university to train court reporters to document Navajo testimony and translators to help with reading ballots during election season already has addressed some of the pressing needs within communities.
The possibilities will be even greater as students earn doctoral degrees, he said.
"They will be part of solving problems," Guy said. "These students have energy and creativity, and our job is to give them the tools."
Native American News Roundup March 19-25, 2023
Here are some Native American-related news stories that made headlines this week:
Supreme Court weighs Navajo water rights
U.S. Supreme Court justices hearing arguments over Navajo Nation water rights appear divided over who should have water rights to the Colorado River, whose levels have hit historic lows.
At the heart of the cases Arizona v. Navajo Nation and Department of Interior v. Navajo Nation is whether the government has an obligation to provide water under the 1868 Treaty of Bosque Redondo, which established the reservation as a "permanent home" for the Navajo.
In oral arguments Monday, some justices questioned the impact the Navajo Nation request for relief would have on current agreements governing the distribution of Colorado River water during what has been a prolonged drought. Other justices appeared favorable to the Navajo Nation argument that there is an enforceable obligation to provide sufficient water in the federal government's promise of a Navajo home.
Read more:
VA lowers interest rates for Native American direct loans
The U.S. Department of Veterans Affairs is lowering the interest rate for VA Native American Direct Loans to make housing more affordable for Native Americans who have served.
The VA says new participants in the direct loan program will see their rate decrease from the current 6% to 2.5% for properties on trust land overseen by federally recognized tribes. The new rate will be available for the next two years.
Native Americans buying homes outside of tribal land are not eligible for the program but can use traditional VA home loans.
Native vets already in the program who are paying an interest rate of 3.5% or higher can refinance their loans to the lower rate.
Read more:
Native American honors at White House
A celebrated Native American academic was among 12 recipients of one of the Nation's highest honors this week. President Joe Biden presented a National Humanities Medal to Henrietta Mann, 88, a citizen of the Cheyenne-Arapaho Tribes of Oklahoma.
"You know, Henrietta Mann as a teacher, a scholar, and a leader. She's dedicated her career to Native American education and to establishing the field of Native American studies," President Joe Biden said in White House ceremony Tuesday. "Thanks in large part to her, Native American studies is now taught in universities across the country, strengthening our nation-to-nation bonds for generations to come."
The Koahnic Broadcast Corporation also received a medal for its daily public affairs call-in show, "Native America Calling."
"We are grateful and humbled to receive this recognition for Native America Calling's service to listeners across the nation, and for Native communities in particular," said Koahnic's President and CEO, Jaclyn Sallee, Iñupiaq, who accepted the medal.
The award program, inaugurated in 1997, honors work that has deepened the nation's understanding of the human experience and expanded citizens' knowledge of history, literature, languages and other humanities.
Read more about Mann's achievements here:
Listen to Native America Calling here:
Native Americans could soon use tribal IDs to buy firearms
Republican U.S. Representative Dusty Johnson of South Dakota this week reintroduced bipartisan legislation to make it easier for Native Americans living on tribal land to purchase guns.
Under current law, tribal IDs are not considered valid forms of identification for buying guns. The Tribal Firearm Access Act would allow members of federally recognized tribes to use their tribal ID cards to purchase guns from federally recognized dealers.
"Classifying tribal IDs as an invalid form of identification for the purchase of firearms limits tribal sovereignty and tribal members' ability to obtain a firearm," Johnson said in a written statement. "A foreign passport is accepted as a valid form of identification — a tribal ID should be no different. My bill corrects this oversight, ensuring Second Amendment rights for tribal members."
Democratic Representative Mary Peltola, the first Alaskan Native elected to Congress, is co-sponsoring the bill. She says firearms are essential to subsistence and self-defense in her state.
Republican Senator Markwayne Mullin of Oklahoma, a citizen of the Cherokee Nation, introduced a companion bill Wednesday in the U.S. Senate.
Read more:
Forest Service to OK Arizona land swap, give go-ahead to copper mine
The U.S. Forest Service is set to approve a land swap between the U.S. government and Resolution Copper, a joint venture owned by multinational mining giants Rio Tinto and BHP.
That would allow the company to build a copper mine on land in Oak Flat, Arizona, that has historic and spiritual significance to the San Carlos Apache and other tribes in the state.
With an estimated 40 billion pounds of copper at the site, Resolution Copper says it is "committed to preserving Native American cultural heritage while developing partnerships and bringing lasting benefits to the entire region."
Congress approved the land transfer in 2014 in exchange for 6,000 acres elsewhere.
Wendsler Nosie Sr., former chairman and councilman of the San Carlos Apache Tribe, discusses Apache opposition to the mine in the video below:
Read more:
Indigenous Artists Help Skateboarding Earn Stamp of Approval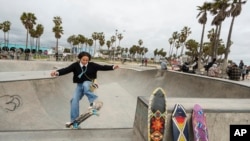 Years ago, skateboarding was branded as a hobby for rebels or stoners in city streets, schoolyards and back alleys. Those days are long gone.
Skateboarding, which has Native Hawaiian roots connected to surfing, no longer is on the fringes. It became an Olympic sport in 2020. There are numerous amateur and professional skateboarding competitions in the U.S. And on Friday, the U.S. Postal Service issued stamps that laud the sport — and what Indigenous groups have brought to the skating culture.
Di'Orr Greenwood, 27, an artist born and raised on the Navajo Nation in Arizona whose work is featured on the new stamps, says it's a long way from when she was a kid and people always kicked her out of certain spots just for skating.
"Now it's like being accepted on a global scale," Greenwood said. "There's so many skateboarders I know that are extremely proud of it."
The postal agency debuted the "Art of the Skateboard" stamps at a Phoenix skate park. The stamps feature skateboard artists from around the country, including Greenwood and Crystal Worl, who is Tlingit Athabascan. William James Taylor Jr., an artist from Virginia, and Federico "MasPaz" Frum, a Colombian-born muralist in Washington, D.C., round out the quartet of featured artists.
The stamps underscore the prevalence of skateboarding, especially in Indian Country where the demand for skate parks is growing.
The artists see the stamp as a small canvas, a functional art piece that will be seen across the U.S. and beyond.
"Maybe I'll get a letter in the mail that someone sent me with my stamp on it," said Worl, 35, who lives in Juneau, Alaska. "I think that's when it will really hit home with the excitement of that."
Antonio Alcalá, USPS art director, led the search for artists to paint skate decks for the project. After settling on a final design, each artist received a skateboard from Alcalá to work on. He then photographed the maple skate decks and incorporated them into an illustration of a young person holding up a skateboard for display. The person is seen in muted colors to draw attention to the skate deck.
Alcalá used social media to seek out artists who, besides being talented, were knowledgeable about skateboarding culture. Worl was already on his radar because her brother, Rico, designed the Raven Story stamp in 2021, which honored a central figure in Indigenous stories along the coast in the Pacific Northwest.
The Worl siblings run an online shop called Trickster Company with fashions, home goods and other merchandise with Indigenous and modern twists. For her skate deck, Crystal Worl paid homage to her clan and her love of the water with a Sockeye salmon against a blue and indigo background.
She was careful about choosing what to highlight.
"There are certain designs, patterns and stories that belong to certain clans and you have to have permission even as an Indigenous person to share certain stories or designs," Worl said.
The only times Navajo culture has been featured in stamps is with rugs or necklaces. Greenwood, who tried out for the U.S. Women's Olympic skateboarding team, knew immediately she wanted to incorporate her heritage in a modern way. Her nods to the Navajo culture include a turquoise inlay and a depiction of eagle feathers, which are used to give blessings.
"I was born and raised with my great-grandmother, who looked at a stamp kind of like how a young kid would look at an iPhone 13," Greenwood said. "She entrusted every important news and every important document and everything to a stamp to send it and trust that it got there."
Skateboarding has become a staple across Indian Country. A skate park opened in August on the Hopi reservation. Skateboarders on the Fort Apache Indian Reservation in eastern Arizona recently got funding for one from pro skateboarder Tony Hawk's nonprofit, The Skatepark Project. Youth-organized competitions take place on the Pine Ridge Indian Reservation in South Dakota.
Dustinn Craig, a White Mountain Apache filmmaker and "lifer" skateboarder in Arizona, has made documentaries and short films on the sport. The 47-year-old remembers how skateboarding was seen as dorky and anti-establishment when he was a kid hiding "a useless wooden toy" in his locker. At the same time, Craig credits skateboarding culture as "my arts and humanities education."
So he is wary of the mainstream's embrace, as well as the sometimes clique-ish nature, of today's skateboarding world.
"For those of us who have been in it for a very long time, it's kind of insulting because I think a lot of the popularity has been due to the proliferation of access to the visuals of the youth culture skateboarding through the internet and social media," Craig said. "So, I feel like it really sort of trivializes and sort of robs Native youth of authenticity of the older skateboard culture that I was raised on."
He acknowledges that he may come off as the "grumpy old man" to younger Indigenous skateboarders who are open to collaborating with outsiders.
The four skateboards designed by the artists will eventually be transferred to the Smithsonian National Postal Museum, said Jonathan Castillo, USPS spokesperson.
The stamps, which will have a printing of 18 million, are available at post offices and on the USPS website. For the artists, being part of a project that feels low-tech in this age of social media is exciting.
"It's like the physical thing is special because you go out of your way to go to the post office, buy the stamps and write something," Worl said.
Tourists Hoping to See Arizona Falls Forced Out by Flooding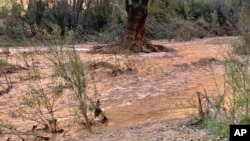 Shannon Castellano and Travis Methvin should have spent this weekend seeing world-famous waterfalls on the Havasupai Tribe Reservation in the southwestern U.S. state of Arizona.
Instead, the two friends from San Diego spent Friday night along with 40 other hikers camped out on a helipad. But sleep was elusive because tribal members warned that an emergency services helicopter could potentially land anytime during the night.
"Yeah, so we didn't really sleep," Castellano said Saturday while driving to a hotel in Sedona. "I just kept one eye open really and one ear open ... You just do not expect any of that to happen. So, I think I'm still in shock that I'm not even there right now."
Tourists hoping to reach the breathtaking waterfalls on the reservation instead went through harrowing flood evacuations.
The official Havasupai Tribe Tourism Facebook page reported Friday that flooding had washed away a bridge to the campground. An unknown number of campers were evacuated to Supai Village, with some being rescued by helicopter.
The campground is in a lower-lying area than the village of Supai. Some hikers had to camp in the village. Others who weren't able to get to the village because of high water were forced to camp overnight on a trail.
But floodwaters were starting to recede as of Saturday morning, according to the tribe's Facebook post.
Visitors with the proper permits will be allowed to hike to the village and campground. They will be met with tribal guides, who will help them navigate around creek waters on a back trail to get to the campground.
Tourists will not be permitted to take pictures. The back trail goes past sites considered sacred by the tribe.
Meanwhile, the tribe said in its statement that it has "all hands on deck" to build a temporary bridge to the campground.
Abbie Fink, a spokesperson for the tribe, referred to the tribe's Facebook page when reached for comment Saturday.
Methvin and Castellano decided to leave by helicopter Saturday rather than navigate muddy trails with a guide. Despite losing money on a pre-paid, three-day stay, Methvin says they can still try to salvage their trip. Having only received permits last month, he feels especially sad for hikers they met with reservations from 2020.
"They waited three years to get there," Methvin said. "At least we have the ability to go do something else versus having that whole weekend ruined."
From Supai to Sedona, several areas of northern Arizona have been slammed this week by storms. The resulting snow combined with snowmelt at higher elevations has wreaked havoc on highways, access roads and even city streets.
The flooding of the Havasupai campground comes as the tribe reopened access last month to its reservation and various majestic blue-green waterfalls — for the first time since March 2020. The tribe opted to close to protect its members from the coronavirus. Officials then decided to extend the closure through last year's tourism season.
At the beginning of this year, President Joe Biden approved a disaster declaration initiated by the Havasupai Tribe, freeing up funds for flood damage sustained in October. Flooding at that time had destroyed several bridges and left downed trees on trails necessary for tourists and transportation of goods into Supai Village.
Permits to visit are highly coveted. Pre-pandemic, the tribe received an estimated 30,000 to 40,000 visitors per year to its reservation deep in a gorge west of Grand Canyon National Park. The area is reachable only by foot or helicopter, or by riding a horse or mule. Visitors can either camp or stay in a lodge.
Castellano is already planning to try to get a permit again later this year if there are cancellations. "We just want to see i in all its glory, not muddy falls," she said.