Native Americans
Feds Want Justices to End Navajo Fight for Colorado River Water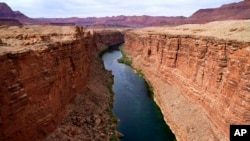 States that rely on water from the over-tapped Colorado River want the U.S. Supreme Court to block a lawsuit from the Navajo Nation that could upend how water is shared in the Western U.S.
The tribe doesn't have enough water and says that the federal government is at fault. Roughly a third of residents on the vast Navajo Nation don't have running water in their homes.
More than 150 years ago, the U.S. government and the tribe signed treaties that promised the tribe a "permanent home" — a promise the Navajo Nation says includes a sufficient supply of water. The tribe says the government broke its promise to ensure the tribe has enough water and that people are suffering as a result.
The federal government disputes that claim. And states, such as Arizona, California and Nevada, argue that more water for the Navajo Nation would cut into already scarce supplies for cities, agriculture and business growth.
The high court will hold oral arguments Monday in a case with critical implications for how water from the drought-stricken Colorado River is shared and the extent of the U.S. government's obligations to Native American tribes.
A win for the Navajo Nation won't directly result in more water for the roughly 175,000 people who live on the largest reservation in the U.S. But it's a piece of what has been a multi-faceted approach over decades to obtain a basic need.
Tina Becenti, a mother of five, made two or three short trips a day to her mom's house or a public water spot to haul water back home, filling several five-gallon buckets and liter-sized pickle jars. They filled slowly, sapping hours from her day. Her sons would sometimes help lift the heavy containers into her Nissan SUV that she'd drive carefully back home to avoid spills.
"Every drop really matters," Becenti said.
That water had to be heated then poured into a tub to bathe her young twin girls. Becenti's mother had running water, so her three older children would sometimes go there to shower. After a couple of years, Becenti finally got a large tank installed by the nonprofit DigDeep so she could use her sink.
DigDeep, which filed a legal brief in support of the Navajo Nation's case, has worked to help tribal members gain access to water as larger water-rights claims are pressed.
Extending water lines to the sparsely populated sections of the 69,000-square-kilometer reservation that spans three states is difficult and costly. But tribal officials say additional water supplies would help ease the burden and create equity.
"You drive to Flagstaff, you drive to Albuquerque, you drive to Phoenix, there is water everywhere, everything is green, everything is watered up," said Rex Kontz, deputy general manager of the Navajo Tribal Utility Authority. "You don't see that on Navajo."
The tribe primarily relies on groundwater to serve homes and businesses.
For decades, the Navajo Nation has fought for access to surface water, including the Colorado River and its tributaries, that it can pipe to more remote locations for homes, businesses and government offices.
It's a legal fight that resonates with tribes across the U.S., said Dylan Hedden-Nicely, the director of the Native American Law Program at the University of Idaho and an attorney representing tribal organizations that filed a brief in support of the Navajo Nation.
The Navajo Nation has reached settlements for water from the San Juan River in New Mexico and Utah. Both of those settlements draw from the Colorado River's Upper Basin.
The tribe has yet to reach agreement with Arizona and the federal government for water rights from the Colorado River in the Lower Basin that includes the states of California, Arizona and Nevada. It also has sought water from a tributary, the Little Colorado River, another major legal dispute that's playing out separately.
In the U.S Supreme Court case, the Navajo Nation wants the U.S. Department of the Interior to account for the tribe's needs in Arizona and come up with a plan to meet those needs.
A federal appeals court ruled the Navajo Nation's lawsuit could move forward, overturning a decision from a lower court.
Attorneys for the Navajo Nation base their claims on two treaties the tribe and the U.S. signed in 1849 and 1868. The latter allowed Navajos to return to their ancestral homelands in the Four Corners region after being forcibly marched to a desolate tract in eastern New Mexico.
The Navajo Nation wants the Supreme Court to find that those treaties guaranteed them enough water to sustain their homeland. And the tribe wants a chance to make its case before a lower federal court.
The federal government says it has helped the tribe get water from the Colorado River's tributaries, but no treaty or law forces officials to address the tribe's general water needs. The Interior Department declined to comment on the pending case.
"We absolutely think they're entitled to water, but we don't think the lower Colorado River is the source," said Rita Maguire, the attorney representing states in the Lower Basin who oppose the tribe's claims.
If the Supreme Court sides with the Navajo Nation, other tribes might make similar demands, Maguire said.
Arizona, Nevada and California contend the Navajo Nation is making an end run around another Supreme Court case that divvied up water in the Colorado River's Lower Basin.
"The first question in front of the court now is: why is the lower court dealing with the issue at all?" said Grant Christensen, a federal Indian law expert and professor at Stetson University.
Even if the justices side with the Navajo Nation, the tribe wouldn't immediately get water. The case would go back to the U.S. District Court in Arizona, and rights to more water still could be years, if not, decades away. The Navajo Nation also could reach a settlement with Arizona and the federal government for rights to water from the Colorado River and funding to deliver it to tribal communities.
Tribal water rights often are tied to the date a reservation was established, which would give the Navajo Nation one of the highest priority rights to Colorado River water and could force conservation on others, said Hedden-Nicely of the University of Idaho.
Given the likelihood of a long road ahead, Kontz of the Navajo Tribal Utility Authority says many older Navajo won't live to see running water in their homes.
Becenti, the 42-year-old mother of five, remembers shedding tears of joy when running water finally was installed in her house and her family could use a flushable indoor toilet.
It was a relief to "go to the facility without having to worry about bugs, lizards, snakes," she said.
See all News Updates of the Day
Tourists Hoping to See Arizona Falls Forced Out by Flooding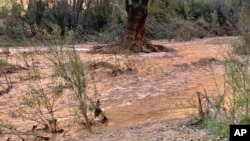 Shannon Castellano and Travis Methvin should have spent this weekend seeing world-famous waterfalls on the Havasupai Tribe Reservation in the southwestern U.S. state of Arizona.
Instead, the two friends from San Diego spent Friday night along with 40 other hikers camped out on a helipad. But sleep was elusive because tribal members warned that an emergency services helicopter could potentially land anytime during the night.
"Yeah, so we didn't really sleep," Castellano said Saturday while driving to a hotel in Sedona. "I just kept one eye open really and one ear open ... You just do not expect any of that to happen. So, I think I'm still in shock that I'm not even there right now."
Tourists hoping to reach the breathtaking waterfalls on the reservation instead went through harrowing flood evacuations.
The official Havasupai Tribe Tourism Facebook page reported Friday that flooding had washed away a bridge to the campground. An unknown number of campers were evacuated to Supai Village, with some being rescued by helicopter.
The campground is in a lower-lying area than the village of Supai. Some hikers had to camp in the village. Others who weren't able to get to the village because of high water were forced to camp overnight on a trail.
But floodwaters were starting to recede as of Saturday morning, according to the tribe's Facebook post.
Visitors with the proper permits will be allowed to hike to the village and campground. They will be met with tribal guides, who will help them navigate around creek waters on a back trail to get to the campground.
Tourists will not be permitted to take pictures. The back trail goes past sites considered sacred by the tribe.
Meanwhile, the tribe said in its statement that it has "all hands on deck" to build a temporary bridge to the campground.
Abbie Fink, a spokesperson for the tribe, referred to the tribe's Facebook page when reached for comment Saturday.
Methvin and Castellano decided to leave by helicopter Saturday rather than navigate muddy trails with a guide. Despite losing money on a pre-paid, three-day stay, Methvin says they can still try to salvage their trip. Having only received permits last month, he feels especially sad for hikers they met with reservations from 2020.
"They waited three years to get there," Methvin said. "At least we have the ability to go do something else versus having that whole weekend ruined."
From Supai to Sedona, several areas of northern Arizona have been slammed this week by storms. The resulting snow combined with snowmelt at higher elevations has wreaked havoc on highways, access roads and even city streets.
The flooding of the Havasupai campground comes as the tribe reopened access last month to its reservation and various majestic blue-green waterfalls — for the first time since March 2020. The tribe opted to close to protect its members from the coronavirus. Officials then decided to extend the closure through last year's tourism season.
At the beginning of this year, President Joe Biden approved a disaster declaration initiated by the Havasupai Tribe, freeing up funds for flood damage sustained in October. Flooding at that time had destroyed several bridges and left downed trees on trails necessary for tourists and transportation of goods into Supai Village.
Permits to visit are highly coveted. Pre-pandemic, the tribe received an estimated 30,000 to 40,000 visitors per year to its reservation deep in a gorge west of Grand Canyon National Park. The area is reachable only by foot or helicopter, or by riding a horse or mule. Visitors can either camp or stay in a lodge.
Castellano is already planning to try to get a permit again later this year if there are cancellations. "We just want to see i in all its glory, not muddy falls," she said.
Native American News Roundup March 12-18, 2023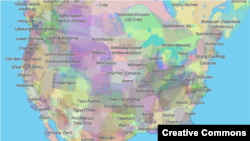 Here is a summary of some of the stories making headlines this week:

Native Americans debate Indigenous land acknowledgements: 'In one ear and out the other?'

Land acknowledgements are formal statements that recognize Indigenous custodianship of geographic areas on which institutions stand or events take place.

Evolving from Canada's Truth and Reconciliation Commission, land acknowledgments are becoming increasingly common at U.S. universities and sporting events.

But are they effective?

Cutcha Risling Baldy, a member of the Hoopa Valley Tribe and an associate professor of Native American Studies at California State Polytechnic University, Humboldt, tells NPR they are a good start but believes institutions should go on to "assist Indigenous peoples in uplifting and upholding their sovereignty and self-determination."

Kevin Gover, a citizen of the Pawnee Nation of Oklahoma and undersecretary for museums and culture at the Smithsonian Institution, worries that if land acknowledgements become "routine, or worse yet... strictly performative," they will lose their meaning.

Read more:


Lac du Flambeau tribe in Wisconsin lifts weekslong road blockades

The Lac du Flambeau Tribe has agreed with the town of Lac du Flambeau to reopen four roads on the northern Wisconsin reservation that it barricaded in late January. The deal is temporary as parties to the dispute have 90 days to work out a longer-term solution.

The roads were built in the 1960s on tribal land and are the only access route for non-Native residents in more than 60 households that are scattered among reservation land.

Easements to use the roads expired in 2013, and negotiations to extend them have so far failed. The Lac du Flambeau Tribal Council says it is owed $20 million for trespassing on its land since the easements expired.

Read more:
Cayuga Nation locked in power struggle


The New York Times this week reports on a leadership dispute inside the Cayuga Nation in New York, which one observer has called "one of the more volatile in Indian Country today."

The feud pits Cayuga Chiefs and Clan Mothers, the traditional government of the Nation, against Clint Halftown, the Cayuga Nation representative federally recognized by the U.S. Bureau of Indian Affairs.

Traditionalists say Halftown has no authority under their system of governance outlined in the Haudenosaunee Confederacy Great Law of Peace because they view his council as an entity of the federal government.

Halftown says more than 60% of Cayuga Nation citizens signed a statement of support affirming the current Nation Council and delegitimizing the "Unity Council." He says Cayuga-owned buildings destroyed by National Council bulldozers were illegal.

Read more:

NAGPRA compliance: Lots of promises but not enough follow-through

ProPublica reports that its ongoing "Repatriation Project" has sparked "waves" of promises by institutions to redouble efforts to repatriate thousands of Native American ancestral remains in their collections.

But seeing is believing, according to Shannon O'Loughlin, a Choctaw Nation citizen and chief executive of the Association on American Indian Affairs. She told ProPublica that museums and universities have interpreted the law in ways that have allowed them to resist returning remains and stay out of the limelight for years.

"But, hey, they're saying it in the public, so we're gonna hold them to it," she said.

Read more:

Portland Museum apologizes to Native mother

The Portland Art Museum in Oregon has apologized after one of its employees asked a Kayuk mother to remove the traditional woven basket in which she carried her baby.

Sophie Neuner posted about the March 11 incident on her Facebook page:
"According to the nice white lady, [my child's] baby basket is a danger to the art and also my baby. … Racism is alive and well in these walls."
The museum issued an apology on Facebook and Twitter Monday and has since amended its policy to read: "We kindly request that bags, backpacks, or items larger than 11″ x 17″ x 6″ be left outside the Museum. Babies in carriers are permitted. Other bags should be carried at your side or in front, and not worn on one's back."
VOA checked visitors' guides for several major art museums across the U.S. and found that bans on the wearing of backpacks are common because they can damage works on display. These include the Smithsonian Institutions in Washington, D.C. The National Museum of the American Indian, a Smithsonian entity, advises visitors, "Suitcases, large umbrellas, and large backpacks are not allowed in the galleries."
Native American News Roundup March 5-11, 2023
Here are some of the Native American-related stories making headlines this week:
California academic may have used Native American remains as teaching tools
ProPublica reports that retired University of California Berkeley Professor Tim White routinely used "a vast collection of human remains" to teach anthropology and osteology.
According to investigators, White supervised "a vast collection of human remains — bones sorted by body part and stored in wooden bins" after he joined the faculty in 1977.
ProPublica has found that the vast majority of remains in UC-Berkeley's collection came from ancestral sites in California.
Congress passed the Native American Graves Protection and Repatriation Act in 1990, calling on federally funded institutions to report and repatriate human remains and funerary artifacts.
White, now retired, advised the university's repatriation decisions and argued that because there was no way to identify the origin of the bones, NAGPRA did not apply.
ProPublica and NBC earlier this year launched an investigation into why the remains of 110,000 Native American, Native Hawaiian and Alaska Native ancestors are still held by museums, universities and federal agencies more than two decades after NAGPRA was passed. They report that UC-Berkeley holds the largest collection of unrepatriated Native American remains in the US.
Read more:

Harvard official says university poised to speed up repatriation of remains
In a related story, Native News Online spoke with Kelli Mosteller, a citizen of the Potawatomi Nation in Oklahoma who directs Harvard University's Native American Program.
ProPublica found that Harvard University still holds the remains of at least 6,165 Native American ancestors, the fourth largest collection in the U.S.
Mosteller said Harvard had previously lacked the staff to manage repatriation but has now doubled its staff to help with NAGPRA compliance.
"I know Harvard has a terrible history, and they know they have a terrible legacy. But I have faith that we're moving in the right direction, because I'm on the ground watching us do the work every day, trying to right that history," Mosteller said.
Harvard in November apologized for holding and pledged to return hundreds of hair samples taken from Native American children in the federal boarding school system. https://www.voanews.com/a/native-american-news-roundup-november-13-19-2022-/6839172.html
Read more:

Patrice Kunesh to lead HHS Native American Program
The U.S. Senate Wednesday confirmed Patrice H. Kunesh as commissioner of the Health and Human Service Department's Administration for Native Americans (ANA).
Kunesh, who is of Standing Rock Lakota descent, is a nationally recognized attorney and policy advocate. She was nominated by President Joe Biden nine months ago.
"I am deeply honored to be confirmed for this opportunity to serve Native peoples in this role,"
said Kunesh
. "I am so inspired by this administration's abiding respect for Native governance and cultural integrity.

The ANA was established in 1974 to promote self-sufficiency for Native Americans, Alaska Natives and Hawaiian Native tribes and to reduce dependency on public funds and social services. It also works to improve access to services and programs safeguarding the health and well-being of Native children and families, and boost youth and intergenerational activities in tribal communities.
See how lawmakers voted here:

Native American journalist and educator defends controversial tweet
Oglala Lakota Chicano journalist and University of Denver lecturer Simon Moya-Smith drew anger on Twitter and at least two media outlets this week after suggesting that prisons and laws banning homosexuality and abortion were exports from Europe.
"Simon Moya-Smith, a left-wing Native-American writer, envisions a primordial progressive utopia in North America — before the arrival of the colonists, Indian tribes held hands, sang kumbaya, passed the Green New Deal, doled out abortions and sex-change surgeries like candy," an editorial in the conservative National Review reads. It references a folk song/religious spiritual adopted as an expression of racial unity during the civil rights movement of the 1950s and 1960s.
The Review noted that the Navajo Nation banned abortion in 2005 and stated that only a handful of tribes have legalized same-sex marriage.
As of mid-week, Moya-Smith's tweet had earned more than 7 million views and thousands of comments, many of them derogatory.
"Yea they just scalped people and burned them alive," read one response. Others posted graphics depicting human sacrifice among the Aztecs.
"As soon as you say anything about no prisons or no abortion, they're going to bring up the Navajo and the Aztecs, lumping us all into the same category," Moya-Smith told VOA. "They like to push the narrative that when white Christians came here, they built this country, and it worked out well for everyone. But not for Indigenous people. And that's my point."
And he added, "I feel like I have to put out tweets like this every now and then so people can understand how much racism is really out there."
Native American News Roundup February 26 to March 4, 2023
Here is a summary of some of the top Native American-related news making headlines this week:
Remembering the Wounded Knee takeover
It was 50 years ago this week that Oglala Lakota activists and members of the American Indian Movement (AIM) besieged the town of Wounded Knee on the Pine Ridge Reservation in South Dakota, the site of an Army massacre of Lakota 80 years earlier.
AIM was a grassroots civil rights movement organized in Minneapolis in the late 1960s which evolved into a movement to empower Native pride, economic empowerment, and the assertion of tribal treaty rights.
High-profile protests by AIM included the occupation of Alcatraz Island from 1969 to 1971 and a partial take-over of the Bureau of Indian Affairs building in late 1972.
Oglala Lakota at the time were divided between "progressive" supporters of tribal chairman Dick Wilson and "traditionalists," who accused him of corruption, favoritism and being too friendly with Washington.
Tensions worsened after Wilson created a private militia accused of using violence against his opponents. There was also the kidnap and murder of an Oglala man by a group of four men and one woman, all white, in nearby Gordon, Nebraska, which attracted the interest and involvement of AIM.
After failing to have Wilson impeached, more than 200 AIM members and Oglala supporters descended on Wounded Knee February 27, 1973, triggering a 71-day standoff that involved the FBI, the U.S. Marshal Service and the U.S. Bureau of Indian Affairs. The conflict left two dead and a U.S. Marshal paralyzed from a gunshot wound.
On May 6, the government and AIM reached an accord: the occupiers would surrender and turn over their weapons; the Justice Department would investigate Wilson and militia abuses; and a White House delegation would hold talks with Lakota leaders to re-examine treaty obligations.
The case drew global media attention, despite FBI efforts to block reporters, and helped raise awareness about Native American rights. Today, Pine Ridge remains among the poorest communities in the United States.
Read more:
HUD announces affordable housing grants
The U.S. Department of Housing and Urban Development (HUD) announced Tuesday more than $794 million in Indian Housing Block Grants to help nearly 600 Native American tribes, Alaska Native villages and other Native entities create affordable housing in tribal communities.
"HUD is committed to supporting our Tribal communities by providing resources that will help persons living in those neighborhoods thrive," HUD Secretary Marcia L. Fudge said in a press release. "We know that these grants will not only be used to create affordable housing, but they will also provide much needed wrap-around services and solutions to complex issues."
In 2017, HUD released the results of a congressionally mandated study of the housing needs in tribal areas. It found overcrowding combined with deficiencies in plumbing, heating, electrical and other maintenance issues in 34% of tribal households compared with 7% of all U.S. households.
Read more:
U. Minn to return land to Chippewa Band
The University of Minnesota says it will return some 1,400 hectares (3,391 acres) of land to the Fond du Lac Band of Lake Superior Chippewa, in recognition that the lands were promised to the band by treaty.
The land, which currently houses the university's Cloquet Forestry Center, has been under the university's control since 1909, and in today's market is worth about $35 million.
In her proposal to UM's board of regents, university President Joan Gabel characterized the land transfer as a "repatriation of land to its original caretakers" and a "positive step in repairing and strengthening the University's relationship with the Fond du Lac Band and Indigenous communities throughout the state."
Gabel cautioned the board that "there are considerable steps ahead to address a variety of complicated issues such as ownership of the land, public engagement and consultation, the continuation of research, and a variety of questions that come up for something this complicated."
See her statement to the board below:
South Dakota lawmakers greenlight study on Indian child welfare
A South Dakota House panel this week approved a 17-member, two-year task force to study Native American overrepresentation in South Dakota's foster care system.
Historically, the federal government removed Native children from their families and tribes and placed them in boarding schools. Welfare agencies later placed them in white foster and adoptive families. Congress passed the Indian Child Welfare Act in 1978 to end these removals.
But studies show that more than half of South Dakota's foster children are Native American, even though Native children make up only 12% of the population. Members of the nine tribes in the state see this as a continuation of historic policies of forced assimilation.
Senate Bill 191 cleared the full state Senate last week. Its sponsor, Sen. Red Dawn Foster (D-Pine Ridge), said the task force will consult with all stakeholders, including lawmakers, the state foster care system, and representatives from the state's nine tribes.