Student Union
Femen Founder Oksana Shachko Dead In Paris In Suspected Suicide
A founding member of the prominent protest group Femen, Oksana Shachko, has died in Paris in an apparent suicide, fellow members say.
"RIP. The most fearless and vulnerable Oksana Shachko has left us," a post on the Femen website said. "We mourn together with her relatives and friends and [await] the official version from the police."
"At the moment it is known that ... July 23, Oksana's body was found in her apartment in Paris. According to her friends, she left a suicide note," the post said.
"As far as I know, she was concerned that everything is going badly in the world," Femen co-founder Anna Hutsol told RFE/RL's Ukrainian Service on July 24.
The second secretary at the Ukrainian Embassy in Paris, Oksana Lovha, confirmed Shachko's death to Current Time TV, the Russian-language network run by RFE/RL in cooperation with VOA.
There was no public comment from French authorities, and Lovha said Ukrainian diplomats were awaiting further details from police.
Founded in Ukraine a decade ago, Femen is known mainly for protests in which activists often bare their breasts -- sometimes exposing slogans written on their skin -- and disrupt political events or gatherings.
Femen activists have rushed politicians such as Russian President Vladimir Putin and Czech President Milos Zeman, and public figures like American comic Bill Cosby.
Often directed at leaders they describe as dictators or oppressors, their protests have also taken other forms and targeted issues such as the environment.
A native of Ukraine who had lived in Paris in recent years, Shachko, 31, was one of a group of Femen activists who rushed Putin and German Chancellor Angela Merkel in Hannover, Germany, in 2013.
"Oksana fought against injustice, fought for equality, fought like a hero for herself and for other women," said a post on the Femen website said.
"Oksana is no longer with us, but she is here, she is everywhere," it said. "Oksana ... is in each of us, she is in FEMEN, and she is in the history of feminism."
Femen said in 2011 that Shachko was among three members seized by security officers after staging a topless protest mocking Belarusian President Alyaksandr Lukashenka.
It said the officers forced them to strip naked, poured oil over them, threatened to set them on fire, and cut off their hair.
Femen has said that Shachko was abducted again during a visit by Putin to Ukraine, and a lawyer for the group said she was beaten and briefly hospitalized.
Femen now has branches on at least four continents.
BBC contributed to this report.
See all News Updates of the Day
US Schools With Highest International Student Admission Rates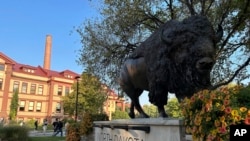 US News & World Report says the average rate of acceptance for international students at U.S. schools is around 42%.
Here, the magazine looks at schools with the highest admission rates, with at least one with a 98% admission rate. (October 2023)
Brazilian Studying in US Reflects on Her First Month on Campus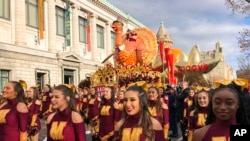 Julia Rabelo, a Brazilian studying in the U.S. state of Texas, has spent a month on campus, and she says she's learned a lot.
Here, she offers her top tips for students looking to study in the U.S. They include getting involved in campus organizations, keeping in touch with loved ones at home and remembering to have fun. (October 2023)
More than 200,000 Students Just Got Into College – Without Applying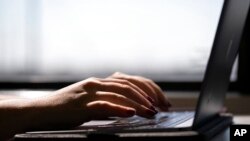 The Common Application, the largest application system in the U.S., automatically admitted the students based on their reported grades. The goal is to ease stress for students and fill seats. Nick Anderson has more in The Washington Post. (November 2023)
ACT Scores Have Fallen for Sixth Year in a Row
The ACT is one of two commonly used college admissions tests in the U.S. Scores have fallen year over year and are now at their lowest level in 30 years. The pandemic made students less ready for college, but the trend predates it. Joseph Pisani of The Wall Street Journal has more. (October 2023)
Do US News College Rankings Exclude International Students?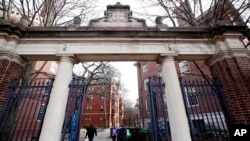 The rankings are the most popular in the U.S., but the rankings have changed their methodology amid recent criticism. Two professors, Ryan Allen and Tomoko Takahashi, argue that this new system is unfair to international students. It fails to capture their earnings after graduation and excludes them from its list of first-generation students. Weigh their arguments for yourself in Inside Higher Ed, (October 2023)