Student Union
Fewer New Foreign Students Coming to America
While more than 1 million internationals study in the U.S. for college and university, the rate at which they are arriving is slower, with a decline shown among new foreign students coming here.
The annual Open Doors report released Monday shows that the rapid rise of international students -- mostly from China and India -- over the past decade stalled in 2016-2017. Enrollment figures show about 10,000 fewer new students came to the U.S. this year over last.
This is the first time the number of new enrollments has declined in six years.
"The factors driving the decline are a mix of global and local economic conditions," said Allan Goodman, president of the International Institute for Education (IIE), which compiles the data with the U.S. State Department's Bureau of Educational and Cultural Affairs, such as declines in students coming from Saudi Arabia and Brazil.
Because of cutbacks in overseas government programs that fund scholarship in the U.S., Saudi enrollment in U.S. schools declined 14 percent. Brazil showed a 32 percent decline in the amount of students it sends here.
The cost of college in the U.S. and increased competition from universities and programs in other nations has dampened the attractiveness of higher education in the U.S., IIE reported.
"What we're hearing for the first time is 'Ouch!' from families," Goodman said. "Our costs have risen to the point where our students are looking for alternatives."
Schools in Germany, France, China and Japan, among others, are setting up programs taught in English, said Peggy Blumenthal, IIE's chief counselor to Goodman. Some of those programs are far less expensive than tuition and fees in the U.S., she said.
"Countries and multinational employers around the world are competing to attract top talent. As more countries become active hosts of international students and implement national strategies to attract them, the competition … will only intensify," Goodman said.
Other factors dissuading internationals from coming to America? Safety and security for their children, and the existing political climate, experts said.
Increasing conflicts on U.S. campuses gives parents and grandparents pause before sending their young family members to America, said Rajika Bhandari, head of research, police and practice at IIE.
Incidents have made global news about fatalities and hurt in college towns, such as in Charlottesville, Virginia, where white supremacists clashed with opponents near the University of Virginia. One women and two male law enforcement officers were killed this summer in protests.
In the Midwest, a Chinese student abducted at the University of Illinois is presumed dead. Most recently, a Chinese student was killed in a car-jacking near the University of Utah. Two Indian immigrants who came to the U.S. as international students, were shot in Kansas as they enjoyed a drink after work. One died, and the news was widely reported in India.
Those incidents have dove-tailed with President Donald Trump's call for less immigration, specifically from Muslim-majority nations. Some students have expressed fear that their visas could be nullified, leaving them with incomplete degree programs in the U.S.
However, none of the 10 top countries that account for the overwhelming number of foreign enrollment are included in current visa restrictions.
China and India continue to send the most students: China sent 350,000 (nearly 7 percent increase), and India, 186,000 (more than 12 percent more than the previous year). Nepalese enrollment increased to more than 11,000 studying in the U.S. (20 percent upward shift); Vietnamese more than 22,400 (nearly 5 percent more than the past year).
Iranian enrollment increased to 12,600 students (3 percent increase) in U.S. schools, while Nigeria -- which sends the most African students to U.S. institutions -- had 11,700 students here, a nearly 10 percent increase.
Bangladesh sent more than 7,000 students to the U.S. in the past academic year, an increase of 9.7 percent.
Mexico is ninth in the list of countries that send students to the U.S., with nearly 17,000 in programs. That was a 0.6 percent increase over the past school year. Canada is No. 5, sending 27,000 students to the southern side of North America.
The No. 1 major for international students is engineering, business and management, math and computer science (which increased 18 percent), social sciences, physical and life sciences, fine and applied arts, health professions. Studies in Intensive English declined nearly 26 percent, with education declining more than 7 percent.
The number of international students in the U.S. are staying longer to participate in Optional Practical Training (OPT), a visa program that allows them to train in their field after their degree is complete.
IIE also conducts what they call a "snapshot" of trends for the current school year, 2017-2018. The nearly 500 colleges and universities say they see the same flattening in number of students and decline of about 7 percent in new students.
International students add about $39.4 billion to the U.S. economy through tuition, room and board and living expenses, according to the U.S. Department of Commerce. Sixty percent of international students pay for their U.S. education through personal family funds.
The universities with the largest populations of international students are New York University, University of Southern California, Columbia University, Northeastern University, Arizona State University, University of Illinois-Urbana Champaign, University of California-Los Angeles, Purdue University, University of Texas-Dallas, Pennsylvania State University.
The states where most international students attend programs are California, New York, Texas, Massachusetts, Illinois, Pennsylvania, Florida, Ohio, Michigan and Indiana.
The survey is conducted by IIE with the American Association of Collegiate Registrars and Admissions Officers (AACRAO), American Association of Community Colleges (AACC), American Association of State Colleges and Universities (AASCU), American Council on Education (ACE), Association of Public and Land Grant Universities (APLU), College Board, Council on Graduate Schools (CGS), National Association for College Admissions Counseling (NACAC), and the Association of International Educators (NAFSA).
Please share your suggestion in the Comments here, and visit us on Facebook, Twitter, Instagram, and LinkedIn, thanks!

See all News Updates of the Day
Former US Congresswoman Liz Cheney Urges Graduates Not to Compromise With the Truth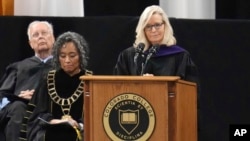 Former U.S. Congresswoman Liz Cheney implored new college graduates to not compromise when it comes to the truth, excoriating her House Republican colleagues for not doing enough to combat former President Donald Trump's lies that the 2020 election was stolen.
In a commencement speech at Colorado College, the Wyoming Republican repeated her fierce criticisms of Trump but steered clear of talking about his 2024 reelection campaign or her own political future.
Cheney, who graduated from Colorado College in 1988, recalled being a political science student walking into a campus building where a Bible verse was inscribed above the entrance that read, "Ye shall know the truth and the truth shall make you free."
"After the 2020 election and the attack of January 6th, my fellow Republicans wanted me to lie. They wanted me to say the 2020 election was stolen, the attack of January 6th wasn't a big deal, and Donald Trump wasn't dangerous," Cheney said Sunday in Colorado Springs, connecting her experiences as a student to her work in the U.S. House of Representatives. "I had to choose between lying and losing my position in House leadership."
In three terms in office, Cheney rose to the No. 3 GOP leadership position in the House, a job she lost after voting to impeach Trump for the Jan. 6, 2021, insurrection at the Capitol and then not relenting in her criticism of the former president.
Cheney's speech touched on themes similar to those she has promoted since leaving office in January: addressing her work on the House committee investigating the Jan. 6 2021 attack on the U.S. Capitol and standing up to the threat she believes Trump poses to democracy. She also encouraged more women to run for office and criticized one of the election-denying attorneys who worked for Trump after the 2020 election for recent remarks about college students voting.
"Cleta Mitchell, an election denier and adviser to former President Trump, told a gathering of Republicans recently that it is crucially important to make sure that college students don't vote," Cheney said. "Those who are trying to unravel the foundations of our republic, who are threatening the rule of law and the sanctity of our elections, know they can't succeed if you vote."
In an audio recording of Mitchell's presentation from a recent Republican National Committee retreat, she warns of polling places on college campuses and the ease of voting as potential problems, The Washington Post reported.
Most students and parents in the audience applauded throughout Cheney's remarks, yet some booed. Some students opposing the choice of Cheney as speaker turned their chairs away from the stage as she spoke.
Cheney's busy speaking schedule and subject matter have fueled speculation about whether she may enter the 2024 GOP presidential primary since she left office. Candidates ranging from Florida Gov. Ron DeSantis to former South Carolina Gov. Nikki Haley have calibrated their remarks about Trump, aiming to counter his attacks without alienating the supporters that won him the White House seven years ago.
Though some have offered measured criticisms, no declared or potential challenger has embraced anti-Trump messaging to the same extent as Cheney. She did not reference her plans on Sunday but has previously said she remains undecided about whether she wants to run for president.
Though she would face an uphill battle, Cheney's fierce anti-Trump stance and her role as vice chairwoman of the House committee elevated her platform high enough to call on a national network of donors and Trump critics to support a White House run.
A super PAC organized to support of her candidacy has remained active, including purchasing attack ads on New Hampshire airwaves against Trump this month.
After leaving office and being replaced by a Trump-backed Republican who defeated her in last year's primary, Cheney was appointed to a professorship at the University of Virginia and wrote "Oath and Honor," a memoir scheduled to hit shelves in November.
Two of Cheney's five children as well as her mother are also graduates of the liberal arts college.
Cheney's speaking tour appears to be picking up. She is scheduled to appear Thursday at the Mackinac Policy Conference in Michigan.
How Are Girls in Afghanistan Continuing Their Education?
After the Taliban retook power in Afghanistan in 2021, they severely limited access to education for girls. Yet a club founded in the U.S., Flowers for the Future, helps Afghan girls keep learning through Zoom meetings with U.S. students. Two students, one Afghan, one American, describe their journey with the program and what it's taught them about grit, resilience and the importance of learning. Read the essays by Mahsa Kosha and Emily Khossaravi in the Hechinger Report. (May 2023)
Could Your International Degree be Financed by Goldman Sachs?
Quite possibly, since the elite U.S. investment bank has been investing millions in educational startups. Students from countries like India, Nigeria and Indonesia have long struggled to finance their U.S. degrees due to limited access to loans, but these new startups could disrupt that. For example, in just the first quarter of 2022, one startup, Prodigy Finance, reported a 98% increase in the number of Indian loan applicants. Nick Cuthbert of the PIE News breaks down the financial projections. (May 2023)
How Do College Sports Bring Together American and International Students?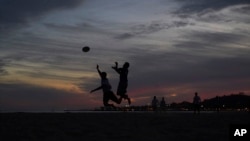 The game of Ultimate Frisbee has no referees and isn't governed by the official association for U.S. college sports. But it is intensely competitive, and students from Australia, China and elsewhere travel to the U.S. to play for the best schools. Andrew Smith of VOA Learning English reports on how college athletics can forge international friendships outside the classroom. (May 2023)
Is It Possible for Vietnamese Universities to Find Ways to Attract American Students to Study Abroad?
Vietnamese students now make up the fifth-largest group of foreign students in the U.S., according to the 2022 Institute of International Education's (IIE) annual Open Doors report. The report found 20,713 Vietnamese students studied in the U.S. in the 2021-2022 academic year.
But now some Vietnamese universities have recently begun trying to attract U.S. students to study in Vietnam, a goal that is challenging, some education experts told VOA's Khanh An. (May 2023)