Student Union
First Cambodian-American Woman Elected to US Office
Khemarey Khoeun will make history next week when she is sworn in as the first Cambodian-American woman elected to public office in the United States.
Khoeun was 6 months old when she arrived in suburban Chicago in 1981 from Sa Keo, a Thai refugee camp where her family went after escaping the Khmer Rouge genocide.
Khoeun's victory in the race for park district commissioner in Skokie, Illinois, on April 4 was a surprise. Skokie's Cambodian population is small compared with larger Cambodian communities in Long Beach, California, and
Lowell, Massachusetts
.
She will be sworn in May 16.
"I want to ensure our parks are friendly and sustainable spaces for all families in our community," she said. Mayor George Van Dusen endorsed her.
Khoeun, the second Asian-American park district commissioner elected by village voters, also represents how times have changed for Skokie. For many, the village is known for a 1977 free-speech legal case. The U.S. Supreme Court ruled that the neo-Nazi National Socialist Party of America had a constitutional right to march in the village, which was home to thousands of Jewish Holocaust survivors.
"Skokie is now a very diverse village. It has more than 100 languages spoken in the households and has an open-hand policy welcoming immigrants," said Jerry Clarito, 68. In 2005, he was the first Asian-American elected to be a Skokie park district commissioner.
Fresh perspective
A full-time employee at Healthjoy, a health tech company, Khoeun plans on bringing a new viewpoint to the commission.
"I have two young children who are going to the park district programs, so that allows me to have a unique perspective," she said.
Khoeun also wants to "increase engagement" of immigrant communities, whom she said lacks a platform for making their needs known.
"She will be an advocate for the parks and recreation [program], which is open to all, especially young people," said Clarito, who encouraged Khoeun to run after knowing her for a decade.
"Now, as an elected official, she will be a voice for the Cambodian-American community in Illinois and nationally," said Josina Morita, 36, a Chinese-Japanese-American elected as commissioner of the Metropolitan Water Reclamation District of Greater Chicago in late 2016.
Bridging two generations
As Khoeun was growing up, her parents told her little of their experience with the Khmer Rouge genocide. She learned what happened to others as she worked with local Cambodian refugees and their children.
"She speaks a lot about inter-generational issues. She speaks a lot of how we, the new generation, can participate and take part in what is going on now and the issues we have," said Elizabeth Keo, 32, a board member of Chicago's National Cambodian Heritage Museum and Killing Field Memorial and a community activist for 15 years.
"She has this passion of [getting] the community together," said Vany Wells, the Cambodian American president of the Cambodian museum. "I've noticed how caring, compassionate and competent she is."
Khoeun earned a bachelor's degree in social work at Loyola University in Chicago and became a youth leader for the Cambodian Association of Illinois, serving one term on the board. Recently, she became vice president of the Cambodian Museum.
Community voice
Cambodians in the U.S. rarely participate in politics, in part because of their country's history of upheaval. But Khoeun thinks her election will help Cambodians see there is little risk in taking an active role in their new home.
"The goal is to raise our visibility in our community so that others can see that it is achievable, and that we should try and support each other as well," she said.
"Now we have a voice. It might not be big, but it's still a voice," said Wells, adding that after Khoeun won, "people began to pay attention."
Khoeun's victory has "definitely paved the way for other young women, and she is a role model for our community," said Keo. "We can do things."
Please leave a comment here, and visit us on Facebook, Twitter, Instagram and LinkedIn, thanks!
See all News Updates of the Day
Are Declining Enrollments in the US a Hidden Opportunity for Students Abroad?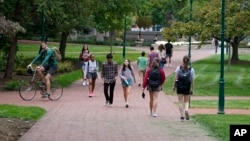 Allen Goodman, CEO of the Institute for Higher Education, writes that empty seats at U.S. colleges could drive a boom in international education. The U.S. has lost market share among host countries, but unlike its competitors, its university system is so large and underutilized that it could easily recruit more students. Because international students become "friends for life" with the U.S., and bring valuable expertise (and tuition dollars), Goodman argues the U.S. should recruit 2 million students by the end of the decade.
Weigh his argument for yourself in Times Higher Education. (May 2023)
What Could a Bitter Lawsuit Tell Us About International Education in the US?
In 2010, the University of South Florida signed a 30-year contract with INTO, a company that provides support services for international students. INTO built a "pathway program" at the university that taught students English and basic academic skills before they began their higher-education degrees. But after years of enrollment declines, the university ended the contract, and now both parties are fighting an "acrimonious" court case. The news comes as many of INTO's programs at other schools are being shuttered. While management and financial issues may play a role, so does the post-pandemic educational landscape: pathway programs can now be easily offered online.
Liam Knox of Inside Higher Ed has more. (May 2023)
Croatian Student Earning Simultaneous Ph.D.s in US, Croatia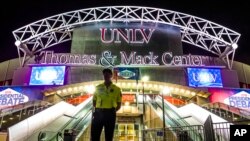 A Croatian student is earning two Ph.D.s simultaneously, one in Croatia and one at the University of Nevada, Las Vegas.
Borna Nemet spends his days at UNLV studying educational leadership and effectiveness. At night, he uses Zoom to teach students at the University of Zagreb in Croatia. Read the full story here. (May 2023)
It's Graduation Season – Who Might Speak at Yours?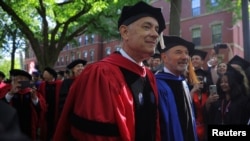 U.S. graduation ceremonies usually feature a public figure who offers advice to young people starting their careers. This spring, graduates have heard from President Joe Biden, actor Tom Hanks, Nobel Peace Prize winner Maria Ressa and even Ukrainian President Volodymyr Zelenskyy. Finnish Prime Minister Sanna Marin, who became the youngest prime minister in the world at age 34, told her audience that change cannot wait, even at their age. "To change things," she said, "you have to take over."
Read the story from Dan Friedell of VOA Learning English. (May 2023)
What Did Justin, a Golden Retriever Mix, Do to Earn a Diploma?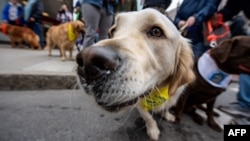 Justin is a service dog and accompanied his owner (who graduated with honors) to every single class for four years. The student's university honored the dog's hard work with his very own diploma, which he accepted, tail wagging, in front a cheering stadium of other graduates.
See Justin's walk across the stage in this story from Bill Chappell of NPR. (May 2023)