Student Union
College Students Unite to Bring Relief to Refugees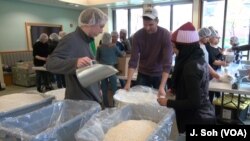 FAIRFAX , VIRGINIA —
George Mason University students streamed into a room in the campus' community building in Fairfax, Virginia, one day last week to pack rice and beans. These meals, 40,000 of them, were bound for refugee families in the Middle East.
"Each box provides meals for a family of five for a whole month. We are able to pack 280 boxes to take over there," said Brett Miller with George Mason's Christian Campus Ministry. The interdenominational Christian organization Mason Cru organized Meals for Refugees in response to what has become a very large problem.
The U.N. refugee agency, UNHCR, estimates that one in every 113 people on the planet is now a refugee. By the end of 2016, UNHCR said number of displaced people had risen to 65.6 million, 300,000 more than the year before and the largest number ever recorded, putting pressure on humanitarian organizations and governments for food and housing.
WATCH: College Students Unite to Bring Relief to Refugees
Meals for Refugees was part of an annual campuswide humanitarian effort called Love Week. This year, Love Week was about helping refugees in partnership with the Global Aid Network (GAiN), which will distribute the meals.
"We gather as many students as we can," Miller said. "We have a Jewish group partnering with us, Muslim groups." The event has also drawn members of sororities and fraternities, as well other non-religious organizations.
With 35,000 students and four campuses, George Mason is Virginia's biggest school and the state's largest public research university.
Begun in 2010, Love Week takes on a different project each year. In earlier years, students have raised money to rescue women from sex trafficking, packed school supplies for a mentorship program in Botswana and provided seeds so displaced families in South Sudan could grow their own food.
In addition to packing meals, students also raised money for refugees through the sale of T-shirts that say "Love Refugees" on the front.
"That's our major, major way of gaining funds for this cause. They are very popular," Miller said.
Love Week has two purposes. One is to relieve suffering in the refugee camps. The other is give students a new perspective.
"Our hope is that students here would gain a heart for those who are poor, or displaced, marginalized in the world," Miller said.
Student Carrie Johns began to participate in Love Week three years ago with a clean water project for Guatemala.
"I know that I'm very lucky because I have a home to go to," she said. "I have three meals a day. But I also know that there are people in the world like refugees who don't have that. And I hope that my efforts can bring them hope and brighten their day even when times are difficult."
See all News Updates of the Day
Soon-to-Be Graduates Put COVID Behind Them
During the COVID-19 pandemic, learning lagged for students around the world, including the U.S., where many had access to online learning. Now these soon-to-be graduates say they are behind in certain subjects because of time missed at school. VOA's Laurel Bowman sat down with high school seniors on the cusp of graduation. Camera: Adam Greenbaum, Saqib Ul Islam.
Former US Congresswoman Liz Cheney Urges Graduates Not to Compromise With the Truth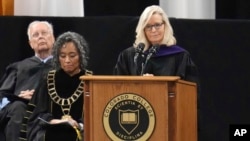 Former U.S. Congresswoman Liz Cheney implored new college graduates to not compromise when it comes to the truth, excoriating her House Republican colleagues for not doing enough to combat former President Donald Trump's lies that the 2020 election was stolen.
In a commencement speech at Colorado College, the Wyoming Republican repeated her fierce criticisms of Trump but steered clear of talking about his 2024 reelection campaign or her own political future.
Cheney, who graduated from Colorado College in 1988, recalled being a political science student walking into a campus building where a Bible verse was inscribed above the entrance that read, "Ye shall know the truth and the truth shall make you free."
"After the 2020 election and the attack of January 6th, my fellow Republicans wanted me to lie. They wanted me to say the 2020 election was stolen, the attack of January 6th wasn't a big deal, and Donald Trump wasn't dangerous," Cheney said Sunday in Colorado Springs, connecting her experiences as a student to her work in the U.S. House of Representatives. "I had to choose between lying and losing my position in House leadership."
In three terms in office, Cheney rose to the No. 3 GOP leadership position in the House, a job she lost after voting to impeach Trump for the Jan. 6, 2021, insurrection at the Capitol and then not relenting in her criticism of the former president.
Cheney's speech touched on themes similar to those she has promoted since leaving office in January: addressing her work on the House committee investigating the Jan. 6 2021 attack on the U.S. Capitol and standing up to the threat she believes Trump poses to democracy. She also encouraged more women to run for office and criticized one of the election-denying attorneys who worked for Trump after the 2020 election for recent remarks about college students voting.
"Cleta Mitchell, an election denier and adviser to former President Trump, told a gathering of Republicans recently that it is crucially important to make sure that college students don't vote," Cheney said. "Those who are trying to unravel the foundations of our republic, who are threatening the rule of law and the sanctity of our elections, know they can't succeed if you vote."
In an audio recording of Mitchell's presentation from a recent Republican National Committee retreat, she warns of polling places on college campuses and the ease of voting as potential problems, The Washington Post reported.
Most students and parents in the audience applauded throughout Cheney's remarks, yet some booed. Some students opposing the choice of Cheney as speaker turned their chairs away from the stage as she spoke.
Cheney's busy speaking schedule and subject matter have fueled speculation about whether she may enter the 2024 GOP presidential primary since she left office. Candidates ranging from Florida Gov. Ron DeSantis to former South Carolina Gov. Nikki Haley have calibrated their remarks about Trump, aiming to counter his attacks without alienating the supporters that won him the White House seven years ago.
Though some have offered measured criticisms, no declared or potential challenger has embraced anti-Trump messaging to the same extent as Cheney. She did not reference her plans on Sunday but has previously said she remains undecided about whether she wants to run for president.
Though she would face an uphill battle, Cheney's fierce anti-Trump stance and her role as vice chairwoman of the House committee elevated her platform high enough to call on a national network of donors and Trump critics to support a White House run.
A super PAC organized to support of her candidacy has remained active, including purchasing attack ads on New Hampshire airwaves against Trump this month.
After leaving office and being replaced by a Trump-backed Republican who defeated her in last year's primary, Cheney was appointed to a professorship at the University of Virginia and wrote "Oath and Honor," a memoir scheduled to hit shelves in November.
Two of Cheney's five children as well as her mother are also graduates of the liberal arts college.
Cheney's speaking tour appears to be picking up. She is scheduled to appear Thursday at the Mackinac Policy Conference in Michigan.
How Are Girls in Afghanistan Continuing Their Education?
After the Taliban retook power in Afghanistan in 2021, they severely limited access to education for girls. Yet a club founded in the U.S., Flowers for the Future, helps Afghan girls keep learning through Zoom meetings with U.S. students. Two students, one Afghan, one American, describe their journey with the program and what it's taught them about grit, resilience and the importance of learning. Read the essays by Mahsa Kosha and Emily Khossaravi in the Hechinger Report. (May 2023)
Could Your International Degree be Financed by Goldman Sachs?
Quite possibly, since the elite U.S. investment bank has been investing millions in educational startups. Students from countries like India, Nigeria and Indonesia have long struggled to finance their U.S. degrees due to limited access to loans, but these new startups could disrupt that. For example, in just the first quarter of 2022, one startup, Prodigy Finance, reported a 98% increase in the number of Indian loan applicants. Nick Cuthbert of the PIE News breaks down the financial projections. (May 2023)
How Do College Sports Bring Together American and International Students?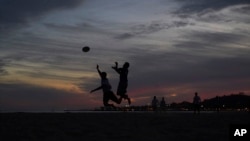 The game of Ultimate Frisbee has no referees and isn't governed by the official association for U.S. college sports. But it is intensely competitive, and students from Australia, China and elsewhere travel to the U.S. to play for the best schools. Andrew Smith of VOA Learning English reports on how college athletics can forge international friendships outside the classroom. (May 2023)