Student Union
Keep Up with #Election2016 On Podcasts
American politics can be hard to follow, especially the presidential election. If you don't have time to read, how about listening?
Podcasts can be listened to any time. My personal favorite time to listen to podcasts is on my morning commute to work. As someone who listens to political podcasts daily, here are five that can help you learn more about the American political system and election season.
These podcasts are ranked from one to five music notes, with one being suitable for beginners in American politics, and five being for someone who knows American politics and electoral history.
Just the Basics: NPR Politics Podcast
The
NPR Politics Podcast
is hosted by NPR reporter Sam Sanders, and NPR's various political reporters talk about the topics of the week. After the first debate between presidential candidates, they recapped the debate the next day. It helps to catch up about the week in politics, and for learning some American political history along the way. This podcast publishes multiple times a week, depending on the political news at the time.
They often have a "listener mail" segment where they interact with audience. So if you would like to ask questions about politics in America, there's your chance.
Listen Here
1/5 listening difficulty
Topical Interviews and News of the Week: The Run Up
The Run Up
is a product of the New York Times, hosted by New York Times reporter Michael Barbaro. The Run Up comes out twice a week, and features prominent political figures, New York Times reporters, reporters from outside of the Times, and much more.
The best part of the Run Up is Barbaro's interviewing skill. When I listen to this podcast, I always come away from it feeling more informed about key issues in the presidential race. When Barbaro did an episode on gender and politics called "Did Hillary Clinton Have to be First?" he interviewed Senator Claire McCaskill about her own experiences as a woman in politics. This put a face on the very real issues women have faced and still face in elected office.
The Run-Up very often picks an issue and engages with it for an entire episode, making it just slightly harder for a beginner in learning American politics.
Listen Here
2/5 listening difficulty
Polls and Data: 538's Elections Podcast
Jody Avirgan hosts
this podcast
, featuring 538 editor in chief Nate Silver, 538 politics reporter Claire Malone, and 538 political writer and analyst Harry Enten.
The podcast is generally once weekly, unless there is an important event that happens, then an "emergency podcast" will be sent out. Generally, these cover breaking stories that can't wait until the next Monday. 538 covers polling and electoral statistics, discussing which way the election may go, which states will be most important, and what each candidate's path to victory is.
538 gets its name from the amount of electors within the
electoral college
that picks the American president.
Since this podcast deals often with polling from states and from the country as a whole, it makes it slightly more intensive to listen to and understand than the previous two podcasts.
Listen Here
3/5 listening difficulty
In the Weeds: The Axe Files with David Axelrod
While Barbaro does an amazing job with interviewing on The Run Up, Former Obama campaign Chief Strategist David Axelrod hosts
The Axe File
s, and takes interviewing to the next level. On each podcast, Axelrod interviews one main figure from somewhere in the spectrum of politics. From former candidates and media figures, to campaign organizers and speechwriters- if they are important then they've probably been on the podcast.
This podcast is classified as "In the Weeds," because that phrase means that it really gets into the details about American politics. I would not recommend this to someone who doesn't have a good understanding of American politics, because you probably won't know who most of the figures are that Axelrod interviews. However, sometimes I don't know who the person is, and the interviews still teach me a lot!
Listen Here
4/5 listening difficulty
Inside the Beltway Commentary with a Liberal Slant: Keepin' it 1600
Keepin' it 1600
is hosted by Jon Favreau, Dan Pfeiffer, Jon Lovett, and Tommy Vietor , who used to be aides to President Obama. This podcast comes out twice a week.
I've defined this podcast as "Inside the Beltway" with a "Liberal Slant." "Inside the Beltway" refers to information dealing with government and politics. A "Liberal Slant" means that the podcast's point of view is generally Democratic because the four hosts are all Democrats. However, they do have Republicans on from time to time and push back and forth over ideas and topics with them.
This podcast is the most complicated to listen to of all of them, mostly because it clearly has a political point of view. It also often references political moments that people unfamiliar with American politics may not have a point of reference on. However, the humor and fun in this podcast is not to be missed, and the guests are always top notch.
Listen Here
5/5 listening difficulty
Please leave a comment and visit us on our Facebook page, thanks!
See all News Updates of the Day
Why Are Americans Less Confident in Higher Education?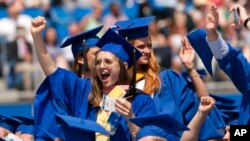 Only about 4 in 10 Americans say they have a "great deal" or "quite a lot" of confidence in higher education. Sarah Wood of U.S. News & World Report examines why and offers some solutions. (August 2023)
Research Helps Applicants Be More Competitive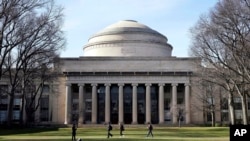 Between a third to half of all students admitted to the University of Pennsylvania and the California Institute of Technology feature high school research projects in their applications, and the MIT application even has a dedicated section for them.
Such projects can be "both a differentiator and an equalizer" in the admissions process: they can show your own individual drive and creativity, while also being accessible to students of all races and incomes. Read Janos Perczel's argument in The Hechinger Report. (August 2023)
Chinese Students Abroad Face 'A Tale of Two Fears'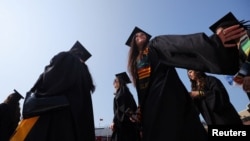 An op-ed in Politico argues that Chinese international students are often reluctant to discuss their country's politics. They suggest two reasons. First, they fear punishment for themselves or their families by the Chinese Communist Party. Second, as anti-Chinese sentiments surge in many countries, they worry about discrimination.
Read the piece by Jianyi Yang and Leslie Fu. (September 2023)
Racial Diversity at Johns Hopkins Could Be in Trouble
Johns Hopkins University, a prestigious research institution in Baltimore, Maryland, boosted its racial diversity by expanding outreach and financial aid, as well as getting rid of "legacy" admissions — those admitted because they have a relative who previously attended the school. However, the U.S. Supreme Court banned affirmative action in college and university admissions earlier this year. Now Johns Hopkins, and other schools, must find a way forward. Susan Svrluga and Nick Anderson report for The Washington Post. (August 2023)
Enrollments Are Down, Budgets Are Tight; One College's Answer: Pizza-Carrying Robots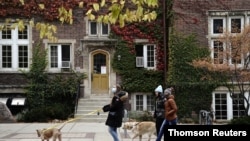 To cut costs, many colleges, including the University of Wisconsin-Madison, are using robots to deliver food in dining halls and at sports games. Students can order food with an app, and the robot will deliver it to them.
According to the robot's manufacturer, 64% of students surveyed say the service has kept them from skipping meals. Lauren Coffey of Inside Higher Ed has more. (August 2023)