Student Union
Learning Takes a Beating Worldwide, Report Says
A global education crisis looms because learning seldom takes place in the classroom, according to a new World Bank report.
Warning of a global "learning crisis" and recommending policy actions to combat ineffective primary and secondary schooling for millions of students worldwide,the World Development Report focused solely on education for the first time since 1978.
Students in the developing world are hit hardest, but problems also exist in disadvantaged communities in rich countries like the United States, said Halsey Rogers, World Bank lead economist and co-director of the report's team of seven core members.
"Schooling without learning is a wasted opportunity," the report stated. "More than that, it is a great injustice: The children whom society is failing most are the ones who most need a good education to succeed in life."
The report stated that despite attending primary and secondary school for several years, students in low- and middle-income countries lacked basic reading, writing and numeric ability. Data were collected intensively for a year from global studies and policy evidence, from nongovernmental organizations and official government authorities worldwide.
More than 80 percent of grade 2 students in rural India failed to solve a two-digit subtraction problem, according to data from the ASER Center, the report noted. Almost 90 percent of grade 2 students in selected regions of Malawi could not read a single word of short text, the report stated, citing information from the U.S. Agency for International Development.
Struggling to continue
"Deep in the rural village, barely resourced, with little support, teachers struggle to keep the school machinery running — getting students into class and then through the texts and assessments," Meeta Sengupta, founder of the Center for Education Strategy, a Delhi think tank that builds bridges between policy and practice for educators and institutions, wrote via email to VOAStudentU.
"Till we include every classroom in our quest for learning, we will continue to face this crisis," Sengupta said.
The report identified lack of teacher motivation and poor management skills in schools as problems. Also, a lack of nutrition in early years undermines educational achievements in the classroom, Rogers said. The report said brain scans have suggested that children with adequate nourishment in their first year had a denser neural connection in comparison to those who had not. That connection enhances learning.
Learning outcomes were significantly lower for poorer grade 6 students in comparison with their rich counterparts in Latin America, the study showed, citing data from the Third Regional Comparative and Explanatory Study.
The report recommended policy steps to combat the "learning crisis." They included effective teaching, implementing student assessments, strengthening school management systems and reducing malnutrition.
Data the report cites were only from countries who decided to make results public. Many other nations have declined to share data. Plus, 260 million young children not enrolled in primary or secondary schools are unaccounted for in the report.
"The one thing I want people to take away from this is that you have to care about and focus on learning and not just schooling, and especially learning for all," Rogers said.
See all News Updates of the Day
Former US Congresswoman Liz Cheney Urges Graduates Not to Compromise With the Truth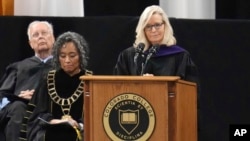 Former U.S. Congresswoman Liz Cheney implored new college graduates to not compromise when it comes to the truth, excoriating her House Republican colleagues for not doing enough to combat former President Donald Trump's lies that the 2020 election was stolen.
In a commencement speech at Colorado College, the Wyoming Republican repeated her fierce criticisms of Trump but steered clear of talking about his 2024 reelection campaign or her own political future.
Cheney, who graduated from Colorado College in 1988, recalled being a political science student walking into a campus building where a Bible verse was inscribed above the entrance that read, "Ye shall know the truth and the truth shall make you free."
"After the 2020 election and the attack of January 6th, my fellow Republicans wanted me to lie. They wanted me to say the 2020 election was stolen, the attack of January 6th wasn't a big deal, and Donald Trump wasn't dangerous," Cheney said Sunday in Colorado Springs, connecting her experiences as a student to her work in the U.S. House of Representatives. "I had to choose between lying and losing my position in House leadership."
In three terms in office, Cheney rose to the No. 3 GOP leadership position in the House, a job she lost after voting to impeach Trump for the Jan. 6, 2021, insurrection at the Capitol and then not relenting in her criticism of the former president.
Cheney's speech touched on themes similar to those she has promoted since leaving office in January: addressing her work on the House committee investigating the Jan. 6 2021 attack on the U.S. Capitol and standing up to the threat she believes Trump poses to democracy. She also encouraged more women to run for office and criticized one of the election-denying attorneys who worked for Trump after the 2020 election for recent remarks about college students voting.
"Cleta Mitchell, an election denier and adviser to former President Trump, told a gathering of Republicans recently that it is crucially important to make sure that college students don't vote," Cheney said. "Those who are trying to unravel the foundations of our republic, who are threatening the rule of law and the sanctity of our elections, know they can't succeed if you vote."
In an audio recording of Mitchell's presentation from a recent Republican National Committee retreat, she warns of polling places on college campuses and the ease of voting as potential problems, The Washington Post reported.
Most students and parents in the audience applauded throughout Cheney's remarks, yet some booed. Some students opposing the choice of Cheney as speaker turned their chairs away from the stage as she spoke.
Cheney's busy speaking schedule and subject matter have fueled speculation about whether she may enter the 2024 GOP presidential primary since she left office. Candidates ranging from Florida Gov. Ron DeSantis to former South Carolina Gov. Nikki Haley have calibrated their remarks about Trump, aiming to counter his attacks without alienating the supporters that won him the White House seven years ago.
Though some have offered measured criticisms, no declared or potential challenger has embraced anti-Trump messaging to the same extent as Cheney. She did not reference her plans on Sunday but has previously said she remains undecided about whether she wants to run for president.
Though she would face an uphill battle, Cheney's fierce anti-Trump stance and her role as vice chairwoman of the House committee elevated her platform high enough to call on a national network of donors and Trump critics to support a White House run.
A super PAC organized to support of her candidacy has remained active, including purchasing attack ads on New Hampshire airwaves against Trump this month.
After leaving office and being replaced by a Trump-backed Republican who defeated her in last year's primary, Cheney was appointed to a professorship at the University of Virginia and wrote "Oath and Honor," a memoir scheduled to hit shelves in November.
Two of Cheney's five children as well as her mother are also graduates of the liberal arts college.
Cheney's speaking tour appears to be picking up. She is scheduled to appear Thursday at the Mackinac Policy Conference in Michigan.
How Are Girls in Afghanistan Continuing Their Education?
After the Taliban retook power in Afghanistan in 2021, they severely limited access to education for girls. Yet a club founded in the U.S., Flowers for the Future, helps Afghan girls keep learning through Zoom meetings with U.S. students. Two students, one Afghan, one American, describe their journey with the program and what it's taught them about grit, resilience and the importance of learning. Read the essays by Mahsa Kosha and Emily Khossaravi in the Hechinger Report. (May 2023)
Could Your International Degree be Financed by Goldman Sachs?
Quite possibly, since the elite U.S. investment bank has been investing millions in educational startups. Students from countries like India, Nigeria and Indonesia have long struggled to finance their U.S. degrees due to limited access to loans, but these new startups could disrupt that. For example, in just the first quarter of 2022, one startup, Prodigy Finance, reported a 98% increase in the number of Indian loan applicants. Nick Cuthbert of the PIE News breaks down the financial projections. (May 2023)
How Do College Sports Bring Together American and International Students?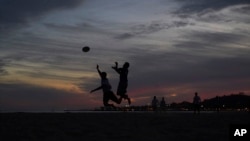 The game of Ultimate Frisbee has no referees and isn't governed by the official association for U.S. college sports. But it is intensely competitive, and students from Australia, China and elsewhere travel to the U.S. to play for the best schools. Andrew Smith of VOA Learning English reports on how college athletics can forge international friendships outside the classroom. (May 2023)
Is It Possible for Vietnamese Universities to Find Ways to Attract American Students to Study Abroad?
Vietnamese students now make up the fifth-largest group of foreign students in the U.S., according to the 2022 Institute of International Education's (IIE) annual Open Doors report. The report found 20,713 Vietnamese students studied in the U.S. in the 2021-2022 academic year.
But now some Vietnamese universities have recently begun trying to attract U.S. students to study in Vietnam, a goal that is challenging, some education experts told VOA's Khanh An. (May 2023)