Student Union
Muslims, Jews, Christians, Sikhs, Hindus Walk for Unity
In a Washington synagogue, Susan Katz Miller sat beside an atheist, a Muslim and a Christian on Sunday.
No joke.
After listening to a Zoroastrian prayer, Miller - a Jew from an interfaith family - and two friends (an atheist and a Muslim), walked down leafy and elegant Embassy Row in Washington. They paid their respects at various churches, broke for an Indian lunch at the Sikh Gurdwara temple, and wound up at the Islamic Center of Washington, where they heard remarks by Imam Abdullah Khouj and listened to the famous Hindu "Gayatri Mantra."
Close to a thousand people - members of different faiths, most of them residents of Maryland, Virginia or the nation's capital - joined Miller and her friends at Unity Walk 2017, an annual celebration of diversity and culture held in Washington for the past 12 years. They carried a message of solidarity, caring and inclusiveness on this sunny Sunday afternoon.
"We want to model that people do care about each other and want to learn about each other," said Rabbi Gerald Serotta, executive director of the InterFaith Conference of Metropolitan Washington.
"We believe God intends us to learn from each other," he said.
According to Rasit Telbisoglu, program director at the Rumi Forum, a cosponsor of the DC Unity Walk, the event will help open eyes to the plight of others.
"These events are actually helping us build trust in each other," Telbisoglu said. "You slowly build up a relationship. ... When you do that, it's hard to harbor prejudice against another community."
The first Unity Walk took place in 2005, at the suggestion of Kyle Poole and a group of his friends, along with volunteers from the many houses of worship in and around Embassy Row, a northwest Washington neighborhood that also is home to many diplomats' residences and offices.
The first Unity Walk focused on the 10th anniversary of the terror attacks on the United States in 2001, but the annual event has drawn attention to other social themes since then, with the underlying goal of bringing together people of different backgrounds and faiths in a show of unity.
Poole said he started the Unity Walk because it's important to learn more about other people, and he has been fascinated by the friendships that have resulted from the annual exercise.
The 9/11 Unity Walk is now an established nonprofit corporation, and Poole is a cochair of its board of directors. When there was a call for ideas for this year's event, Poole recalled, "I thought, 'Well, we live on Massachusetts Avenue, where people from all different faiths open their doors to each other and, symbolically, to the world.'
"Especially in these times," he continued, when it sometimes seems "there are two Americas." Poole and his allies are trying to exemplify "the loving America that embraces all different traditions."
Elissa Silverman, an elected member of the Council of the District of Columbia, the local government in the nation's capital, also feels that her city is part of the "loving America."
"For all those who are new to Washington … let me assure you that the Washington, D.C., you read about … is not the Washington, D.C., I know," Silverman said. "It's a community that is proud to be a sanctuary state" - a jurisdiction that tries to be welcoming to immigrants and refugees.
Several members at this week's walk condemned acts of intolerance, not only in the United States, but internationally. Some mentioned the ethnic cleansing of minority Rohingya Muslims in Myanmar's Rakhine State. Others mentioned an incident this week in Canada, where a Sikh political figure was assailed by a protester who mistakenly denounced him as a "disgusting" Muslim; the target of the protester's venom, Jagmeet Singh, responded with love and courage to those sentiments of hate.
Speaking to VOA Student Union about the persecution of Rohingya Muslims, Imam Talib M. Shareef, president of the Interfaith Conference of Metropolitan Washington, said: "The more you kill another human because their shade is different, because their religion is different, you are actually losing your humanity, and you're really killing yourself."
Walking into the Sikh Gurdwara on upper Massachusetts Avenue for lunch Sunday, the imam said he hoped those who took part in the Unity Walk would have a better understanding of the corrupting effects of hate.
More than 1,300 Unity Walkers turned up at the Gurdwara kitchen, where volunteers serving Indian delicacies including choley (chickpeas), mutter-paneer (cottage cheese and peas), kheer (rice pudding with sweet tapioca) and gulab jamun (sweet Indian donuts).
The Sikh Gurdwara offers a "langar," or free meal, every Sunday to anyone. Hundreds of people attend, said Baldev Singh, executive director of the Sikh American Legal Defense and Education Fund.
"We don't question anybody. No invitation is necessary," he said. "Bring your hunger, and bring your love, and just join all of us."
See all News Updates of the Day
Psychologists at Virginia University Aim to Make International Students Feel at Home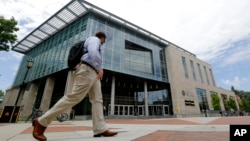 Virginia Commonwealth University has two staff psychologists specializing in intercultural issues. Their mission? To help international students adjust to life in the U.S. as seamlessly as possible. Read the full story here. (June 2023)
Are Declining Enrollments in the US a Hidden Opportunity for Students Abroad?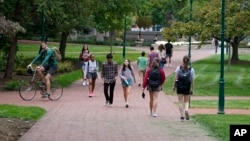 Allen Goodman, CEO of the Institute for Higher Education, writes that empty seats at U.S. colleges could drive a boom in international education. The U.S. has lost market share among host countries, but unlike its competitors, its university system is so large and underutilized that it could easily recruit more students. Because international students become "friends for life" with the U.S., and bring valuable expertise (and tuition dollars), Goodman argues the U.S. should recruit 2 million students by the end of the decade.
Weigh his argument for yourself in Times Higher Education. (May 2023)
What Could a Bitter Lawsuit Tell Us About International Education in the US?
In 2010, the University of South Florida signed a 30-year contract with INTO, a company that provides support services for international students. INTO built a "pathway program" at the university that taught students English and basic academic skills before they began their higher-education degrees. But after years of enrollment declines, the university ended the contract, and now both parties are fighting an "acrimonious" court case. The news comes as many of INTO's programs at other schools are being shuttered. While management and financial issues may play a role, so does the post-pandemic educational landscape: pathway programs can now be easily offered online.
Liam Knox of Inside Higher Ed has more. (May 2023)
Croatian Student Earning Simultaneous Ph.D.s in US, Croatia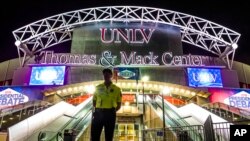 A Croatian student is earning two Ph.D.s simultaneously, one in Croatia and one at the University of Nevada, Las Vegas.
Borna Nemet spends his days at UNLV studying educational leadership and effectiveness. At night, he uses Zoom to teach students at the University of Zagreb in Croatia. Read the full story here. (May 2023)
It's Graduation Season – Who Might Speak at Yours?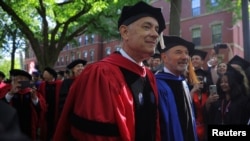 U.S. graduation ceremonies usually feature a public figure who offers advice to young people starting their careers. This spring, graduates have heard from President Joe Biden, actor Tom Hanks, Nobel Peace Prize winner Maria Ressa and even Ukrainian President Volodymyr Zelenskyy. Finnish Prime Minister Sanna Marin, who became the youngest prime minister in the world at age 34, told her audience that change cannot wait, even at their age. "To change things," she said, "you have to take over."
Read the story from Dan Friedell of VOA Learning English. (May 2023)