Native Americans
Native American News: 2022 in Review 
Here is a summary of some of the top Native American-related stories in 2022.
Native Americans Scored Big Wins in Midterm Vote
2022 saw a record number of Native American/Alaska Native political candidates running for federal, state and local office in midterm elections November 8. Out of 150 candidates, more than 85 won at the ballot box, among them:
Republican Markwayne Mullin, a citizen of the Cherokee Nation in Oklahoma, won a seat in the U.S. Senate
Democrat Mary Peltola, Yup'ik from Western Alaska, was elected to the U.S. House of Representatives
Democrat Sharice Davids, Ho-Chunk from Kansas, won a third term in the U.S. House of Representatives
Republican Tom Cole, Chickasaw from Oklahoma, won an 11th term in the U.S. House of Representatives
In June, President Joe Biden nominated Chief Mutáwi Mutáhash ("Many Hearts") Marilynn "Lynn" Malerba, the lifetime chief of the Mohegan Indian Tribe in Connecticut, to serve as U.S. treasurer. She now oversees the U.S. Mint, the Bureau of Engraving and Printing and Fort Knox, home of the U.S. gold reserves, and is a key liaison with the Federal Reserve, America's central bank.
In December, Malerba and Treasury Secretary Janet Yellen became the first pair of women to sign a newly minted $5 bill.
Read more:
Supreme Court Cases Seen as Threats to Tribal Sovereignty
President Joe Biden this year reiterated his commitment to the sovereignty of Native American tribes, nations and communities. He also injected historic levels of funding into Indian Country and gave tribes a greater voice in policy and decision-making.
Even so, tribes in 2022 expressed fears that their sovereignty was under threat after the June U.S. Supreme Court ruling in Castro v. Huerta, which expanded state authority to prosecute non-Indians who commit crimes against Indians on tribal land. Formerly, only federal and tribal courts had legal jurisdiction in such cases.
In November, Supreme Court justices heard oral arguments in Brackeen v. Haaland, a lawsuit challenging the Indian Child Welfare Act (ICWA), a 43-year-old federal law that sought to curb the once widespread practice of removing Native American children from their families and placing them in non-Native homes and institutions.
ICWA instructs welfare agencies to give preference to placing Indian children with relatives or with fellow tribe members.
ICWA opponents argue that the law is unconstitutional because it discriminates against non-Native adoptive or foster parents. They also argue that Congress has overstepped its authority by legislating matters that should be the "exclusive province of the States."
Native American rights groups fear that a defeat of ICWA could upend other areas of tribal law. ICWA has a severability clause, which means that some parts of the law could be struck down and the remaining parts of the law could remain intact.
Justices are expected to issue a decision in June or July 2023.
Read more:
Feds Acknowledge, Investigate Indian Boarding School Abuses
In May, the U.S. Interior Department released the first volume of a federal probe into the Indian boarding school program.
Ordered by Secretary Deb Haaland, a citizen of the Laguna Pueblo in New Mexico, the investigation found that between 1819 and 1969, the federal government "operated or supported" 408 boarding schools in 37 states or former territories, including 21 in Alaska and seven in Hawaii. The report counted 500 student deaths and discovered graves at 53 schools; those numbers are expected to rise as the probe continues.
The report recommended further research into federal boarding school abuses, investigations into tribal health disparities and support for Indigenous language revitalization programs.
In July, Haaland and Assistant Treasury Secretary Bryan Newland launched a yearlong "Road to Healing Tour," traveling to Oklahoma, Michigan and South Dakota to give boarding school survivors and their families a chance to tell their stories, to help connect communities with trauma support and to begin work on collecting a permanent oral history. Haaland conducted listening sessions in Anadarko, Oklahoma; Pellston, Michigan; and Mission, South Dakota, and plans visits to other states in 2023.
While she was serving in Congress, Haaland introduced legislation to establish a truth and healing commission to investigate and document Indian boarding school abuses and their impact on tribes and families. It was reintroduced in 2022 by Representative Sharice Davids. Senator Elizabeth Warren introduced a similar bill in the Senate.
The House bill got its first hearing May 12.
While there appears to be broad support for a commission, lawmakers are divided on whether and/or how much authority it should have to subpoena witnesses, records and documents, how the commission would be funded and whether members would be compensated for their time.
Read more:
Haaland Erases Slurs from US Map
In November, Secretary Haaland signed Secretarial Order 3404, declaring "sq---," a historic term for Native American women, to be derogatory and setting up a task force to remove the word from 650 geographic features across the U.S.
Throughout the year, the department consulted with almost 70 tribes and announced in September an agreement on new names.
See the new names here:
See a map of locations here:
Native Talent Reshifting the Narrative in Film and Television
2022 was a watershed year for Indigenous representation in film and television.
This year saw Season 2 of "Reservation Dogs," a comedy drama about teens living on an Oklahoma reservation. The first TV series ever to feature all-Indigenous writers and directors and an almost entirely North American Indigenous cast, it won an impressive number of awards.
"Dark Winds," a crime drama set in the Navajo Nation and starring veteran Lakota actor Zahn McClarnon, was shot at the first Indigenous-owned film studio in New Mexico.
The summer film hit "Prey," a prequel to Disney's "Predator" series, starred a mostly Native American cast and was released in English and Comanche language versions.
Read more:
See all News Updates of the Day
Native American News Roundup Jan. 22 - 28, 2023
Here is a summary of some Native American-related stories making headlines this week:
No mining in northern Minnesota forest for at least 2 decades
U.S. Interior Secretary Deb Haaland signed a new order this week that will protect more than 91,000 hectares in Minnesota's Superior National Forest from mineral leasing for 20 years "subject to valid existing rights."
Public Land Order No. 7917 will protect parts of the Rainy River watershed, including lands ceded to the Chippewa Bands of Native Americans in 1854. It also protects the Boundary Waters Canoe Area Wilderness, the site of a proposed copper-nickel mine.
Environmentalists say mining for minerals including copper, cobalt and nickel would produce tailings that can be dangerous sources of toxic chemicals that would threaten the Rainy River Watershed and the Boundary Waters.
In 2021, the U.S. Forest Service called for a full study of the potential impacts of the proposed copper-nickel mine. The company, Twin Metals, said it was "deeply disappointed" by the move and sued to reclaim mining leases in the area.
"The Department of the Interior takes seriously our obligations to steward public lands and waters on behalf of all Americans. Protecting a place like Boundary Waters is key to supporting the health of the watershed and its surrounding wildlife, upholding our Tribal trust and treaty responsibilities, and boosting the local recreation economy," Haaland said in a statement to the press. "With an eye toward protecting this special place for future generations, I have made this decision using the best-available science and extensive public input."
Read more:
South Dakota tribes say state governor waited too long to help
The Sicangu Lakota of the Rosebud Indian Reservation in South Dakota are grieving the loss of six tribe members who died during a multiday snowstorm in mid-December and complain that state officials didn't do enough.
Victims of the weather included an elder who froze to death in his home and a 12-year-old boy who died of a respiratory infection before an ambulance could reach him.
The tribe declared a state of emergency December 16 and appealed to the state for assistance. Governor Kristi Noem activated the National Guard on December 22 to help remove snow and deliver firewood.
In a State of the Tribes speech to state lawmakers January 12, Crow Creek Sioux Tribe Chairman Peter Lengkeek criticized the state's emergency services as "slow to react." The governor's spokesman, Ian Fury, posted a rebuttal on Twitter: "It's a shame that Chairman Lengkeek chose to perpetuate a false narrative."
Read more:
British historian re-examines Age of Discovery
Tens of thousands of Indigenous Americans crossed the Atlantic before Britain founded its first colony in Virginia, traveling as diplomats, slaves and occasionally spouses and/or children of European men.
Smithsonian magazine this week reviews "On Savage Shores: How Indigenous Americans Discovered Europe" and interviews its author, University of Sheffield (U.K.) historian Caroline Dodds Pennock.
"We know from the records that there were Indigenous people in rural Europe, across the Normandy coast of France, across Seville and the connected trans-Atlantic networks in Portugal, in Antwerp, in England," Pennock says, citing examples from her book.
One of them, an Indigenous woman, traveled to Spain with a man named Pedro.
After several years, Pedro married a Spanish woman, who then tried to claim that the Indigenous woman named Isabel and her two sons, Lorenzo and Gaspar, were slaves. In 1570, they appealed to the crown and won both their freedom and monetary compensation.
"It was really important for me to focus on the early period where we see the beginnings of globalization," Pennock said.
These stories, she added, "speak to a bigger story that is incredibly relevant right now, about the origins of our world as an entangled, cosmopolitan place."
Read more:
Ojibwe Snow Snaking returns to Wisconsin island
Next Month, Ojibwe athletes will hold winter games on an island in Lake Superior for the second time in 150 years. Madeline Island is the largest of the Apostle Islands in Lake Superior and has long been an Ojibwe spiritual center. In the 19th century, the government banned tribes from playing winter games there because betting was taking place.
On February 11, players will converge on the island to compete in a game played by many Great Lakes tribes, Snow Snakes. The game involves carving and polishing sticks of various lengths – the "snakes" – then shooting them like javelins down a trough carved into the snow. The snake that glides the furthest wins.
In another variation of the games, players throw the sticks like javelins. Watch the game in action in the video below.
Read more:
Native American News Roundup Jan. 15-21, 2023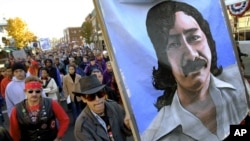 Here is a summary of some of the top Native American-related news stories this week:
Former FBI agent petitions White House to release Leonard Peltier
A retired FBI agent who was directly involved in the case against former American Indian Movement leader Leonard Peltier has appealed to President Joe Biden, arguing for Peltier's release.
As VOA reported in 2016, Peltier, an enrolled member of the Turtle Mountain Chippewa tribe of Lakota and Dakota descent, was convicted in the murders of two FBI agents during a 1975 standoff at Wounded Knee on the Pine Ridge Indian Reservation in South Dakota and sentenced to two consecutive life sentences.
Peltier, 78 and in ill health, has spent 46 years in confinement and lost numerous appeals and petitions for parole.
"Retribution seems to have emerged as the primary if not sole reason for continuing what looks from the outside to have become an emotion-driven 'FBI Family' vendetta," former agent Coleen Rowley said in her letter to Biden, which was shared exclusively with London's Guardian newspaper.
Amnesty International and the United Nations Working Group on Arbitrary Detention support ending his confinement.
But FBI director Christopher Wray opposes clemency for Peltier, calling him a "ruthless murderer" who shows no remorse for his crime.
Read more:
Muscogee tribal newspaper vs. Muscogee government: new documentary highlights their fight
Premiering at the Sundance Film Festival this weekend is a documentary that chronicles one tribal newspaper's fight for press freedom.
As VOA reported previously, the Muscogee (Creek) Nation in Oklahoma established in 2015 an independent media organization, Mvskoke Media (MM), and set up an independent editorial board to protect against interference from the tribal government.
Three years later, the tribal council repealed the law and placed the outlet under the tribe's executive branch.
"Bad Press," co-directed by Rebecca Landsberry-Baker, a Muscogee journalist and executive director of the Native American Journalists Association, and filmmaker Joe Peeler documents efforts by MM reporters to counter what they call "tyranny."
Read Salon's recent interview with Landsberry-Baker here:
To register for an online viewing January 24, click here:
Alaska Natives outraged over botched translation job
The Federal Emergency Management Agency has fired a California company it hired to produce and translate documents that would assist Yup'ik and Inupiaq peoples applying for emergency aid.
Instead of an accurate translation, however, they found complete nonsense: "Tomorrow he will go hunting very early, and will [bring] nothing," read one passage. "Your husband is a polar bear, skinny," read another.
As it turns out, the company pulled random words from English translations of field notes taken by a Russian linguist studying Yup'ik dialects in Siberia's Chukotka peninsula 70 years ago.
For Alaska Natives trying to rebuild after a devastating typhoon last September, it was a double insult and a painful reminder of the past.
"When my mother was beaten for speaking her language in school … to then have the federal government distributing literature representing that it is an Alaska Native language, I can't even describe the emotion behind that sort of symbolism," said Tara Sweeney, Inupiaq, who served as an assistant secretary of Indian Affairs in the Interior Department during the previous administration, The Anchorage Daily News reported.
Read more:
Behring Strait land bridge wasn't a one-way street
The traditional understanding of the origins of most Native Americans is that 12,000-13,000 years ago, shrinking sea levels created a temporary land bridge linking Siberia and Alaska. This allowed small groups of people — the ancestors of modern Native Americans — to leave their homes behind forever and establish thriving populations across North America.
But a new study published in the journal Current Biology shows that humans coming from Siberia's Kamchatka Peninsula had a mixture of genetic backgrounds; some even had links to the Japanese archipelago.
Moreover, DNA sampling suggests that it wasn't a one-way trip — humans traveled back and forth between Alaska and Siberia for thousands of years, even after glaciers melted and the Bering land bridge was once again submerged.
Read more in the journal Science:
Student newspaper to give up Indigenous mascot
A student-run newspaper in a Massachusetts high school has announced that after several years of deliberation they will change the name of their newspaper. For 130 years, Brookline High School's student newspaper has been The Sagamore, derived from an Algonquian word for a tribal leader.
"Continuing to use the name actively disregards the meaning of the word and the history that surrounds it, thereby harming Indigenous communities," reads an editorial on the paper's website.
"Our newspaper aims to be a source of unbiased and relevant news for the school community," the editorial continues. "We hope to represent the community fairly and accurately. With these values in mind, a name like The Sagamore does not make sense. It does not symbolize who we are and it actively counteracts our goal to make all people feel heard and represented on the pages of our paper."
Students made the decision after consultations with the Massachusett Tribe at Ponkapoag, a cultural heritage group that is not recognized by the federal government or the state of Massachusetts.
Read more:
This week on "The Inside Story," VOA reporter Natasha Mozgovaya looks at the 150th anniversary celebration of Yellowstone National Park and what it means to Native American tribes with historic ties to the land.
Native American News Roundup January 8 – 14, 2023 
Here is a summary of some of the top Native American-related news making headlines this week:
Montana lawmaker backs down on resolution questioning Indian reservation system
Facing strong opposition from Montana tribes, a state senator has backed away from introducing a draft resolution calling for Congress to rethink the Indian reservation system.
Last week, State Senator Keith Regier proposed that the Indian reservation system was race-based, created in a "different time and place and under circumstances that no longer exist" and therefore had no place in the modern state, nation and world.
The draft called on the legislature to find that the "Indian reservation system has clearly failed to positively enhance the lives and well-being of most of the Indians or the other citizens of the State of Montana … and failed to positively enhance the lives and well-being of most of the Indians or the other citizens of the State of Montana."
Monday, Regier said he had changed his mind after "productive conversations" with fellow state senator Shane Morigeau, a member of the Confederated Salish and Kootenai Tribes.
Read more:
ProPublica and NBC launch collaborative investigation into NAGPRA compliance
The U.S. Interior Department (DOI) and its sub-institutions have the ninth largest collection of unrepatriated Native American remains in the Nation, according to a joint ProPublica/NBC investigation into why the remains of 110,000 Native American, Native Hawaiian and Alaska Natives ancestors are still held by museums, universities and federal agencies more than two decades after the Native American Graves Protection and Repatriation Act (NAGPRA) became law.
NAGPRA directs all federally-funded museums and federal agencies to catalogue all Native American human remains, funerary items, and objects of cultural significance in their collections, submit the information to a National Park Service database, and work with tribes and Native Hawaiian organizations to repatriate them.
Hurdles include proving an item's cultural affiliation with a particular tribe or community and the requirement that tribes and Native Hawaiian organizations must request the return of these items.
DOI told ProPublica that it complies with each of its legal obligations under existing regulations, subject to available funding.
"Under the current regulations, the bureaus are not required to consult or repatriate 'culturally unidentifiable human remains' unless requested by a Tribe or Native Hawaiian Organization," it continued. "The Biden-Harris administration prioritizes repatriation, and the Department hopes that its proposed regulatory revisions to NAGPRA will help to address the existing backlog."
The DOI is not alone. Six other federal agencies have made remains available, including the Departments of Defense and of State, along with hundreds of museums and universities. In other cases, some institutions have used a loophole in the law that allows them to retain artifacts if they deem them "culturally unidentifiable." The report says the University of California at Berkeley tops that list with the remains of at least 9,000 Native Americans that have not been made available for return to tribes.
The project includes a searchable database and invites institutions and the public to submit tips, including anonymously.
Reports looks to curb overincarceration of Native Americans/Alaska Natives
The MacArthur Foundation has released a report showing that Native Americans are sentenced more harshly than white, Black or Hispanic offenders.
The report, "Over-Incarceration of Native Americans: Roots, Inequities, and Solutions," says Native Americans and Alaska Natives (AI/AN) are "disproportionate represented" in state and federal criminal justice systems. But it notes that collecting accurate data is challenging: Often, prosecutors lump offenders into an "other" racial category; states and counties may not track race at all or may lack access to justice databases.
"Despite unclear and incomplete data, information suggests that once Native people enter the justice system, it becomes much more difficult for them to get out," the report states.
Researchers point to a system that could help reduce disparities: Holistic defense, a system that defenders in the Bronx, New York, designed in 1997. This method looks at what drives offenders into the criminal justice system and "fits well with traditional, tribal principles."
Read report here:
How tribes are using federal COVID aid to benefit citizens
Bloomberg media this week looked at how AI/ANs are using $20 billion in federal pandemic relief, the largest ever single infusion of federal funds into Indian Country.
Examples include:
The Menominee Indian Tribe in Wisconsin is building so-called "tiny homes" for low-income elders and unhoused tribal citizens.
The Walker River Paiute Tribe in rural Nevada is expanding its food pantry.
The Douglas Indian Association in Juneau, Alaska, has set up grants to help Native fisher men and women in the face of rising fuel prices, transportation restrictions and shrinking salmon populations.
After 132 Years, Wounded Knee Artifacts Come Home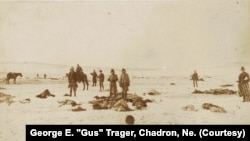 Editor's Note: Some readers may find this content to be triggering.
Part 1 of this series looked at the circumstances leading to a massacre of Lakota men, women and children at Wounded Knee, South Dakota, on December 29, 1890. In November, a museum in Barre, Massachusetts, repatriated more than 150 objects believed to have been looted from the massacre site. VOA dug through historic records and archives to trace how and when they were obtained, how they made their way to New England, and more than a century later, back to the Lakota.
Native American remains and artifacts have always held a fascination for non-Native Americans.
In the 1780s, former U.S. President Thomas Jefferson excavated Native burial sites in Virginia, earning himself the nickname "father of American archaeology."
In the decades that followed, amateur archaeologists excavated hundreds of burial mounds across America, selling bones and artifacts to museums and private collectors.
The massacre at Wounded Knee ignited what one Nebraska newspaper called days later a "relics craze." But why?
"Part of it came from this problematic idea that Native American communities were disappearing," said Aaron Miller, associate curator of visual and material culture at the Mount Holyoke College Art Museum in Massachusetts. "You began to see both museums and collectors acquiring these objects to show this idea — this false idea — of what once 'was.'"
Scavengers
The smoke of Hotchkiss guns had barely cleared when members of the U.S. Army's 7th Cavalry began picking through the bodies of the fallen, retrieving "souvenirs" of the 1890 massacre.
The next morning, a group of townsmen from Chadron, Nebraska, got a military pass and hired a coach to race more than 130 kilometers to Wounded Knee. Among them was local photographer Gus Trager, who would achieve fame for his photograph of slain Chief Si Tanka — "Big Foot."
Ten days later, Trager and town barber Joe Ford had amassed what a local newspaper called "the finest and rarest collection of war dresses, ghost shirts, trinkets, moccasins, etc., now on earth," including "the entire outfit of Chief Big Foot and the old Medicine Man who brought on the great fight."
When the Nebraska National Guard was called to nearby towns shortly after the massacre, young guardsmen also joined the relics "craze."
Omaha Daily Bee correspondent Charles H. Cressy was one of three reporters on the scene at Wounded Knee when the massacre began. Three weeks later, his newspaper reported that items he brought from the site were now on display in an Omaha shop window.
The demand for relics grew, and by mid-February 1891, The Dayton Herald of Ohio noted that many western towns, especially Omaha, were filled with "itinerant vendors of souvenirs of the fight at Wounded Knee."
"For a moderate investment of cash, the Eastern "tenderfoot" [newcomer] can procure any sort of a relic," the article said.
To meet demand, some individuals manufactured counterfeit relics, according to the Pickens County Herald and West Alabamian. The newspaper reported that a Chadron journalist attempted to fool a prospective buyer by manufacturing a "ghost shirt" from a stamped hotel bedsheet. It was the ink stamp that gave him away.
The Tenderfoot from Massachusetts
Traveling shoe salesman Francis Pitkin Root arrived in Omaha just as troops were returning from the "Sioux war." He purchased a considerable collection from Pine Ridge Agency transportation manager Cornelius "Nealy" Williams, who had ferried U.S. troops to and from the front and was later paid to cart Lakota bodies to a nearby burial trench.
According to a July 19, 1891, account in the Brooklyn Eagle newspaper, Root bought:
A bearskin war bonnet crowned with a circlet of bristles, out of which rose a dyed red eagle feather; it was trimmed with two ponytails and, at the back, a yard-long [nearly 1 meter] "scalp of a white woman."
A buckskin war shirt "worn by a chief in the camp of Sitting Bull," decorated with dyed porcupine quills with matching beaded elk hide leggings.
A Navajo blanket trimmed in eagle feathers.
A scalp "torn from the head of an Indian warrior," with flesh intact.
A "skeleton" saddle, covered in rawhide, which had bloodstains on the pommel.
Moccasins taken from the feet of Chief Flying Horse.
A Ghost shirt decorated with hand-painted thunderbirds — which 19th century writers described as "devil birds" or "harpies," and a foot-long [0.3-meter] scalp of "coarse black hair."
A blue "papoose sack" (cradleboard), trimmed with thousands of tiny beads; a pink basket; a combination pipe/tomahawk, a necklace of 50 deer hooves; bows, arrows, and photographs of Sitting Bull and other leaders.
By that summer, some of Root's items were on display in shoe store windows in Hartford, Connecticut, and in Brooklyn, New York. By late December, the artifacts were on view at a department store in Boston, where newspapers noted that they would shortly be placed on permanent loan at "a museum in connection with a public library" in Barre, Massachusetts.
Recovery
Nearly 100 years later, former Oglala President Alex White Plume got a phone call.
"In the summer of 1990, a lady called me from Massachusetts and said, 'Do you know that the clothing of all the dead people at Wounded Knee is up here in the museum at Barre?' That just shocked me. Oh! It was hard to bear."
White Plume flew to Massachusetts with his aunt and uncle.
"We went in and could just sense the spirits," White Plume said. "I saw a clump of hair, and I said, 'This is Bigfoot's hair!' And little baby clothes, totally beaded, just beautiful designs. And then you'd look at the back part, there would be a big black hole where the bullet exited the body."
The Oglala Sioux Tribe asked author and activist Mia Feroleto to help negotiate the items' return from the Barre Founders Museum. She told VOA she was stunned to find how little they had deteriorated after more than a century stored in a building without heat or air conditioning.
"The colors were as bright as they would have been the day before the massacre 130 years ago," Feroleto said. "The energy in these objects, to my mind is a testament of the spirit of the people, because they were perfectly preserved."
In November 2022, Oglala and Miniconjou Lakota gathered in the cafeteria of a Barre elementary school for a ceremony to reclaim the artifacts, joined by members of the local Mashpee Wampanoag tribe and the state-recognized Nipmuc tribe.
The items are currently being stored at the Oglala Lakota College in Kyle, South Dakota, where they will remain for the foreseeable future.
In the coming months, descendants will work to decide the fate of their ancestors' belongings. Should they be turned over to the Miniconjou at Cheyenne River, whose ancestors made up most of the massacre victims? What about the Hunkpapa from Standing Rock, who also lost ancestors at Wounded Knee?
And the items themselves: Should they be buried with the victims or burned according to traditional Lakota burial practices?
Nearly everyone involved agrees that what matters most is finally releasing the spirits of those ancestors.
Lakota Descendants Remember Ancestors Killed at Wounded Knee  
Editor's Note
: This story may be triggering for some readers.
Lakota from reservations across South Dakota gathered at the Wounded Knee Cemetery on the Pine Ridge Reservation to commemorate ancestors massacred by the U.S. Cavalry in 1890.
On top of 2-foot snowdrifts at the cemetery on December 29, 2022, lay a collection of cardboard boxes containing artifacts and items of clothing believed to have been ripped from the victims' bodies. After years of negotiations, the items were returned to the Lakota by a small museum in Barre, Massachusetts.
Museum records show only that a traveling shoe salesman from Barre acquired the items on a trip West in 1891 and donated them to the Barre Museum a few years later.
Now on the cold December day, spiritual leaders Richard Moves Camp, an Oglala Lakota from Pine Ridge, and Ivan Looking Horse, a Miniconjou from the Cheyenne River Reservation, led the gathering in prayer and a ritual feeding of the spirits.
Later, dozens of Lakota gathered in the warmth of a nearby school where they shared family histories of the massacre, viewed photos of the returned artifacts, and honored the dead.
VOA spent weeks digging through historic records and newspaper accounts to find out more.
Background
In the Treaty of Fort Laramie in 1868, the U.S. government set aside 233,000 square kilometers west of the Missouri River for the "absolute and undisturbed use and occupation" of the Lakota, Dakota and Nakota tribes, collectively known as the Sioux.
When Lieutenant General George Custer and his 7th Cavalry confirmed there was gold in the Black Hills of that area, prospectors rushed in. By 1875, the Bureau of Indian Affairs ordered the tribes to move. When they resisted, the U.S. government sent in troops, setting off armed conflict that would see Custer defeated.
By 1889, the various bands of Lakota were consigned to separate reservations, with their old ways of life forbidden and the buffalo, which had sustained them for thousands of years, gone.
Subsisting on inadequate government rations of beef, they looked for a miracle.
The ghost dance
In 1890, the Lakota heard about a Paiute man in Nevada who had a vision while cutting wood for his white employer. He fell and died, and God lifted him to heaven. There, he saw white and Native people, made young again, "dancing, gambling, playing ball and having all kinds of sports."
That vision sparked the Ghost Dance, based on beliefs that if men were good, worked hard, didn't fight and danced for five nights in succession, God would bring the dead back to life and restore to the Indians their former ways of life. White men would vanish, but details weren't clear.
To learn more, the Lakota sent Miniconjou chief Kicking Bear and a Sicangu Lakota from The Rosebud Agency named Short Bull to Nevada.
"They didn't all speak English," said Ernie LaPointe, the closest living direct descendant of Chief Sitting Bull. "So, they had to speak with hand signals."
The message that the duo brought back from Nevada lost something in the translation.
"They told the Indians that they had been up near Salt Lake, Utah, to visit the new Messiah," U.S. agent at Pine Ridge Daniel Royer telegrammed Washington, "and they were told by him … that a new Earth would be formed and would pass over this one, burying the whites beneath."
"It was Kicking Bear and Short Bull who conjured up this story that if Indians wore these ghost shirts, that a white man's bullets would never hurt them," said LaPointe. He believes the men got the idea from Mormon colonists in Nevada, who wore white "temple garments" to protect them against temptation and spiritual evil.
Within weeks, hundreds gathered to dance. Some Indian agents and military officials viewed it as a harmless diversion; others believed the tribes were gearing up for insurrection.
Royer again telegrammed Washington: "Indians are dancing in the snow and are wild and crazy. … We need protection, and we need it now."
The White House answered by sending in several thousand troops.
Tipping point
Indian agent James McLaughlin believed Hunkpapa Lakota leader Sitting Bull was "the high priest" and chief instigator of the "Messiah craze." He visited Sitting Bull at his cabin near the Grand River and asked him to stop the "absurd craze." Sitting Bull refused.
"My great grandfather knew that his ghost dance was not a Lakota sacred ceremony. But he had to give his hope to his people, so he allowed them to do this," LaPointe said.
Sitting Bull decided to violate a travel ban and go to Pine Ridge to confer with Chief Red Cloud about easing tensions.
McLaughlin sent tribal police to arrest Sitting Bull on December 16. In the melee that ensued, Sitting Bull was shot dead.
A massacre
Sitting Bull's half-brother Hupah Gleska, more commonly known as Si Tanka ("Big Foot"), leader of the Miniconjou Lakota, was at the time camped at the Cheyenne River Agency, 160 kilometers to the north.
"He thought the government was going to come after him," said Michael He Crow, an Oglala Lakota and descendant of Big Foot. "He felt that he was going to be the next one to die because he had a lot of influence among the people there."
Big Foot and several hundred followers set out for Pine Ridge, but the Army intercepted them and forced them to camp at the tiny village of Wounded Knee.
On December 29, the Army ordered the Lakota to disarm.
"The men and women were separated," said He Crow. "Most of the men were sitting in a council circle and were the first ones killed. And the ones running were mostly women."
What happened to spark the massacre that followed? Some say it was when the medicine man, Yellow Bird, grabbed a handful of dirt from the ground and threw it up into the air.
"He was praying and crying," a Hohwoju Lakota survivor named Alice Ghost Horse/Kills the Enemy/War Bonnet would later tell her son. "He was saying to the eagles that he wanted to die instead of his people. … He picked up some dirt from the fireplace and threw it in the air and said this is the way he wanted to go back … to dust."
Others tell a different story.
"When they were taking the guns away from them, there was a man that was deaf," He Crow said. "They were trying to tell him to put his gun in the middle of the pile, but he held on to the gun and told them, 'This is the only thing I have to keep food on the table and stay alive. And you're taking this away from me?'"
The gun went off as officers tried to wrestle it away, said He Crow. And that's when the Army began firing revolving cannons and rifles.
"It was chaos," Violet Catches, a Hohwoju Lakota from the Cheyenne River Reservation, said. Her grandfather Leon Holy, then around 12, was one of five children who survived the massacre.
As many as 300 Lakota men, women and children died that day; some who were tracked as far as 3 kilometers from the site. Official accounts say the massacre took 20 minutes, but Ghost Horse/Kills the Enemy/War Bonnet said the shooting didn't stop until after sunset.
They would be buried in a mass pit several days later, but not before they were picked clean of their weapons and belongings, including the ghost shirts on their backs.
NOTE: Part 2 of this story will examine the "relics craze" that followed the massacre and show how dozens of items associated with Wounded Knee ended up in Massachusetts.