Native Americans
Native American News Roundup August 7-13, 2022
WASHINGTON —
Here is a summary of Native American-related news around the U.S. this week:
New Federal Group to Challenge Racist Place Names
Interior Secretary Deb Haaland has named an Advisory Committee on Reconciliation in Place Names to consult with tribes, tribal groups, state and local governments and the public to identify and recommend changes to derogatory geographic names.
Oglala Lakota tribal archaeologist Michael Catches Enemy, Niniaukapealiʻi Kawaihae of the Department of Hawaiian Home Lands and Kiana Carlson, an Ahtna Kohtaene and Taltsiine law student from the Native Village of Cantwell, are among the group established in Secretary's Order 3405, issued in November 2021.
"Our nation's lands and waters should be places to celebrate the outdoors and our shared cultural heritage – not to perpetuate the legacies of oppression," Haaland said in a statement Tuesday. "The Advisory Committee on Reconciliation in Place Names will accelerate an important process to reconcile derogatory place names. I look forward to listening and learning from this esteemed group."
To see a full list of members, click link (below).
California Wildfire, Rain, Led to Death of Thousands of Klamath River Salmon
The Karuk Tribe is blaming a 90-square-mile wildfire in northern California for the deaths of tens of thousands of fish along the Klamath River near Happy Camp, California. They believe that heavy rainfall set off a massive mudslide from the area scorched by the McKinney wildfire, which has decimated more than 233 square kilometers since July 29. The mass of debris flowed into the Klamath River, bringing water oxygen levels to zero, which caused fish to suffocate.
For years, the Karuk and Yurok tribes of northern California have fought to protect salmon, which were once abundant in most of the state's major rivers and streams and were central to Klamath tribes' sustenance, spirituality, and economies. But damming, water diversion and climate change have caused a drastic decline in salmon populations.
The Karuk Tribe says it's still too early to know whether the fish kill will impact the fall migration of Chinook salmon or areas of the river downstream.
Poll: Native Americans Hit Hard by Inflation, Pandemic
A new poll shows that the COVID-19 pandemic, inflation, and political and social divides of the past two years have had a disproportionate impact on Native Americans and other minority groups in the U.S.
The poll says 63% of Native Americans today face serious financial problems, compared to Black Americans (55%), Latino Americans (48%) and white Americans (38%).
The survey was a joint project of the Robert Wood Johnson Foundation and Harvard University's T.H. Chan School of Public Health along with National Public Radio. It polled nearly 4,200 U.S. adults between May 16 – June 13.
"Millions of minority households across the nation are facing distinct, serious financial problems during this period, including many who are being threatened with eviction and face unsafe conditions in their neighborhoods, with few options to help," said study co-director Robert J. Blendon, a professor of public health at Harvard's Chan School.
Thirty-nine percent of Native Americans, 32% of Black Americans, 30% of Latino Americans and 13% of Asian American adults are having trouble getting food on the table, compared to 21% of white Americans.
Oregon university to offer tuition discounts to students from all federally recognized tribes
Beginning this fall, Portland State University (PSU) in Oregon will allow students from all federally recognized tribes in the U.S. to receive in-state tuition benefits. Non-resident undergraduate students normally pay $620 per credit hour. Native American student tuition will be reduced to the resident rate of $200 per credit hour.
Typically, students take 12 to 15 credits per semester. This means Native American undergraduate students will save up to $19,000 per semester.
The Postsecondary National Policy Institute in 2021 estimated that fewer than a quarter of 18-24-year-old Native Americans were enrolled in college, compared to 41% of the overall U.S. population.
PSU says it is the only U.S. school to offer tuition discounts to Native American students on a national scale. Earlier this year, the University of California system announced it would waive tuition and fees beginning in fall 2022 for all Native American students who are state residents and members of federally recognized California tribes.
Native Americans Give 'Prey' High Scores for Authenticity
Native American viewers and critics are applauding the newly released science fiction thriller "Prey" for the accuracy of its portrayal of Comanche life on the Great Plains in the early 18th Century.
The fifth film in the "Predator" movie franchise debuted August 5 on the North American subscription streaming platform, Hulu. It tells the story of the first-ever visit to earth by the terrifying extraterrestrial Predator and the efforts of a hatchet-wielding female warrior Naru, played by Assiniboine, Nakota, Lakota and Dakota actor Amber Midthunder, to track the creature down and destroy it. Film newcomer Dakota Beavers plays Naru's brother Taabe.
Viewers on Hulu are able to watch both the English version of the film and a version dubbed in the Comanche language.
Otoe-Missouria and Choctaw journalist/blogger Johnnie Jae calls Prey "a groundbreaking achievement" for the Comanche Nation and "a rare tribute to the indigenuity [a newly-coined word which combines "indigenous" and "ingenuity"], strength, and sheer stubbornness that has allowed Native people to survive…"
Poet, writer and storyteller Cliff Taylor, a member of the Ponca Tribe in Nebraska, admits "when climatic [sic] battle was happening in the land as it was before this modern world stomped all over it, I was war-hooping unabashedly at full-blast, shaking the timbers of my house, feeling a gigantic soul-explosion of Native power, all sorts of energy and feelings coursing through my body."
See all News Updates of the Day
Minnesota Ojibwe Harvest Sacred, Climate-Imperiled Wild Rice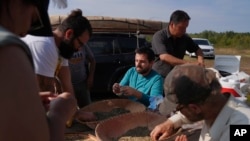 Seated low in her canoe sliding through a rice bed on this vast lake, Kendra Haugen used one wooden stick to bend the stalks and another to knock the rice off, so gently the stalks sprung right back up.

On a mid-September morning, no breeze ruffled the eagle feather gifted by her grandmother that Haugen wore on a baseball cap as she tried her hand at wild rice harvesting — a sacred process for her Ojibwe people.

"A lot of reservations are struggling to keep rice beds, so it's really important to keep these as pristine as we can. ... It renews our rice beds for the future," the 23-year-old college student said.

Wild rice, or manoomin (good seed) in Ojibwe, is sacred to Indigenous peoples in the Great Lakes region, because it's part of their creation story — and because for centuries it staved off starvation during harsh winters.

"In our origin story, we were told to go where food grew on water," said Elaine Fleming, a Leech Lake Band of Ojibwe elder whose manoomin class at Leech Lake Tribal College went harvesting last week. "It's our sacred food."

But changing climate, invasive species and pollution are threatening the plant even as its cultivated sibling rises in popularity nationwide as an exceptionally nutritious food, though often priced out of reach of urban Indigenous communities.
Those threats make it crucial to teach young band members to harvest wild rice respecting both rituals and the environment. That will help wild rice remain available as an essential element for ceremonies, but also as a much-needed income generator for the Leech Lake reservation, where nearly 40% of Native residents live in poverty.

The basic instructions for newbies reflect that dual reality — respect the rice by not breaking the stems, and if you lose balance, jump out to avoid tipping the canoe with its precious cargo.

Fleming gave everyone tobacco from a zip-close bag. Before scattering it on the calm water and setting out, the youths gathered around another elder praying in Ojibwe — to introduce the group to the natural elements around them, explain why it needed their help, ask for safe passage on the water and give thanks.

"Any time you take something from the earth, you want to thank the earth for what she's given us," said Kelsey Burns, a student and first-time ricer.
That reciprocity between humans and nature is essential to Ojibwe spirituality. In their stories, the Creator, before bringing to the earth Anishinaabe, the first Indigenous person, gathered all animals to ask how they could help.

"Plants were listening and chimed in and said, 'We have gifts too, so Anishinaabe can have a good life,'" Fleming explained. "Rice said, 'We'll feed Anishinaabe.'"

In two hours on the water, the pairs of polers, who stood steering with 20-foot poles, and knockers, who rained rice into the canoe until it formed a thick, green-brown carpet, gathered about 35 pounds. Experienced ricers can harvest a quarter ton a day.
This year, they can get $6 per pound of rice, a high price because the two-week harvest is particularly meager, said Ryan White. A 44-year-old single dad, he takes his two boys and a nephew ricing to help cover the bills and for the kids to buy video games.

"You learn the essence of hard work out here," he said while knocking rice on a recent afternoon, with duct tape over his trousers' hem and shoes so not a grain would be wasted.
"Cleaning the boat real good," White explained later as he swiped the rice into a sack. "Because of stories we heard of old times, when … even a handful like this meant a meal or two for the kids, and at the end of winter it actually might save your family."

"That manoomin is our brother, that saved us as a people many different ways," said Dave Bismarck, who was loading about 200 pounds of just-harvested rice at a nearby landing. "Ricing to me is real spiritual. There's a lot who have gone home already, and when I'm ricing, the harder I work … the closer I am to them."
But the beds are "continually shrinking," said White, who's been ricing for three decades. And that endangers wild rice's spiritual and economic gifts.

While some natural cycling is normal, bad years for wild rice are becoming more frequent, said Ann Geisen, a wildlife lake specialist with the Minnesota Department of Natural Resources (DNR).

"It seems to be tied to climate change," she added. "Bigger storm events when it's uprooted and wiped out, we seem to have more of these. A big bounce (in water levels) in the spring can wipe out an entire lake."
A warming climate can also damage the plant, whose seeds need to be close to freezing on shallow lake bottoms for months to germinate well, and brings destructive invasive species and fungi to Minnesota, Wisconsin and parts of Canada, wild rice's only natural habitats.

"It's going to completely ravish natural stands," said Jenny Kimball, a professor of agronomy and plant genetics at the University of Minnesota. She works on both conservation and developing more resistant breeds for cultivated wild rice growers, an industry she estimates adds about $58 million to the state economy and has far outpaced natural production for decades.

Most Ojibwe bands want to save natural stands, however, and several recently filed lawsuits fighting water contamination — including one dismissed this year in White Earth tribal court that named manoomin as the lead plaintiff in a novel "rights of nature" approach.

The suit accused the state of failing to protect water where wild rice grows by allowing the pumping of billions of gallons of groundwater from an oil pipeline project.

In July, two other northern Minnesota tribes sued the U.S. Environmental Protection Agency over its approval of state changes to water quality standards that the tribes allege would increase pollution and damage wild rice.
Leech Lake students and faculty discussed industrial pollution and controversial pipelines as they gathered outside the college for a feast celebrating their first day harvesting.

Before cooking the rice, they had to parch it, stirring it in a giant iron kettle for more than an hour; jiggle the husks loose by dancing over it as it lay in a hide-covered hole in the ground; and finally winnow it in birchbark baskets.
"We understand our responsibility, as nation, to this land. We're supposed to think seven generations to the future," Fleming said.
Burns, the student, was thinking of her son, who's 5.

"I like learning everything that I can about our culture," she said. "I didn't learn much when I was younger, so I felt a part of me was missing. I want to keep teaching everything I learn."
Native American News Roundup September 11-17, 2022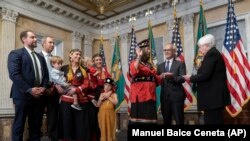 Here is a summary of Native American-related news around the U.S. this week:
First Native American Treasurer Sworn into Office
Mohegan Chief Marilynn "Lynn" Malerba is the first Native American treasurer of the United States.
"We all know that, historically, many promises have not been kept to the indigenous peoples of this nation. But we can and will do better," Malerba said at Monday's White House swearing-in. "My appointment is a promise kept."
In prepared remarks, Treasury Secretary Janet Yellen called Malerba's appointment a signal of the Biden administration's "respect for, and commitment toward, our nation-to-nation relationship, trust and treaty responsibilities, and Tribal sovereignty and self-determination."
Malerba's signature will now appear on U.S. currency alongside Yellen's.
President Joe Biden appointed Malerba U.S. treasurer in June and gave her oversight of a new Office of Tribal and Native Affairs at the Treasury Department, which will work to help strengthen tribes' economies.
"This office will serve as a hub for Treasury's portfolio of issues related to Indian Country," Yellen said. "It will lead Treasury's nation-to-nation diplomacy on issues regarding the economic security of tribal nations. It will provide expertise internally across policy offices and bureaus and push for increased interagency collaboration and cooperation on tribal economic development."
In October 2021, the Government Accountability Office found that the Treasury Department "faced challenges" distributing more than $8 billion in certain COVID-19 relief funds for tribes." The GAO said Treasury had relied on inaccurate population data to make payments and had failed to consult tribes prior to those payments, recommending that Treasury update its tribal consultation policies.
Malerba sworn in as 1st Native American in US Treasurer post
Navajo Nation President Jonathan Nez congratulated Malerba on her appointment as Treasurer and sent a message in Diné and in English to citizens of the nation he leads.
He joined Cabinet members, lawmakers and other officials at the White House Tuesday to celebrate passage of the Inflation Reduction Act, a $430 billion bill that allocates $720 million to tribes to help them take action against the effects of climate change.
"The Navajo Nation has a seat at the table with President Biden and his administration," said Nez, according to the Indian Gaming website. "The American Rescue Plan Act delivered over $2 billion to the Navajo Nation, the Bipartisan Infrastructure Law is delivering millions more, and now the Inflation Reduction Act will help our people with drought mitigation, clean energy initiatives, lower prescription costs, and much more."
While in Washington, Nez also met with Environmental Protection Agency officials, calling for expanded efforts to clean up waste from hundreds of abandoned uranium mines on Navajo land. Between 1944 and 1986, the federal government and its contractors extracted nearly 30 million tons of uranium ore from Navajo lands, leaving behind radioactive waste and other dangerous contaminants, including arsenic, copper, nickel, and selenium.
Commerce Department Grants Nevada Tribe More Than $5 million to Improve Water System
U.S. Secretary of Commerce Gina Raimondo says her department's Economic Development Administration (EDA) is granting $5.2 million to the Walker River Paiute Tribe in Schurz, Nevada, to help boost economic growth by improving the tribe's water system.
The funds will support replacing and expanding four water mains and installing 45 fire hydrants, the lack of which previously limited commercial development. This EDA investment will be matched with $156,674 in local funds and is expected to create or retain 25 jobs.
"President Biden is committed to supporting tribal communities in their recovery from the coronavirus pandemic," said Raimondo. "This EDA investment will provide more secure water system infrastructure to the Walker River Indian Reservation, improving economic resilience and creating the potential for business growth and expansion."
The Desert Research Institute and the Guinn Center for Policy Priorities, both based in Nevada, recently published findings of a joint study assessing water security in Native American homes and communities in Nevada.
Analyzing U.S. Census Bureau data on the availability of safe, hot and cold running water, flush toilets and baths and/or showers, researchers found that between 1990 and 2019, an average of 0.67 percent of Native American households in Nevada lacked complete indoor plumbing -- higher than the national average of 0.4 percent.
In 2019, study authors say more than 20,000 Native Americans in Nevada were "plumbing poor."
"Previous studies have found that Native American households are more likely to lack complete indoor plumbing than other households in the U.S., and our results show a similar trend here in Nevada," said study author Erick Bandala. "This can create quality of life problems, for example, during the COVID-19 pandemic, when lack of indoor plumbing could have prevented basic health measures like hand-washing."
Bandala blamed population growth, climate change and water rights.
U.S. Department of Commerce Invests $5.2 Million in American Rescue Plan funds for water system improvements in support of commercial business growth on the Walker River Indian Reservation
Tribes in South Dakota Agree to Buy Wounded Knee Site
A highly symbolic parcel of land on the Pine Ridge Reservation in South Dakota could soon pass back into Native hands.
The Oglala Lakota and Cheyenne River tribes have agreed to purchase 16 hectares of land at Wounded Knee on the Pine Ridge Reservation in South Dakota. Long owned by non-Natives, it is close to the site where the 7th U.S. Cavalry slayed scores of Lakota men, women and children in 1890.
The Oglala Lakota tribe said it would pay $255,000 of the $500,000 purchase price, and the Cheyenne River Sioux Tribe, whose Miniconjou ancestors under Chief Spotted Tail comprised most of the massacre victims, would pay $245,000.
The tribes will petition the U.S. Department of the Interior to hold the land in trust and allow it to remain undeveloped, as a permanent memorial to those who died.
Why must a tribe buy land on its own reservation, only to turn it over to the government?
The 1868 Fort Laramie Treaty set aside all of the land west of the Missouri River as the "Great Sioux Reservation," to be held in common by tribes. But in 1887, Congress authorized the president to break up reservation land into small parcels which were distributed to tribe members who registered on tribal rolls. Members did not own the land outright, however; the government held it in trust for their use. Land left over after those allotments was sold or leased to non-Native settlers.
Who originally purchased the Wounded Knee site is not clear. The settlement was first named Brennan, after a federal agent who supervised the reservation from 1899 to 1917, according to a 1951 article in the Argus-Leader (Sioux Falls, SD) newspaper.
In 1918, a man by the name of Roy Thomas built a trading post there, which remained in operation through two more owners before its destruction in the 1973 American Indian Movement occupation of Wounded Knee.
The present owners left Wounded Knee and listed the property for sale for nearly $4 million, a price far out of reach for the tribe.
In 2013, actor Johnny Depp announced he would buy the property and donate it to the Oglala tribe. Three years later, then-newspaper owner Tim Giago proposed buying it and constructing a museum there. Both projects fell through.
Alabama University Holds Largest Collection of Indigenous Remains to Date
The U.S. National Park Service (NPS) says the University of Alabama has completed an inventory of its archeological holdings, which contain the largest number of indigenous human remains and artifacts ever catalogued by the Park Service.
According to an announcement in the Federal Register, the University of Alabama Museums conducted excavations at Moundville and other sites in Alabama's Hale and Tuscaloosa Counties between 1930 and 2003, taking away the physical remains of 10,245 Native American ancestors and more than 1,500 artifacts.
In November 2021, a delegation of Muscogee (Creek) leaders met with the university requesting the return of those remains and artifacts. Months earlier, the Muscogee and six other tribes -- the Choctaw, Chickasaw and Seminole Nations in Oklahoma, the Coushatta Tribe in Louisiana, the Seminole Tribe in Florida, and Alabama-Quassarte Tribal Town -- sent a claim to the university invoking the 1990 federal Native American Graves Protection and Repatriation Act (NAGPRA), which requires federally funded institutions to return remains to tribes and families to whom they belong.
The University of Alabama Museums has acknowledged "a cultural affiliation" with the present-day Muskogean-speaking tribes and is calling on them to submit a written request to return the remains and artifacts.
"We are just reiterating that we look forward to continuing to work with the tribes on the appropriate repatriation efforts," the University of Alabama associate vice president for communications, Monica Watts, told VOA.
Moundville was occupied for seven centuries and at its height was a 121-hectare fortified city positioned on a bluff overlooking the Black Warrior River in west-central Alabama. By the 1500s, it had been abandoned for reasons scholars still debate; the first Spanish conquerors arrived in the state in 1519.
The university is only one of more than 150 institutions which have conducted inventories of their holdings since mid-September 2021, as NAGPRA requires. To see the full list, click on this link:
University of Alabama has more than 10,000 Native American remains, largest number cataloged by park service
California City Considers Giving Land Rights to Two Tribes
Oakland, California will consider returning two hectares of city land to the Indigenous peoples from whom it was taken.
If approved, the proposed "cultural conservation easement" would allow the East Bay Ohlone tribe and the Confederated Villages of Lisjan Nation to immediately begin using and maintaining the land known as Sequoia Point. The city, however, would retain ownership of the area.
"Today we are letting healing begin," Oakland Mayor Libby Schaaf said at a press conference on the site. "Today is the day when we acknowledge the harm that government and colonialization has done to the first people of this land. The original sin of Native genocide that happened right here on this land was just the beginning of additional exclusionary laws and acts that have happened over generations."
She said the city could eventually sell the land to the Sogorea Te' Land Trust, which represents the two tribes.
Oakland to return land rights to Indigenous group
South Dakota Tribes Buy Land Near Wounded Knee Massacre Site
Two American Indian tribes in South Dakota have joined forces to purchase 40 acres around the Wounded Knee National Historic Landmark, the site of one of the deadliest massacres in U.S. history.

The Oglala Sioux and the Cheyenne River Sioux said the purchase of the land on the Pine Ridge Indian Reservation was an act of cooperation to ensure the area was preserved as a sacred site. More than 200 Native Americans — including children and elderly people — were killed at Wounded Knee in 1890. The bloodshed marked a seminal moment in the frontier battles the U.S. Army waged against tribes.

"It's a small step towards healing and really making sure that we as a tribe are protecting our critical areas and assets," Oglala Sioux Tribe President Kevin Killer told The Associated Press.

The tribes agreed this week to petition the U.S. Department of the Interior to take the land into trust on behalf of both tribes. The Oglala Sioux tribe will pay $255,000 and the Cheyenne River Sioux tribe will pay $245,000 for the site, Indian Country Today reported. The title to the land will be held in the name of the Oglala Sioux tribe.

Marlis Afraid of Hawk, a member of the Cheyenne River Sioux Tribe whose grandfather, Albert Afraid of Hawk, survived the 1890 massacre as a 13-year-old boy, said she was overjoyed to see the tribes take ownership. She said she carries on the oral tradition of telling her grandchildren how her grandfather survived by fleeing through a ravine after a rifle held by a U.S. calvary soldier failed to fire at him.

As a member of a group that represents the descendants of the massacre's survivors, she had initially raised objections to the Oglala Sioux Tribe's purchase of the land, but said the joint purchase made her feel "honored and grateful."

Members of the Oglala Sioux, Standing Rock Sioux, Rosebud Sioux and Cheyenne River Sioux tribes were all at Wounded Knee in 1890, Afraid of Hawk said.

She hoped the site could be used for "education for the people who come and see the massacre site."

"They need to know the history. It needs to come through the true, true Lakota people," she said.

The tribes' agreement ends a decades-long dispute over ownership of a site that has figured largely in Indigenous people's struggles with the U.S. government. Jeanette Czywczynski became sole owner of the property after her husband, James, died in 2019. He had purchased the property in 1968.

The Czywczynski family operated a trading post and museum there until 1973, when American Indian Movement protesters occupied the site, destroying both the post and Czywczynski's home.

The 71-day standoff that left two tribal members dead and a federal agent seriously wounded led to heightened awareness about Native American struggles and propelled a wider protest movement.

The family moved away from the area and put the land up for sale, asking $3.9 million for the 40-acre parcel nearest the massacre site even though the land, including an additional adjacent 40-acre plot, had been assessed at $14,000.

In 2013, film star Johnny Depp announced a plan to buy the property and donate it to the Oglala Sioux tribe. Depp, who played the role of Tonto in a remake of the film, "The Lone Ranger," was criticized for trying to capitalize on the film by making unsubstantiated claims of having Native American ancestry. Depp did not follow through on the purchase.

Killer, the Oglala Sioux Tribe's president, said the tribe's resolution for the land purchase calls for it to be preserved as a sacred site.

He said, "There's still a lot of unresolved artifacts and items that should be left undisturbed."

Manny Iron Hawk, another member of the Wounded Knee Survivor's Association, said he saw the land acquisition as another step in the century-old Indian revival movement known as the Ghost Dance. The U.S. military was trying to suppress the Ghost Dance in 1890 after it had swept across Indigenous communities with a prophecy that colonial expansion would end and Native American communities would unite for prosperity.

"The Ghost Dance was a beautiful dream for our people. It wasn't a dream of death, it was a dream of life," Iron Hawk said. "Today we are the new Ghost Dancers and we carry on a duty that came to us to do what we can for our relatives there at Wounded Knee."
Malerba Sworn in as 1st Native American in US Treasurer Post
Mohegan Chief Marilynn "Lynn" Malerba was sworn in Monday as the Treasurer of the United States, the first Native American to hold that office.
Her signature will now appear alongside Treasury Secretary Janet Yellen on U.S. currency.
Yellen hailed the appointment at the Treasury Department ceremony as a sign of the Biden administration's "respect for, and commitment toward, our nation-to-nation relationship, trust and treaty responsibilities, and tribal sovereignty and self-determination."
"For all our progress — there is more work to do to strengthen our nation-to-nation relationship with tribal governments," Yellen said in prepared remarks.
They were joined by Interior Secretary Deb Haaland, the first Native American to lead that department, and members of Treasury's Tribal Advisory Committee.
Malerba, who will remain lifetime chief of the Mohegan Indian Tribe, which is made up of roughly 2,400 people, previously worked as a registered nurse and has served in various tribal government roles.
Biden appointed her U.S. treasurer in June and as overseer of a new Office of Tribal and Native Affairs at the Treasury Department.
She is tasked with finding new ways to help tribes develop their economies to overcome challenges that are unique to tribal lands, among other responsibilities.
As part of the ceremony, Malerba signed a book presented by Bureau of Engraving and Printing Director Len Olijar, who will engrave her signature. Her official signature will appear as "Lynn Roberge Malerba" in honor of her maiden name.
A Treasury official said her name will appear on currency in the coming months.
"We all know that, historically, many promises have not been kept to the indigenous peoples of this nation. But we can and will do better," said Malerba, who wore a red and black tribal ensemble and matching headdress. "My appointment is a promise kept."
"When barriers to economic development are eliminated, tribal communities will thrive and prosper," she said. "We know, when there is robust tribal economic development, our local and state communities prosper as well."
She added that the moment made her think deeply of her parents. "My name will be on currency, when it was so difficult for them to get money in their lifetime," she said during the ceremony.
For Malerba, she said she hopes her presence at Treasury will help other Americans feel pride in honoring their culture.
"Katantuoot, wuyunomsh United States qa wuyunomsh kiyawin," she said. "Great spirit bless these United States and bless us all."
Crow Tribe Journalism Teacher Seeks Stories No One Tells
Luella Brien initially wanted to be a schoolteacher but never thought she'd be one after taking a different career path. Shortly after graduating high school, she pivoted from education to pursue journalism.
Now those paths have converged in her new position as the journalism teacher at Lodge Grass High School.
No one was more surprised by the career change than Brien, who was offered the job weeks before the new school year by her predecessor Ben Cloud during a summer audio reporting workshop with students.
"Towards the end of the camp he just sort of says to me, 'By the way, I'm retiring. Do you want to teach next year?'" she said with a laugh.
Already juggling jobs as the tour manager for the Crow Tribe and editor for the online news company Four Point Media, she was initially hesitant to take the position. But she ultimately accepted it, realizing the opportunity to expand local journalism with her students.
In addition to her career as a Montana journalist, Brien also worked as an instructor at Little Big Horn College and a media consultant for the Crow Tribe and Apsáalooke Legislature.
Despite not seeking the job, she feels uniquely qualified for it.
"It's always been news," she told The Billings Gazette. "I was either covering news or I was teaching others about news, so it's always been a part of my work."
Journalistic pursuits
Brien's interest in reporting started while growing up in Hardin. Skimming her father's daily newspapers once he was finished with them. What started out as skipping to the comics led to finding her name in the scholastic achiever's list and eventually to learning about current events through local articles.
As she grew older, she noticed the lack of news focusing on the Crow Indian Reservation. She said it was her curiosity about a family member who went missing that spurred her own journalistic pursuits. She pestered family members who were reluctant to discuss it and neighbors to find out what everyone knew about the disappearance.
She learned that people went missing from her community, often without much of a follow-up investigation, more often than she thought.
"As I got to talking with more and more people, I found out that a lot of families have similar stories to mine," she said. "So I wanted to tell the stories of our community that no one tells."
Brien graduated from Hardin High School in 1999 and earned a liberal arts degree from Little Bighorn College in 2004. The lack of interesting job opportunities and her enjoyment of journalism courses led her to earn a bachelor's degree in journalism at the University of Montana in 2006.
This would land her reporting jobs with the Ravalli Republic, Billings Gazette and, most recently, the Big Horn County News. It was back in her home county where she finally realized her goal of highlighting Crow Reservation news in a way it hadn't previously. Her position as the paper's editor and general manager led the paper's coverage of tribal affairs to increase significantly.
She believes the rapport she developed with the community over the years also gave her the chance to tell their stories, which other reporters may not have gotten to.
"I don't speak Crow, but the people there know me," she said. "It didn't matter if I had moved away for a few years or not. They remember me and they trust me."
Dead Indians or feathered Indians
Brien said tribal communities like those in Big Horn County had grown disillusioned by most news outlets' coverage of their lives and communities due to its limitations and depictions. Specifically, she said, most of these stories reported on either crime or tribal events highlighting their history and culture.
"We're either dead Indians or feathered Indians," she said. "Too often these news outlets will fly in or drive into town, get what they want or need and go on to tell the story they want to tell."
This trend of misrepresentation and sensationalizing extends to nationally published papers like The New York Times, which reported on the disappearances of Crow women Kaysera Stops Pretty Places and Selena Not Afraid. Brien said reporters were quick to speak with Stops Pretty Places' family shortly after she went missing but didn't report it until after Not Afraid went missing the following January.
"So, Kaysera's story is just sitting there for months, nothing's getting done, and then Selena goes missing and they're back immediately to talk with her family," she said. "Then the story comes out and Kaysera is only mentioned towards the end. How much longer was that story going to sit there before they decided to run it?"
Coverage like this and previous stories led Native communities to avoid talking to news reporters and rely more on local sources like Big Horn County News. Her shift toward more reservation coverage wasn't welcomed by everyone. Almost daily conflicts between the broader community and the paper prompted Brien to leave the paper in 2021 and launch Four Points Media.
The online news outlet focuses solely on the Crow Reservation in Big Horn County and to date has been funded through various grants. It was quickly met with positive results with over 3,000 readers visiting its website in the first month.
Funding inconsistency and Brien being its only contributor led to initial hiccups, however. The company's website, Four Points Press, is due to relaunch this month while a recently hired reporter and additional board member will help sustain operations going forward.
The need is there
Four Points Media is far from the only local news outlet struggling to find its financial footing. Sam Sandoval is the editor of Char-Koosta News, the Confederated Salish and Kootenai tribes' official newspaper, and says the paper could cover more news throughout their community with additional staff and resources.
The paper has reached out to the University of Montana's journalism program about potential tribal reporters, but travel distances, lack of familiarity with the community and its small population has made it a less-attractive option for reporters. Sandoval has also reached out to nearby high school newspapers in Pablo, Ronan and Polson for potential contributors but said declining student interest has resulted in inconsistency in recent years.
"The popular thought these days is that journalism is dying, newspapers are shutting down … but the need is there," he said. "It's just not stable enough, and there's not enough people committed enough to do the work."
Beth Britton, journalism publications teacher at C.M. Russell High School in Great Falls, said she's noticed a steady decline in student interest in her journalism course over the past 10 years.
"This will be the first year since 1965, when the school was founded, where there won't be a paper," Britton said. "That's more than upsetting."
Britton, who's also president of the Montana Journalism Education Association, said she's heard similar cases from other schools that competing new electives, high teacher turnover and students' preference for social media apps over news have led to multiple school papers either becoming web-based only or getting phased out entirely.
"They don't get the paper. A few students said they read some magazines, but only one or two said their parents read the paper," Britton said of her students today. "They have no role model of a newspaper."
The Lodge Grass Gazette
At Lodge Grass High School, Brien is addressing these gaps in both tribal reporting and student reporting through her classwork. This year, the school is offering journalism, photojournalism, audio/visual production and yearbook classes that will use contemporary storytelling approaches. For their first journalism assignment, students were asked to introduce and describe themselves through a TikTok video.
Throughout the school year, students will also learn the fundamentals of multimedia journalism and write their own print articles, design the school's yearbook, produce podcasts and short films. They will also get hands-on experience contributing original reports to both Brien's Four Point Press and the school newspaper, the Lodge Grass Gazette.
Senior student Angelina Toineeta decided this year to pursue a career in journalism after writing a piece on the Little Bighorn FFA program for last spring's photojournalism class.
"It was a cool feeling, getting to see what I had written on the page," Toineeta said. "I'd like to continue to write about my experiences and the things going on in my community."
Brien hopes to continue teaching at Lodge Grass High School and increase this kind of interest for years to come.
"I want them to be excited about this class," Brien said. "I want this to be the elective that students tell other students they have to take."