Native Americans
Native American News Roundup May 28-June 3, 2023
WASHINGTON —
Here are some of the Native American-related news stories that made headlines this week:
Tribes fear pending Supreme Court ruling could upend sovereignty
Native Americans are watching the U.S. Supreme Court for a decision in the case Brackeen v. Haaland, which will decide the fate of the 40-year-old Indian Child Welfare Act (ICWA).
Congress passed ICWA in 1978 to stop the large-scale removal of Indian children from their families and their placement in non-Native homes, as this was widely viewed as an attack on tribal sovereignty and a continuation of federal assimilation policies.
Ahead of ICWA's passage, Calvin Isaac, former chief of the Mississippi Band of Choctaw who died in 2020, argued before the House Subcommittee on Indian Affairs that "many of the individuals who decide the fate of our children are, at best, ignorant of our cultural values and at worst, have contempt for the Indian way and convinced that removal, usually to a non-Indian household or institution, can only benefit an Indian child."
In 2016, three sets of non-Native foster and prospective adoptive parents, along with the states of Texas, Indiana and Louisiana, took the federal government to court, arguing that the law discriminates based on race and that child welfare should be a matter for states and not the federal government to decide.
The Supreme Court heard arguments in the case last November and is expected to rule in the coming weeks.
Read more:
Remembering fallen Native American service members
May 29 was Memorial Day, a day to remember those Americans who have died serving their country.
Levi Rickert, a citizen of the Prairie Band Potawatomi Nation in Kansas and founder/editor of Native News Online, marked the occasion by reflecting on Native Americans' long and proud tradition of military service.
Among those who have paid the ultimate price is U.S. Army Specialist Lori Ann Piestewa, a citizen of the Hopi Nation, who died when her convoy was ambushed in Nasiriyah, Iraq, on March 23, 2003. She is remembered as the first female soldier to die in Iraq and the first Native American woman to die serving her country.
Native Americans and/or Alaska Natives have served in every U.S. war and conflict since the American Revolution, and as Rickert notes, have the highest record of military service per capita of any other racial or ethnic group in the U.S.
Read more:
U.S. Postal Service commemorates legendary Ponca leader
The U.S. Postal Service has released a postage stamp honoring Ponca Tribe Chief Standing Bear, one of the nation's most important civil rights figures.
He saw his tribe through their forced removal in 1877 from homelands in Nebraska to Indian Country [present-day Oklahoma]. His daughter Prairie Flower died along the way, and within a year, a third of the tribe died of disease and starvation, including his son Bear Shield, whose dying wish was to be buried back home.
Standing Bear honored that wish but was arrested for leaving Oklahoma. He sued the federal government for his freedom, arguing before the court, "I am a man. The same God made us both."
In a landmark ruling on May 12, 1879, Judge Elmer S. Dundy declared for the first time that an Indian was a person within the meaning of U.S. law and therefore deserved all legal protections.
Learn more in the video below:
Indian? Native American? What to call America's first peoples?
Oklahoma TV station KSWO this week posed that question to two tribal leaders.
"There's a lot of terms that have been bounced around, and you'll never find any universal acceptance from that from anybody because it's just too complex," Kiowa Tribe Chairman Lawrence SpottedBird said.
Comanche Nation Vice Chairman Dr. Cornel Pewewardy said he prefers Nʉmʉnʉʉ "the People," which is what the Comanche people have always called themselves.
But how to refer to America's original populations generally?
"Indian" was the name that explorer Christopher Columbus gave the people he encountered, assuming he had landed in India. Many Native Americans continue to use the term, as it was the legal term used in treaties with the federal government.
"Indigenous" is a word with different definitions. For some, it refers to an ethnic culture that has never migrated away from its homeland and is neither a settler nor a colonizer.
The United Nations defines "Indigenous" as the descendants of those who inhabited a country or region at the time of conquest or colonization by another group.
And some tribes find the term offensive, believing it carries negative implications.
Several years ago, VOA asked Chase Iron Eyes, a Hunkpapa Lakota activist from the Standing Rock Reservation in North Dakota.
"Call me whatever you want, as long as you do it with respect," he answered.
See more:
See all News Updates of the Day
Native American News Roundup September 24–30, 2023
Opinion: Federal shutdown would be 'bad for Indian Country and the whole country'
Native News Online this week outlined the ways a federal shutdown would affect the 574 federally recognized tribes in the U.S.:
Federally funded tribal programs would not see any new funds until funding bills pass.
If tribes have funds left over from previous years, they could use those funds to continue program operations and pay employees until those funds run dry.
If tribes do not have any leftover funds, they will be forced to find other funding sources or shutter programs entirely.
"Past government shutdowns have taken the lives of Native citizens, harmed their well-being, and forced tribal governments, tribal organizations, and individual citizens to go into debt to cover the United States' broken promises," editor Levi Rickert writes.
Parts of the federal government would cease operations if there is a lapse in appropriations caused by the absence of funding before the start of the new fiscal year October 1.
Read more:
White House orders agencies: Restore fish to Columbia River Basin
This week, President Joe Biden ordered federal departments and agencies to do what it takes to restore healthy fish populations in the Columbia River Basin.
"It is a priority of my Administration to honor Federal trust and treaty responsibilities to Tribal Nations — including to those Tribal Nations harmed by the construction and operation of Federal dams," Biden said in a presidential memorandum released Wednesday.
To that end, Biden gave departments and agencies 120 days to review any programs affecting salmon, steelhead and other native fish populations in the basin and an additional 100 days to report to the Office of Management and Budget what changes they will make and what they will need to get the job done.
Salmon once occupied nearly 13,000 miles of Columbia River Basin streams and rivers and were a mainstay of regional tribal economies and cultures.
Read more:
Interior Department to document, make public, Native American boarding school stories
The Interior Department this week announced a new project to document and make available to the public stories of Native American children forced into the federal Indian boarding school system.
"Creating a permanent oral history collection about the federal Indian boarding school system is part of the Department's mission to honor its political, trust and legal responsibilities and commitments to Tribes," said Secretary Deb Haaland in a statement Tuesday.
"The U.S. government has never before collected the experiences of boarding school survivors, which Tribes have long advocated for to memorialize the experiences of their citizens who attended federal boarding schools. This is a significant step in our efforts to help communities heal and to tell the full story of America."
The Department has granted $3.7 million to the Native American Boarding School Healing Coalition (NABS) to interview former students and their descendants and will shortly announce dates, times and locations for those interviews. Interested parties can sign up on the NABS website:
Read more:
Homeless crisis prompts tribe to enact state of emergency
Inflation and the rising cost of housing in the wake of the COVID-19 pandemic have exacted a heavy toll on the Mashpee Wampanoag in Massachusetts. The resulting rise in homelessness prompted tribal leadership last week to enact a state of emergency.
"We are hoping the state of emergency can help us to get more federal funds and grants to eventually structure our own tribal housing authority through the tribe's Housing Department," tribal chairman Brian Weeden said.
Last year, the tribe used nearly $2 million in American Rescue Plan Act and U.S. Housing and Urban Development funding to purchase a 19-room motel which it hopes can eventually serve as transitioning shelter for tribe members in need.
"But it's not enough," Weeden said.
The council also pledged to work with local, regional, state and federal agencies and organizations to look for other solutions to the housing crisis.
Read more:
Commanders vs. 'Redskins': Nonprofit to take football team and Native advocacy group to court
A North Dakota-based nonprofit organization has filed a defamation lawsuit against the Washington Commanders football team, its leaders and the National Congress of American Indians (NCAI).
The Native American Guardians Association (NAGA) lawsuit, filed in a U.S. district court in North Dakota, accuses the Commanders and its leaders, working in tandem with NCAI, of defaming NAGA as a "fake" group comprised of "fake Native Americans."
NAGA's website states: "Each member of our leadership team has some verified Native ancestry with the majority being enrolled tribal members."
NAGA in August sent a three-page letter to the owners and leaders of the Washington Commanders, calling on them to restore the team's former name, the "Washington Redskins" and "stop the further cancel culture" against Native Americans.
The group cites a 2016 Washington Post poll of 504 Native Americans, the majority of whom said they were not offended by the "Redskins" name.
In 2020 however, University of Michigan and University of California, Berkeley researchers polled 1,000 Native Americans on their perceptions of the "Redskins" name; 49% said they found it offensive.
The National Football League team dropped the "Redskins" name in 2020 and was known simply as the Washington Football Team before adopting the Commanders name in 2022.
Reporter's Notebook: For More Than 20 Years, Ancestor Led or Taught at Various Indian Boarding and Day Schools

Editor's Note: This is the last story in a three-part series that explores the history of the federal Indian school on the Western side of the Navajo Nation in Arizona -- and a man who taught there and in other Indian schools for more than two decades.

The 1901 Course of Study for the Indian Schools reflects the federal mission to turn Native Americans into farmers and housekeepers: Children were to spend half the day in classrooms, learning basic reading, writing and arithmetic, and spend the remainder of the day working in kitchens, fields, blacksmith shops or print shops.

There was little time for leisure: "One evening in the week should be a social hour, when the pupils may spend the evening in conversation, grand marches, etc., under the direction of the teachers," the guide states.

On remaining evenings, teachers from various departments lectured students on farming, shoemaking and cooking so that "each child shall grasp a practical thought that may be applied in the work to be done."
In the summer, schools were encouraged to send children on "outings" in non-Native homes and farms in the summer, where they would gain "practical experience" for their future occupations.

Some Tuba City boys were sent to work as seasonal labor in Colorado beet fields. Others remained behind to tend to the school farm.

Overworked and overtired, it is little wonder they were vulnerable to infection and disease.
'Frothing at the mouth'

Students and staff were hit hard during the 1918 Spanish flu pandemic. Brigham Young University anthropologist Albert B. Reagan visited Tuba City and pitched in to care for stricken students. The Kansas Academy of Science later published his harrowing account:

"Twenty-three of my boys were frothing at the mouth, and some were delirious … sanitary conditions had gotten very bad, as many of the children were wholly helpless…" he wrote. "Two of the girls died, both at night, and on account of the Navajos' fear of death and the dead, we had to carry them out of the dormitory … with lights darkened so the other pupils would not see what we were doing."

My great-grandfather was detailed to the Hopi day school at Moenkopi and was "overwhelmed" with caring for sick students and their families. Reagan noted that he was "heroically aided by Mr. Curn [sic] in every way possible." They purchased sheep from a local herder and made a 75-liter (20-gallon) pot of soup which they distributed by car to the families.

"Of the 300 who were sick, only 16 died," Reagan wrote.
In 1922, the American Red Cross (ARC) sent nurse Florence Patterson to visit several Southwestern reservations to determine whether there was a need for public health nurses.

In November 1928, Patterson told a Senate subcommittee on Indian Affairs that children at the Tuba City school were served bread, coffee and syrup for breakfast and bread and boiled potatoes at midday dinner and supper. Though the school had a dairy, only a small amount of milk was made available and was given only to "the big boys." Children as young as 5 were given only coffee or tea.
The children were not given any of the fruit or vegetables they grew, Patterson said. These were sold to help keep the school funded.

During the same hearings, Stella Atwood, a California advocate for Native rights, testified that 11 out of 44 little boys sent to work in Colorado's beet fields came back with typhoid; two died on the road back to school; the fate of the others isn't known.
Over the next 20 years, Keirn bounced from the Tuba City boarding school, teaching Navajo, Hopi and Paiute children, to the nearby Hopi day school at Moenkopi. Records alternately describe him as teacher, principal or "headman."

A family photo dated July 20, 1915, shows my great-grandfather, his wife and two older children descending the Grand Canyon by mule.
John divorced Clara in 1918, but they would be together at the newly established Theodore Roosevelt Indian School on the White Mountain Apache Reservation, where Clara contracted and died of diphtheria.

John left the Indian service in the mid-1930s and moved to California, hoping to stay with his son and daughter-in-law, who was my grandmother. Years later, she told me that the aging Keirn was demanding and ill-tempered, and they asked him to leave.

In 1941, at the age of 81, he died from complications of surgery.

Reconciling the past

I am still processing everything I have learned and hope that the ongoing Federal Indian Boarding School Initiative, which launched in June 2021, will tell me more.

It is stunning to me that newspapers and genealogical and government archives were able to tell me the life story of my ancestor — a white man — but nothing about the hundreds of children he taught or the emotional, physical and spiritual hardships they may have endured.
I scan his face in the photograph above but I can't find any clues to his personality and cannot trust the glowing description of him in the clipping above as "loved by Indians and whites alike."
The little girls' expressions speak for themselves.

Most teachers didn't last long in service, but John Keirn stayed in Arizona for more than two decades. I would like to believe that he was one of those idealistic reformers that historian Williams writes about, but instinct tells me otherwise.

Today, Americans are locked in debate over what — if any — responsibility they hold for the racist policies of the past and whether that history should be taught to future generations.

As a reporter covering Native American issues, I have had several conversations with boarding school survivors and heard heartbreaking stories about the physical, sexual and psychological abuses they endured. Discovering that a family member was complicit in a scheme to undermine Native cultures has further strengthened my resolve to learn more about how historic policies impact tribe members and their communities today.
Today, the Tuba City Boarding School is a modern facility operating under the U.S. Bureau of Indian Education. Its stated mission is to educate Navajo and Hopi children from kindergarten through eighth grade "in a safe and culturally competent environment."

"We are running a lot of good programs here, and parents are excited about what's going on," principal Don Coffland told me by phone. "So, we're really proud of what we do here."

To learn more about the school, watch this student-produced video.
Native American News Roundup September 17 to 23, 2023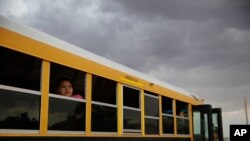 Here are some of the Native American-related stories making headlines this week:
Lawmakers seek to combat child abuse, neglect and family violence
The U.S. House of Representatives this week passed the Native American Child Protection Act to help Native American communities respond to and head off family violence and child abuse.
Introduced by Representative Ruben Gallego, the Native American Child Protection Act revises programs that were originally established in 1990 and passed as part of then-Senator John McCain's Indian Child Protection and Family Violence Prevention Act.
Its provisions are aimed at helping tribes develop programs to identify, investigate and prosecute cases of child abuse, child neglect and family violence.
"For too long, Congress has failed to uphold its promise to address the disproportionate levels of child abuse in tribal communities," said Gallego, former chairman of the House Subcommittee on Indigenous Peoples of the U.S. "My bipartisan Native American Child Protection Act corrects that by providing tribes the resources they need to prevent, prosecute, and treat instances of family violence and child abuse."
The bill now passes to the Senate for consideration.
BIA's Missing and Murdered Unit steps in where law enforcement has failed
Agents from the Bureau of Indian Affairs' Missing and Murdered Unit are reexamining the case of Kaysera Stops Pretty Places, who went missing on August 24, 2019, in a suburban neighborhood of Hardin, Montana, less than 0.8 kilometers from the Crow Reservation boundary.
Law enforcement found her body five days after she disappeared but did not notify her family until September 11. Since then, the family says it has not heard from the Big Horn County Sheriff's office, the FBI or the Montana Justice Department about investigations into her death.
The BIA unit was formed in 2021 by Interior Secretary Deb Haaland and has received 845 case referrals, primarily from victims' families. Nearly 375 cases are still under review or being investigated.
Read more:
White House to boost restoration of Columbia River Basin salmon
The Biden-Harris administration this week announced a historic agreement with the Confederated Tribes of the Colville Reservation, the Coeur d'Alene Tribe, and the Spokane Tribe of Indians to reintroduce salmon into blocked habitats of the Upper Columbia River Basin.
Salmon were once abundant in the upper Columbia, Sanpoil, and Spokane rivers but disappeared after their habitats were blocked by the construction of hydroelectric dams in the 20th century.
As a result, tribal communities have had to change their traditional diets and traditional ways of life, and this in turn has changed the way they once taught and raised children in the cultural and spiritual beliefs centered around these fish.
"Since time immemorial, tribes along the Columbia River System have relied on Pacific salmon, steelhead, and other native fish species for sustenance and their cultural and spiritual ways of life. Today's historic agreement is integral to helping restore healthy and abundant fish populations to these communities," said Interior Secretary Deb Haaland said.
The agreement includes funding to support implementing these plans, including $200 million over 20 years from the U.S. Energy Department and $8 million over two years through the Bureau of Reclamation.
Read more:
Southern Baptists expel church after pastor defended racist role play
The Southern Baptist Convention, America's largest Protestant organization, this week voted to oust an Oklahoma pastor in Ochelata who failed to respond to allegations that his church "affirms, approves, or endorses discriminatory behavior on the basis of ethnicity."
While the convention didn't offer further details, it is believed to be related to two Matoaka Baptist Church events in which pastor Sherman Jaquess dressed in blackface and as a "Native American."
The Convention's Executive Committee voted Tuesday that the Matoaka Baptist Church was "deemed not in friendly cooperation with the convention" — the official terminology for an expulsion.
In a video released on Facebook earlier this year, Jaquess can be seen at a 2017 Valentine's Day event dressed in blackface at a piano, posing as singer Ray Charles.
A separate Facebook photo shows Jaquess at a 2012 youth camp event dressed in red face, wearing "Native American" braids and a feathered headband.
Jaquess defended his actions, saying that it is "repugnant to have people think you're a racist" and claimed that he was paying tribute to the iconic soul singer.
"It wasn't derogatory, wasn't racial in any way, and we're not racist at all," he said. "I don't have a racist bone in my body. I have a lot of racial friends."
He also stated he is of part-Cherokee heritage.
Read more:
Native American earthworks listed as World Heritage Site
The UNESCO World Heritage Committee this week added 27 new sites to the World Heritage List, among them the Hopewell Ceremonial Earthworks in southern Ohio. Those are eight enormous earthen enclosure complexes that American Indians — known as the Hopewell Culture — built between 1,600 and 2,000 years ago.
These served as centers for Hopewell feasts, funerals, and other social and spiritual gatherings. Archaeologists excavating the site have found pottery, copper and shell ornaments, and carved pipes made from raw materials obtained through trade with tribes in the Great Lakes, Carolinas, the Rocky Mountains and elsewhere.
Read more:
Danish trolls come to Seattle
John "Coyote" Halliday, an artist enrolled in the Muckleshoot Indian Tribe in Washington State, helped design one of six gigantic trolls that have appeared in the Puget Sound area.
Standing as tall as 6 meters, they are all made from recycled materials.
It is part of a larger body of work conceived by Danish artist/activist Thomas Dambo, to bring attention to sustainability and the environment.
VOA reporter Natasha Mozgovaya spoke with Halliday and Dambo in Seattle and filed this report.
UPDATE: Seattle's KOMO News reports that vandals defaced the troll sculpture featured in Natasha Mozgovaya's video report. Read more:
Reporter's Notebook: Ancestor Appointed to Teach at Western Navajo Agency in Arizona
Editor's Note: This story is the second in a three-part series that explores the history of the federal Indian school on the Western side of the Navajo Nation in Arizona -- and a man who taught there and in a nearby day school for more than two decades.
John A. Keirn was appointed a teacher at the Western Navajo Agency in Arizona, effective November 1912, earning $84 a month on a probationary basis, according to the Haskell Indian boarding school newspaper, The Indian Leader, which tracked appointments, transfers and retirements in the Indian Service.
When Keirn arrived in Arizona, it had been 50 years since the U.S. Army began rounding up and force-marching groups of Navajo along the "Long Walk" to an internment camp at Bosque Redondo, along the Pecos River in eastern New Mexico.
The plan had been to turn the Navajo into farmers, but the experiment failed: crops failed repeatedly, conditions were bleak and the government, which was spending $1.5 million a year to feed the prisoners, finally relented and freed them.
In 1868, U.S. officials negotiated a treaty that established the Navajo reservation, which completely encircled the homelands of the Hopi. In 1882, Washington established the Hopi (then known as Moqui) reservation, which included a summer farming community at Moenkopi, 3 kilometers outside of Tuba City, which was part of the Navajo Nation.
Army campaigns against Native tribes in the Southwest ended with the capture of the Apache leader Geronimo in 1886; now, the U.S. turned its attention from warfare to forced assimilation.
U.S. Army General Richard H. Pratt in 1878 had established the first of many federal off-reservation Indian boarding schools in Carlisle, Pennsylvania. By 1908, the government was operating 88 reservation boarding schools, 26 non-reservation schools and 165 day schools.
These included the Keams Canyon Boarding School for the Hopi (then called Moqui), which, like many boarding schools would come to be known by several names, and the Western Navajo Agency Boarding School, established at an abandoned trading post at Algert, in Arizona's Blue Canyon.
When the government failed to make needed improvements to the Blue Canyon site, school staff, students and local Navajo stonemasons hauled stone and constructed their own school buildings.
"Oil-can cases were used for window frames and goods boxes were utilized for lumber to make doors, etc.," the agency superintendent wrote in his 1901 report to the Commissioner for Indian Affairs in Washington.
In 1903, the government moved its Western Navajo Agency headquarters to Tuba City, an oasis fed by a tributary of the Little Colorado River. The city's name belied its size; at the time, it consisted only of a trading post and a handful of buildings left by earlier Mormon settlers.
In 1904, the government began constructing a new boarding school to replace the Blue Canyon school: The new Tuba City Boarding School was comprised of three imposing buildings, arranged symmetrically in an architectural style typical of federal buildings at the time.
"Such an arrangement suggests both system and the authoritative, almost military-like, approach to education that dominated BIA thinking through the first two decades of this century," reads a National Park Service survey of the buildings.
The children slept in "large impersonal sleeping rooms" that doubled as classrooms. As the student population grew, the agency added 40-bed sleeping porches to the boys' and girls' dormitories.
Gradually, the school expanded to include a classroom building, mess hall, steam laundry and employee living quarters. By the late 1920s, the campus included a 50-bed hospital, barn, garages and machine shop.
Bugles and drills
In her 1954 memoir "The Red Moon Called Me," Gertrude Golden, a teacher in the Indian Service from 1901 to 1918, described student life in non-reservation boarding schools as highly regimented.
"The pupils were divided into companies according to age and size, and each company had its captain, lieutenants and corporals," she wrote. "These officers drilled their companies in marching, setting-up exercises and simple military maneuvers."
In his 1914 annual report to the Interior Secretary for 1913, Commissioner of Indian Affairs Cato Sells said that as a means to ensure uniform systems of drilling in these schools, "a pamphlet has been published for the use of employees reproducing a portion of the Manual for Infantry Drills now used by the United States Army."
A former student at the Tuba City school would later recall: "In the morning, the bugle would blow, and all the children would go out and line up to salute the flag while the bugler played, and then they marched to the dining hall."
Tuba City students earned their keep working on the school's 200-acre farm, which included garden plots, a large apple and pear orchard, and about 40 hectares each of alfalfa and corn.
Students raised and butchered their own livestock, canned fruits and vegetables for the winter, and in cold months, harvested ice for summer.
Sometime before 1920, my great-grandfather took a series of photographs (see photo gallery, below). These ended up in Yale University's Beinecke Rare Book and Manuscript Library, which digitized them for VOA. Because the children are young, I assume that they were Hopi children attending the Moenkopi Day School.
Never made public before, the photos (above) are gut-wrenching: children, some of them not much older than 4 or 5, stand in the hot sun behind mounds of picked apples; boys lean on hoes amid rows of what appears to be lettuce.
One photograph shows the children holding Navajo rugs and popular monthly magazines like McClure's, which would have been completely foreign to them, both in language and cultural content.
Not one child is smiling.
NOTE: Part three of the series examines student health and nutrition.
Reporter's Notebook: Finding That My Ancestor Taught in an Indian Boarding School
Editor's Note: This story is the first in a three-part series that explores the history of the federal Indian school on the Western side of the Navajo Nation in Arizona — and a man who taught there and in a nearby day school for more than two decades.

One Sunday last May, I logged into a popular genealogical site to research my family tree. Specifically, I wanted to know more about my mother's grandfather, John A. Keirn, who had left his wife and three children and moved out West.
Searching his name in newspaper archives, I was shocked to find a small notice in the August 5, 1927, issue of Arizona's Coconino Times newspaper: Keirn had been the principal of the Western Navajo Indian boarding school in Tuba City, Arizona.
Keirn was my ancestor by marriage, not by blood; but that did not make him any less family. His son, my step-grandfather, had been an important influence growing up. I felt embarrassed, almost betrayed, having researched and written about some of the horrors perpetrated at schools like this one.

And then I remembered hearing he had a bad temper. That bothered me more than anything else. I wondered how many children had felt its sting.

I had to know more.
Digging through archives

Census records show Keirn, the son of a farmer, moved from Illinois to Omaha, Nebraska, in the early 1890s to teach school. There, he met his future wife, fellow teacher Clara Rood. They married in 1896 and eight years later moved to rural Elbert County, Colorado, where Clara got a job teaching.

At the time, schools in rural counties were makeshift and scattered: Clara rode on horseback from one school to another. In 1907, she was elected president of her school district and in 1908, promoted to county superintendent of schools.

But her husband was not so lucky. He drifted from one job to another — working at the local mercantile store or on a railroad bridge gang.

In November 1912, Clara was up for reelection and nearly lost over public charges of nepotism: She had opened the county's first high school and appointed her husband as its sole teacher. He was earning $100 a month — a generous salary — to teach only two students.
Voters also questioned why the couple's oldest daughter had been sent away to school in Omaha instead of attending one of the schools that Clara supervised.

Ten days after the allegations surfaced, the Elbert County Tribune reported that John Keirn had left Colorado for Arizona.
Vocation, escape or last resort?

It is hard to imagine what motivated my great-grandfather to leave a wife and three children — the youngest, my step-grandfather, only a boy of 7 — to join the Indian service.

Denver was only 80 kilometers (50 miles) away and by 1912 had a well-established school system.
It is possible that Keirn could not meet Denver's hiring requirements: A 1928 report of conditions on Indian reservations — a so-called Meriam Report — noted that the government regularly hired teachers whose credentials would not be accepted by any good public school system.
"… there is even some evidence that the Indian Service is receiving teachers who have been forced out of the schools of their own states because they could not meet the raised standards of those state," investigators said.
Historian David Wallace Adams, author of "Education for Extinction," writes that some teachers were driven by "a sense of Christian responsibility to save a vanishing race from extinction."
In her 1954 memoir "Red Moon Called Me," Gertrude Golden, a former teacher in the Indian Service, noted that when Native American children were fortunate enough to have good teachers, "inestimable good was accomplished."
"But it happened all too frequently that the teacher was in the work only for money and adventure and acted upon the principle that 'anything is good enough for a lousy Indian,'" she wrote.

Another possibility is that Keirn was looking to leave his marriage.

Whatever his motive, he would have seen one of the job notices that the U.S. Civil Service Commission periodically published in regional newspapers.

He would have had to pass a civil service examination requiring him to write neatly, spell correctly, draw a simple picture and write brief essays on questions in basic algebra, geography, history, physiology and hygiene, nature study and American literature. The U.S. Civil Service Commission (CSC) published sample questions such as:

"Compare Ohio and Cuba as to climate, physical features, vegetation, leading industries, character of inhabitants, form of government, etc."

"Discuss the peculiarities, characteristics, habits, etc., of the bobolink [a songbird], including food, mode of nesting and rearing young, etc."

"A field is in the form of an isosceles triangle. The two sides are 26 rods each and the base is 20 rods. What is the altitude?"

The CSC cautioned applicants: "The object of the schools is to prepare the Indian youth for the duties, privileges and responsibilities of American citizenship by training them in the industrial arts and developing their moral and intellectual faculties ..."The conditions of life at these schools differ from ordinary school or home life … There is little opportunity for recreation or social pleasure."

NOTE: Part Two of this series will explore student life at the Tuba City Boarding School.