Native Americans
Native American News Roundup November 12-18, 2023
WASHINGTON —
These are some of the Native American-related stories that made headlines this week:
Oklahoma lawmaker, union boss, come close to blows in Senate hearing room
Oklahoma Republican Senator Markwayne Mullin, a former mixed martial arts fighter and a citizen of the Cherokee Nation, says he isn't sorry for challenging Teamster president Sean O'Brien to a fist fight during a Senate committee hearing on Tuesday.
Independent Senator Bernie Sanders, chairman of the Senate Health, Education, Labor and Pensions Committee, was forced to intervene.
This wasn't the pair's first clash. During a committee hearing in March, O'Brien and Mullin shouted at each other. That led to a series of angry exchanges on social media platform X. In June, O'Brien challenged Mullin to a fight.
"You know where to find me. Anyplace, anytime, cowboy," O'Brien said.
Mullin responded on X:
That fight never took place.
"People ask me today is this becoming of a U.S. senator," Mullin told FOX News. "In Oklahoma, you don't run your mouth like that, and if you do run your mouth like that, you're expected to be called out on it."
Read more:
Feds to fund Native Hawaiian-led climate resilience program
Democratic Senator Brian Schatz, chairman of the Senate Committee on Indian Affairs, this week announced $20 million in funding for the Kapapahuliau Climate Resilience Program to help the Native Hawaiian community mitigate the challenges of climate change.
"Through the Kapapahuliau Climate Resilience Program, the federal government is directly funding Native Hawaiian-led climate solutions for the first time ever," Schatz said. "This $20 million down payment — part of the Inflation Reduction Act's historic investment in climate action — recognizes the critical role of the Native Hawaiian Community in charting a path towards a sustainable, climate resilient future in Hawaii and beyond."
The Fifth U.S. National Climate Assessment, released earlier this week, says Indigenous peoples and their knowledge will be central to the resilience of Hawaiian and Pacific Island communities addressing changing climate.
Read more:
USDA to fund traditional Native American forestry in Oregon
The U.S. Department of Agriculture's Natural Resources Conservation Service has awarded $9.23 million to the Oregon Agricultural Trust (OAT) and its partners for projects using traditional Native American land management practices to restore Oregon's oak habitat.
Long before Europeans set foot in North America, Indigenous communities used fire to clear land for agriculture or roadways, rejuvenate plants, eradicate pests and avoid devastating wildfires.
Since 2000, wildfires have become larger and more frequent across the United States, and a growing number of localities have begun to embrace so-called "cultural burns" as part of the solution.
"Use of cultural fire, traditional fire, on the landscape usually entails people who are trained or have the wildfire qualifications," said Ka-Voka Jackson, program manager for the EcoStudies Institute, an OAT partner. "That usually entails fire trucks or water resources, the use of drip torches, other hand tools."
The project will work with tribes to protect Oregon's iconic oak trees. It will also give Native Americans access to oak forests for cultural use and environmental stewardship.
Read more:
Confusion in Oklahoma over state, tribal vehicle law
Tribal leaders in Oklahoma are outraged after a state police officer stopped an Otoe-Missouria tribal citizen for speeding and gave her two tickets: one for speeding and a another for failing to pay state motor vehicle taxes because she did not live on tribal land.
The U.S. Supreme Court ruled in 1993 that Indigenous Oklahomans could register a vehicle through their tribe if they reside inside reservation boundaries. The ruling also says the state doesn't have the authority to tax tribal citizens living on reservations.
Three of the 39 tribes in Oklahoma — the Cherokee, Chickasaw and Choctaw — have compacts with the state that allow tribe members to drive with tribal car tags wherever they live.
Members of the other 36 tribes that do not have compacts — including the Otoe-Missouria — are supposed to register their vehicles with the state.
Oklahoma Governor Kevin Stitt, says his main concern is that some tribal governments don't share vehicle registration information with the Department of Public Safety, making it a "public safety issue that puts law enforcement and others at risk."
Otoe-Missouria Chairman John Shotton suggests the state has not enforced the law until now.
"After over 20 years of cooperation between the State and Tribes regarding vehicle tag registration, it appears the State has altered its position of understanding concerning tribal tags," Shotton said in a statement. "This change was made without notice or consultation with all Tribes that operate vehicle tag registration."
Read more:
See all News Updates of the Day
Cherokee Nation Chief Speaks to VOA on US Promises, Progress
President Joe Biden convened a two-day summit Wednesday with the heads of more than 300 tribal groups, saying his administration is committed to writing "a new and better chapter of history" for the more than 570 Native American communities in the United States by making it easier for them to access federal funding.
Principal Chief Chuck Hoskin Jr. of the Cherokee Nation, one of the largest Indigenous tribes in the United States, spoke to VOA about those efforts and also some of the themes of Native history that are in the forefront today.
This interview has been edited for clarity and brevity.
VOA: What are your goals for your half-million citizens at this summit?
Principal Chief Chuck Hoskin Jr.: It's to press the administration on meeting America's commitment but also learn more about what their plans are. ... The most important thing for the Cherokee Nation, I think — and all tribes — is the efficient deployment of resources, and then allowing tribes to decide how to use those resources. So, a more efficient, streamlined process in terms of getting funding out.
VOA: The Biden administration says it will release at this summit a report card of sorts. What's your assessment of how the administration has succeeded and where it could do better?
Hoskin: I think overall, it's been very, very positive. ... The bipartisan infrastructure deal has been important for the Cherokee Nation. The American Rescue Plan has enabled us to do things that may seem small to the rest of the world, like putting a cell tower in a community that didn't have cellphone access, by improving water systems.
VOA: Any criticism?
Hoskin: To the extent that it's criticism: The federal government's a big ship, it's tough to steer. What I have seen over the years is, you get a new administration in, it takes a while for the relationships to be built up, for executive orders on consultation to translate down to agencies.
VOA: President Biden has not made — publicly, at least — any sort of land acknowledgment statement. Is that something you seek?
Hoskin: Reminding the country that there were aboriginal people here before anyone ever heard of the United States, I think that's important. But I think in terms of what tribal citizens want to see, and what tribal leaders want to see is access to land, control of resources, more land placed into trust for the benefit of Native Americans.
VOA: The current war between Israel and Hamas is also about land. Do you have any advice for President Biden, Israeli Prime Minister Benjamin Netanyahu and Palestinian Authority President Mahmoud Abbas during this very tense moment?
Hoskin: I do think there are some parallels. You're talking about people who say that they've been on the land from time immemorial. That's what we Cherokees say, and we have a history of being dispossessed from our land. I would just remind people that there's a way to balance rights. I think we're trying to do that in the United States in terms of Indian Country versus the rest of the country. We haven't perfected it, but I think we're making some progress. So, all I would say is the respect and dignity that every human being deserves ought to be on display anytime you're having these sorts of situations. That's a difficult sentiment to express in the midst of some real difficulties.
VOA: Adversaries of the U.S. have weaponized the well-documented suffering of Native Americans, saying the U.S. doesn't have the moral high ground on the world stage.
Hoskin: Certainly it would be accurate to say the United States has an appalling record towards Indigenous peoples. Is it perfect now? No, it's not. But we're making progress. I mean, think about what's happened on the world stage. In Australia, that country just rejected the recognition of aboriginal people. In the United States, we have federal recognition. ... We do have a foundation upon which we built a great deal. And so, to those critics of the United States, I would say, come to the Cherokee Nation and look at what we're doing, leading in things like health care and lifting up people economically. It's not perhaps the picture that has been painted by some of these regimes.
VOA: I believe you knew [former Cherokee chief] Wilma Mankiller very well. Talk a bit about her.
Hoskin: Anybody in the world who cares about human rights, the dignity of everybody, civil rights, they should get to know her. ... She reminded us of who we are and what we always had in us, which was the ability to govern ourselves, to protect ourselves, to understand we have this common history and destiny. She reminded us that we were Cherokee after generations of being suppressed and a bit beaten down. So, she lifted us up. The fact that there's a Barbie doll that depicts her, that there's a quarter from the United States Mint — that shows what a powerful person she was.
VOA: How do you feel about not being consulted on the Barbie doll?
Hoskin: Well, I think it's disrespect on the part of Mattel, but I will also tell you that they very quickly understood that, and we're engaging. So, I think that overall, I appreciate Mattel depicting Wilma Mankiller, the great Cherokee chief. On balance, this is a good thing.
VOA: What does it mean to you to be an American?
Hoskin: I think a lot about this. I can go back a few generations to my ancestors who signed up to fight for this country in World War I and World War II — while within their living memory, there was a great deal of oppression and atrocities by this country to their own people. But in terms of the principles of what we want for this country, like freedom and opportunity for everyone, if we aspire to that, that's something we all share. And so for me, that's what it means to be an American.
VOA: How do you feel about public holidays like Columbus Day and Thanksgiving?
Hoskin: Columbus Day is abhorrent. [Christopher Columbus is] demonstrably somebody who engaged in great atrocities towards Native peoples. ... There's plenty to celebrate in American history without celebrating and misstating what he did. In terms of Thanksgiving, I think it's become for the Cherokee people something that we just celebrate in terms of what unites humanity, which is giving thanks for what we have and trying to do better.
VOA: Anything else you'd like to tell our audience? We broadcast in 48 languages. Would you like to say something in your language?
Hoskin: Sure. I'd say "osiyo," which is "hello" in Cherokee. And "donadagohvi," which is "we will see each other again." We don't say goodbye. We just look forward to seeing people again. I look forward to seeing you again.
VOA: And I look forward to seeing you again.
What Mattel Got Right — and Wrong — in Designing the Wilma Mankiller Barbie
Members of the Cherokee Nation were delighted last month when the Mattel toy company released a special edition Barbie honoring the tribe's first female principal chief, women's advocate Wilma Mankiller.
"She truly exemplifies leadership, culture and equality and we applaud Mattel for commemorating her in the 'Barbie Inspiring Women Series,'" Cherokee principal chief Chuck Hoskin said in a statement.
Not long after the doll was shipped, Cherokee buyers began complaining that Mattel had not done its homework.
Some said the doll's skin tone was too dark, implying an effort to make the doll look more "Indian."
The Cherokee have always been well-known for their traditional basketry styles, but the doll's basket is patterned after traditional English baskets.
She wears a tear dress (pronounced tare), the official dress of Cherokee Nation women, but she is not wearing any jewelry.
"Chief Mankiller was well known for her tribal necklaces," Cherokee researcher David Cornsilk told VOA via Facebook. "And in addition to being the first female chief of a major U.S. tribe and first woman chief of the Cherokee Nation, she was the first woman to wear our traditional gorget necklace, a powerful symbol of leadership."
The gorget is a crescent-shaped metal plate that the British military gifted to 18th Century tribal chiefs as a reward for loyalty and a symbol of authority. They are still worn by Cherokee chiefs today.
Missing, too, Cornsilk and others say, are the traditional pucker-toe moccasins, always worn with official dress.
Perhaps the most glaring error is on the doll's package, which features the Great Seal of the Cherokee Nation.
"The word 'Cherokee' should be ᏣᎳᎩ but is written as ᏣᏔᎩ," Cornsilk said.
Which, translated, reads: "The Chicken Nation."
A Google search shows the mistake may have come from an image posted on Wikipedia that was created in 2013 by a now-retired contributor. It, too, reads, "Chicken."
A note beneath the faulty seal challenges its "factual accuracy."
Mattel spokesperson Devin Tucker told the Associated Press that the company is aware of the problem and is "discussing options."
Mankiller's daughter corrects the record
Mankiller's only surviving child, Felicia Olaya, was disappointed that she was left out of the Barbie design process, just as she says she was with a 25-cent coin the U.S. Mint released in 2022.
"Just like when the quarter came out, neither my sister, who was living at that time, nor I knew anything about it," she told VOA. "We found out about it secondhand or on social media."
"And then this happens. And there've been a few other small events that have happened over the years that we didn't know about until they were done," she added.
Mattel says it worked with Mankiller's husband, Charlie Soap, and his production partner Kristina Kiehl. Neither Soap nor Kiehl responded to messages left by the AP.
Olaya is less critical of the doll itself than some others in the Cherokee Nation.
"It's a doll. It's not supposed to be an exact portrait of my mom," she said.
She would change the doll's eye color, something not easily detectable in photos.
"Her eyes weren't brown. They were hazel," she said. "And yes, my mom was a jewelry person. She wore clay or cornseed bead necklaces a lot, so, I would have added those."
She does credit Mattel with getting it right on the shoes.
"Some people say she should have been wearing pucker moccasins. Well, my mom never wore them," Olaya said, explaining that Mankiller suffered from chronic foot pain after a near-fatal car accident in 1979.
"She either wore flip flops or the kind of shoes the doll is wearing, like diabetics' shoes."
Barbie Doll Honoring Cherokee Nation Leader Met With Mixed Emotions
An iconic chief of the Cherokee Nation, Wilma Mankiller, inspired countless Native American children as a powerful but humble leader who expanded early education and rural health care.
Her reach is now broadening with a quintessential American honor: a Barbie doll in the late Mankiller's likeness as part of toymaker Mattel's "Inspiring Women" series.
A public ceremony honoring Mankiller's legacy is set for Tuesday in Tahlequah in northeast Oklahoma, where the Cherokee Nation is headquartered.
Mankiller was the nation's first female principal chief, leading the tribe for a decade until 1995. She focused on improving social conditions through consensus and on restoring pride in Native heritage. She met with three U.S. presidents and received the Presidential Medal of Freedom, the nation's highest civilian award.
She also met snide remarks about her surname — a military title — with humor, often delivering a straight-faced response: "Mankiller is actually a well-earned nickname." She died in 2010.
The tribe's current leader, Principal Chief Chuck Hoskin Jr., applauded Mattel for commemorating Mankiller.
"When Native girls see it, they can achieve it, and Wilma Mankiller has shown countless young women to be fearless and speak up for Indigenous and human rights," Hoskin said in a statement. "Wilma Mankiller is a champion for the Cherokee Nation, for Indian Country, and even my own daughter."
Mankiller, whose likeness is on a U.S. quarter issued in 2021, is the second Native American woman honored with a Barbie doll. Famed aviator Bessie Coleman, who was of Black and Cherokee ancestry, was depicted earlier this year.
Other dolls in the series include Maya Angelou, Ida B. Wells, Jane Goodall and Madam C.J. Walker.
The rollout of the Mankiller Barbie doll, wearing a ribbon skirt, black shoes and carrying a woven basket, has been met with conflicting reactions.
Many say the doll is a fitting tribute for a remarkable leader who faced conflict head-on and helped the tribe triple its enrollment, double its employment and build new health centers and children's programs.
Still, some Cherokee women are critical, saying Mattel overlooked problematic details on the doll and the packaging.
"Mixed emotions shared by me and many other Cherokee women who have now purchased the product revolve around whether a Wilma Barbie captures her legacy, her physical features and the importance of centering Cherokee women in decision making," Stacy Leeds, the law school dean at Arizona State University and a former Cherokee Nation Supreme Court justice, told The Associated Press in an email.
Regina Thompson, a Cherokee basket weaver who grew up near Tahlequah, doesn't think the doll looks like Mankiller. Mattel should have considered traditional pucker toe moccasins, instead of black shoes, and included symbols on the basket that Cherokees use to tell a story, she said.
"Wilma's name is the only thing Cherokee on that box," Thompson said. "Nothing about that doll is Wilma, nothing."
The Cherokee language symbols on the packaging also are wrong, she noted. Two symbols look similar, and the one used translates to "chicken," rather than "Cherokee."
Mattel spokesperson Devin Tucker said the company is aware of the problem with the syllabary and is "discussing options." The company worked with Mankiller's estate, which is led by her husband, Charlie Soap, and her friend Kristina Kiehl, on the creation of the doll. Soap and Kiehl did not respond to messages left by the AP.
Mattel did not consult with the Cherokee Nation on the doll.
"Regrettably, the Mattel company did not work directly with the tribal government's design and communications team to secure the official seal or verify it," the tribe said in a statement. "The printing mistake itself does not diminish what it means for the Cherokee people to see this tribute to Wilma and who she was and what she stood for."
Several Cherokees also criticized Mattel for not consulting with Mankiller's only surviving child, Felicia Olaya, who said she was unaware of the doll until about a week before its public launch.
"I have no issues with the doll. I have no issues with honoring my mom in different ways," said Olaya, who acknowledged she and Soap, her stepfather, are estranged. "The issue is that no one informed me, no one told me. I didn't know it was coming."
Olaya also wonders how her mother would feel about being honored with a Barbie doll.
"I heard her once on the phone saying, 'I'm not Princess Diana, nor am I Barbie,'" Olaya recalled. "I think she probably would have been a little conflicted on that, because my mom was very humble. She wasn't the type of person who had her honorary degrees or awards plastered all over the wall. They were in tubs in her pole barn."
"I'm not sure how she would feel about this," Olaya said.
Still, Olaya said she hopes to buy some of the dolls for her grandchildren and is always grateful for people to learn about her mother's legacy.
"I have a warm feeling about the thought of my granddaughters playing with a Wilma Mankiller Barbie," she said.
Native American News Roundup Nov. 26 - Dec. 2, 2023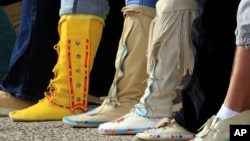 Calculating the wage gap for Native American and Native Hawaiian women
The last day of Native American Heritage Month in the United States was also Native Women's Equal Pay Day, set aside to highlight that Native American and Alaska Native (NA/AN) women working full time, year-round, earn only about 55 cents for every dollar paid to non-Hispanic white men. Those who work part-time or part-year earn an average of 59 cents on the dollar.
These numbers vary by region. The National Partnership for Women and Families (NPWF) reports that on average, a Yup'ik woman in Alaska earns only 42 cents on the dollar. Considering that nearly two-thirds of Indigenous women are the sole breadwinners in their households and that more than four out of five Indigenous women experience violence, stalking or sexual assault in their lifetimes, these numbers are particularly alarming.
NPWF calculates that if these wage gaps were to close for a single year, the average Native woman could save enough money to buy another 32 months of food for her family, pay 19 more months in rent, and pay nearly three years of public university tuition and fees.
Read more:
Controversial hockey helmet fetches high bid at auction
On the National Hockey League's Native American Heritage Day last Friday, Minnesota Wild hockey goalie Marc-Andre Fleury took to the ice in warmups wearing a mask he commissioned to honor his wife, who is said to be of Indigenous Canadian heritage.
He wore the mask despite threats of an NHL fine. Last summer, the NHL banned so-called "pride jerseys" that visibly recognize LGBTQ+ communities.
Fleury's mask was designed by Mdewakanton Dakota artist Cole Redhorse Taylor, a member of the Prairie Island Indian Community or PIIC in Minnesota and a descendant of Chief Little Crow.
The helmet includes images of plants and flowers indigenous to Minnesota, the names of Fleury's children, a quote from his father and the Dakota phrase Mni Sota Makoce, "land where the waters reflect the clouds," from which the state took its name.
The team put the mask up for auction in support of the Minnesota Wild Foundation and the American Indian Family Center in the city of St. Paul. It sold for a whopping $75,100.
Read more:
Call-in show highlights traditional Indigenous winter homebuilding
This week's Native America Calling featured a discussion about traditional Indigenous winter housing, built from local resources including wood, snow, mud and straw.
The daily live call-in program available on U.S. and Canadian public radio stations and online included Jesse Jackson, an educator from the Cow Creek Band of Umpqua Indians in Oregon, explaining to host Shawn Spruce (Laguna Pueblo) that because of its proximity to the Pacific Ocean, Oregon winters were wet, and people needed homes which would not only keep them warm but also dry. The answer was to use rot-resistant cedar planks on sites with good drainage.
Solomon Awa (Inupiat) is the Mayor of Iqaluit, the only city in the Canadian territory of Nunavut. He described the challenges of building igloos, domed houses built from blocks of packed snow.
While few Arctic peoples live in igloos anymore, some still construct them while out on hunting trips or when snowmobiles break down and leave them stranded.
"You don't have a blueprint, but make it for the size of your people," Awa said. "There was the big one that we did not long ago…[it] was about 50 feet diameter probably, almost two-story high."
To hear more guests talk about their winter building traditions, listen to the full broadcast here: https://www.nativeamericacalling.com/tuesday-november-28-2023-igloos-and-traditional-winter-homes/
The video (below), produced in 2012 by the Pitquhirnikkut Ilihautiniq/Kitikmeot Heritage Society in Nunavut, Canada, shows a group of Inuinnait from the Central Canadian Arctic building an igloo.
Busting Myths About the First Thanksgiving
All About America explores American culture, politics, trends, history, ideals and places of interest.
Every year, on the fourth Thursday in November, Americans celebrate Thanksgiving. It's a commemoration of the 1621 harvest feast when the colonists, who came from England, shared a friendly meal with the land's Indigenous people.
In Plymouth, Massachusetts, site of the first Thanksgiving, historians and others try to separate fact from fiction surrounding the legend that grew out of that initial celebratory feast that took place more than 400 years ago.
"The problem with it is that there are so many stereotypes and so much misinformation that's bundled into that story," says Paula Peters, a citizen of the Mashpee Wampanoag Tribe whose ancestors are believed to have been at the first Thanksgiving. "It's a story that really marginalizes the Wampanoag history."
The pilgrims arrived on the Mayflower in 1620. By their second winter, they were struggling, until the Indigenous people taught them how to plant crops and live off the land.
"When we think about the pilgrims coming over, we forget about the aspect of the Wampanoag people helping them survive that winter, or even navigate this land, or navigate the waters, which is very important," says Wampanoag Tribe member Malissa Costa, who oversees the Native American-themed exhibit at the Plimoth Patuxet Museums.
The living history museum, located a few kilometers from the site of the first Thanksgiving, also features a 17th-century English village. Actors dress up as pilgrims to depict the colonists' way of life, while Thanksgiving traditions are recreated for visitors.
"What the pilgrims are celebrating is literally that they are going to have food. They are not going to starve in the coming year," says Malka Benjamin, director for colonial interpretation and training at the Plimoth Patuxet Museums. "And so, guests are going to be able to help with cooking preparations for the celebration. They might get pulled into a game, a sport ... there's going to be musket firing demonstrations."
It was the sounds of guns going off that prompted Native Americans to investigate, which is how her Wampanoag ancestors came to be at the first Thanksgiving, according to Peters.
"At some point, they decided, 'Oh, this isn't a threat. They're just celebrating their harvest.' And guess what? We're all here now, so, we're all going to eat," says Peters, who used to work at the Plimouth Patuxet Museums.
That part of the story is disputed by Peters' former colleague, Richard Pickering, chief historian at the living history museum, who says that theory was discussed, but then discarded, by the museum.
The conflicting viewpoints underscore the reality that no one really knows exactly what happened at the first Thanksgiving. There are almost no firsthand accounts of the event, but there are references to a "special celebration" of the successful harvest, which included Wampanoag leader Massasoit and about 90 of his people, which included women, according to Pickering.
"For three days, we entertained and feasted," pilgrim Edward Winslow wrote in a letter to a friend in 1621. Winslow attended the harvest celebration.
"Ultimately, what happens in Plymouth in the fall of 1621 is the highest level of diplomacy," says Pickering, adding that the shared meal was a product of the alliance between the newcomers and the Native people.
"It is their willingness to show them their ways that saves the English that second year. So, we should not be projecting any kind of distrust, animus, on that event. But we should recognize that their children and their grandchildren could not sustain it," he said.
About 90% of the Native population was eventually wiped out by diseases that came with the Europeans. And the respect the pilgrims initially showed the Native people eventually gave way to disdain and dehumanization.
"As the English population grows from those 52 English men, women and children that survived the first winter to the 25,000 or more that are here 20 years later, Native people are seen as being in the way of the commodities that the English want," Pickering says. "They want their land. They want them off that land. And so, you see a changing attitude from one of admiration to one of stereotyping and derision. And it's that kind of thought that enables them to want to push them off the land with no sense of guilt."
The pilgrims originally came to America in search of religious freedom but apparently not for all, says Peters.
"They sacrificed so much for religious freedom, but they didn't offer that same grace to the Indigenous people who lived here to begin with," she says.
Harvest meal
Today, Americans often eat traditional Thanksgiving foods that include turkey, stuffing, sweet and mashed potatoes and pumpkin pie. As to what was at the original three-day feast, the museum has a display of the foods that were probably eaten at the 1621 meal.
"You have roast turkey, roast goose, and you'll see all of the classic corn, beans and squash. There's maize, beans and squash," says Pickering, pointing out the foods in a display case. "And also, the standing dish of New England, stewed pumpkin, mussels, to represent all the shellfish that was eaten."
It's believed the Wampanoag brought deer they'd hunted.
"And there probably would be some cranberries, because that was the fruit of the season," Peters says.
Into the future
The Mashpee Wampanoag Tribe has begun initial proceedings to establish their own living history museum.
The town of Mashpee, located about 43 kilometers from Plymouth, is negotiating the potential transfer of three parcels of land to the tribe for a traditional Wampanoag village and living history museum.
Costa, who oversees the similar effort at the Plimoth Patuxet Museums, is keen for visitors to know that Native Americans shouldn't be relegated to the past.
"The main thing I want them to learn is that Wampanoag people are still here," Costa says. "I want them to think of Wampanoag people as not just in the past — or even Indigenous people as in the past — but as in the present still making their way, still teaching the public."