Student Union
Neuroscientist Leaves Rich Legacy for Students From Diverse Backgrounds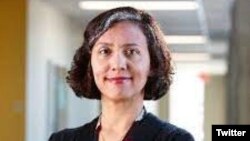 A Pakistani neuroscientist who came to the U.S. as an international student has died at 43, leaving behind a movement of support for diverse and nontraditional young scientists.
"My campaign will provide awards to young scientists from backgrounds that are diverse, under-resourced, marginalized or traditionally under-represented in psychological and neural sciences," Nadia Chaudhri wrote in May, when she started a GoFundMe page to help students pay to attend the annual conference for the Research Society on Alcoholism.
"I am targeting funds to these groups to provide a specific leg up to young scientists who may face hardship due to systemic issues like racism, sexism and other forms of prejudice," she wrote.
Born in Karachi, Chaudhri came to the U.S. in 1985 to attend Franklin & Marshall College in Pennsylvania as an international student. Her full scholarship covered the yearly $31,000 tuition, room and board, according to a news article from Concordia University, where she was a full professor.
"I became fascinated by the interaction between brain and behaviour, specifically in relation to drug addiction," she wrote on her GoFundMe page.
She went on to earn a doctorate in neuroscience at the University of Pittsburgh, focusing on the effect of social cues on cigarette smoking. She moved to California in 2005 for a postdoctoral fellowship at the University of California-San Francisco, and joined Concordia University in Montreal, Quebec, in 2010 as faculty and to establish a research laboratory.
"Throughout my academic training in the United States I faced funding challenges because I was not a U.S. citizen. Luckily, a handful of scientific organizations supported students regardless of their immigration status," she wrote.
"I benefited from travel awards from scientific societies. These monetary awards allowed me to attend important conferences in my field, where I presented my research and became part of a vast and generous network of researchers who shaped my career," she wrote.
Through Concordia University, Chaudhri also established the Nadia Chaudhri Wingspan Award, "an annual scholarship to support the training of neuroscientists from underrepresented backgrounds," according to a university webpage.
She kept an active Twitter account, @DrNadiaChaudhri, documenting her progress in her fight against advanced ovarian cancer. She promoted Concordia through the Concordia Shuffle, in which she pledged to walk the length of the palliative care ward "every day for as long as I can." Palliative care offers end-of-life care for patients.
"Nadia was a force of nature. She was an incredibly talented researcher with a passion for teaching and student success matched only by her commitment to diversity, equity and inclusion," Concordia President Graham Carr said on the university's website.
"I firmly believe that progress in science needs diversity in the voices and faces that are tackling scientific questions," Chaudhri wrote on her fundraising page. "To achieve this diversity, we must elevate young people who might be overlooked because they don't fit a particular mold."
She said she was one of those students who, because of gender, color or culture, faced challenges outside her scientific capabilities.
"When I gave talks or presentations, people often commented on my accent instead of my science," Chaudhri said in an interview in May. "When I pierced my nose, something I did to celebrate being Pakistani, a senior female faculty member told me that the piercing would prevent me from getting a faculty position."
Chaudhri died on October 5 of ovarian cancer. Her GoFundMe has raised more than $216,000 to date.
See all News Updates of the Day
Are Declining Enrollments in the US a Hidden Opportunity for Students Abroad?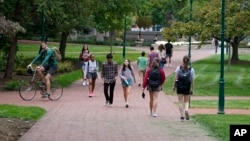 Allen Goodman, CEO of the Institute for Higher Education, writes that empty seats at U.S. colleges could drive a boom in international education. The U.S. has lost market share among host countries, but unlike its competitors, its university system is so large and underutilized that it could easily recruit more students. Because international students become "friends for life" with the U.S., and bring valuable expertise (and tuition dollars), Goodman argues the U.S. should recruit 2 million students by the end of the decade.
Weigh his argument for yourself in Times Higher Education. (May 2023)
What Could a Bitter Lawsuit Tell Us About International Education in the US?
In 2010, the University of South Florida signed a 30-year contract with INTO, a company that provides support services for international students. INTO built a "pathway program" at the university that taught students English and basic academic skills before they began their higher-education degrees. But after years of enrollment declines, the university ended the contract, and now both parties are fighting an "acrimonious" court case. The news comes as many of INTO's programs at other schools are being shuttered. While management and financial issues may play a role, so does the post-pandemic educational landscape: pathway programs can now be easily offered online.
Liam Knox of Inside Higher Ed has more. (May 2023)
Croatian Student Earning Simultaneous Ph.D.s in US, Croatia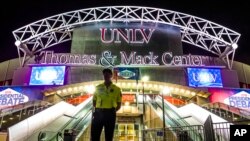 A Croatian student is earning two Ph.D.s simultaneously, one in Croatia and one at the University of Nevada, Las Vegas.
Borna Nemet spends his days at UNLV studying educational leadership and effectiveness. At night, he uses Zoom to teach students at the University of Zagreb in Croatia. Read the full story here. (May 2023)
It's Graduation Season – Who Might Speak at Yours?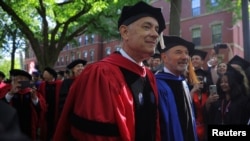 U.S. graduation ceremonies usually feature a public figure who offers advice to young people starting their careers. This spring, graduates have heard from President Joe Biden, actor Tom Hanks, Nobel Peace Prize winner Maria Ressa and even Ukrainian President Volodymyr Zelenskyy. Finnish Prime Minister Sanna Marin, who became the youngest prime minister in the world at age 34, told her audience that change cannot wait, even at their age. "To change things," she said, "you have to take over."
Read the story from Dan Friedell of VOA Learning English. (May 2023)
What Did Justin, a Golden Retriever Mix, Do to Earn a Diploma?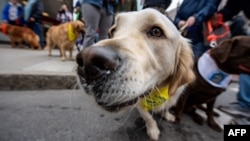 Justin is a service dog and accompanied his owner (who graduated with honors) to every single class for four years. The student's university honored the dog's hard work with his very own diploma, which he accepted, tail wagging, in front a cheering stadium of other graduates.
See Justin's walk across the stage in this story from Bill Chappell of NPR. (May 2023)