Student Union
Anti-Semitism Complaint Spurs University of North Carolina to Update Policies
The University of North Carolina at Chapel Hill has agreed to expand its anti-bias training and expressly forbid anti-Semitism in campus policies as part of an agreement with the U.S. Education Department following complaints about a March conference featuring a rapper accused of anti-Jewish bias.
The university announced the changes Monday after reaching a resolution with the department's Office for Civil Rights. The deal puts an end to the inquiry without any admission of wrongdoing on the school's part, and without any official finding from the department on the allegation of illegal discrimination.
Interim Chancellor Kevin Guskiewicz reiterated that the university will not tolerate any form of harassment, and he encouraged students and faculty to report any problems.
"I reaffirm the university's commitment to creating a place where every member of our community feels safe and respected and can thrive in an environment free from anti-Semitism and all forms of discrimination and harassment," Guskiewicz wrote in a letter that was sent across campus Monday.
Under the agreement, the university must add a statement to its policies saying that anti-Semitic harassment is prohibited and may violate federal law. The school's current rules prohibit discrimination based on religion or ethnic ancestry but do not specifically address anti-Semitism.
The school is also required to add a new section on anti-Semitism to existing training programs for students, faculty and staff. And for each of the next two academic years, the university must hold at least one campus meeting to discuss any concerns about anti-Semitism or other forms of harassment.
A Nov. 6 letter from the Education Department says the provisions detailed in the agreement will "fully resolve the issues giving rise to the complaint."
'Heartbroken and deeply offended'
The agency opened a civil rights investigation after receiving a complaint about a March academic conference titled "Conflict Over Gaza: People, Politics and Possibilities." The event included a Palestinian rapper who performed a song that some critics called anti-Semitic. The university's chancellor said the performance left him "heartbroken and deeply offended."
Two weeks after the conference, anti-Semitic flyers were found on campus warning of an "evil Jewish plot to enslave and kill," according to the Education Department. The complaint argued that the school's support of the conference amounted to discrimination against students of Jewish descent. It said the flyers were further evidence of a "hostile environment" created by the event.
On April 15, U.S. Rep. George Holding, a North Carolina Republican, wrote a letter to Education Secretary Betsy DeVos raising concerns that the conference was supported with federal grant funding. He described the rap performance as "brazenly anti-Semitic."
In response, DeVos ordered a separate investigation examining the organization behind the conference, the Duke-UNC Consortium for Middle East Studies, which is housed at UNC and jointly operated with Duke University.
Grant money
That inquiry, which is still ongoing, aims to determine whether the consortium is properly using a federal grant that's awarded to dozens of universities to support foreign language instruction. The Duke-UNC consortium received $235,000 from the grant last year.
An Aug. 29 letter from the department threatened to cut the program's grant funding, saying the consortium offered too many classes on art, film and culture and not enough on Middle Eastern languages. It also said the program promoted "positive aspects" of Islam but not other religions.
Officials at UNC rebuffed the claims, saying the program has hosted events including a visit to a Jewish center to explore Jewish traditions, and presentations on Christianity in Lebanon. The school also said it ranks among the top in the nation in enrollment of students studying the Arabic, Turkish and Urdu languages.
Still, the school agreed to review the program's activities and document how its expenses relate to the goals of the federal grant.
In October, the department agreed to release grant money to the program for next year, but a department spokeswoman on Tuesday said future funding beyond that could be in question.
The inquiry has provoked a wide outcry from academic groups and free speech advocates who call it a threat to academic freedom. Two Democrats in Congress have asked DeVos to provide information on the inquiry, saying it's dangerous to tie federal funding to specific curriculum demands.
The Middle East Studies Association recently called the investigation "an unprecedented and counterproductive intervention into academic curricula." But in a response to the group, Robert King, the assistant secretary for postsecondary education, said the department has a duty to make sure grants are being used for their intended purpose.
"Federal grants are not blank checks from public coffers," he said, "and the department intends to ensure that taxpayer funds are spent in alignment with Congressional directives."

See all News Updates of the Day
International College Student Enrollment in US Soars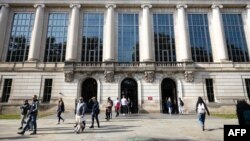 International student enrollment at U.S. schools has bounded back from pandemic lows, Forbes reports. It increased 12% in 2022-23, the fastest growth rate in more than 40 years. Read the full story here. (November 2023)
US Lawmakers Grill University Presidents About On-Campus Antisemitism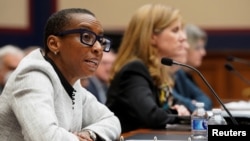 The presidents of Harvard, the University of Pennsylvania, and the Massachusetts Institute of Technology were questioned by House lawmakers on Tuesday over whether their administrations are doing enough to combat the wave of antisemitism that has swept their campuses as the Israel-Hamas war rages.
Republican Representative Virginia Foxx said the three presidents were called to testify because "we heard in particular that the most egregious situations have occurred on these campuses."
Claudine Gay, president of Harvard University, faced particularly difficult lines of questioning from congressional Republicans, including one fraught exchange with Representative Elise Stefanik, who demanded that Gay resign.
Stefanik, a Harvard alumnus herself, grilled Gay over whether the university would rescind admission offers to students who support Hamas' murderous beliefs.
Gay pushed back, saying she would not commit to punishing students simply for expressing their views, even if she finds them "personally abhorrent," apparently reversing university policy.
In 2017, Harvard reneged on admission offers for 10 would-be students after it came out that they circulated racist memes in a group chat.
The theme of Gay's testimony was her dual commitment to "combating hate while preserving free expression."
Gay said her administration would only punish "hateful, reckless, offensive speech" when it crosses the line into physical violence or targeted harassment.
Foxx, the panel's chair, railed against Gay and the other university leaders, claiming that "institutional antisemitism and hate are among the poisoned fruits of your institutions' cultures."
Republican lawmakers repeatedly criticized progressivism and tied it to antisemitism in higher education.
All three university presidents outlined their strategies for ensuring student safety and open discourse on the Israel-Hamas war.
"As an American, as a Jew, and as a human being, I abhor antisemitism. And my administration is combating it actively," Sally Kornbluth, president of MIT, said, adding that "problematic speech needs to be countered with other speech and education."
Kornbluth said free speech that promotes harassment or incites violence is not protected by the university, but those who try to shut down campus protests are essentially advocating for unworkable "speech codes."
Harvard and UPenn have struggled. Both schools found themselves under investigation by the Department of Education over complaints of antisemitism on campus.
"This is difficult work, and I know I have not always gotten it right," Gay said of her efforts to promote free speech and inclusion. She noted the difficulty of balancing the concerns of different groups, including Harvard's Muslim community, which Gay noted faces the threat of rising Islamophobia.
"During these difficult days, I have felt the bonds of our community strained," Gay told lawmakers.
UPenn President M. Elizabeth Magill came under fire for the Palestine Writes Festival, an event hosted at her university in September that was a flashpoint of antisemitism, according to a complaint submitted to the Department of Education.
Magill condemned antisemitic rhetoric at the festival but maintained that measures had been instituted to ensure student safety.
The presidents made clear to the Republican-run House Committee on Education and the Workforce that their schools have taken steps to prevent harassment and bullying, including public announcements.
The president of Columbia was invited but did not attend, citing a scheduling conflict, Foxx's office said.
November polling by the Anti-Defamation League and Hillel found that, since Oct. 7, 46% of Jewish students felt safe at their colleges, a marked drop from 67% before the war. Students across the nation said they were wary of walking around their campuses wearing a Star of David necklace, kippah or other emblems of Judaism.

In late October, an upperclassman at Cornell was taken into federal custody after allegedly making online posts promising to kill any and every Jew he saw on campus.

The Council on American-Islamic Relations and other advocacy groups reported that hate crimes against Muslim students were also on the rise.

Last month, a white man allegedly shot three Palestinian American college students in Burlington, Vermont. And, at Stanford, an Arab student was struck in a hit-and-run as the driver shouted, "F— you people!" according to witnesses.
Pro-Palestinian protesters have been doxxed — their names and pictures paraded around their campuses on mobile billboard trucks — in what activists say are attempts to intimidate them into silence.
China the No. 1 Country Sending Students to US, Data Show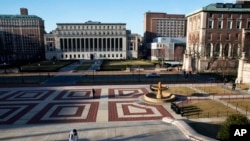 China, India and South Korea sent the most students to the U.S. in 2023, according to Open Doors 2023 Report on International Educational Exchange. Open Doors is sponsored by the U.S. Department of State.
Among other things, the report broke down the schools with the largest number of international students. New York University took the top spot, with Northeastern University, Columbia University, Arizona State University and the University of Southern California rounding out the top five. Get the stats here. (November 2023)
International Students Boosted US Economy by $40 Billion in 2022-23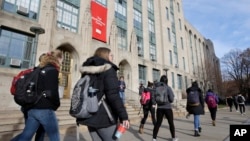 In the 2022-23 academic year, more than 1 million international students were in the U.S., and they contributed more than $40 billion to the U.S. economy, Forbes reports.
That figure's up 19% from the previous academic year, according to NAFSA: Association for International Educators.
Read the full story here. (November 2023)
Lacking Counselors, US Schools Turn to Booming Business of Online Therapy
Trouble with playground bullies started for Maria Ishoo's daughter in elementary school. Girls ganged up, calling her "fat" and "ugly." Boys tripped and pushed her. The California mother watched her typically bubbly second-grader retreat into her bedroom and spend afternoons curled up in bed.
For Valerie Aguirre's daughter in Hawaii, a spate of middle school "friend drama" escalated into violence and online bullying that left the 12-year-old feeling disconnected and lonely.
Both children received help through telehealth therapy, a service that schools around the country are offering in response to soaring mental health struggles among American youth.
Now at least 16 of the 20 largest U.S. public school districts are offering online therapy sessions to reach millions of students, according to an analysis by The Associated Press. In those districts alone, schools have signed provider contracts worth more than $70 million.
The growth reflects a booming new business born from America's youth mental health crisis, which has proven so lucrative that venture capitalists are funding a new crop of school teletherapy companies. Some experts raise concerns about the quality of care offered by fast-growing tech companies.
As schools cope with shortages of in-person practitioners, however, educators say teletherapy works for many kids, and it's meeting a massive need. For rural schools and lower-income students in particular, it has made therapy easier to access. Schools let students connect with online counselors during the school day or after hours from home.
"This is how we can prevent people from falling through the cracks," said Ishoo, a mother of two in Lancaster, California.
Ishoo recalls standing at her second-grader's bedroom door last year and wishing she could get through to her. "What's wrong?" the mother would ask. The response made her heart heavy: "It's NOTHING, Mom."
Last spring, her school district launched a teletherapy program and she signed up her daughter. During a month of weekly sessions, the girl logged in from her bedroom and opened up to a therapist who gave her coping tools and breathing techniques to reduce anxiety. The therapist told her daughter: You are in charge of your own emotions. Don't give anyone else that control.
"She learned that it's OK to ask for help, and sometimes everyone needs some extra help," Ishoo said.
The 13,000-student school system, like so many others, has counselors and psychologists on staff, but not enough to meet the need, said Trish Wilson, the Lancaster district's coordinator of counselors.
Therapists in the area have full caseloads, making it impossible to refer students for immediate care, she said. But students can schedule a virtual session within days.
"Our preference is to provide our students in-person therapy. Obviously, that's not always possible," said Wilson, whose district has referred more than 325 students to over 800 sessions since launching the online therapy program.
Students and their parents said in interviews they turned to teletherapy after struggling with feelings of sadness, loneliness, academic stress and anxiety. For many, the transition back to in-person school after distance learning was traumatic. Friendships had fractured, social skills deteriorated and tempers flared more easily.
Schools are footing the bill, many of them using federal pandemic relief money as experts have warned of alarming rates of youth depression, anxiety and suicide. Many school districts are signing contracts with private companies. Others are working with local health care providers, nonprofits or state programs.
Mental health experts welcome the extra support but caution about potential pitfalls. For one, it's getting harder to hire school counselors and psychologists, and competition with telehealth providers isn't helping.
"We have 44 counselor vacancies, and telehealth definitely impacts our ability to fill them," said Doreen Hogans, supervisor of school counseling in Prince George's County, Maryland. Hogans estimates 20% of school counselors who left have taken teletherapy jobs, which offer more flexible hours.
The rapid growth of the companies raises questions about the qualifications of the therapists, their experience with children and privacy protocols, said Kevin Dahill-Fuchel, executive director of Counseling in Schools, a nonprofit that helps schools bolster traditional, in-person mental health services.
"As we give these young people access to telehealth, I want to hear how all these other bases are covered," he said.
One of the biggest providers, San Francisco-based Hazel Health, started with telemedicine health services in schools in 2016 and expanded to mental health in May 2021, CEO Josh Golomb said. It now employs more than 300 clinicians providing teletherapy in over 150 school districts in 15 states.
The rapid expansions mean millions of dollars in revenue for Hazel. This year, the company signed a $24 million contract with Los Angeles County to offer teletherapy services to 1.3 million students for two years.
Other clients include Hawaii, which is paying Hazel nearly $4 million over three years to work with its public schools, and Clark County schools in the Las Vegas area, which have allocated $3.25 million for Hazel-provided teletherapy. The districts of Miami-Dade, Prince George's and Houston schools also have partnered with Hazel.
Despite the giant contracts, Golomb said Hazel is focused on ensuring child welfare outweighs the bottom line.
"We have the ethos of a nonprofit company but we're using a private-sector mechanism to reach as many kids as we can," Golomb said. Hazel raised $51.5 million in venture capital funding in 2022 that fueled its expansion. "Do we have any concerns about any compromise in quality? The resounding answer is no."
Other providers are getting into the space. In November, New York City launched a free telehealth therapy service for teens to help eliminate barriers to access, said Ashwin Vasan, the city's health commissioner. New York is paying the startup TalkSpace $26 million over three years for a service allowing teens aged 13 to 17 to download an app and connect with licensed therapists by phone, video or text.
Unlike other cities, New York is offering the service to all teens, whether enrolled in private, public or home schools, or not in school at all.
"I truly hope this normalizes and democratizes access to mental health care for our young people," Vasan said.
Many of Hawaii's referrals come from schools in rural or remote areas. Student clients have increased sharply in Maui since the deadly August wildfires, said Fern Yoshida, who oversees teletherapy for the state education department. So far this fall, students have logged 2,047 teletherapy visits, a three-fold increase from the same period last year.
One of them was Valerie Aguirre's daughter, whose fallout with two friends turned physical last year in sixth grade, when one of the girls slapped her daughter in the face. Aguirre suggested her daughter try teletherapy. After two months of online therapy, "she felt better," Aguirre said, with a realization that everyone makes mistakes and friendships can be mended.
In California, Ishoo says her daughter, now in third grade, is relaying wisdom to her sister, who started kindergarten this year.
"She walks her little sister to class and tells her everything will be OK. She's a different person. She's older and wiser. She reassures her sister," Ishoo said. "I heard her say, 'If kids are being mean to you, just ignore them.'"