Student Union
Blind Pakistani Student is Fully Able to Win Rhodes Scholarship 
For Khansa Maria, a student at Georgetown University's campus in Qatar, her advocacy work for people with disabilities is personal.
Maria is blind and has faced disability challenges growing up in Pakistan. And she will use that experience, she said, when she heads to Oxford University next fall as Pakistan's 2021 Rhodes Scholar-elect, to pursue a master's degree in evidence-based policy intervention and social evaluation.
"I do have a disability, I am blind, and I firsthand experienced the impacts of not having an inclusive society," Maria said, noting she wants to give back.
"I do have a certain responsibility to my community to improve things to the extent that I can or at least lend my skills or my experience to the benefit of future blind people from Pakistan," she said.
Maria advocates for the disabled and educates about inclusion — whether within a friend group or a business thinking of designing its space for people with disabilities. She said she believes people should be better informed.
She attends Georgetown's Qatar campus — called GU-Q — which follows standards set by the American with Disabilities Act and she said accommodates the disabled better than her hometown of Lahore.
Still, spaces are not always as physically accessible as they need to be to those with disabilities, and conversations and language about the disabled should be more inclusive, Maria said.
At GU-Q, she is studying for a bachelor's degree in foreign service, with a concentration in culture and politics.
"I thought foreign service or working in someplace like the U.N. would be where I'd end up," Maria told VOA. "So, [Georgetown] just felt like the perfect fit, where I wouldn't just focus on my advocacy skills and my ability to negotiate diplomatically, but also learn about you know, the historical implications and the economic implication of conflicts."
Maria has been a campus leader and participant in a multitude of organizations, including the debating union, the South Asian Society, and the Hoya Leadership Pathway. She has also worked at the U.S. Embassy in Qatar.
"They were always willing to listen and adapt," Maria said of the embassy. "And I got some amazing experiences. I was a part of a really nice team. I got some really good advice and mentorship."
"I am grateful that my supervisors at the embassy were always supportive and always found opportunities to help me make the best of my experiences. Working with such accomplished and empowering women was a dream come true," she told VOA.
Maria has also researched diaspora migration and how it is represented in literature. She is writing her honors thesis on the evolution of the disability rights movement in the South Asian context.
Like many college students during COVID-19, Maria has experienced pandemic upheaval.
"I had a couple of trips planned to conferences and stuff that I was supposed to go to, but I wasn't able to do that," she said. "And I think, in another sense, obviously, there is a certain amount of isolation that came along with it for everyone. I wasn't able to travel back home to Pakistan for a year and a half, you know, classes went virtual, my job went virtual."
Maria became interested in the Rhodes program after meeting a scholar from India. He was also blind, and they became friends. She was apprehensive at first about applying but followed through.
"I just realized there was no harm in applying," Maria told VOA. "If nothing else, it would give me an opportunity to just reflect on my experience, get my opportunities together, get my ideas together, and just take the leap."
She said she couldn't believe she was selected to be a Rhodes Scholar.
"I was beyond delighted but at the same time, I couldn't believe that it had really happened," she said. "I realized that I am privileged and am excited about all these new experiences."
Maria said she is most excited to learn from other people at Oxford.
"You know, what was most impactful for me here [at GU-Q] was the community that I was a part of: the everyday conversations, the random debates," Maria said. "And that's what I'm excited about — just the environment, the people that I'll meet, the stories that I'll interact with, and all that I can learn from those people."
See all News Updates of the Day
Union Support Grows Among US Graduate Students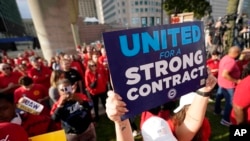 Labor unions are finding support among graduate students at U.S. colleges and universities, according to a new report.
Graduate students, upset by working conditions and pay, have held a series of organizing votes in the past two years, Times Higher Education reports. (September 2023).
Why Are Americans Less Confident in Higher Education?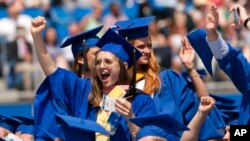 Only about 4 in 10 Americans say they have a "great deal" or "quite a lot" of confidence in higher education. Sarah Wood of U.S. News & World Report examines why and offers some solutions. (August 2023)
Research Helps Applicants Be More Competitive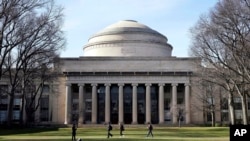 Between a third to half of all students admitted to the University of Pennsylvania and the California Institute of Technology feature high school research projects in their applications, and the MIT application even has a dedicated section for them.
Such projects can be "both a differentiator and an equalizer" in the admissions process: they can show your own individual drive and creativity, while also being accessible to students of all races and incomes. Read Janos Perczel's argument in The Hechinger Report. (August 2023)
Chinese Students Abroad Face 'A Tale of Two Fears'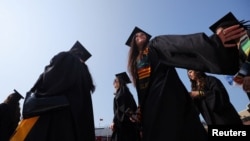 An op-ed in Politico argues that Chinese international students are often reluctant to discuss their country's politics. They suggest two reasons. First, they fear punishment for themselves or their families by the Chinese Communist Party. Second, as anti-Chinese sentiments surge in many countries, they worry about discrimination.
Read the piece by Jianyi Yang and Leslie Fu. (September 2023)
Racial Diversity at Johns Hopkins Could Be in Trouble
Johns Hopkins University, a prestigious research institution in Baltimore, Maryland, boosted its racial diversity by expanding outreach and financial aid, as well as getting rid of "legacy" admissions — those admitted because they have a relative who previously attended the school. However, the U.S. Supreme Court banned affirmative action in college and university admissions earlier this year. Now Johns Hopkins, and other schools, must find a way forward. Susan Svrluga and Nick Anderson report for The Washington Post. (August 2023)