Student Union
Chinese Grad Students Banned by Trump Order 
Saying China uses grad students and researchers to illegally acquire intellectual property from the United States, President Donald Trump issued an executive order suspending their entry into the country.
"The People's Republic of China (PRC) is engaged in a wide‑ranging and heavily resourced campaign to acquire sensitive United States technologies and intellectual property, in part to bolster the modernization and capability of its military, the People's Liberation Army (PLA)," the order stated.
Those students are "detrimental to the interests of the United States," it said and "their entry should be subject to certain restrictions, limitations, and exceptions." The order includes F and J visa holders but does not include undergraduate students or green card holders.
U.S. educators said the move against Chinese students in the U.S. is troubling and counterproductive to diplomacy and international relations.
"China has been the top collaborator with the U.S. in STEM research. As we are grappling with a global pandemic, international collaboration is more critical than ever," Lynn Pasquerella, president of the Association of American Colleges and Universities, said in an email to VOA.
"We should also be concerned about the rise of anti-Asian sentiment in the U.S. and the ways in which this legislation holds the potential for the unintended consequence of creating a permission structure for xenophobic attitudes and actions," she said.
Dr. Esther D. Brimmer, executive director and CEO of NAFSA: Association of International Educators, said: "As we await further details on how this new proclamation will be implemented, we are concerned about the effects that it will have on international education and vital research cooperation.
"Policies should be carefully crafted to protect national security, without extinguishing the spark of innovation. Sweeping policies can have the disastrous impact of fueling discrimination," Brimmer said. "That is deeply troubling and the antithesis of what we believe as a country, that all are created equal."
The U.S. hosts more than 1 million international students, with more than one-third being Chinese nationals, according to the Institute of International Education, headquartered in New York.
Chinese students typically pay out of pocket for tuition, fees and expenses, and are seen as a revenue stream for the U.S., bringing $45 billion to the U.S. economy last year. Chinese students contributed $12.55 billion to the U.S. economy in 2016.
But tension between the U.S. and China has been escalating in the past few years over the role of Chinese students in the U.S.
Most Chinese students earn degrees in science, technology, engineering and math, with business degrees coming in second.
Chinese students have been convicted on espionage and theft of intellectual property. Professors have complained that China sends agents into the classroom to monitor what is being taught and which Chinese students are speaking negatively about the Chinese government.
Republicans and Democrats alike have raised concerns about the authentic role of some Chinese students and researchers.
"The academic sector needs to be much more sophisticated and thoughtful about how others may exploit the very open, collaborative research environment that we have in this country, and revere in this country," FBI Director Christopher Wray said in April 2019 in government hearings about the issue.
In 2017, the Wilson Center, a bipartisan think tank in Washington, reported that a small community of PRC students and diplomats engaged in intimidation tactics ranging from intelligence gathering to financial retaliation.
China has been criticized in the U.S. for its Thousand Talents Plan, a campaign to attract American and other specialists worldwide to accelerate its own academic, research and industry efforts.
That program attracted a top department head in nanoscience at Harvard University, who was charged in January with lying about receiving funding from Chinese research agencies.
In 2018, NIH sent a letter to more than 10,000 research institutions urging them to ensure that NIH grantees are properly reporting their foreign ties. The agency also said it is investigating about a half-dozen cases in which NIH-funded investigators may have broken reporting rules, and it reminded researchers who review grant applications that they should not share proposal information with outsiders.
Critics also point to campus Confucius Institutes and Chinese Student and Scholars Associations (CSSA) as participants in intelligence gathering and political influence. Several nations worldwide have closed their Confucius Institutes.
The Chinese government, which funds Confucius Institutes worldwide, says these organizations disperse information about Chinese culture and society, not political dogma.
In 2014, the American Association of University Professors issued a statement titled, "Confucius Institutes Threaten Academic Freedom."
See all News Updates of the Day
Former US Congresswoman Liz Cheney Urges Graduates Not to Compromise With the Truth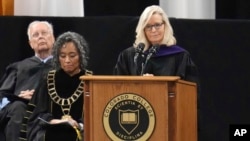 Former U.S. Congresswoman Liz Cheney implored new college graduates to not compromise when it comes to the truth, excoriating her House Republican colleagues for not doing enough to combat former President Donald Trump's lies that the 2020 election was stolen.
In a commencement speech at Colorado College, the Wyoming Republican repeated her fierce criticisms of Trump but steered clear of talking about his 2024 reelection campaign or her own political future.
Cheney, who graduated from Colorado College in 1988, recalled being a political science student walking into a campus building where a Bible verse was inscribed above the entrance that read, "Ye shall know the truth and the truth shall make you free."
"After the 2020 election and the attack of January 6th, my fellow Republicans wanted me to lie. They wanted me to say the 2020 election was stolen, the attack of January 6th wasn't a big deal, and Donald Trump wasn't dangerous," Cheney said Sunday in Colorado Springs, connecting her experiences as a student to her work in the U.S. House of Representatives. "I had to choose between lying and losing my position in House leadership."
In three terms in office, Cheney rose to the No. 3 GOP leadership position in the House, a job she lost after voting to impeach Trump for the Jan. 6, 2021, insurrection at the Capitol and then not relenting in her criticism of the former president.
Cheney's speech touched on themes similar to those she has promoted since leaving office in January: addressing her work on the House committee investigating the Jan. 6 2021 attack on the U.S. Capitol and standing up to the threat she believes Trump poses to democracy. She also encouraged more women to run for office and criticized one of the election-denying attorneys who worked for Trump after the 2020 election for recent remarks about college students voting.
"Cleta Mitchell, an election denier and adviser to former President Trump, told a gathering of Republicans recently that it is crucially important to make sure that college students don't vote," Cheney said. "Those who are trying to unravel the foundations of our republic, who are threatening the rule of law and the sanctity of our elections, know they can't succeed if you vote."
In an audio recording of Mitchell's presentation from a recent Republican National Committee retreat, she warns of polling places on college campuses and the ease of voting as potential problems, The Washington Post reported.
Most students and parents in the audience applauded throughout Cheney's remarks, yet some booed. Some students opposing the choice of Cheney as speaker turned their chairs away from the stage as she spoke.
Cheney's busy speaking schedule and subject matter have fueled speculation about whether she may enter the 2024 GOP presidential primary since she left office. Candidates ranging from Florida Gov. Ron DeSantis to former South Carolina Gov. Nikki Haley have calibrated their remarks about Trump, aiming to counter his attacks without alienating the supporters that won him the White House seven years ago.
Though some have offered measured criticisms, no declared or potential challenger has embraced anti-Trump messaging to the same extent as Cheney. She did not reference her plans on Sunday but has previously said she remains undecided about whether she wants to run for president.
Though she would face an uphill battle, Cheney's fierce anti-Trump stance and her role as vice chairwoman of the House committee elevated her platform high enough to call on a national network of donors and Trump critics to support a White House run.
A super PAC organized to support of her candidacy has remained active, including purchasing attack ads on New Hampshire airwaves against Trump this month.
After leaving office and being replaced by a Trump-backed Republican who defeated her in last year's primary, Cheney was appointed to a professorship at the University of Virginia and wrote "Oath and Honor," a memoir scheduled to hit shelves in November.
Two of Cheney's five children as well as her mother are also graduates of the liberal arts college.
Cheney's speaking tour appears to be picking up. She is scheduled to appear Thursday at the Mackinac Policy Conference in Michigan.
How Are Girls in Afghanistan Continuing Their Education?
After the Taliban retook power in Afghanistan in 2021, they severely limited access to education for girls. Yet a club founded in the U.S., Flowers for the Future, helps Afghan girls keep learning through Zoom meetings with U.S. students. Two students, one Afghan, one American, describe their journey with the program and what it's taught them about grit, resilience and the importance of learning. Read the essays by Mahsa Kosha and Emily Khossaravi in the Hechinger Report. (May 2023)
Could Your International Degree be Financed by Goldman Sachs?
Quite possibly, since the elite U.S. investment bank has been investing millions in educational startups. Students from countries like India, Nigeria and Indonesia have long struggled to finance their U.S. degrees due to limited access to loans, but these new startups could disrupt that. For example, in just the first quarter of 2022, one startup, Prodigy Finance, reported a 98% increase in the number of Indian loan applicants. Nick Cuthbert of the PIE News breaks down the financial projections. (May 2023)
How Do College Sports Bring Together American and International Students?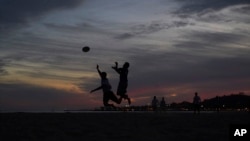 The game of Ultimate Frisbee has no referees and isn't governed by the official association for U.S. college sports. But it is intensely competitive, and students from Australia, China and elsewhere travel to the U.S. to play for the best schools. Andrew Smith of VOA Learning English reports on how college athletics can forge international friendships outside the classroom. (May 2023)
Is It Possible for Vietnamese Universities to Find Ways to Attract American Students to Study Abroad?
Vietnamese students now make up the fifth-largest group of foreign students in the U.S., according to the 2022 Institute of International Education's (IIE) annual Open Doors report. The report found 20,713 Vietnamese students studied in the U.S. in the 2021-2022 academic year.
But now some Vietnamese universities have recently begun trying to attract U.S. students to study in Vietnam, a goal that is challenging, some education experts told VOA's Khanh An. (May 2023)