Student Union
College Athletes Add to Voices to Those Protesting Injustice
College athletes across the country added their voices to those calling for an end to racial injustice Friday with football players and others marching on campus or stepping away from practices to protest the police shooting of Jacob Blake in Wisconsin.
In Oklahoma, the Sooners football team walked in rows of three to the Unity Garden, where they held a 57-second moment of silence in honor of the 57-year anniversary of the March on Washington and Dr. Martin Luther King, Jr.'s "I Have a Dream" speech.
Assistant coach Dennis Simmons led a prayer before the team returned to its facilities.
"The problems out there are real," said Oklahoma coach Lincoln Riley, who led the march and spoke at the event. "As we talk, as we discuss, we can't come up with a better solution than unity. I just don't know how you have unity and not include yourself and every part of your program in that. So it's a way for us to show that."
Duke athletes gathered on campus Thursday with hundreds of Blue Devils staff, students and coaches in support of the Black Lives Matter movement.
"All the social unrest and the difficulties that we face day-to-day living this day and time — you're working with young people, and you want them to feel hope for the future and excited," Duke football coach David Cutcliffe said. "This shouldn't be a troubling time for college-age persons."
'We are committed to change'
Members of the Baylor football team marched around campus Friday.
The Ole Miss football team decided not to take to the practice field Friday after a similar demonstration a day earlier at Mississippi State.
Ole Miss players marched from the campus to the Oxford Square.
"As the Ole Miss football family, we are committed to change," the players said in a statement distributed by the university. "Police brutality and other injustices occurring across our nation have to end, and our team stands united to embrace our diversity and promote a culture of peace, equality and understanding. Regardless of our backgrounds, we all need to listen to each other and learn to respect and love our differences."
On Thursday, Mississippi State went to Unity Park in Starkville instead of practicing.
"Black, brown, blue, whatever, it doesn't matter," senior defensive end and Starkville native Kobe Jones said as players prepared to disperse. "We love you all."
College football joined other boycotts as the NBA saw teams sit out Wednesday and Thursday, not playing their scheduled playoff games. Major League Baseball also had teams do the same as did the National Hockey League. Some NFL teams opted to not practice.
Tennessee athletes planned a march Saturday. Football coach Jeremy Pruitt moved practice so his players could attend.
Tennessee left guard Trey Smith, a preseason All-American, has been sharing information about the march on social media. He said Vols athletes "are calling attention to institutionalized racism, as well as demanding that our school commits to taking action to combat it on their own campus."
"We're going to use our platform to help create change and be at the forefront of it," Pruitt said. "Our players believe in it, our staff believes in it, our administration believes in it. So we're going to continue to support them in this movement, and it's something that we'll continue for years to come."
'It's another pandemic'
South Carolina women's basketball coach Dawn Staley said change is long overdue.
"It's like a disease," she said. "It's another pandemic that's been happening for 400 years and we haven't unearthed the vaccine for it. But we shouldn't stop (trying)."
Blake, who is Black, was shot in the back by police last weekend in Kenosha, Wisconsin. The incident has spurred protests around the nation and professional sports leagues across North America postponed games in response.
Oklahoma coach Riley met with his team Thursday and they decided to do something. He said that as a white man, he was surprised to hear some of the stories from his players about racism they have faced. He feels he has no choice now but to act and help others do the same.
"It's not going to change overnight," he said. "It's about taking positive steps and keeping the faith and let's don't let this be a thing that divides us even further. Why can't this be the thing that brings us all even more together?"
See all News Updates of the Day
As Birth Rates Crash, Countries Could Force Students to Stay Home
China is one of the world's largest source countries for international students, but it just entered a "demographic deficit," meaning that its population is likely to decline. In a shrinking future, Chinese leaders, and those in other countries, might not want to let young talent go to other countries, especially if the move is permanent. The result, according to one sociologist, will be a boom in long-distance and online education, as governments try to keep their best students at home. John Ross of Times Higher Education reports. (August 2023)
America's Most Followed College Rankings Released
U.S. News & World Report's annual rankings have been criticized for inaccuracy and exclusivity. The magazine tried to fix this year's undergraduate rankings by measuring social mobility and graduation rates for first-generation students. It also dropped several indicators, such as alumni giving, that critics say have more to do with prestige than with the quality of education.
Jeremy Bauer-Wolf has more for Higher Ed Dive. (September 2023)
What Does 'Gen P' Want as It Starts College?
"Gen P," the cohort of students who went online for much of the pandemic, demands more in-person experiences and high-quality digital ones.
Colleges across the country are adjusting their orientation programs as a result. Read more from Colleen Flaherty of Inside Higher Ed. (September 2023)
Grad Student from Pakistan Reflects on New Life in US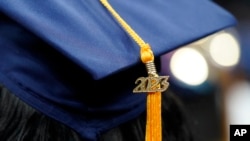 Aisha Lakhani, a graduate student at Anna Maria College, talks about the path that led her from Pakistan to the school in Paxton, Massachusetts.
She's studying counseling psychology and working with students as a residential specialist, a role in which she creates events and supports students. She talks about her experiences here. (September 2023)
Test-Optional Admissions Could Worsen Inequality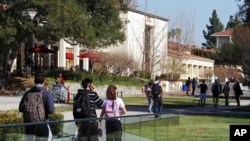 Many colleges no longer require admissions tests like the SAT. They say the tests don't meaningfully measure intelligence and are easily gamed by wealthier or more privileged students. However, it seems wealthy students are still taking the tests, while poorer ones are forgoing them. Since the tests are still weighed in admissions, the result may be an even larger admissions gap. Maggie Bigelow argues for getting rid of the tests altogether in The Hechinger Report. (August 2023)