Student Union
COVID-19 Limits Foreign Student Enrollment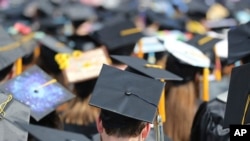 International students bring a wealth of diversity and a healthy chunk of money to many American colleges and universities.
But the flow of international students to the U.S. will most likely decrease in the fall. The coronavirus has hit the U.S. hard and may dissuade some international students from coming. Challenges and delays in obtaining visas to America, and in getting flights here, threaten the enrollment of some.
Trade conflicts and other tensions between the U.S. and some nations, particularly China, the biggest source of international students, might play into some students' decisions. Further, the number of international students enrolled in American colleges has already dropped over the past couple of years.
"There are just so many things out of our control," said Lina Stover, undergraduate admissions director at the University of Nebraska at Omaha.
Coronavirus crisis
Sue Zhang, a Chinese student who will graduate from the University of Nebraska-Lincoln this month, has decided to go to graduate school at UNL as well. But Zhang, who has majored in civil engineering and math, told the Omaha World-Herald she expects the coronavirus crisis to cut into UNL's international student enrollment.
Worry about getting COVID-19 compelled her to stay put at UNL. She had hoped to visit other graduate schools this spring, such as Stanford University and the University of California-Davis, but she didn't want to fly while the country was intensely affected by the virus.
"I think the university is doing everything they can," said Zhang, who moved with some other international students into UNL's Eastside Suites residence hall when the crisis closed many dorms.
A UNL professor in civil engineering, Dave Admiraal, said Zhang has a passion for learning and the ability to pick up new things quickly. "I have learned so much from them (international students) beyond what I would have learned had I only been exposed to students from the U.S.," he said in an email.
Zhang plans to start working on a master's degree in water resource engineering this summer. As for trade tensions and other conflicts between the U.S. and China, she said they aren't vital to her. "I'm just not that into politics," she said.
Declining student population
Last fall, UNL's international student population fell from 2,807 to 2,560, according to the UNL Factbook, an 8.8 percent decline. The coronavirus crisis may affect all universities' enrollments in the fall, said Josh Davis, UNL's associate vice chancellor for global affairs. It's too early to say how much, he said.
"International students really add so much to our campus and our community," Davis said. They enrich a campus's diversity and have become a key source of revenue to American colleges over the past 10 years. At UNL and Iowa State, they make up close to 10 percent of the enrollment, and many of them pay full out-of-state tuition.
Davis said UNL wants to stay in touch with international students who have stayed on campus or gone home. UNL holds virtual coffee talks, he said, and held a virtual karaoke night this semester. The students "are looking for the signal and message that they're welcome here," he said.
If visa challenges mean that some international students can't get back to Lincoln until the middle of the fall semester, Davis said, UNL will work with them.
'Three-plus years of rhetoric'
Grant De Roo, a higher education consultant in Iowa City, said "three-plus years of rhetoric that paints other countries as antagonists to the United States" has hurt international enrollment. President Donald Trump's talk about sealing borders, American nationalism and a travel ban for some nations give the U.S. an unfriendly image, he said.
"I think it's really fundamentally changing the way international students view the United States," he said.
Ryan Hamilton, executive director of the Nebraska Republican Party, disagrees. Trump insists that allies fulfill their financial obligations to international organizations like NATO and that Mexico strengthen its border, Hamilton said.
If those expectations make the U.S. seem less friendly and unwilling to be taken advantage of, "most Americans are prepared to accept" the consequences, he said.
Edna Chun, chief learning officer at the consulting firm HigherEd Talent, said delays in obtaining visas could make it difficult for some international students to come to the U.S. Greater scrutiny of visas is also a concern.
Chun cited a Palestinian student from Lebanon who enrolled at Harvard University last year. Immigration officials in Boston sent the student back to Lebanon when they found anti-American political messages from his friends on a laptop, according to multiple news accounts. The young man was ultimately allowed in.
The University of Nebraska at Kearney saw a slight decline in international students last year. Tim Burkink, UNK's assistant vice chancellor for international affairs, said he and his staff hope to retain many of their existing international students, about three-fourths of whom remain in Kearney.
Visa hangups "would probably be the biggest barrier" to coming to UNK, he said. Staff shortages at U.S. consulates and embassies in other nations -- American staffers have been brought back during the pandemic -- contribute to visa problems.
Burkink nevertheless said he is optimistic that the number of international students at UNK will be flat or only slightly down.
De Roo said competition for those students has increased in recent years. English-language nations such as Canada, Great Britain and Australia have upped their higher ed games to provide good degree programs for international students, he said.
Not everyone saw a decline last year. Wayne State College said its global enrollment increased last fall to 82 from 38. UNO's rose from 845 to 876.
Sue Zhang, who plans to be an engineer, said her parents hope that she will eventually return to China. Their wishes are a major consideration, she said.
But she could also imagine getting a job in the U.S. or getting married and staying here. "I was kind of thinking about it," she said. "Who will know what will happen later?"
This story was written by Rick Ruggles of Omaha World-Herald for the Associated Press.
See all News Updates of the Day
US College Football Traditions Can be Lost on International Students
American-style football is a big part of college life on many campuses – with chants, songs, rivalries and homecoming celebrations.
But the celebration can be lost on international students, who aren't typically familiar with the sport. The World reports Colorado State University offers a noncredit course to help students understand American football. (November 2023)
Donor Threatens to Withdraw $100 Million From University After Congressional Hearing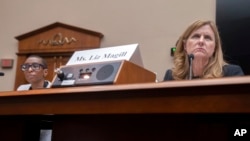 A University of Pennsylvania donor has threatened to withdraw a $100 million donation from The Wharton School, the university's business school, following the appearance of the university's president before Congress.
University of Pennsylvania President Elizabeth Magill appeared before Congress Tuesday along with leaders of two other Ivy League schools - Harvard President Claudine Gay and Sally Kornbluth of MIT.
During a hearing, none of the presidents answered "yes" or "no" to the question: "Does calling for the genocide of Jews violate [your university's] code of conduct or rules regarding bullying and harassment?"
All three presidents told the panel that they did not condone antisemitism and were taking steps to prevent it on campus, but on the specific question they cited free speech rights and said any discipline would depend on the specific circumstances.
Hate speech and acts — both antisemitic and Islamophobic — have erupted on U.S. college campuses since the Hamas-Israel war began in October.
All the presidents have received criticism because of their refusal to give a definitive answer to the question.
Stone Ridge Asset Management CEO Ross Stevens says he will withdraw his donation, now worth $100 million, to the Wharton School's Stevens Center for Innovation in Finance if Magill is not removed from office.
Proposal Would Remove Student Aid for Those Who Support Some Palestinian Groups
A Florida lawmaker has proposed eliminating scholarships, tuition breaks and fee waivers for students who are suspected of "promoting terrorist organizations."
According to WOKV television, the bill appears to be in line with Florida efforts to disband pro-Palestinian groups on college campuses. (November 2023)
International College Student Enrollment in US Soars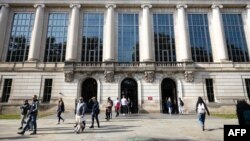 International student enrollment at U.S. schools has bounded back from pandemic lows, Forbes reports. It increased 12% in 2022-23, the fastest growth rate in more than 40 years. Read the full story here. (November 2023)
US Lawmakers Grill University Presidents About On-Campus Antisemitism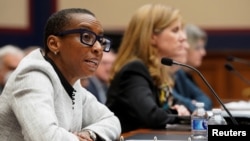 The presidents of Harvard, the University of Pennsylvania, and the Massachusetts Institute of Technology were questioned by House lawmakers on Tuesday over whether their administrations are doing enough to combat the wave of antisemitism that has swept their campuses as the Israel-Hamas war rages.
Republican Representative Virginia Foxx said the three presidents were called to testify because "we heard in particular that the most egregious situations have occurred on these campuses."
Claudine Gay, president of Harvard University, faced particularly difficult lines of questioning from congressional Republicans, including one fraught exchange with Representative Elise Stefanik, who demanded that Gay resign.
Stefanik, a Harvard alumnus herself, grilled Gay over whether the university would rescind admission offers to students who support Hamas' murderous beliefs.
Gay pushed back, saying she would not commit to punishing students simply for expressing their views, even if she finds them "personally abhorrent," apparently reversing university policy.
In 2017, Harvard reneged on admission offers for 10 would-be students after it came out that they circulated racist memes in a group chat.
The theme of Gay's testimony was her dual commitment to "combating hate while preserving free expression."
Gay said her administration would only punish "hateful, reckless, offensive speech" when it crosses the line into physical violence or targeted harassment.
Foxx, the panel's chair, railed against Gay and the other university leaders, claiming that "institutional antisemitism and hate are among the poisoned fruits of your institutions' cultures."
Republican lawmakers repeatedly criticized progressivism and tied it to antisemitism in higher education.
All three university presidents outlined their strategies for ensuring student safety and open discourse on the Israel-Hamas war.
"As an American, as a Jew, and as a human being, I abhor antisemitism. And my administration is combating it actively," Sally Kornbluth, president of MIT, said, adding that "problematic speech needs to be countered with other speech and education."
Kornbluth said free speech that promotes harassment or incites violence is not protected by the university, but those who try to shut down campus protests are essentially advocating for unworkable "speech codes."
Harvard and UPenn have struggled. Both schools found themselves under investigation by the Department of Education over complaints of antisemitism on campus.
"This is difficult work, and I know I have not always gotten it right," Gay said of her efforts to promote free speech and inclusion. She noted the difficulty of balancing the concerns of different groups, including Harvard's Muslim community, which Gay noted faces the threat of rising Islamophobia.
"During these difficult days, I have felt the bonds of our community strained," Gay told lawmakers.
UPenn President M. Elizabeth Magill came under fire for the Palestine Writes Festival, an event hosted at her university in September that was a flashpoint of antisemitism, according to a complaint submitted to the Department of Education.
Magill condemned antisemitic rhetoric at the festival but maintained that measures had been instituted to ensure student safety.
The presidents made clear to the Republican-run House Committee on Education and the Workforce that their schools have taken steps to prevent harassment and bullying, including public announcements.
The president of Columbia was invited but did not attend, citing a scheduling conflict, Foxx's office said.
November polling by the Anti-Defamation League and Hillel found that, since Oct. 7, 46% of Jewish students felt safe at their colleges, a marked drop from 67% before the war. Students across the nation said they were wary of walking around their campuses wearing a Star of David necklace, kippah or other emblems of Judaism.

In late October, an upperclassman at Cornell was taken into federal custody after allegedly making online posts promising to kill any and every Jew he saw on campus.

The Council on American-Islamic Relations and other advocacy groups reported that hate crimes against Muslim students were also on the rise.

Last month, a white man allegedly shot three Palestinian American college students in Burlington, Vermont. And, at Stanford, an Arab student was struck in a hit-and-run as the driver shouted, "F— you people!" according to witnesses.
Pro-Palestinian protesters have been doxxed — their names and pictures paraded around their campuses on mobile billboard trucks — in what activists say are attempts to intimidate them into silence.