Student Union
Decrease Visa Hurdles for Foreign Science Students, Academy Says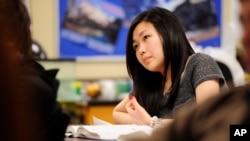 A new report from the National Academies of Sciences, Engineering and Medicine recommends the U.S. government reduce barriers to international students coming to the United States for atomic, molecular and optical, or AMO, physics research.
The U.S. government should foster more international collaboration in these areas if it wishes to remain at the forefront of these fields globally, the report, "Manipulating Quantum Systems: An Assessment of Atomic, Molecular, and Optical Physics in the United States" said Wednesday. The report warned that an inability to welcome international physicists in the U.S. while foreign countries increase their efforts in the field could lead to less vital research coming from the U.S.
"The U.S. can keep pace with this growth internationally through strategic investments in vital areas of AMO science, and through collaborating across both disciplinary and international lines," said Nergis Mavalvala, committee co-chair.
"The participation of women and underrepresented minorities in AMO science is far below the demographic composition of the U.S. Not tapping this talent pool to its full potential is a continuously lost opportunity," she added.
Recommendations
The study recommended that the U.S. Department of State work to "remove excessive visa application delays for international students" trying to come to the U.S. for AMO research. The study was sponsored by the Department of Energy, National Science Foundation, and the Air Force Office of Scientific Research.
More international students come to the U.S. from around the world for higher education than any other country, but an annual Open Doors report, compiled by the Institute for International Education with the State Department, and released Monday for the 2018-2019 school year, showed stagnation — and steep declines from some countries — for the second year after decades of growth.
Obstacles
Institutions polled indicated the slowdown includes the high cost of tuition at U.S. colleges and universities, difficulty in getting visas or challenges in maintaining a student visa, students feeling that they are not being welcomed in the U.S., negative political rhetoric and news of crime in the U.S.
"Promoting international student mobility remains a top priority for the Bureau of Educational and Cultural Affairs and we want even more students in the future to see the United States as the best destination to earn their degrees," said Marie Royce, assistant secretary of state for that bureau. "International exchange makes our colleges and universities more dynamic for all students, and an education at a U.S. institution can have a transformative effect for international students, just like study abroad experiences can for U.S. students."

See all News Updates of the Day
Check Out These Lesser-known Scholarships Available to International Students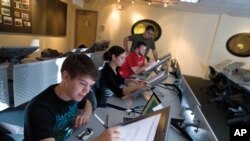 Most students looking to study in the United States are already familiar with prospects for financial aid, but there are some lesser-known scholarships available.
The Times of India has compiled a listing of scholarships — many offered by individual schools — that can benefit students from other countries. (August 2023).
Despite Challenges, Afghan Refugee Students in the US Are Thriving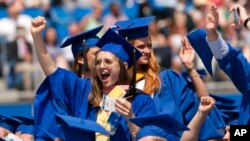 Two years after the Taliban took Kabul, Karin Fischer of the Chronicle of Higher Education profiles a group of Afghan women at the University of Delaware who fled Kabul.
After learning English, mastering U.S. cultural norms and surviving the trauma of separation from their families, these students are now mentoring other new arrivals. (August 2023)
Know the Details, and Risks, of Student Loans
After School Africa takes a look at student loans and international students.
"Normally, many people do not like the idea of loans, and it is not the first option in the minds of many people," the article notes. "However, student loans can be the only option for some students who want to actualize their goals."
Read about the various types of student loans, and their potential risks, here. (August 2023)
Want an MBA from a US School? Here's How One Man Made It from Indonesia to Wharton
A student from Indonesia writes about his path to studying for an MBA at the Wharton School of the University of Pennsylvania. Among his suggestions: apply to a range of schools and craft a compelling personal essay. Read more here. (August 2023)
Academic Integrity in the US: What International Students Need to Know
International students have many things to learn about the U.S. when they arrive on American campuses. U.S. News & World Report delves into a less-common topic: academic integrity.
The magazine explores basic expectations at many U.S. schools, including how to use quotes and citations in papers, how to avoid plagiarism and navigating artificial intelligence pitfalls.
Read the full story here. (August 2023)