Student Union
If It's 3:30 a.m., It Must Be Time for Online Class
It's 3:30 a.m. It's almost time for class.
I take a moment to stare into my pitch-black room. I always set my alarm 30 minutes before class starts so I don't oversleep. Sometimes I hit the snooze button to get an extra 10 minutes of rest.
After a few minutes, I get up and slowly open my door. I tiptoe to the kitchen to get a glass of water, careful not to wake my sleeping family members.
As I click the link into the Zoom classroom, my professor greets everyone with a "Good afternoon." It's 2 p.m. in Virginia, but 4 a.m. in South Korea. Some of my classmates sip on their afternoon coffee on their patio before class begins.
I wish I had coffee.
When the first couple of cases were reported in the United States in January, South Korea was the second most infected country in the world with around 10,000 cases. I was more worried about my family back home.
They would update me regularly about the strict coronavirus guidelines and how the government passed a mask mandate where people could only purchase two N-95 face masks per week.
When they asked how I was doing, I reassured them that I was fine and that there were only a few cases. This was in February.
But as cases began to climb at a frightening speed in early March, my parents and I decided it would be best to be with family during this bizarre time.
I was one of the thousands of international students who returned to their home countries that month due to the coronavirus pandemic.
I knew that this meant I'd have to take courses during the middle of the night and become a master of time zones. Online courses are definitely not the most ideal way to absorb information, but because I was so close to graduating, I decided to finish my degree online in South Korea.
This semester, my synchronous classes started at 3 a.m., 11 p.m., and 10 p.m. Then Daylight Saving Time pushed time an hour back. Needless to say, I don't really have a set sleep schedule at this point.
But like most people around the world, this year was all about adjusting and becoming flexible with one's schedule and surroundings, so I told myself this was an adjustment I'd have to make.
"Zoom University," a term frequently used to describe online classes, has left college students around the world dissatisfied and anxious.
"Six hours in school is better than three hours in online classes," tweeted Muhd Akif Bin Azmi, a student attending Form Six college in Petaling Jaya, Malaysia. His tweet struck a chord with thousands of people, garnering more than 99,000 likes and nearly 31,000 retweets.
In a report surveying 290 university students in South Korea, 56% said they were planning to take a leave of absence for the 2020 fall semester with low satisfaction for online courses being the top reason. The main complaint? "I would rather take a leave of absence than take a class that only reads Powerpoint."
New enrollment of international students dropped 43% because of COVID-19 in the academic school year that began four months ago, according to the Institute of International Education. Nearly 40,000 students — mostly incoming freshmen — have deferred enrollment at 90% of U.S. institutions.
Many students struggled at the beginning of the year with the abrupt shift to virtual learning, prompting universities to switch to pass/fail grading options or cut back on tuition. Some universities extended pass/fail grading options for the fall semester as the coronavirus continued to spread at alarming rates.
Despite setbacks, I'm grateful for the position I am in and understand it is a privilege to be able to continue my education online.
Millions of other students have been derailed from their studies because the coronavirus pandemic has created a global education emergency. As of December 1, more than 224 million students have been affected by school closures, according to the United Nations Educational, Scientific, and Cultural Organization (UNESCO).
For children, the number is even higher. More than 1 billion children are out of school because of closures across 188 countries, according to the United Nations Children's Fund (UNICEF).
Students are not the only ones struggling with online classes. Parents, teachers and university professors have expressed their frustrations and concerns with online learning.
In the end, 2020 has proven to be one of the strangest and most devastating times for millions around the world. We've all had to sacrifice, adjust, adapt and heal in our own ways.
On the bright side, I've learned to work under tough conditions and deliver and become a flexible, strategic thinker.
And as my college journey comes to an end, I do think that this has been a character-building experience and I know I'm going to exit this situation better than when I came into it.
I have my graduation ceremony to look forward to! It will be virtual.
At 4 AM KST.
See all News Updates of the Day
It's Graduation Season – Who Might Speak at Yours?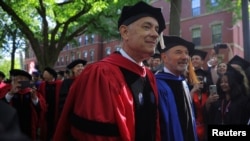 U.S. graduation ceremonies usually feature a public figure who offers advice to young people starting their careers. This spring, graduates have heard from President Joe Biden, actor Tom Hanks, Nobel Peace Prize winner Maria Ressa and even Ukrainian President Volodymyr Zelenskyy. Finnish Prime Minister Sanna Marin, who became the youngest prime minister in the world at age 34, told her audience that change cannot wait, even at their age. "To change things," she said, "you have to take over."
Read the story from Dan Friedell of VOA Learning English. (May 2023)
What Did Justin, a Golden Retriever Mix, Do to Earn a Diploma?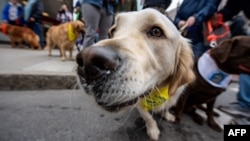 Justin is a service dog and accompanied his owner (who graduated with honors) to every single class for four years. The student's university honored the dog's hard work with his very own diploma, which he accepted, tail wagging, in front a cheering stadium of other graduates.
See Justin's walk across the stage in this story from Bill Chappell of NPR. (May 2023)
What Are US Diplomats Doing to Further International Education?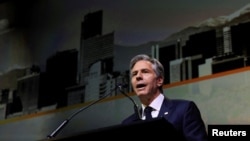 U.S. Secretary of State Antony Blinken touted his department's achievements in a recent address to NAFSA: Association of International Educators. The State Department has relaxed student visa and study abroad requirements. In fact, it issued over a half-million student visas last year – the highest number in five years. Blinken, who spent part of his childhood in France, thanked educators for "helping us to see the world through another's eyes."
Watch his remarks in this press release from the State Department. (May 2023)
Soon-to-Be Graduates Put COVID Behind Them
During the COVID-19 pandemic, learning lagged for students around the world, including the U.S., where many had access to online learning. Now these soon-to-be graduates say they are behind in certain subjects because of time missed at school. VOA's Laurel Bowman sat down with high school seniors on the cusp of graduation. Camera: Adam Greenbaum, Saqib Ul Islam.
Former US Congresswoman Liz Cheney Urges Graduates Not to Compromise With the Truth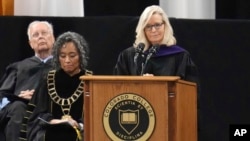 Former U.S. Congresswoman Liz Cheney implored new college graduates to not compromise when it comes to the truth, excoriating her House Republican colleagues for not doing enough to combat former President Donald Trump's lies that the 2020 election was stolen.
In a commencement speech at Colorado College, the Wyoming Republican repeated her fierce criticisms of Trump but steered clear of talking about his 2024 reelection campaign or her own political future.
Cheney, who graduated from Colorado College in 1988, recalled being a political science student walking into a campus building where a Bible verse was inscribed above the entrance that read, "Ye shall know the truth and the truth shall make you free."
"After the 2020 election and the attack of January 6th, my fellow Republicans wanted me to lie. They wanted me to say the 2020 election was stolen, the attack of January 6th wasn't a big deal, and Donald Trump wasn't dangerous," Cheney said Sunday in Colorado Springs, connecting her experiences as a student to her work in the U.S. House of Representatives. "I had to choose between lying and losing my position in House leadership."
In three terms in office, Cheney rose to the No. 3 GOP leadership position in the House, a job she lost after voting to impeach Trump for the Jan. 6, 2021, insurrection at the Capitol and then not relenting in her criticism of the former president.
Cheney's speech touched on themes similar to those she has promoted since leaving office in January: addressing her work on the House committee investigating the Jan. 6 2021 attack on the U.S. Capitol and standing up to the threat she believes Trump poses to democracy. She also encouraged more women to run for office and criticized one of the election-denying attorneys who worked for Trump after the 2020 election for recent remarks about college students voting.
"Cleta Mitchell, an election denier and adviser to former President Trump, told a gathering of Republicans recently that it is crucially important to make sure that college students don't vote," Cheney said. "Those who are trying to unravel the foundations of our republic, who are threatening the rule of law and the sanctity of our elections, know they can't succeed if you vote."
In an audio recording of Mitchell's presentation from a recent Republican National Committee retreat, she warns of polling places on college campuses and the ease of voting as potential problems, The Washington Post reported.
Most students and parents in the audience applauded throughout Cheney's remarks, yet some booed. Some students opposing the choice of Cheney as speaker turned their chairs away from the stage as she spoke.
Cheney's busy speaking schedule and subject matter have fueled speculation about whether she may enter the 2024 GOP presidential primary since she left office. Candidates ranging from Florida Gov. Ron DeSantis to former South Carolina Gov. Nikki Haley have calibrated their remarks about Trump, aiming to counter his attacks without alienating the supporters that won him the White House seven years ago.
Though some have offered measured criticisms, no declared or potential challenger has embraced anti-Trump messaging to the same extent as Cheney. She did not reference her plans on Sunday but has previously said she remains undecided about whether she wants to run for president.
Though she would face an uphill battle, Cheney's fierce anti-Trump stance and her role as vice chairwoman of the House committee elevated her platform high enough to call on a national network of donors and Trump critics to support a White House run.
A super PAC organized to support of her candidacy has remained active, including purchasing attack ads on New Hampshire airwaves against Trump this month.
After leaving office and being replaced by a Trump-backed Republican who defeated her in last year's primary, Cheney was appointed to a professorship at the University of Virginia and wrote "Oath and Honor," a memoir scheduled to hit shelves in November.
Two of Cheney's five children as well as her mother are also graduates of the liberal arts college.
Cheney's speaking tour appears to be picking up. She is scheduled to appear Thursday at the Mackinac Policy Conference in Michigan.