Student Union
Immigrant Leaders Organize New Citizens' Right to Vote
Garang Majouk left southern Sudan during the country's second civil war, forded the Nile River during his escape, washed dishes in Lebanon, and came to Iowa 19 year ago as a refugee.
So "good governing" is important to him, he says, explaining why he organizes new immigrants from the South Sudanese community in Iowa to exercise their right to vote.
Majouk is one of several immigrant organizers who work to ensure newly naturalized voters participate in the American political process. He arranges cultural and language accommodations for those who might have been refugees or come from countries that did not offer the democratic right to vote.
That was true for Majouk, whose country was embroiled in civil war.
"It is one of your privileges as an American to cast your vote, and see progress on an issue you are passionate about," he said.
The moment they become citizens, immigrants are legally allowed to vote. But first, they must register. Registering new voters who are born in the U.S. -- like those who turn 18 -- is a challenge, according to youth-vote organizers. Even more difficult is registering new citizens who might find the U.S. election process confusing.
"There is a particular need for voter registration campaigns targeted toward newly naturalized citizens," said Diego Iñiguez-López, the policy and campaigns manager at the National Partnership of New Americans, an advocacy group that partners with 37 regional refugee- and immigrant-rights organizations in 31 states.
Immigrant voters -- 23 million of them, according to the Pew Research Center -- will make up 10% of the eligible voters in the 2020 election for U.S. president. Organizers from different immigrant groups across the United States are working diligently to bring their communities out to the polls."
The rising number of new American voters represent voting blocks that can have the power to sway the outcome of the upcoming presidential election, midterm elections, and elections for governorships and state legislatures," Iñiguez-López said.
"These voting blocks will be especially critical in swing states like Florida, Texas, Georgia, Pennsylvania, North Carolina, Arizona and Michigan, where some of the largest groups of newly naturalized citizens reside," he said.
Despite the number of eligible immigrant voters, their voter turnout rates have lagged behind native-born voters. In 2016, 62% of native-born eligible voters turned out to the polls, compared with 54% of foreign-born voters, according to Pew.
Bhim Magar, a member of Iowa's Bhutanese community, attributed lower turnout to a lack of information.
"Most people in our community got citizenship in the past few years, but they were uninformed of both their right to vote and of the process behind voting," he said. "They found caucusing even more difficult."
Many immigrants, despite living in the United States for years, had never been contacted by a presidential campaign prior to 2020, Harka Thapa, one of Magar's fellow organizers, said.
"In 2016, very few members of our community voted," Thapa said. "For many this caucus was their first time."
The Democratic Party has updated some of their primaries to make them more inclusive to eligible immigrant voters.
In Iowa, the state's Democratic Party worked with the state's different immigrant communities to establish 11 satellite caucus locations that provided language and cultural accommodations for voters whose English may have been limited.
At Hoover Elementary School in Cedar Rapids, most of the first-time voters caucused in at least nine languages.
In Nevada, caucus-goers had access to materials in three different languages, English, Spanish and Tagalog, the most commonly spoken language of the Philippines. Those who spoke other languages, however, had to seek their campaign information elsewhere.
The Bernie Sanders campaign has seized on this voter market.
According to his campaign, the 78-year-old Vermont senator has more than 250 translators across the country who translate tweets and graphics into multiple languages. During the debates, many of these translators live-tweeted Sanders' responses in different languages, including Punjabi and Urdu.
Aung Win Maw works as an organizer of immigrants and refugees from Myanmar. After working the Iowa caucuses, he headed to Minnesota to help organize the Burmese Karen immigrant community around Super Tuesday."
"For each immigrant group, we tried to set up a specific satellite caucus location based on geographic location, provided them with translation, and also with transportation to the location," he said.
Most Burmese immigrants and refugees have never heard from a campaign before, he said.
"We tried to make the political process much easier for the Burmese community to access," he said.
Magar and Thapa were stateless, and living in refugee camps in Nepal, when they moved to the U.S. in 2011. Magar gained citizenship in 2017, and Thapa in 2019. Both are adamant that with better outreach, their community will show up to vote enthusiastically.
"I think once they get citizenship for this beautiful country, everyone would want to vote. To use that right," Thapa said.
See all News Updates of the Day
It's Graduation Season – Who Might Speak at Yours?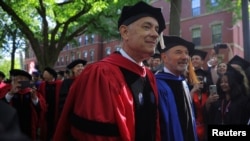 U.S. graduation ceremonies usually feature a public figure who offers advice to young people starting their careers. This spring, graduates have heard from President Joe Biden, actor Tom Hanks, Nobel Peace Prize winner Maria Ressa and even Ukrainian President Volodymyr Zelenskyy. Finnish Prime Minister Sanna Marin, who became the youngest prime minister in the world at age 34, told her audience that change cannot wait, even at their age. "To change things," she said, "you have to take over."
Read the story from Dan Friedell of VOA Learning English. (May 2023)
What Did Justin, a Golden Retriever Mix, Do to Earn a Diploma?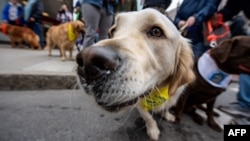 Justin is a service dog and accompanied his owner (who graduated with honors) to every single class for four years. The student's university honored the dog's hard work with his very own diploma, which he accepted, tail wagging, in front a cheering stadium of other graduates.
See Justin's walk across the stage in this story from Bill Chappell of NPR. (May 2023)
What Are US Diplomats Doing to Further International Education?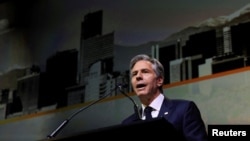 U.S. Secretary of State Antony Blinken touted his department's achievements in a recent address to NAFSA: Association of International Educators. The State Department has relaxed student visa and study abroad requirements. In fact, it issued over a half-million student visas last year – the highest number in five years. Blinken, who spent part of his childhood in France, thanked educators for "helping us to see the world through another's eyes."
Watch his remarks in this press release from the State Department. (May 2023)
Soon-to-Be Graduates Put COVID Behind Them
During the COVID-19 pandemic, learning lagged for students around the world, including the U.S., where many had access to online learning. Now these soon-to-be graduates say they are behind in certain subjects because of time missed at school. VOA's Laurel Bowman sat down with high school seniors on the cusp of graduation. Camera: Adam Greenbaum, Saqib Ul Islam.
Former US Congresswoman Liz Cheney Urges Graduates Not to Compromise With the Truth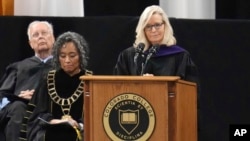 Former U.S. Congresswoman Liz Cheney implored new college graduates to not compromise when it comes to the truth, excoriating her House Republican colleagues for not doing enough to combat former President Donald Trump's lies that the 2020 election was stolen.
In a commencement speech at Colorado College, the Wyoming Republican repeated her fierce criticisms of Trump but steered clear of talking about his 2024 reelection campaign or her own political future.
Cheney, who graduated from Colorado College in 1988, recalled being a political science student walking into a campus building where a Bible verse was inscribed above the entrance that read, "Ye shall know the truth and the truth shall make you free."
"After the 2020 election and the attack of January 6th, my fellow Republicans wanted me to lie. They wanted me to say the 2020 election was stolen, the attack of January 6th wasn't a big deal, and Donald Trump wasn't dangerous," Cheney said Sunday in Colorado Springs, connecting her experiences as a student to her work in the U.S. House of Representatives. "I had to choose between lying and losing my position in House leadership."
In three terms in office, Cheney rose to the No. 3 GOP leadership position in the House, a job she lost after voting to impeach Trump for the Jan. 6, 2021, insurrection at the Capitol and then not relenting in her criticism of the former president.
Cheney's speech touched on themes similar to those she has promoted since leaving office in January: addressing her work on the House committee investigating the Jan. 6 2021 attack on the U.S. Capitol and standing up to the threat she believes Trump poses to democracy. She also encouraged more women to run for office and criticized one of the election-denying attorneys who worked for Trump after the 2020 election for recent remarks about college students voting.
"Cleta Mitchell, an election denier and adviser to former President Trump, told a gathering of Republicans recently that it is crucially important to make sure that college students don't vote," Cheney said. "Those who are trying to unravel the foundations of our republic, who are threatening the rule of law and the sanctity of our elections, know they can't succeed if you vote."
In an audio recording of Mitchell's presentation from a recent Republican National Committee retreat, she warns of polling places on college campuses and the ease of voting as potential problems, The Washington Post reported.
Most students and parents in the audience applauded throughout Cheney's remarks, yet some booed. Some students opposing the choice of Cheney as speaker turned their chairs away from the stage as she spoke.
Cheney's busy speaking schedule and subject matter have fueled speculation about whether she may enter the 2024 GOP presidential primary since she left office. Candidates ranging from Florida Gov. Ron DeSantis to former South Carolina Gov. Nikki Haley have calibrated their remarks about Trump, aiming to counter his attacks without alienating the supporters that won him the White House seven years ago.
Though some have offered measured criticisms, no declared or potential challenger has embraced anti-Trump messaging to the same extent as Cheney. She did not reference her plans on Sunday but has previously said she remains undecided about whether she wants to run for president.
Though she would face an uphill battle, Cheney's fierce anti-Trump stance and her role as vice chairwoman of the House committee elevated her platform high enough to call on a national network of donors and Trump critics to support a White House run.
A super PAC organized to support of her candidacy has remained active, including purchasing attack ads on New Hampshire airwaves against Trump this month.
After leaving office and being replaced by a Trump-backed Republican who defeated her in last year's primary, Cheney was appointed to a professorship at the University of Virginia and wrote "Oath and Honor," a memoir scheduled to hit shelves in November.
Two of Cheney's five children as well as her mother are also graduates of the liberal arts college.
Cheney's speaking tour appears to be picking up. She is scheduled to appear Thursday at the Mackinac Policy Conference in Michigan.