Student Union
Indian Students Decry Police as Citizenship Protests Grow
Indian student protests that turned into violent clashes with police galvanized nationwide opposition on Tuesday to a new law that provides a path to citizenship for non-Muslim migrants who entered the country illegally from several neighboring countries.
Police fired tear gas in the Seelampur area of New Delhi to push back protesters who burned a police booth and two motorbikes after throwing stones and swarming barricades.
Roads leading to the Muslim-majority neighborhood were strewn with stones, tear gas canisters and shards of broken glass.
"We are protesting against the new citizenship law. They are saying if you don't have any proof (of citizenship) they will send us out of India," said 15-year-old Mohammad Shehzad.
Protests against the law were also reported in the states of West Bengal, Kerala, Karnataka and elsewhere. On Sunday, a march by students at New Delhi's Jamia Millia Islamia University descended into chaos when demonstrators set three buses on fire. Police responded with rubber bullets and tear gas. Videos showed officers running after unarmed protesters and beating them with wooden sticks.
Hanjala Mojibi, an English major at the predominantly Muslim school, said that when he and others saw police enter the campus, they walked toward them with their hands up to indicate their protest was nonviolent.
"The police made all 15 of us kneel and started beating us. They used lots of abusive words. One of them removed my prescription glasses, threw (them) on the ground, broke them and told me to look down," Mojibi said at a news conference in tears.
Simultaneously on Sunday, police stormed Aligarh Muslim University in the north Indian state of Uttar Pradesh firing tear gas and injuring five people who were participating in a student-led demonstration, university spokesman Rahat Abrar said.
Shahid Hussain, a 25-year-old history major, said police broke the windows of his dormitory and lobbed a tear gas canister inside. He said after fleeing the building to escape the fumes, police pushed him against a tree and beat him with sticks.
Police spokesman Sunil Bainsla denied the account, calling the allegations of police brutality "lies."
The police response to Sunday's protests has drawn widespread condemnation. It also has sparked a broader movement against the Citizenship Amendment Act, with demonstrations erupting across the country.
The new law applies to Hindus, Christians and other religious minorities who are in India illegally but can demonstrate religious persecution in Muslim-majority Bangladesh, Pakistan and Afghanistan. It does not apply to Muslims.
Prime Minister Narendra Modi's ruling Hindu nationalist Bharatiya Janata Party has described the law as a humanitarian gesture.
While it was being debated in Parliament last week, Home Minister Amit Shah said it was "not even .001% against minorities. It is against infiltrators." Modi told an election rally in eastern Jharkhand state on Tuesday that no Indian citizen would be affected by the law. Speaking about Sunday's protests, he accused the opposition Congress party of using students for political purposes.
"The decisions made by the government should be discussed and any voice should be raised in a democratic manner. This government understands your concerns but some people use your shoulder for firing a gun," he said. "I dare Congress, its friends, to publicly declare they are prepared to accord Indian citizenship to all Pakistanis."
Congress party chief Sonia Gandhi met President Ram Nath Kovind as the head of an opposition delegation and asked that the citizenship law be withdrawn.
Talking to reporters, Gandhi said she fears "the situation may spread further."
"I think you all have seen that the Modi government seems to have no compassion when it comes to shutting down people's voices and implementing legislation," she said. Critics of the government say the law is intended to help the ruling party transform a multicultural and secular India into a Hindu "rastra," or distinctly Hindu state and further marginalize India's 200 million Muslims.
India is 80% Hindu and 14% Muslim, which means it has one of the largest Muslim populations of any country in the world.
Police spokesman M.S. Randhawa said 10 people were arrested during Sunday's protest at Jamia Millia Islamia University from Jamia Nagar, a Muslim neighborhood near the university.
"We found out that the arrested men had instigated the crowds and were also responsible for vandalizing public property," Randhawa said.
Students said police lobbed tear gas shells inside the campus, broke down the doors of the library and yanked students out to assault them. Dozens of students were taken to hospitals for treatment.
Police have denied the allegations and said they acted with restraint.
The citizenship law follows a contentious citizenship registry process in northeastern India's Assam state intended to weed out people who immigrated to the country illegally.
Nearly 2 million people in Assam were excluded from the list, about half Hindu and half Muslim, and have been asked to prove their citizenship or else be considered foreign. India is constructing a detention center for some of the tens of thousands of people the courts are expected to ultimately determine came to the country illegally.
Home Minister Shah has pledged to roll it out the program nationwide, promising to rid India of "infiltrators."
The Citizenship Amendment Act could provide protection and a fast track to naturalization for many of the Hindus left off Assam's citizenship list, while explicitly leaving out Muslims.
The backlash to the law came as an unprecedented crackdown continued in Kashmir, India's only Muslim-majority area, which was stripped of special constitutional protections and its statehood in August. Since then, movement and communications have been restricted.
"Our country is not just for Hindus," said Chanda Yadav, 20, a Hindi literature student who was participating in a sit-in Monday at Jamia Millia Islamia University. "I feel it is my moral right to protest against something which divides us as a community."
See all News Updates of the Day
Soon-to-Be Graduates Put COVID Behind Them
During the COVID-19 pandemic, learning lagged for students around the world, including the U.S., where many had access to online learning. Now these soon-to-be graduates say they are behind in certain subjects because of time missed at school. VOA's Laurel Bowman sat down with high school seniors on the cusp of graduation. Camera: Adam Greenbaum, Saqib Ul Islam.
Former US Congresswoman Liz Cheney Urges Graduates Not to Compromise With the Truth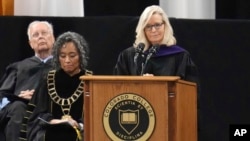 Former U.S. Congresswoman Liz Cheney implored new college graduates to not compromise when it comes to the truth, excoriating her House Republican colleagues for not doing enough to combat former President Donald Trump's lies that the 2020 election was stolen.
In a commencement speech at Colorado College, the Wyoming Republican repeated her fierce criticisms of Trump but steered clear of talking about his 2024 reelection campaign or her own political future.
Cheney, who graduated from Colorado College in 1988, recalled being a political science student walking into a campus building where a Bible verse was inscribed above the entrance that read, "Ye shall know the truth and the truth shall make you free."
"After the 2020 election and the attack of January 6th, my fellow Republicans wanted me to lie. They wanted me to say the 2020 election was stolen, the attack of January 6th wasn't a big deal, and Donald Trump wasn't dangerous," Cheney said Sunday in Colorado Springs, connecting her experiences as a student to her work in the U.S. House of Representatives. "I had to choose between lying and losing my position in House leadership."
In three terms in office, Cheney rose to the No. 3 GOP leadership position in the House, a job she lost after voting to impeach Trump for the Jan. 6, 2021, insurrection at the Capitol and then not relenting in her criticism of the former president.
Cheney's speech touched on themes similar to those she has promoted since leaving office in January: addressing her work on the House committee investigating the Jan. 6 2021 attack on the U.S. Capitol and standing up to the threat she believes Trump poses to democracy. She also encouraged more women to run for office and criticized one of the election-denying attorneys who worked for Trump after the 2020 election for recent remarks about college students voting.
"Cleta Mitchell, an election denier and adviser to former President Trump, told a gathering of Republicans recently that it is crucially important to make sure that college students don't vote," Cheney said. "Those who are trying to unravel the foundations of our republic, who are threatening the rule of law and the sanctity of our elections, know they can't succeed if you vote."
In an audio recording of Mitchell's presentation from a recent Republican National Committee retreat, she warns of polling places on college campuses and the ease of voting as potential problems, The Washington Post reported.
Most students and parents in the audience applauded throughout Cheney's remarks, yet some booed. Some students opposing the choice of Cheney as speaker turned their chairs away from the stage as she spoke.
Cheney's busy speaking schedule and subject matter have fueled speculation about whether she may enter the 2024 GOP presidential primary since she left office. Candidates ranging from Florida Gov. Ron DeSantis to former South Carolina Gov. Nikki Haley have calibrated their remarks about Trump, aiming to counter his attacks without alienating the supporters that won him the White House seven years ago.
Though some have offered measured criticisms, no declared or potential challenger has embraced anti-Trump messaging to the same extent as Cheney. She did not reference her plans on Sunday but has previously said she remains undecided about whether she wants to run for president.
Though she would face an uphill battle, Cheney's fierce anti-Trump stance and her role as vice chairwoman of the House committee elevated her platform high enough to call on a national network of donors and Trump critics to support a White House run.
A super PAC organized to support of her candidacy has remained active, including purchasing attack ads on New Hampshire airwaves against Trump this month.
After leaving office and being replaced by a Trump-backed Republican who defeated her in last year's primary, Cheney was appointed to a professorship at the University of Virginia and wrote "Oath and Honor," a memoir scheduled to hit shelves in November.
Two of Cheney's five children as well as her mother are also graduates of the liberal arts college.
Cheney's speaking tour appears to be picking up. She is scheduled to appear Thursday at the Mackinac Policy Conference in Michigan.
How Are Girls in Afghanistan Continuing Their Education?
After the Taliban retook power in Afghanistan in 2021, they severely limited access to education for girls. Yet a club founded in the U.S., Flowers for the Future, helps Afghan girls keep learning through Zoom meetings with U.S. students. Two students, one Afghan, one American, describe their journey with the program and what it's taught them about grit, resilience and the importance of learning. Read the essays by Mahsa Kosha and Emily Khossaravi in the Hechinger Report. (May 2023)
Could Your International Degree be Financed by Goldman Sachs?
Quite possibly, since the elite U.S. investment bank has been investing millions in educational startups. Students from countries like India, Nigeria and Indonesia have long struggled to finance their U.S. degrees due to limited access to loans, but these new startups could disrupt that. For example, in just the first quarter of 2022, one startup, Prodigy Finance, reported a 98% increase in the number of Indian loan applicants. Nick Cuthbert of the PIE News breaks down the financial projections. (May 2023)
How Do College Sports Bring Together American and International Students?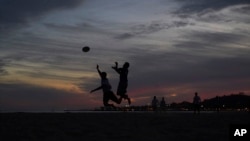 The game of Ultimate Frisbee has no referees and isn't governed by the official association for U.S. college sports. But it is intensely competitive, and students from Australia, China and elsewhere travel to the U.S. to play for the best schools. Andrew Smith of VOA Learning English reports on how college athletics can forge international friendships outside the classroom. (May 2023)