Student Union
Racial Lines Still Divide US Higher Education
Higher education continues to see racial divides, including in the earning power of graduates of different races and ethnicities.
When researchers looked at the earnings of white, black and Latino Americans who had earned a bachelor's degree between 1991 and 2016, they saw that whites earned about $10,000 more a year than blacks and Latinos with the same education.
And in 2016, white college graduates held 77% of the good-paying jobs. These men and women represented 69% of available job holders nationwide.
However, over the same period, blacks and Latinos with a bachelor's degree increased their likelihood of getting and keeping a good-paying job, defined by researchers as an annual salary of at least $35,000.
Anthony Carnavale, director of the Georgetown University Center on Education and the Workforce, describes these findings as another example of America's history of treating minorities unequally. The center published its study in October 2019 about racial divides.
Carnavale said black Americans have been disadvantaged since they arrived in North America enslaved. Laws separated them practically, economically and in education. Many were barred from schools and fields of employment. While conditions for black Americans have improved over the years, Carnavale said whites have gotten greater advantages.
History of racial divide
Following World War II, many whites moved from major U.S. cities to suburbs, made possible because of government housing and mortgage aid in return for their military service. The majority white suburban communities built large tax bases, which financed strong public school systems, he said. From those schools, most students went on to colleges and universities.
Latinos, Carnavale said, faced similar discrimination and did not become a major part of the U.S. economy until the late 1980s. Higher education has reduced barriers to higher education for minorities. But access to elite schools has been elusive for those black, Latino and poor students who mostly attend two and four-year public colleges and universities.
Since the 1980s, state governments have given far less financial support to these public schools, noted Carnavale, meaning many of the schools struggle to support students as best they can.
"So, we've created more access to higher education in America, but we have not created much more success," he said. "The success, the graduation rates are highest, by far, for affluent white kids."
While the U.S. Supreme Court ruled 65 years ago that states could not prevent black students from attending the same schools as whites, a New Jersey judge agreed to consider a court case against the state's public school system this year, said Victor Goode, director of the National Association for the Advancement of Colored People, or NAACP.
The NAACP and other groups have accused the state of segregation based on race and earnings. The civil rights group has taken legal action to demand greater financial support for public schools from state governments in Maryland, Delaware and Minnesota.
"States … need to see how they can do a better job of providing an adequate, equitable education to all students," noted Goode.
Kyriaki Topidi, a researcher with the European Center for Minority Issues, said inequality exists in many majority-white nations.
Topidi said that in Germany, many recent African and Middle Eastern immigrants lack access to high schools with advanced study programs. And studies showed that employers in Britain were 60% more likely to consider white candidates for employment than blacks or South Asians.
Topidi suggests one way to deal with this is by working with local governments to create anti-discrimination policies. Also, she said, leaders should try to get members of different races and economic levels to understand each other better through community-building events and training.
"This process should be based on the acceptance that people do not simply represent 'ethnicities' or 'races,' but rather are complex beings that also differ according to social status, interests, profession, beliefs," she said.
Yet Carnavale said he is not hopeful that conditions for blacks and Latinos will improve in the United States any time soon. He says that unless wealthy white Americans are willing to spend much more in taxes to support public education, things will likely remain the same for the next 30 years.
See all News Updates of the Day
Will College Affirmative Action Survive in US?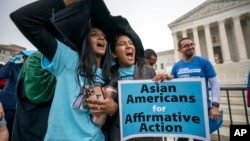 Colleges and universities are allowed to give underrepresented minorities a boost when applying. But later this month, the U.S. Supreme Court is widely expected to ban colleges from considering race in admissions. How will the schools respond? Read this story from Dan Friedell of VOA Learning English, adapted from a piece by Reuters. (June 2023)
Psychologists at Virginia University Aim to Make International Students Feel at Home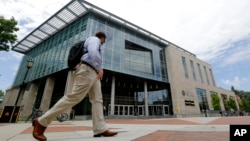 Virginia Commonwealth University has two staff psychologists specializing in intercultural issues. Their mission? To help international students adjust to life in the U.S. as seamlessly as possible. Read the full story here. (June 2023)
Are Declining Enrollments in the US a Hidden Opportunity for Students Abroad?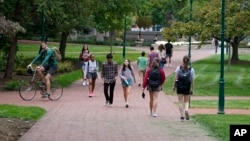 Allen Goodman, CEO of the Institute for Higher Education, writes that empty seats at U.S. colleges could drive a boom in international education. The U.S. has lost market share among host countries, but unlike its competitors, its university system is so large and underutilized that it could easily recruit more students. Because international students become "friends for life" with the U.S., and bring valuable expertise (and tuition dollars), Goodman argues the U.S. should recruit 2 million students by the end of the decade.
Weigh his argument for yourself in Times Higher Education. (May 2023)
What Could a Bitter Lawsuit Tell Us About International Education in the US?
In 2010, the University of South Florida signed a 30-year contract with INTO, a company that provides support services for international students. INTO built a "pathway program" at the university that taught students English and basic academic skills before they began their higher-education degrees. But after years of enrollment declines, the university ended the contract, and now both parties are fighting an "acrimonious" court case. The news comes as many of INTO's programs at other schools are being shuttered. While management and financial issues may play a role, so does the post-pandemic educational landscape: pathway programs can now be easily offered online.
Liam Knox of Inside Higher Ed has more. (May 2023)
Croatian Student Earning Simultaneous Ph.D.s in US, Croatia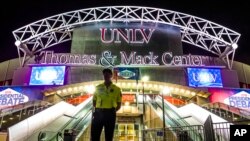 A Croatian student is earning two Ph.D.s simultaneously, one in Croatia and one at the University of Nevada, Las Vegas.
Borna Nemet spends his days at UNLV studying educational leadership and effectiveness. At night, he uses Zoom to teach students at the University of Zagreb in Croatia. Read the full story here. (May 2023)