Student Union
Scientists Push Back on DOJ Charges Against Harvard Professor
Forty academics have signed a letter in support of a Harvard University professor being prosecuted by the U.S. government on charges he lied about his connections with the Chinese government.
Seven Nobel Prize winners are among the dozens of scientists asking why the university is not defending Charles Lieber against the charges.
"Professor Lieber is one of the great scientists of his generation," the letter reads.
"In the name of combating economic espionage, the Department of Justice has increasingly scrutinized members of the academic community. Several of its investigations reflect a fundamental misunderstanding of modern science, in which open-source practices make discoveries available to all."
Lieber, the former chair of Harvard chemistry and chemical biology department, and considered a pioneer in nanotechnology, was charged in January 2020 and indicted in July for allegedly lying about research funding while participating in China's Thousand Talents Program, the U.S. Department of Justice (DOJ) said last year.
He is accused of lying to federal authorities in 2018 and 2019 about his involvement in the program, a recruitment plan designed to attract high-level scientists to advance the China technology industry, and his affiliation with the Wuhan University of Technology (WUT).
"Under the terms of Lieber's three-year contract, WUT allegedly paid Lieber a salary of up to $50,000 USD per month, living expenses of up to 1 million Chinese Yuan (approximately $158,000 USD at the time) and awarded him more than $1.5 million to establish a research lab at WUT," DOJ said in a release.
Lieber faces up to five years in prison, three years of supervised release and a fine of $250,000.
"Despite his standing in the scientific community — or perhaps because of it — he has become the target of a tragically misguided government campaign that is discouraging U.S. scientists from collaborating with peers in other countries, particularly China," the letter supporting Lieber states. "In so doing, it is threatening not only the United States' position as a world leader in academic research, but science itself."
In January, dozens of scientists signed a similar letter in support of Massachusetts Institute of Technology professor Gang Chen, who was indicted on similar charges, specifically failing to disclose ties with China.
"We are troubled that the complaint against Professor Chen vilifies what should be considered normal academic and research activities, including promoting MIT's mission of global education," wrote the scientists in a petition on Change.org, which has garnered over 1,000 signatures of support.
"The USA's greatest asset for fostering innovation and attracting the brightest minds is the academic freedom and openness of American science praised throughout the world.... The persecution or burdening of scientists for their interactions and collaborations will come at a great cost of lost ingenuity and decline of our global leadership in science and technology," the petition states.
Lieber has filed suit against Harvard University, saying it should pay for his legal expenses. The university has contended that it is not responsible for those costs.
See all News Updates of the Day
Medical Students Are Skipping Lectures; is That Such a Bad Thing?
In the United States, the first two years of medical school are classroom-based. During the pandemic, students took these courses virtually, and even now skip the lectures and rely on recordings. Students report learning better when they can rewind and pause the material, but also that getting feedback and building relationships with faculty are more difficult. Now, as Brown University considers making these classes partially virtual, a student and a professor share their ideas on how to digitize medical learning. Read the op-ed from Alexander P. Philips and Philip Gruppuso in NPR. (June 2023)
Will College Affirmative Action Survive in US?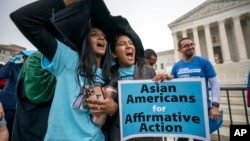 Colleges and universities are allowed to give underrepresented minorities a boost when applying. But later this month, the U.S. Supreme Court is widely expected to ban colleges from considering race in admissions. How will the schools respond? Read this story from Dan Friedell of VOA Learning English, adapted from a piece by Reuters. (June 2023)
Psychologists at Virginia University Aim to Make International Students Feel at Home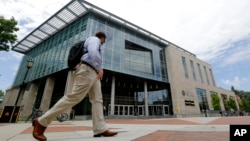 Virginia Commonwealth University has two staff psychologists specializing in intercultural issues. Their mission? To help international students adjust to life in the U.S. as seamlessly as possible. Read the full story here. (June 2023)
Are Declining Enrollments in the US a Hidden Opportunity for Students Abroad?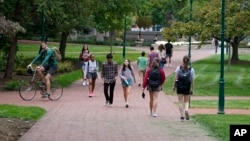 Allen Goodman, CEO of the Institute for Higher Education, writes that empty seats at U.S. colleges could drive a boom in international education. The U.S. has lost market share among host countries, but unlike its competitors, its university system is so large and underutilized that it could easily recruit more students. Because international students become "friends for life" with the U.S., and bring valuable expertise (and tuition dollars), Goodman argues the U.S. should recruit 2 million students by the end of the decade.
Weigh his argument for yourself in Times Higher Education. (May 2023)
What Could a Bitter Lawsuit Tell Us About International Education in the US?
In 2010, the University of South Florida signed a 30-year contract with INTO, a company that provides support services for international students. INTO built a "pathway program" at the university that taught students English and basic academic skills before they began their higher-education degrees. But after years of enrollment declines, the university ended the contract, and now both parties are fighting an "acrimonious" court case. The news comes as many of INTO's programs at other schools are being shuttered. While management and financial issues may play a role, so does the post-pandemic educational landscape: pathway programs can now be easily offered online.
Liam Knox of Inside Higher Ed has more. (May 2023)