Student Union
South Korean Students Flock Back Home
As the COVID-19 pandemic expands in countries popular for studying abroad, over 100,000 South Korean students overseas are racing back home.
South Korea has received an influx of overseas Koreans, mostly students, in the past weeks, as most universities convert to online classes, and borders lock down amid the global pandemic.
"The main reason I decided to come back was because I didn't have the health care or the money to cover the costs of testing or treatment if I ended up contracting the virus," said Heasu Lee, a senior at George Mason University in Virginia.
South Korea is similar in size to New York state and is just reaching 9,800 confirmed cases in the entire nation, while New York has over 67,000 confirmed cases and more than 1,300 deaths within a few days.
South Korea's health authorities said they will ban incoming passengers with temperatures higher than 37.5 Celsius. Beginning April 1, the country will enforce a two-week self-isolation period for all overseas arrivals, whether they have symptoms or not.
Closures cause alarm
Along with worrying about protection and health care as foreigners, some students noticed an increase in panic and change in policies in countries hard hit with COVID-19, fueling their decision to return to Korea.
Jaeyi Jeong, a junior at Sungshin University in Seoul, studied in Aschaffenburg, Germany, for one year.
"I went to Germany as an exchange student to interact with people, take classes in a different country and experience a new country and culture. But once Germany began implementing stricter policies and shutting down schools, the reason as to why I went to Germany vanished," Jeong said.
She said she was shocked when all 16 states in Germany closed schools and day care centers until April 20. She first thought it would not affect her area because it was a remote region.
"I wasn't even in a big city like Berlin. I was in a small city on the outskirts of Frankfurt. But once I began hearing that there were cases there, I began to get anxious," she said.
Looking Asian brings anxiety
Jeong said she also experienced racism.
"I would probably experience racism like five times a day," she said. "Hearing, 'You're corona. Go back to China,' and 'Do you know how to even speak German?' would be the norm. Some would even stop in their tracks once they saw me, cover their mouths, or even run away. I thought to myself, 'I shouldn't have to stay here experiencing this and not be able to go to school.'" With a sudden demand for international flights to South Korea, students faced airline cancellations or inflated fares.
"I was desperate to leave within March because I thought this was the only way to leave within a reasonable price range," said Jeong.
Students who managed to score nonstop flights, however, did not report a comfortable ride.
"I went to the airport with a N95 mask and gloves and didn't take them off the entire 14-hour flight," said Lee of George Mason University. "I tried to go to the bathroom as little as possible and only ate one in-flight meal because I was so anxious during the ride."
Sheltering in place
There are also students who have decided to stay put for a little longer.
Saeyeon Kwon, a junior at George Mason University, said she is worried about being in the United States as a foreigner but decided to stay until the end of the semester.
"My parents and I decided that it's equally dangerous in the United States and in South Korea. There are a lot of cases where I live in South Korea, too, so we just decided it would be safer for me to stay put during this time," said Kwon.
She would have to readjust her schedule to U.S. time for online classes, she said, which was another reason she decided to stay in the United States.
Blame and shame
As thousands of students pour into South Korea, the country has seen a rise in new COVID-19 cases, for which the students are being blamed. Critics blame the students.
"Overseas student phobia," a phrase coined by several Korean news outlets, grew after a student traveling from the United States violated quarantine recommendations and went on a five-day trip to Jeju Island with her mother, despite having symptoms.
Ninety-six people who were in contact with them were forced into isolation. Over 20 businesses were forced to close.
During a meeting at Central Disaster Safety Response Headquarters on March 30, South Korean Prime Minister Chung Sye-kyun requested to "pay exceptional attention towards young overseas students so that they do not violate guidelines and recommendations."
"I do understand people criticizing those who are not taking the necessary measures advised by the government," said Lee. "But I don't think people should criticize everyone, because there are many people following orders and self-quarantining for two weeks."
Said Jeong of Sungshin University, "It's disheartening, because many of us came without a choice. This was a difficult decision for a lot of students. We have families and are possibly even more worried about the virus because a lot of us are coming from high-risk countries. … I wish that people wouldn't jump to conclusions and automatically bad-mouth all of the students coming back home."

See all News Updates of the Day
Proposal Would Remove Student Aid for Those Who Support Some Palestinian Groups
A Florida lawmaker has proposed eliminating scholarships, tuition breaks and fee waivers for students who are suspected of "promoting terrorist organizations."
According to WOKV television, the bill appears to be in line with Florida efforts to disband pro-Palestinian groups on college campuses. (November 2023)
International College Student Enrollment in US Soars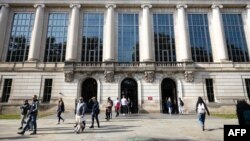 International student enrollment at U.S. schools has bounded back from pandemic lows, Forbes reports. It increased 12% in 2022-23, the fastest growth rate in more than 40 years. Read the full story here. (November 2023)
US Lawmakers Grill University Presidents About On-Campus Antisemitism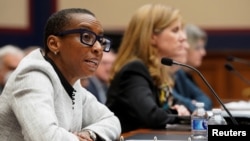 The presidents of Harvard, the University of Pennsylvania, and the Massachusetts Institute of Technology were questioned by House lawmakers on Tuesday over whether their administrations are doing enough to combat the wave of antisemitism that has swept their campuses as the Israel-Hamas war rages.
Republican Representative Virginia Foxx said the three presidents were called to testify because "we heard in particular that the most egregious situations have occurred on these campuses."
Claudine Gay, president of Harvard University, faced particularly difficult lines of questioning from congressional Republicans, including one fraught exchange with Representative Elise Stefanik, who demanded that Gay resign.
Stefanik, a Harvard alumnus herself, grilled Gay over whether the university would rescind admission offers to students who support Hamas' murderous beliefs.
Gay pushed back, saying she would not commit to punishing students simply for expressing their views, even if she finds them "personally abhorrent," apparently reversing university policy.
In 2017, Harvard reneged on admission offers for 10 would-be students after it came out that they circulated racist memes in a group chat.
The theme of Gay's testimony was her dual commitment to "combating hate while preserving free expression."
Gay said her administration would only punish "hateful, reckless, offensive speech" when it crosses the line into physical violence or targeted harassment.
Foxx, the panel's chair, railed against Gay and the other university leaders, claiming that "institutional antisemitism and hate are among the poisoned fruits of your institutions' cultures."
Republican lawmakers repeatedly criticized progressivism and tied it to antisemitism in higher education.
All three university presidents outlined their strategies for ensuring student safety and open discourse on the Israel-Hamas war.
"As an American, as a Jew, and as a human being, I abhor antisemitism. And my administration is combating it actively," Sally Kornbluth, president of MIT, said, adding that "problematic speech needs to be countered with other speech and education."
Kornbluth said free speech that promotes harassment or incites violence is not protected by the university, but those who try to shut down campus protests are essentially advocating for unworkable "speech codes."
Harvard and UPenn have struggled. Both schools found themselves under investigation by the Department of Education over complaints of antisemitism on campus.
"This is difficult work, and I know I have not always gotten it right," Gay said of her efforts to promote free speech and inclusion. She noted the difficulty of balancing the concerns of different groups, including Harvard's Muslim community, which Gay noted faces the threat of rising Islamophobia.
"During these difficult days, I have felt the bonds of our community strained," Gay told lawmakers.
UPenn President M. Elizabeth Magill came under fire for the Palestine Writes Festival, an event hosted at her university in September that was a flashpoint of antisemitism, according to a complaint submitted to the Department of Education.
Magill condemned antisemitic rhetoric at the festival but maintained that measures had been instituted to ensure student safety.
The presidents made clear to the Republican-run House Committee on Education and the Workforce that their schools have taken steps to prevent harassment and bullying, including public announcements.
The president of Columbia was invited but did not attend, citing a scheduling conflict, Foxx's office said.
November polling by the Anti-Defamation League and Hillel found that, since Oct. 7, 46% of Jewish students felt safe at their colleges, a marked drop from 67% before the war. Students across the nation said they were wary of walking around their campuses wearing a Star of David necklace, kippah or other emblems of Judaism.

In late October, an upperclassman at Cornell was taken into federal custody after allegedly making online posts promising to kill any and every Jew he saw on campus.

The Council on American-Islamic Relations and other advocacy groups reported that hate crimes against Muslim students were also on the rise.

Last month, a white man allegedly shot three Palestinian American college students in Burlington, Vermont. And, at Stanford, an Arab student was struck in a hit-and-run as the driver shouted, "F— you people!" according to witnesses.
Pro-Palestinian protesters have been doxxed — their names and pictures paraded around their campuses on mobile billboard trucks — in what activists say are attempts to intimidate them into silence.
China the No. 1 Country Sending Students to US, Data Show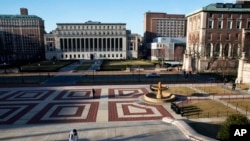 China, India and South Korea sent the most students to the U.S. in 2023, according to Open Doors 2023 Report on International Educational Exchange. Open Doors is sponsored by the U.S. Department of State.
Among other things, the report broke down the schools with the largest number of international students. New York University took the top spot, with Northeastern University, Columbia University, Arizona State University and the University of Southern California rounding out the top five. Get the stats here. (November 2023)
International Students Boosted US Economy by $40 Billion in 2022-23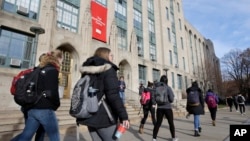 In the 2022-23 academic year, more than 1 million international students were in the U.S., and they contributed more than $40 billion to the U.S. economy, Forbes reports.
That figure's up 19% from the previous academic year, according to NAFSA: Association for International Educators.
Read the full story here. (November 2023)