Student Union
South Korean Students Flock Back Home
As the COVID-19 pandemic expands in countries popular for studying abroad, over 100,000 South Korean students overseas are racing back home.
South Korea has received an influx of overseas Koreans, mostly students, in the past weeks, as most universities convert to online classes, and borders lock down amid the global pandemic.
"The main reason I decided to come back was because I didn't have the health care or the money to cover the costs of testing or treatment if I ended up contracting the virus," said Heasu Lee, a senior at George Mason University in Virginia.
South Korea is similar in size to New York state and is just reaching 9,800 confirmed cases in the entire nation, while New York has over 67,000 confirmed cases and more than 1,300 deaths within a few days.
South Korea's health authorities said they will ban incoming passengers with temperatures higher than 37.5 Celsius. Beginning April 1, the country will enforce a two-week self-isolation period for all overseas arrivals, whether they have symptoms or not.
Closures cause alarm
Along with worrying about protection and health care as foreigners, some students noticed an increase in panic and change in policies in countries hard hit with COVID-19, fueling their decision to return to Korea.
Jaeyi Jeong, a junior at Sungshin University in Seoul, studied in Aschaffenburg, Germany, for one year.
"I went to Germany as an exchange student to interact with people, take classes in a different country and experience a new country and culture. But once Germany began implementing stricter policies and shutting down schools, the reason as to why I went to Germany vanished," Jeong said.
She said she was shocked when all 16 states in Germany closed schools and day care centers until April 20. She first thought it would not affect her area because it was a remote region.
"I wasn't even in a big city like Berlin. I was in a small city on the outskirts of Frankfurt. But once I began hearing that there were cases there, I began to get anxious," she said.
Looking Asian brings anxiety
Jeong said she also experienced racism.
"I would probably experience racism like five times a day," she said. "Hearing, 'You're corona. Go back to China,' and 'Do you know how to even speak German?' would be the norm. Some would even stop in their tracks once they saw me, cover their mouths, or even run away. I thought to myself, 'I shouldn't have to stay here experiencing this and not be able to go to school.'" With a sudden demand for international flights to South Korea, students faced airline cancellations or inflated fares.
"I was desperate to leave within March because I thought this was the only way to leave within a reasonable price range," said Jeong.
Students who managed to score nonstop flights, however, did not report a comfortable ride.
"I went to the airport with a N95 mask and gloves and didn't take them off the entire 14-hour flight," said Lee of George Mason University. "I tried to go to the bathroom as little as possible and only ate one in-flight meal because I was so anxious during the ride."
Sheltering in place
There are also students who have decided to stay put for a little longer.
Saeyeon Kwon, a junior at George Mason University, said she is worried about being in the United States as a foreigner but decided to stay until the end of the semester.
"My parents and I decided that it's equally dangerous in the United States and in South Korea. There are a lot of cases where I live in South Korea, too, so we just decided it would be safer for me to stay put during this time," said Kwon.
She would have to readjust her schedule to U.S. time for online classes, she said, which was another reason she decided to stay in the United States.
Blame and shame
As thousands of students pour into South Korea, the country has seen a rise in new COVID-19 cases, for which the students are being blamed. Critics blame the students.
"Overseas student phobia," a phrase coined by several Korean news outlets, grew after a student traveling from the United States violated quarantine recommendations and went on a five-day trip to Jeju Island with her mother, despite having symptoms.
Ninety-six people who were in contact with them were forced into isolation. Over 20 businesses were forced to close.
During a meeting at Central Disaster Safety Response Headquarters on March 30, South Korean Prime Minister Chung Sye-kyun requested to "pay exceptional attention towards young overseas students so that they do not violate guidelines and recommendations."
"I do understand people criticizing those who are not taking the necessary measures advised by the government," said Lee. "But I don't think people should criticize everyone, because there are many people following orders and self-quarantining for two weeks."
Said Jeong of Sungshin University, "It's disheartening, because many of us came without a choice. This was a difficult decision for a lot of students. We have families and are possibly even more worried about the virus because a lot of us are coming from high-risk countries. … I wish that people wouldn't jump to conclusions and automatically bad-mouth all of the students coming back home."

See all News Updates of the Day
Grad Student from Pakistan Reflects on New Life in US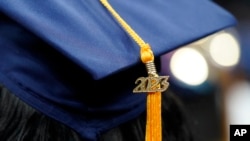 Aisha Lakhani, a graduate student at Anna Maria College, talks about the path that led her from Pakistan to the school in Paxton, Massachusetts.
She's studying counseling psychology and working with students as a residential specialist, a role in which she creates events and supports students. She talks about her experiences here. (September 2023)
Test-Optional Admissions Could Worsen Inequality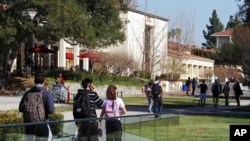 Many colleges no longer require admissions tests like the SAT. They say the tests don't meaningfully measure intelligence and are easily gamed by wealthier or more privileged students. However, it seems wealthy students are still taking the tests, while poorer ones are forgoing them. Since the tests are still weighed in admissions, the result may be an even larger admissions gap. Maggie Bigelow argues for getting rid of the tests altogether in The Hechinger Report. (August 2023)
By the Numbers, College Is Still Worth It
Writing in the Baltimore Sun, Jay A. Perman, chancellor of the University of Maryland system, says that despite falling enrollments and public trust in universities, graduates still earn more, live longer and happier lives, and even volunteer more often.
Read the op-ed here. (September 2023)
Should We Rethink the College Syllabus?
Syllabi used to be an intellectual map, showing students what they could expect to learn. But academic and video game designer Ian Bogost argues that syllabi have become boring, rote and describe college policies and regulations instead of academic material. Read his argument in The Atlantic. (August 2023)
International Students Detail US Workplace Culture Shocks
International students at Michigan State University talk about workplace culture shocks in the U.S.
Sophomore Shreshta Sinha of India, who's studying computational and cognitive neuroscience, says that unlike India, the U.S. tends to stress work over education.
Read the full story here. (September 2023)