Student Union
Students Miss Milestones, But Learn to Adapt
Yes, it's a pandemic, and, yes, it certainly is better to be safe than sorry, but nonetheless, college students are lamenting the loss of major milestones — like starting college, moving on campus, celebrating turning 18 or 21 with friends, and graduation — interrupted by COVID, they say.

"I couldn't move into American University, haven't moved to a new country, haven't met my friends," said Lexi Adler of Toronto, an incoming freshman at American University in Washington, D.C., who is waiting it out at home with her parents in Canada for now.
As classes continue online during the COVID-19 pandemic, many students say they didn't expect to start with online classes and miss out on the physical, social and cultural experience.

Aashka Raval, a sophomore at the University of Cincinnati from Gujarat, India, is living in an apartment off-campus this semester, studying what educators are calling a blended learning system of mostly online and some classes in person.

Most years, the first weeks of school at the University of Cincinnati are "so much fun, a lot of welcome week events, you get a lot of free stuff, it is like a fresh start every year" Raval said.

Lexi Adler and her family decided it was best to defer and start school in the spring semester after American announced the fall semester would be all online.

"My parents said, 'no way,'" about coming to Washington, "... they were against it since June because of COVID," Adler said.

Her high school prom was canceled, and she had to forego a backpacking trip through Europe this summer.

Last spring, she'd been looking forward to graduation from Branksome Hall in Toronto, where her sister graduated five years ago in a memorable ceremony. But this year for her graduation, ceremonies were 100% virtual.

"I had a whole plan to walk down the aisle with my best friend and wear my white dress," Adler told Voice of America through a messaging interview. She said she felt "like I was robbed," she said.
At home in Toronto, she volunteers at Autism Speaks Canada. Hoping the pandemic situation in the U.S will improve so she can move to nation's capital and start college in January, she said she "missed everything about AU."

Raval had a very different experience than Lexi last year when her sophomore year at the University of Cincinnati was cut short and her summer plans changed.

She had hoped to get her first internship off-campus in the field of computer science and visit her family in India over the summer.

"Every summer, international students usually are only able to work or intern on campus so summer is when we can seek out our own internships off-campus," Raval said.

But everything moved online, and some companies couldn't offer summer internships to students like they had in previous years because of the coronavirus. Raval was unable to have the internship experience she had been expecting.

Meklit Shiferaw is from Ethiopia and a freshman in her second semester at Minnesota State University-Mankato. She moved to the U.S to start her first semester of college in January 2020, but she was unable to enjoy a lot of the experiences associated with the first semester of college.

In an email interview, Shiferaw told Voice of America that she had missed out on "in-person class, different in-person activities, in-person lab sessions, and a birthday party."

Failing to enjoy all of these important events, Shiferaw said she "feels like I am missing the fun part" that she expected when she came to school in the U.S.
Shiferaw said she learned that she needs "to be strong and shape myself according to the system."

Adler said she has become "more grateful for my life before COVID."

And Raval said she learned to adapt and be able to "work on more personal projects, little courses online and things I always wanted to read about."
See all News Updates of the Day
What Does 'Gen P' Want as It Starts College?
"Gen P," the cohort of students who went online for much of the pandemic, demands more in-person experiences and high-quality digital ones.
Colleges across the country are adjusting their orientation programs as a result. Read more from Colleen Flaherty of Inside Higher Ed. (September 2023)
Grad Student from Pakistan Reflects on New Life in US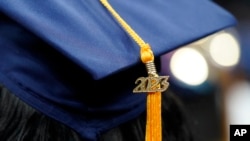 Aisha Lakhani, a graduate student at Anna Maria College, talks about the path that led her from Pakistan to the school in Paxton, Massachusetts.
She's studying counseling psychology and working with students as a residential specialist, a role in which she creates events and supports students. She talks about her experiences here. (September 2023)
Test-Optional Admissions Could Worsen Inequality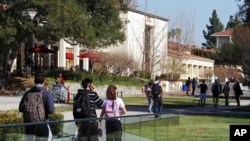 Many colleges no longer require admissions tests like the SAT. They say the tests don't meaningfully measure intelligence and are easily gamed by wealthier or more privileged students. However, it seems wealthy students are still taking the tests, while poorer ones are forgoing them. Since the tests are still weighed in admissions, the result may be an even larger admissions gap. Maggie Bigelow argues for getting rid of the tests altogether in The Hechinger Report. (August 2023)
By the Numbers, College Is Still Worth It
Writing in the Baltimore Sun, Jay A. Perman, chancellor of the University of Maryland system, says that despite falling enrollments and public trust in universities, graduates still earn more, live longer and happier lives, and even volunteer more often.
Read the op-ed here. (September 2023)
Should We Rethink the College Syllabus?
Syllabi used to be an intellectual map, showing students what they could expect to learn. But academic and video game designer Ian Bogost argues that syllabi have become boring, rote and describe college policies and regulations instead of academic material. Read his argument in The Atlantic. (August 2023)