Student Union
Tibetan Teens Reportedly Jailed for Breaking WeChat Ban 
Three Tibetan teenagers are missing and one is hospitalized with two broken legs after reportedly failing to register a WeChat text group chat with local authorities, according to a Tibetan advocacy group.
The teens, who have been named as Dadul, Sangye Tso and Kansi, live in the eastern area of Tibet governed as the Qinghai Province of China, according to Tibet Watch, a British charity that documents human rights abuses in Tibet.
Images show a male teenager alleged to be Dadul in a Xining, China hospital with his legs in splints, over 1,000 kilometers away from his hometown of Kyegudo. Tibet Watch told VOA the teenagers were arrested February 17, and were unable to say where Kansi and Sangye Tso were. Chinese authorities have not commented on the matter.
Occupied by China since 1959, Tibet requires citizens to register all group chats with local authorities so text conversations may be monitored.
The three teens are said to have started a WeChat group named White Rocky Mountain Club, a reference to a local Buddhist deity. The group chat was created to mark the Tibetan new year, which ran from February 12-14. The group had around 240 members, according to Tibet Watch.
"These young people have been brutalized for exercising a right that most of them take for granted on a daily basis," said John Jones, campaigns and advocacy manager at Free Tibet, a UK non-profit aiming to end China's occupation of Tibet that works with Tibet Watch. "I'd ask everyone to imagine if they had to invite a government official to every one of their chat groups or face imprisonment and broken limbs."
"Next week, 10th March, marks Tibetan Uprising Day, the anniversary of the brutally put-down resistance to the Chinese occupation of Tibet in 1959," Jones said. "We call on every government around the world to take concrete action to remind the Chinese Communist Party that, try as they might to hide their atrocities, we have not forgotten the Tibetan people."
Tibet Watch alleges that Dadul's family was summoned by police to the hospital where he is being treated, and asked to bring approximately $6,000, to pay for Dadul's surgery. Authorities told the family to keep these affairs secret, according to Tibet Watch's source.
"We are aware of reports that several Tibetan teenagers in Qinghai province were detained and beaten by police for participating in a WeChat group," according to a Department of State spokesperson in an email. "We are concerned by continued reports that Tibetans are detained, imprisoned, and mistreated for infractions as minor as sending text messages."

The spokesperson noted "repeated reports of abuse of Tibetan prisoners by People's Republic of China security officials," citing Tenzin Nyima, 19, who died in detention in January, and Kunchock Jinpa, a tour guide who died in January while serving a 21-year sentence for protesting.
The cases "further illustrate that the abuse of Tibetans does not stop at being arrested," the spokesperson stated.
"The United States stands with the many Tibetans oppressed and imprisoned by the PRC for the peaceful exercise of their human rights," the spokesperson stated. "We urge PRC authorities to respect the human rights and fundamental freedoms enshrined in the Universal Declaration of Human Rights."
Tibet has been under the control of China since 1959, when the country was annexed and its ethnic government and leadership dissolved. Tibetan leaders and others have demanded that China extract itself from the Tibetan Autonomous Region and return its leadership to Tibetans.
The U.S. Department of States cites "reports of forced disappearances, arrests, torture, physical abuse, including sexual abuse, and prolonged detentions without trial of individuals due to their religious practices," by the Chinese.
Cindy Saine contributed to this report.
See all News Updates of the Day
Will College Affirmative Action Survive in US?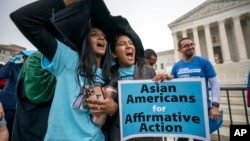 Colleges and universities are allowed to give underrepresented minorities a boost when applying. But later this month, the U.S. Supreme Court is widely expected to ban colleges from considering race in admissions. How will the schools respond? Read this story from Dan Friedell of VOA Learning English, adapted from a piece by Reuters. (June 2023)
Psychologists at Virginia University Aim to Make International Students Feel at Home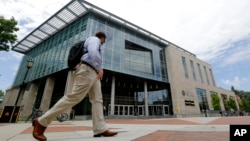 Virginia Commonwealth University has two staff psychologists specializing in intercultural issues. Their mission? To help international students adjust to life in the U.S. as seamlessly as possible. Read the full story here. (June 2023)
Are Declining Enrollments in the US a Hidden Opportunity for Students Abroad?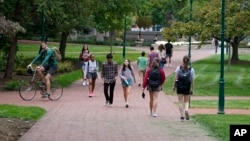 Allen Goodman, CEO of the Institute for Higher Education, writes that empty seats at U.S. colleges could drive a boom in international education. The U.S. has lost market share among host countries, but unlike its competitors, its university system is so large and underutilized that it could easily recruit more students. Because international students become "friends for life" with the U.S., and bring valuable expertise (and tuition dollars), Goodman argues the U.S. should recruit 2 million students by the end of the decade.
Weigh his argument for yourself in Times Higher Education. (May 2023)
What Could a Bitter Lawsuit Tell Us About International Education in the US?
In 2010, the University of South Florida signed a 30-year contract with INTO, a company that provides support services for international students. INTO built a "pathway program" at the university that taught students English and basic academic skills before they began their higher-education degrees. But after years of enrollment declines, the university ended the contract, and now both parties are fighting an "acrimonious" court case. The news comes as many of INTO's programs at other schools are being shuttered. While management and financial issues may play a role, so does the post-pandemic educational landscape: pathway programs can now be easily offered online.
Liam Knox of Inside Higher Ed has more. (May 2023)
Croatian Student Earning Simultaneous Ph.D.s in US, Croatia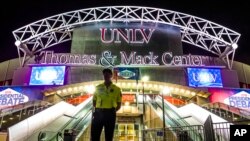 A Croatian student is earning two Ph.D.s simultaneously, one in Croatia and one at the University of Nevada, Las Vegas.
Borna Nemet spends his days at UNLV studying educational leadership and effectiveness. At night, he uses Zoom to teach students at the University of Zagreb in Croatia. Read the full story here. (May 2023)