Student Union
Toughest Workout During COVID? Staying Motivated
Hannah Gjerde starts her day at her hot-mat yoga class on the front lawn of her parent's home, right before settling onto the couch for the rest of the day.
"Being home makes it hard because my dad will be in the kitchen working, or it's too crowded in my room to do it," says Gjerde.
Because of the COVID-19 pandemic, many gyms have been deemed non-essential businesses and are not allowed to open. Closing fitness centers has created a sedentary lifestyle for many people.
So more people are moving their fitness routines online.
Gjerde, a Californian, also uses the backyard for her workout space, completing workouts online with an instructor at her usual yoga studio. Gyms and gym-goers alike are finding innovative ways to keep moving while practicing social distancing to thwart the spread of the coronavirus.
In a pre-pandemic world, Yo Dinh, who works in investments in Australia, found that the most effective way to get himself to work out was to invest in a personal trainer.
YouTube videos just weren't enough, he says.
"I didn't really push myself. You know, it's that barrier," he says.
That's when the idea behind his website Avatar PT was born. It started as a private project where he and his personal trainers had a platform to connect and virtually work out together.
"I actually started with one person from the Philippines, and then now I've actually gotten a guy from Bulgaria and another guy from Serbia as well," Dinh says.
From all over the world, they could still connect.
After the coronavirus outbreak, Australia restricted public gatherings of more than two people. The thought occurred that "maybe other people might be interested in working at home as well. And then that's when I shared it to other people," he says.
"And now I've got my brother and my brother's friends, my housemates, other people doing it with me as well."
For Dinh, it's not about the profit.
"It's free at the moment. I just said it's free until the end of April to see if anyone's interested," says Dinh.
On the other side of the globe, Mark Harrington, the president of the four Healthwork Fitness centers in the Greater Boston area, is taking advantage rather than lamenting COVID closures in the U.S.
He says Healthworks corporate team is "launching stuff and iterating hourly," he says, to help customers adapt to exercising remotely. The fitness centers offer free and paid programs through their Instagram Live.
"I think a lot of people want to try it before they buy it," he says.
To stay motivated, he said, "the best thing to do is get one of your friends to do it, too. Even though you're not together, you're both holding each other accountable to doing it."
Jeanette Thong, also a private trainer based in Singapore, first got into fitness when she started experiencing back pain and weight gain from sitting at a desk all day at her office job.
But since the outbreak, her standards for her workout achievements have decreased.
"Right now, it's more of maintenance of what I have," she says.
Singapore was one of the first countries to respond to the COVID-19 outbreak and maintains a lockdown lite compared to other countries.
Although restrictions have been easing up in the city-state, she says that Singapore has experienced a "mini lockdown" for a while. "It has been more mentally draining than anything else," says Thong.
She acknowledges that working out from home can be a challenge now, but a sedentary lifestyle should be far from acceptable.
"It's really important for people to remember to move and try to keep active the best they can. It will also help mentally. It is okay to also not want to do anything, but it's important to at least try."
In California, Gjerde continues to do yoga on her front lawn. A high school English teacher in Rancho Cucamonga who has played soccer since she was 4, she says she keeps up with her yoga.
"That's all I do. I teach and I work out," she says.
Since the quarantine, Gjerde, too, has found it difficult to find the motivation to work out.
"I'm not doing as much as I was, but I'm trying. [...] I'm way less likely to stick it out. Usually I'm competing with the girl next to me, in my head," she says. Now, "there's no one to hold me accountable."
One of the biggest ways Gjerde manages to complete her workout is to keep in mind her goals.
"When this is over, I do want to look super good when I go to the beach [...]. Set your intention, and when you hit the hard spot in class, go back to that intention."
See all News Updates of the Day
Despite Challenges, Afghan Refugee Students in the US Are Thriving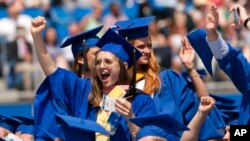 Two years after the Taliban took Kabul, Karin Fischer of the Chronicle of Higher Education profiles a group of Afghan women at the University of Delaware who fled Kabul.
After learning English, mastering U.S. cultural norms and surviving the trauma of separation from their families, these students are now mentoring other new arrivals. (August 2023)
Know the Details, and Risks, of Student Loans
After School Africa takes a look at student loans and international students.
"Normally, many people do not like the idea of loans, and it is not the first option in the minds of many people," the article notes. "However, student loans can be the only option for some students who want to actualize their goals."
Read about the various types of student loans, and their potential risks, here. (August 2023)
Want an MBA from a US School? Here's How One Man Made It from Indonesia to Wharton
A student from Indonesia writes about his path to studying for an MBA at the Wharton School of the University of Pennsylvania. Among his suggestions: apply to a range of schools and craft a compelling personal essay. Read more here. (August 2023)
Academic Integrity in the US: What International Students Need to Know
International students have many things to learn about the U.S. when they arrive on American campuses. U.S. News & World Report delves into a less-common topic: academic integrity.
The magazine explores basic expectations at many U.S. schools, including how to use quotes and citations in papers, how to avoid plagiarism and navigating artificial intelligence pitfalls.
Read the full story here. (August 2023)
Chinese Interest Grows for US Study Tours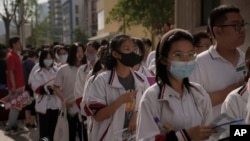 A surge in inquiries from China for overseas study tours to the U.S. suggests that parents of children from primary to high school are willing to pay the big money so their offspring can have an American classroom experience during their summer vacations.
Yvonne Shi, director of Offer Education Consulting in El Monte, California, said study tours offer children authentic American courses, the experience of living with American families or in school dormitories, a variety of extracurricular activities, English classes and visits to schools where they could enroll full time.
Shi told VOA Mandarin that this year, despite the simmering tension between Beijing and Washington, "the number of inquiries we got has increased exponentially compared with that during the pandemic."
She added, "We have also noticed that the age of the children studying abroad is getting younger. In the past, the main market for study tours was in high schools, and in recent years, it has gone into junior high schools and even elementary schools."
Shi and others who help Chinese parents to plan overseas study tours said most of the children are sent to study abroad so that they can experience the education methods and systems in the U.S. to broaden their horizons. Some parents hope the summer experience will serve as the first step to future full-time studies in the U.S.
For other parents, the consultants said, summer tours that focus on athletics are a bigger draw than academics. The athletic programs are designed to expose children to different training techniques than they might have in China and improve their skills.
The tours offer opportunities to play with local sports teams at professional venues. But as is true of the academic tours, the athletic tours usually include visits to a school where the children could enroll full time.
Unless the children enroll in courses for credit, which would require a student visa, the children come to the U.S. on tourist visas, according to the consultants, and return from both types of tours with improved English language skills.
Faith Li is a mother from Hangzhou, in China's Zhejiang Province. She decided to send her son, Caleb Lu, to an American high school after he participated in a summer program at San Gabriel Christian School in San Gabriel, California, in 2016.
Today, the school's website offers information for international students who want to enroll fulltime with a tuition of $24,750 plus fees as, well as information about the 2024 summer program.
"I [was] really not interested in the education methods in China," Li told VOA Mandarin. "When my son was a child, he went to an elementary school with a good reputation. The class was overcrowded, with more than 40 students in one class, and we had to give the teachers red envelopes with money on various holidays.
"Sometimes, at parent-teacher meetings, the teachers were not direct with what they meant, and you would have to guess what they really wanted to say. … The school's education method was not diverse, just like cram-feeding. They only evaluate students with test scores," she said.
Now, Lu is enrolled at Pacific Union College, a private liberal arts college in Angwin, California. He's pursuing a double major in pharmacology and business at the school, which is affiliated with the Seventh-day Adventist Church. He wants to pursue a doctorate in pharmacology from nearby Loma Linda University, which is affiliated with the same Christian group.
Li said, "We made a plan for him to study in the U.S. in 2016. Because only private schools in the U.S. could issue F1 visas, we applied for a private high school."
After Pacific Union College accepted Lu, Li said she and her husband moved to the U.S., where the family attends church every week.
Lu said that the education methods and learning environments in the U.S. are very different from what he experienced in Hangzhou, where he attended primary school before coming to the United States to attend high school and college.
"In China, when teachers teach, there is only one correct answer, which is what the teachers tell you," he told VOA Mandarin.
"In the U.S., we can have free discussions," he said. "Usually, my classmates and I will read articles together and have group discussions, and everyone will have the right to speak.
"Even when the teachers are teaching, we can ask questions, and the teachers encourage us to actively participate in class discussions to find answers," Lu said.