Student Union
US Anti-Gun Violence Youth Group Issues Manifesto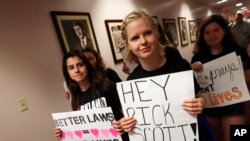 March for Our Lives, an anti-gun violence youth group that formed after a mass shooting at a Parkland, Florida high school last year, has published a six-point manifesto urging politicians to control what the group calls "a national public health emergency."
Citing a daily toll of 100 lives lost to shootings, the group said, "Gun violence is destroying our generation."
The incident at Marjory Stoneman Douglas High School on Feb. 14, 2018, left 17 people dead and several others wounded.
"We believe it's time for a 'Peace Plan for a Safer America,'" the group wrote, describing the report's title. "The next President must act with a fierce urgency to call this crisis what it is: a national public health emergency. They must acknowledge that the level of gun violence in the U.S. is unprecedented for a developed nation — and only bold, new solutions can move the needle on the rates of gun injuries and deaths."
The document asks that national leadership heed six "bold" steps:
Change the standards of gun ownership
Halve the rate of gun deaths in 10 years
Accountability for the gun lobby and industry
Name a director of gun violence prevention
Generate community-based solutions
Empower the next generation
The first letter of each bullet point spells the word "change."
"Among young people, gun violence has become a top cause of death, second only to drug overdoses," the report stated. "It has many root causes, including hate, poverty, and despair."
The group proposes a national licensing and registry system, a ban on assault weapons, high-capacity magazines and "other weapons of war," policies to disarm gun owners who pose a risk to themselves or others, and a national gun buy-back program "to reduce the estimated 265-393 million firearms in circulation by at least 30%."
The National Rifle Association (NRA), the largest gun rights advocacy group based in the United States, has been called one of the top three most powerful lobbying groups in the United States. An estimated 5 million people belong to the NRA.
"The gun control community is finally being marginally honest about their true wish list," wrote Amy Hunter, NRA media liaison, in an email. "The simple fact remains their proposals and ideas are out of the mainstream and most people will understand their real intent goes beyond what they publicly state."
Gun rights advocates cite the right to bear arms guaranteed by the Second Amendment of the U.S. Constitution. Gun ownership is a politically divisive issue in the United States.
The minimum age to possess a gun should be 21, March for Our Lives said, as it called for gun purchases to be limited to one firearm a month.
"Mobilize an urgent and comprehensive federal response: declare a national emergency around gun violence and announce an audacious goal to reduce gun injuries and deaths by 50% in 10 years," March for Our Lives wrote.
The group proposed that the president name a director of gun violence prevention whose mandate would be to "empower existing federal agencies ... that have all been structurally weakened by the gun lobby," naming those agencies as the Bureau of Alcohol, Tobacco, Firearms and Explosives (ATF), the Department of Health and Human Services (HHS), and the Centers for Disease Control and Prevention (CDC).
The group also called for community-based solutions, such as programs to reduce urban, domestic and police violence as well as suicide while targeting mental and behavioral health. The proposal includes automatic voter registration for 18-year-olds and the creation of a Safety Corps, or Peace Corps for violence prevention. The latter would be a federal program for 16- to 25-year-olds to "unlock the power of young people to bolster civic infrastructure."
The report does not focus only on the kind of mass shootings that led to the creation of March for Our Lives, but includes national gun violence, particularly in urban centers.
"We cannot talk about gun violence in communities without talking about our national challenges with police violence," the report stated.
"Officer-involved shootings are now a leading cause of death for young American men. While police violence both contributes to, and is influenced by, weak gun laws, we also need structural reforms that directly produce better policing."
The nine-page report was anchored by 81 citations from universities, media, medical studies, legal groups and nonprofits focused on decreasing gun violence.
Federal leadership "must recognize that gun violence has many faces in our communities, from rural suicides to intimate partner violence to urban youth violence to violence driven by white supremacist ideologies.
And they must commit to holding an unpatriotic gun lobby and gun industry accountable not just for weakening our nation's gun laws, but also for illegal behavior in self-dealing that offends and contradicts America's vast majority of responsible gun owners," it said.
See all News Updates of the Day
What Could a Bitter Lawsuit Tell Us About International Education in the US?
In 2010, the University of South Florida signed a 30-year contract with INTO, a company that provides support services for international students. INTO built a "pathway program" at the university that taught students English and basic academic skills before they began their higher-education degrees. But after years of enrollment declines, the university ended the contract, and now both parties are fighting an "acrimonious" court case. The news comes as many of INTO's programs at other schools are being shuttered. While management and financial issues may play a role, so does the post-pandemic educational landscape: pathway programs can now be easily offered online.
Liam Knox of Inside Higher Ed has more. (May 2023)
Croatian Student Earning Simultaneous Ph.D.s in US, Croatia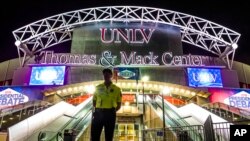 A Croatian student is earning two Ph.D.s simultaneously, one in Croatia and one at the University of Nevada, Las Vegas.
Borna Nemet spends his days at UNLV studying educational leadership and effectiveness. At night, he uses Zoom to teach students at the University of Zagreb in Croatia. Read the full story here. (May 2023)
It's Graduation Season – Who Might Speak at Yours?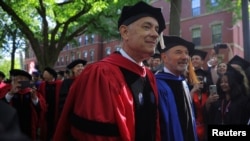 U.S. graduation ceremonies usually feature a public figure who offers advice to young people starting their careers. This spring, graduates have heard from President Joe Biden, actor Tom Hanks, Nobel Peace Prize winner Maria Ressa and even Ukrainian President Volodymyr Zelenskyy. Finnish Prime Minister Sanna Marin, who became the youngest prime minister in the world at age 34, told her audience that change cannot wait, even at their age. "To change things," she said, "you have to take over."
Read the story from Dan Friedell of VOA Learning English. (May 2023)
What Did Justin, a Golden Retriever Mix, Do to Earn a Diploma?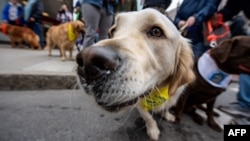 Justin is a service dog and accompanied his owner (who graduated with honors) to every single class for four years. The student's university honored the dog's hard work with his very own diploma, which he accepted, tail wagging, in front a cheering stadium of other graduates.
See Justin's walk across the stage in this story from Bill Chappell of NPR. (May 2023)
What Are US Diplomats Doing to Further International Education?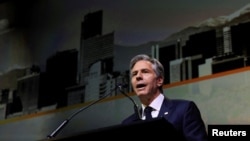 U.S. Secretary of State Antony Blinken touted his department's achievements in a recent address to NAFSA: Association of International Educators. The State Department has relaxed student visa and study abroad requirements. In fact, it issued over a half-million student visas last year – the highest number in five years. Blinken, who spent part of his childhood in France, thanked educators for "helping us to see the world through another's eyes."
Watch his remarks in this press release from the State Department. (May 2023)