Student Union
US Universities Roll Out COVID Spit Tests
A recently approved rapid saliva test for COVID-19 is already being used on college campuses across the United States.
Also called spit tests, they produce results in less than 24 hours, cost about $10, and are less invasive than the standard swab that is placed deep into the nose.
Yale University School of Public Health in Connecticut partnered with the National Basketball Association (NBA) and the National Basketball Players Association in June, the school said, to devise the test, called SalivaDirect.
"Direct saliva testing can address bottlenecks of time, cost and supplies," said Dr. Martin Burke, a chemistry professor who helped design a saliva test at the University of Illinois in collaboration with Yale University.
"Once somebody is infected, the amount of virus in their system can rise very rapidly. Unless we have a test that can give them results very quickly, by the time somebody finds out they are infected, they will have spread the virus," said Rebecca Lee Smith, a professor of pathobiology on the Illinois University website.
"The faster we can notify people, the faster we can stop the spread," Smith said.
At the University of South Carolina, officials say they will test thousands of students and employees daily for COVID-19, with no limit on frequency. The simpler test is advised for those without symptoms. Those with flu-like symptoms like fever are advised to get a nasal swab test.
Colleges and universities across the U.S. have grappled with how to teach classes during the COVID-19 pandemic. Infected younger people have been less impacted by the virus than older people but are seen as asymptomatic spreaders.
Now that the fall semester for many U.S. schools is under way, school officials are seeking ways to manage the spread of infection while maintaining curriculum. While many initially said they would bring students back to campus for classes, and many students have moved back to their college towns, more and more are going to online-only programs.
Contributing to the academic effort to control the pandemic, Davidson College in North Carolina created the College Crisis Initiative, which tracks coronavirus cases, university responses, and subsequent innovation.
Of nearly 3,000 colleges and universities in the U.S., 784 are conducting classes primarily online, 584 are primarily in person, 460 are a hybrid or combination of the two, and 718 remain undecided, according to Davidson.

See all News Updates of the Day
Are Declining Enrollments in the US a Hidden Opportunity for Students Abroad?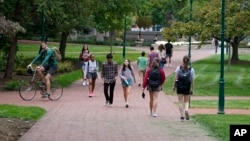 Allen Goodman, CEO of the Institute for Higher Education, writes that empty seats at U.S. colleges could drive a boom in international education. The U.S. has lost market share among host countries, but unlike its competitors, its university system is so large and underutilized that it could easily recruit more students. Because international students become "friends for life" with the U.S., and bring valuable expertise (and tuition dollars), Goodman argues the U.S. should recruit 2 million students by the end of the decade.
Weigh his argument for yourself in Times Higher Education. (May 2023)
What Could a Bitter Lawsuit Tell Us About International Education in the US?
In 2010, the University of South Florida signed a 30-year contract with INTO, a company that provides support services for international students. INTO built a "pathway program" at the university that taught students English and basic academic skills before they began their higher-education degrees. But after years of enrollment declines, the university ended the contract, and now both parties are fighting an "acrimonious" court case. The news comes as many of INTO's programs at other schools are being shuttered. While management and financial issues may play a role, so does the post-pandemic educational landscape: pathway programs can now be easily offered online.
Liam Knox of Inside Higher Ed has more. (May 2023)
Croatian Student Earning Simultaneous Ph.D.s in US, Croatia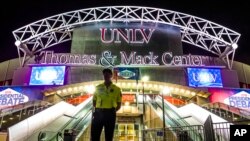 A Croatian student is earning two Ph.D.s simultaneously, one in Croatia and one at the University of Nevada, Las Vegas.
Borna Nemet spends his days at UNLV studying educational leadership and effectiveness. At night, he uses Zoom to teach students at the University of Zagreb in Croatia. Read the full story here. (May 2023)
It's Graduation Season – Who Might Speak at Yours?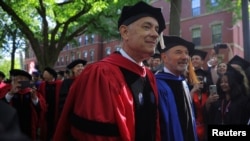 U.S. graduation ceremonies usually feature a public figure who offers advice to young people starting their careers. This spring, graduates have heard from President Joe Biden, actor Tom Hanks, Nobel Peace Prize winner Maria Ressa and even Ukrainian President Volodymyr Zelenskyy. Finnish Prime Minister Sanna Marin, who became the youngest prime minister in the world at age 34, told her audience that change cannot wait, even at their age. "To change things," she said, "you have to take over."
Read the story from Dan Friedell of VOA Learning English. (May 2023)
What Did Justin, a Golden Retriever Mix, Do to Earn a Diploma?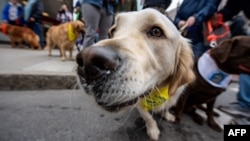 Justin is a service dog and accompanied his owner (who graduated with honors) to every single class for four years. The student's university honored the dog's hard work with his very own diploma, which he accepted, tail wagging, in front a cheering stadium of other graduates.
See Justin's walk across the stage in this story from Bill Chappell of NPR. (May 2023)