Student Union
US Universities Watching for Coronavirus
At Arizona State University, which hosts more than 13,300 international students, people are wearing face masks and petitioning the school to cancel classes after the coronavirus was diagnosed in someone at the university who had recently returned from China.
"From stores selling out of surgical masks to students calling for class cancellations, the 2019 novel coronavirus has taken ASU by storm since Sunday's announcement that a member of the community was infected with the viral illness," wrote the student newspaper, The State Press.
While a planeload of Americans flown from China to the U.S. is being held at a California airbase for three days before they will be allowed to proceed into the country — and advised to stay for 14 to ensure they are not carrying the virus — international students have been flocking back to U.S. universities for the past two weeks with no barrier to entry.
WATCH: As Coronavirus Outbreak Expands, Airlines Suspend Flights to China
Students on campuses where the virus is rumored or suspected to be present have donned surgical masks and asked officials to cancel classes, including Arizona State University. Many U.S. universities are holding their breath, monitoring students who have returned after the winter break.
At Miami University in Ohio, health officials await the results of two possible cases of the coronavirus involving students returning from China, according to the Butler County Department of Health and the university. At Texas A&M, a student who presented with flulike symptoms tested negative for coronavirus.
Meanwhile, some schools, such as ASU, have banned travel to China, where universities have robust exchange programs and satellite campuses.
At New York University, the university with the largest population of international students — nearly 20,000 — in the largest city in the country, spokesman John Beckman said staff are vigilant.
NYU's statement was similar to those of other universities with large international student populations contacted by VOA. Many universities are issuing advisories for students to seek help at the campus health center when they experience symptoms, according to email and phone calls VOA made to 10 universities for their response to the coronavirus outbreak.
"We have communicated directly with students who were from regions where travel restrictions are in effect to let us know if they are unable to return to school. We are reaching out to faculty who, our records reflect, have students in their classes who may be affected by the travel restrictions, and giving them guidance and options about how they can enable the students who may be stuck in China to participate in the class," NYU spokesman John Beckman said.
"Our health center staff has been in frequent direct contact with state and local health departments, and has been in touch with other universities' health operations, as well as following guidance from the (Centers for Disease Control and Prevention) CDC and the (World Health Organization) WHO. In line with that guidance, we have directly communicated with all the students from affected areas, advising them about the symptoms of the illness, and instructing them to go to the Health Center if they are demonstrating the symptoms," he said. "This is a time of year in which a lot of students present with respiratory illnesses, which the staff is trained and prepared to handle, so medical staff in our health center will have a heightened sensitivity to travel histories. The head of our health center also sent out a universitywide email about the virus last week, and we've established a page with information about the virus."
No federal guidelines
The U.S. has no official policy or guidance for U.S. universities on how to handle international students who may be returning from points around the globe, including China, to schools in the U.S., according to a CDC spokesperson. There are more than 1 million international students in the country, including nearly 370,000 Chinese students, according to the Institute of International Education.
The CDC "is closely monitoring an outbreak of respiratory illness caused by a novel (new) coronavirus first identified in Wuhan, Hubei Province, China," according to its website.
The WHO is expected to meet Thursday to decide if the coronavirus outbreak is a global health emergency.
And the University of Southampton in the U.K. convened an emergency study of the coronavirus outbreak, determining, "The spread of the new coronavirus is a fast-moving situation and we are closely monitoring the epidemic in order to provide further up-to-date analysis on the likely spread, including the effectiveness of the transport lockdown in Chinese cities and transmission by people returning from the Lunar New Year holiday, which has been extended to 2 February."
Two Bangladesh students who are in lockdown in Wuhan interviewed by VOA said while they were very scared, they did not want to leave in case they were infected with the coronavirus.
"It's better for me to stay in Wuhan," said Jannatun Nahar, who is studying at Huazhong University of Science and Technology. "All the good doctors are here, military doctors are here.
"If I go back, these [viruses] can be in your body and can stay in an incubation period for 14 days. In 14 days, I will already be contaminated. I think it's a very big risk for me to go home now. Better for me to stay here," Nahar said.
VOA Bangla Service contributed to this report.
See all News Updates of the Day
What Are US Diplomats Doing to Further International Education?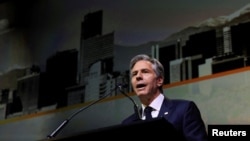 U.S. Secretary of State Antony Blinken touted his department's achievements in a recent address to NAFSA: Association of International Educators. The State Department has relaxed student visa and study abroad requirements. In fact, it issued over a half-million student visas last year – the highest number in five years. Blinken, who spent part of his childhood in France, thanked educators for "helping us to see the world through another's eyes."
Watch his remarks in this press release from the State Department. (May 2023)
Soon-to-Be Graduates Put COVID Behind Them
During the COVID-19 pandemic, learning lagged for students around the world, including the U.S., where many had access to online learning. Now these soon-to-be graduates say they are behind in certain subjects because of time missed at school. VOA's Laurel Bowman sat down with high school seniors on the cusp of graduation. Camera: Adam Greenbaum, Saqib Ul Islam.
Former US Congresswoman Liz Cheney Urges Graduates Not to Compromise With the Truth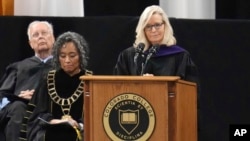 Former U.S. Congresswoman Liz Cheney implored new college graduates to not compromise when it comes to the truth, excoriating her House Republican colleagues for not doing enough to combat former President Donald Trump's lies that the 2020 election was stolen.
In a commencement speech at Colorado College, the Wyoming Republican repeated her fierce criticisms of Trump but steered clear of talking about his 2024 reelection campaign or her own political future.
Cheney, who graduated from Colorado College in 1988, recalled being a political science student walking into a campus building where a Bible verse was inscribed above the entrance that read, "Ye shall know the truth and the truth shall make you free."
"After the 2020 election and the attack of January 6th, my fellow Republicans wanted me to lie. They wanted me to say the 2020 election was stolen, the attack of January 6th wasn't a big deal, and Donald Trump wasn't dangerous," Cheney said Sunday in Colorado Springs, connecting her experiences as a student to her work in the U.S. House of Representatives. "I had to choose between lying and losing my position in House leadership."
In three terms in office, Cheney rose to the No. 3 GOP leadership position in the House, a job she lost after voting to impeach Trump for the Jan. 6, 2021, insurrection at the Capitol and then not relenting in her criticism of the former president.
Cheney's speech touched on themes similar to those she has promoted since leaving office in January: addressing her work on the House committee investigating the Jan. 6 2021 attack on the U.S. Capitol and standing up to the threat she believes Trump poses to democracy. She also encouraged more women to run for office and criticized one of the election-denying attorneys who worked for Trump after the 2020 election for recent remarks about college students voting.
"Cleta Mitchell, an election denier and adviser to former President Trump, told a gathering of Republicans recently that it is crucially important to make sure that college students don't vote," Cheney said. "Those who are trying to unravel the foundations of our republic, who are threatening the rule of law and the sanctity of our elections, know they can't succeed if you vote."
In an audio recording of Mitchell's presentation from a recent Republican National Committee retreat, she warns of polling places on college campuses and the ease of voting as potential problems, The Washington Post reported.
Most students and parents in the audience applauded throughout Cheney's remarks, yet some booed. Some students opposing the choice of Cheney as speaker turned their chairs away from the stage as she spoke.
Cheney's busy speaking schedule and subject matter have fueled speculation about whether she may enter the 2024 GOP presidential primary since she left office. Candidates ranging from Florida Gov. Ron DeSantis to former South Carolina Gov. Nikki Haley have calibrated their remarks about Trump, aiming to counter his attacks without alienating the supporters that won him the White House seven years ago.
Though some have offered measured criticisms, no declared or potential challenger has embraced anti-Trump messaging to the same extent as Cheney. She did not reference her plans on Sunday but has previously said she remains undecided about whether she wants to run for president.
Though she would face an uphill battle, Cheney's fierce anti-Trump stance and her role as vice chairwoman of the House committee elevated her platform high enough to call on a national network of donors and Trump critics to support a White House run.
A super PAC organized to support of her candidacy has remained active, including purchasing attack ads on New Hampshire airwaves against Trump this month.
After leaving office and being replaced by a Trump-backed Republican who defeated her in last year's primary, Cheney was appointed to a professorship at the University of Virginia and wrote "Oath and Honor," a memoir scheduled to hit shelves in November.
Two of Cheney's five children as well as her mother are also graduates of the liberal arts college.
Cheney's speaking tour appears to be picking up. She is scheduled to appear Thursday at the Mackinac Policy Conference in Michigan.
How Are Girls in Afghanistan Continuing Their Education?
After the Taliban retook power in Afghanistan in 2021, they severely limited access to education for girls. Yet a club founded in the U.S., Flowers for the Future, helps Afghan girls keep learning through Zoom meetings with U.S. students. Two students, one Afghan, one American, describe their journey with the program and what it's taught them about grit, resilience and the importance of learning. Read the essays by Mahsa Kosha and Emily Khossaravi in the Hechinger Report. (May 2023)
Could Your International Degree be Financed by Goldman Sachs?
Quite possibly, since the elite U.S. investment bank has been investing millions in educational startups. Students from countries like India, Nigeria and Indonesia have long struggled to finance their U.S. degrees due to limited access to loans, but these new startups could disrupt that. For example, in just the first quarter of 2022, one startup, Prodigy Finance, reported a 98% increase in the number of Indian loan applicants. Nick Cuthbert of the PIE News breaks down the financial projections. (May 2023)