Student Union
Vaping Comes Under Fire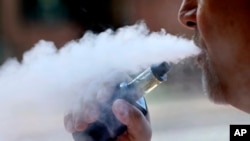 Amid an alarming surge in vaping among teenagers, Congress recently approved an unprecedented measure to curb tobacco and e-cigarette use nationwide, especially among teens.
Congress voted to increase the legal age to buy tobacco and vape products from 18 to 21 as part of a major fiscal 2020 spending agreement. First introduced in May by Senate Majority Leader Mitch McConnell, a Kentucky Republican, and Senator Tim Kaine, a Virginia Democrat, the "Tobacco-Free Youth Act" has bipartisan support and aims to tackle youth vaping.
President Donald Trump had signaled his support of the measure and signed the underlying legislation Dec. 20. However, under pressure from his own campaign manager and special interests, Trump appears to be reconsidering a plan he unveiled in September to reduce youth vaping by banning flavored e-cigarettes — an approach that experts say would be far more effective than raising the legal smoking age to 21.
Despite warnings from government agencies and anti-vaping advocacy groups, the prevalence of minors using e-cigarettes has doubled since 2017, according to data compiled by the University of Michigan and released last September by the National Institute on Drug Abuse.
Juul, the most popular e-cigarette in the U.S., controlled 75 percent of the market in 2018 and is at the center of what the U.S. Surgeon General has called an "epidemic of youth e-cigarette use." While the Centers for Disease Control and Prevention has acknowledged that no one brand is responsible for the outbreak of illnesses, as an industry leader, Juul is the focus of most finger-pointing, including from the surgeon general.
Illinois Attorney General Kwame Raoul announced a lawsuit against Juul on Dec. 12, echoing attorneys general in D.C., New York, California and North Carolina who have filed similar lawsuits this year. Multiple school districts around the country have also taken legal action against Juul.
Juul did not return phone calls or emails from VOA.
Big tobacco's influence
Officials have pointed to a forerunner — the tobacco industry — which they say provided a blueprint for the embattled company and others like it.
"Juul basically took a page from Big Tobacco's playbook by marketing its products in a manner that was appealing to underage youth," said New York Attorney General Letitia James in a press conference Nov. 19.
Juul's advertising in its first three years on the market was "patently youth oriented," according to a Stanford study, contradicting Juul's claim that their customers of choice are adult tobacco smokers. The study found that Juul recruited online influencers and focused its marketing on social media websites popular with youth.
A memo from the House Subcommittee on Economic and Consumer Policy accused Juul of deploying a "sophisticated program" to introduce its products to children. The memo revealed Juul paid $134,000 to a Baltimore charter school to organize a "holistic health education program" for low-income students. Emails obtained by the subcommittee showed that one Juul executive described the school programs as "eerily similar" to how tobacco companies market.
Juul has repeatedly denied marketing its products to teens.
"Put simply, Juul Labs isn't Big Tobacco," said Juul Labs co-founder James Monsees as he testified in a congressional hearing in July.
However, Altria Group, one of the largest tobacco companies in the world, whose subsidiary Philip Morris USA owns the popular Marlboro brand, invested $12.8 billion in Juul last year, acquiring a 35 percent stake and bolstering suspicions that e-cigarette and vape companies were influenced by major tobacco brands.
Katy Talento, a former adviser to Trump on health care policy, said she experienced the tobacco effect firsthand.
WATCH: Student Union: Former Trump Adviser Says Juul Mislead the White House
"After some of these meetings took place in the White House between Juul and the Republican lobbyists and the White House staff who work on health care issues, they announced that they were being bought by Altria," Talento told VOA. "So they were literally wedding planning with Big Tobacco while they were insisting to us that they were trying to rid the world of tobacco."
Juul isn't the only e-cigarette maker backed by the large tobacco companies. Most of the top e-cigarettes and vape producers in the U.S. are owned by tobacco giants: Imperial Brand acquired Blu from its rival R.J. Reynolds Tobacco Co. in 2014, whose subsidiary owns the popular Vuse vaporizers. British American Tobacco, second in the world only to Philip Morris International, launched Vype in 2013.
White House meeting
Top vaping representatives, tobacco executives and public health officials clashed in a televised meeting at the White House in late November. K.C. Crosthwaite, a former Altria executive who become CEO of Juul in September, was one of the executives in the room.
During the meeting, Crosthwaite said Juul could not ignore the data that suggests youth vaping is a "serious problem" and that Juul was "a part of it," and he expressed willingness to support the FDA's determinations.
Crosthwaite's statements appear to fall in line with Juul's recent actions. Following condemnation from the FDA and public outcry, Juul stopped selling its popular fruity and mint flavors and suspended all advertising in the U.S.
Vaping representatives in the Cabinet Room meeting were quick to point out that not only did the flavor removals fail to hurt Juul's business, it helped. When prodded by the president, Crosthwaite admitted that "business grew."
Anti-vape campaign
According to the CDC, 54 people have died and 2,506 people have been hospitalized from EVALI (e-cigarette or vaping product use-associated lung injury) in the U.S. Previously identified as a likely culprit, the Centers for Disease Control and Prevention reported in December that a recent study suggests vitamin E acetate is "closely associated" with EVALI.
Most of the illnesses and deaths linked to vaping were caused by THC-containing products, especially counterfeit THC products and those obtained from second-hand or informal sources like online sellers. THC is a psychoactive element of marijuana.
Furthermore, the Centers for Disease Control and Prevention announced that the cases of mysterious vaping-related illnesses have been declining since September.
Some states and cities, including New York City, have restricted the sale of flavored e-cigarettes, although exceptions are generally made for tobacco and menthol flavors. Many states have also implemented taxes and raised the legal age to 21 to combat youth vaping. In Massachusetts, the governor implemented a temporary ban on the sale of e-cigarettes and vaping products starting Sept. 24. That ban ended Dec. 24.
Uncertainty and confusion continues to persist in the vaping debate. A new study has concluded that the use of e-cigarettes increases the risk of developing chronic lung diseases, but less so than smoking.
Following a 2016 ruling that placed vaping products under the purview of the U.S. Food and Drug Adminstration's (FDA) Center for Tobacco Products, vape producers have until May 2020 to submit their products, many of which were largely unregulated, for review by the FDA.

See all News Updates of the Day
What Are US Diplomats Doing to Further International Education?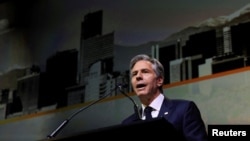 U.S. Secretary of State Antony Blinken touted his department's achievements in a recent address to NAFSA: Association of International Educators. The State Department has relaxed student visa and study abroad requirements. In fact, it issued over a half-million student visas last year – the highest number in five years. Blinken, who spent part of his childhood in France, thanked educators for "helping us to see the world through another's eyes."
Watch his remarks in this press release from the State Department. (May 2023)
Soon-to-Be Graduates Put COVID Behind Them
During the COVID-19 pandemic, learning lagged for students around the world, including the U.S., where many had access to online learning. Now these soon-to-be graduates say they are behind in certain subjects because of time missed at school. VOA's Laurel Bowman sat down with high school seniors on the cusp of graduation. Camera: Adam Greenbaum, Saqib Ul Islam.
Former US Congresswoman Liz Cheney Urges Graduates Not to Compromise With the Truth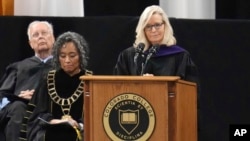 Former U.S. Congresswoman Liz Cheney implored new college graduates to not compromise when it comes to the truth, excoriating her House Republican colleagues for not doing enough to combat former President Donald Trump's lies that the 2020 election was stolen.
In a commencement speech at Colorado College, the Wyoming Republican repeated her fierce criticisms of Trump but steered clear of talking about his 2024 reelection campaign or her own political future.
Cheney, who graduated from Colorado College in 1988, recalled being a political science student walking into a campus building where a Bible verse was inscribed above the entrance that read, "Ye shall know the truth and the truth shall make you free."
"After the 2020 election and the attack of January 6th, my fellow Republicans wanted me to lie. They wanted me to say the 2020 election was stolen, the attack of January 6th wasn't a big deal, and Donald Trump wasn't dangerous," Cheney said Sunday in Colorado Springs, connecting her experiences as a student to her work in the U.S. House of Representatives. "I had to choose between lying and losing my position in House leadership."
In three terms in office, Cheney rose to the No. 3 GOP leadership position in the House, a job she lost after voting to impeach Trump for the Jan. 6, 2021, insurrection at the Capitol and then not relenting in her criticism of the former president.
Cheney's speech touched on themes similar to those she has promoted since leaving office in January: addressing her work on the House committee investigating the Jan. 6 2021 attack on the U.S. Capitol and standing up to the threat she believes Trump poses to democracy. She also encouraged more women to run for office and criticized one of the election-denying attorneys who worked for Trump after the 2020 election for recent remarks about college students voting.
"Cleta Mitchell, an election denier and adviser to former President Trump, told a gathering of Republicans recently that it is crucially important to make sure that college students don't vote," Cheney said. "Those who are trying to unravel the foundations of our republic, who are threatening the rule of law and the sanctity of our elections, know they can't succeed if you vote."
In an audio recording of Mitchell's presentation from a recent Republican National Committee retreat, she warns of polling places on college campuses and the ease of voting as potential problems, The Washington Post reported.
Most students and parents in the audience applauded throughout Cheney's remarks, yet some booed. Some students opposing the choice of Cheney as speaker turned their chairs away from the stage as she spoke.
Cheney's busy speaking schedule and subject matter have fueled speculation about whether she may enter the 2024 GOP presidential primary since she left office. Candidates ranging from Florida Gov. Ron DeSantis to former South Carolina Gov. Nikki Haley have calibrated their remarks about Trump, aiming to counter his attacks without alienating the supporters that won him the White House seven years ago.
Though some have offered measured criticisms, no declared or potential challenger has embraced anti-Trump messaging to the same extent as Cheney. She did not reference her plans on Sunday but has previously said she remains undecided about whether she wants to run for president.
Though she would face an uphill battle, Cheney's fierce anti-Trump stance and her role as vice chairwoman of the House committee elevated her platform high enough to call on a national network of donors and Trump critics to support a White House run.
A super PAC organized to support of her candidacy has remained active, including purchasing attack ads on New Hampshire airwaves against Trump this month.
After leaving office and being replaced by a Trump-backed Republican who defeated her in last year's primary, Cheney was appointed to a professorship at the University of Virginia and wrote "Oath and Honor," a memoir scheduled to hit shelves in November.
Two of Cheney's five children as well as her mother are also graduates of the liberal arts college.
Cheney's speaking tour appears to be picking up. She is scheduled to appear Thursday at the Mackinac Policy Conference in Michigan.
How Are Girls in Afghanistan Continuing Their Education?
After the Taliban retook power in Afghanistan in 2021, they severely limited access to education for girls. Yet a club founded in the U.S., Flowers for the Future, helps Afghan girls keep learning through Zoom meetings with U.S. students. Two students, one Afghan, one American, describe their journey with the program and what it's taught them about grit, resilience and the importance of learning. Read the essays by Mahsa Kosha and Emily Khossaravi in the Hechinger Report. (May 2023)
Could Your International Degree be Financed by Goldman Sachs?
Quite possibly, since the elite U.S. investment bank has been investing millions in educational startups. Students from countries like India, Nigeria and Indonesia have long struggled to finance their U.S. degrees due to limited access to loans, but these new startups could disrupt that. For example, in just the first quarter of 2022, one startup, Prodigy Finance, reported a 98% increase in the number of Indian loan applicants. Nick Cuthbert of the PIE News breaks down the financial projections. (May 2023)