Saudi Arabia's King Abdullah recently underwent relatively minor back surgery and his hospitalization triggered a host of increasingly dire rumors about the state of his health. Though the 88-year-old monarch has since recovered and appeared in public, the episode has raised new questions about royal succession, an issue that has loomed over Saudi Arabia for years.
As they advance in age, one Saudi leader after another faces the same tough decision: should the crown continue to be passed from brother to brother – the sons of the Kingdom's founder, Abdulaziz Ibn Saud? Or has the time come for a new generation of leaders?
Short-term Kings
After the sudden death of Saudi Crown Prince Nayef last June, his brother Salman, 76, was named
Crown Prince
and is likely to become the next king in spite of his poor health. But who should succeed him? Only a handful of his brothers are still living and in reasonable health, and some even ask whether they would be up to the task of leading the Kingdom.
Simon Henderson,
Baker Fellow and Director of the Gulf and Energy Program at the Washington Institute for Near East Policy, describes the Saudi monarchy as a series of "short-term kings."
"The problem is that the kings have been becoming kings later in their lives and therefore they haven't had the energy to properly serve," Henderson said. "As a result, things do not get done as they might with a younger, more energetic leader — and it raises the likelihood of political unrest."
Some in the West suggest that the obvious solution would be to pass the scepter on to the next generation – something the Kingdom has been reluctant to do for deeply entrenched reasons.
"The Saudi system confers seniority by age, and age is respected," Henderson said. "And when you have got such a value system, it is very difficult to break out of the current way of doing things."
More problematic, said Henderson, is deciding who to choose.
"Any selection of a future Crown Prince means excluding some people who are the residual sons of the founder of the Kingdom, Ibn Saud," Henderson said, "and also deciding which line of the next generation should inherit the throne."
And that could lead to rivalry, which is not without precedent in Saudi history.
​
​
Karen Elliott House
is a Pulitzer Prize-winning journalist and author of
On Saudi Arabia: Its People, Past, Religion, Fault Lines — and Future.
She has been travelling to the Saudi Kingdom for 30 years and has personally met many of the royals. She tells the story of a decade-long antagonism between former King Saud and his brother Faisal.
"When Saudi Arabia's founder, King Abdulaziz died," House said, "he named his eldest son, Saud, as his successor and his second eldest son, Faisal, as Saud's Crown Prince. And he told them over his deathbed, 'Hold hands over my body and promise you will never quarrel in public.'"
As it turned out, House said, the sons
quarreled for nearly a decade
-- until Faisal ousted Saud and made himself king. "And then he was murdered by his nephew," House added.
Observers say that perhaps the most obvious rivalry is between the so-called
'Sudairi Seven,'
sons of Abdulaziz who share the same mother, Hassa al-Sudairi, said to have been a favorite among King Abdulaziz' wives.
"The Sudairi Seven tried to dominate, did dominate, and they still do dominate," Henderson said, "but to a lesser extent, because with the death of Kings Fahd, Sultan and Nayef, they are only a 'Sudairi Four.' And one of those, Turki, lives in exile, Salman is in poor health, Ahmed has just lost his job as Minister of the Interior, and Abdulrahman is annoyed for being passed over, so it's really a 'Sudairi Two-and-a-Half.'"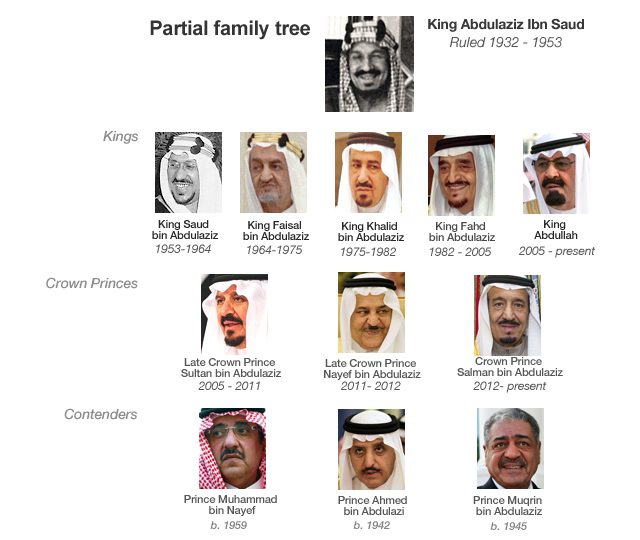 Kingmaking
House says there are no written laws governing the selection of future Saudi kings.
"Traditionally, the king and a small inner circle of powerful princes have met in secret to decide on a crown prince," House said. "Nobody is entirely sure how, and [what] the known qualifications are that he be, in essence, by age, but also be the most competent to rule."
In an attempt to pre-empt potentially bumpy transitions, King Abdullah established the
Allegiance Council
in 2006. The Council consists of 35 members representing each branch of the royal family. If any die or become incapacitated, they may be represented by their sons.
Should the current king pass away, the Council is charged with naming the new king. He then has 10 days to inform the Council whom he wants as his crown prince. He is permitted to name as many as three candidates, and if none of them are to the Council's liking,
its members may propose an alternative
.
The trouble is that the Council has never been tested. "It's the nature of the Saudi Kingdom that whoever is king can do whatever he wants," Henderson said. That means Crown Prince Salman, if he ascends the throne, could give preference to his own family line.
Royal Contenders
Only two of the 16 surviving sons of Abdulaziz are considered to be
suitable royal candidates
:
Former Interior Minister
Prince Ahmed
, Salman's full brother. At 72, Prince Ahmed is the youngest of the so-called "Sudairi Seven. In November, Ahmed was removed from his post as interior minister and replaced by his nephew,
Prince Muhammad bin Nayef
, 53. House doubts Ahmed will be picked. "It might be a problem in the family to have two full brothers serving as King and Crown Prince," she said. The former director of Saudi intelligence,
Prince Muqrin,
the youngest surviving son of King Abdulaziz, is another possible candidate.
However, Henderson says Muqrin is not likely to be selected because his mother is foreign-born. "This produces a pedigree issue, which is a big deal in Saudi," Henderson said.
Both House and Henderson do agree that there is one candidate in the third generation of princes who could emerge as Deputy Crown Prince: The new Minister of Interior,
Mohamed bin Nayef
.
"He speaks English, he's very engaging, and he has run this terrorist rehabilitation program, which apparently has been very successful," House said. She calls Mohamed bin Nayef "very "impressive."
That said, it may be some time before any significant change occurs within the ruling family.
"It's a very uncertain future for the next couple of years," Henderson said, "and of course the problems in the Middle East and the problems in the world don't stand still, so we will have concerns about the Iran nuclear program, about oil, about changes in the Arab world described as the 'Arab Spring.' We'll also have concerns about Shi'ites in the Eastern Province of Saudi Arabia and Shi'ites in neighboring Bahrain."
All of these issues will likely continue to "bubble," said Henderson — if not constantly, at least occasionally, and this is bound to cause headaches for whoever occupies the Saudi throne.