Native Americans
US Changes Names of Places With Racist Term for Native Women
The U.S. government has joined a ski resort and others that have quit using a racist term for a Native American woman by renaming hundreds of peaks, lakes, streams and other geographical features on federal lands in the West and elsewhere.
New names for nearly 650 places bearing the offensive word "squaw" include the mundane (Echo Peak, Texas), peculiar (No Name Island, Maine) and Indigenous terms (Nammi'I Naokwaide, Idaho) whose meaning at a glance will elude those unfamiliar with Native languages.
Nammi'I Naokwaide, located in traditional lands of the Shoshone and Bannock tribes in southern Idaho, means "Young Sister Creek." The tribes proposed the new name.
"I feel a deep obligation to use my platform to ensure that our public lands and waters are accessible and welcoming. That starts with removing racist and derogatory names that have graced federal locations for far too long," Interior Secretary Deb Haaland said in a statement.
The changes announced Thursday capped an almost yearlong process that began after Haaland, the first Native American to lead a Cabinet agency, took office in 2021. Haaland is from Laguna Pueblo in New Mexico.
The Native American Rights Fund, a nonprofit legal organization, welcomed the changes.
"Federal lands should be welcoming spaces for all citizens," deputy director Matthew Campbell said in a statement. "It is well past time for derogatory names to be removed and tribes to be included in the conversation."
Haaland in November declared the term derogatory and ordered members of the Board on Geographic Names, the Interior Department panel that oversees uniform naming of places in the U.S., and others to come up with alternatives.
Haaland meanwhile created a panel that will take suggestions from the public on changing other places named with derogatory terms.
Other places renamed include Colorado's Mestaa'ėhehe (pronounced "mess-taw-HAY") Pass near Mestaa'ėhehe Mountain about 30 miles (48 kilometers) west of Denver. The new name honors an influential translator, Owl Woman, who mediated between Native Americans and white traders and soldiers in what is now southern Colorado.
The Board on Geographic Names approved changing the mountain's name in December.
While the offensive term in question, identified as "sq___" by the Interior Department on Thursday, has met wide scorn in the U.S. only somewhat recently, changing place names in response to broadening opposition to racism has long precedent.
The department ordered the renaming of places carrying a derogatory term for Black people in 1962 and those with a derogatory term for Japanese people in 1974.
The private sector in some cases has taken the lead in changing the offensive term for Native women. Last year, a California ski resort changed its name to Palisades Tahoe.
A Maine ski area also committed in 2021 to changing its name, two decades after that state removed the slur from names of communities and landmarks, though it has yet to do so.
The term originated in the Algonquin language and may have once simply meant "woman." But over time, the word morphed into a misogynist and racist term to disparage Indigenous women, experts say.
California, meanwhile, has taken its own steps to remove the word from place names. The state Legislature in August passed a bill that would remove the word from more than 100 places beginning in 2025.
Democratic Gov. Gavin Newsom has until the end of September to decide whether to sign the bill into law.
See all News Updates of the Day
Busting Myths About the First Thanksgiving
All About America explores American culture, politics, trends, history, ideals and places of interest.
Every year, on the fourth Thursday in November, Americans celebrate Thanksgiving. It's a commemoration of the 1621 harvest feast when the colonists, who came from England, shared a friendly meal with the land's Indigenous people.
In Plymouth, Massachusetts, site of the first Thanksgiving, historians and others try to separate fact from fiction surrounding the legend that grew out of that initial celebratory feast that took place more than 400 years ago.
"The problem with it is that there are so many stereotypes and so much misinformation that's bundled into that story," says Paula Peters, a citizen of the Mashpee Wampanoag Tribe whose ancestors are believed to have been at the first Thanksgiving. "It's a story that really marginalizes the Wampanoag history."
The pilgrims arrived on the Mayflower in 1620. By their second winter, they were struggling, until the Indigenous people taught them how to plant crops and live off the land.
"When we think about the pilgrims coming over, we forget about the aspect of the Wampanoag people helping them survive that winter, or even navigate this land, or navigate the waters, which is very important," says Wampanoag Tribe member Malissa Costa, who oversees the Native American-themed exhibit at the Plimoth Patuxet Museums.
The living history museum, located a few kilometers from the site of the first Thanksgiving, also features a 17th-century English village. Actors dress up as pilgrims to depict the colonists' way of life, while Thanksgiving traditions are recreated for visitors.
"What the pilgrims are celebrating is literally that they are going to have food. They are not going to starve in the coming year," says Malka Benjamin, director for colonial interpretation and training at the Plimoth Patuxet Museums. "And so, guests are going to be able to help with cooking preparations for the celebration. They might get pulled into a game, a sport ... there's going to be musket firing demonstrations."
It was the sounds of guns going off that prompted Native Americans to investigate, which is how her Wampanoag ancestors came to be at the first Thanksgiving, according to Peters.
"At some point, they decided, 'Oh, this isn't a threat. They're just celebrating their harvest.' And guess what? We're all here now, so, we're all going to eat," says Peters, who used to work at the Plimouth Patuxet Museums.
That part of the story is disputed by Peters' former colleague, Richard Pickering, chief historian at the living history museum, who says that theory was discussed, but then discarded, by the museum.
The conflicting viewpoints underscore the reality that no one really knows exactly what happened at the first Thanksgiving. There are almost no firsthand accounts of the event, but there are references to a "special celebration" of the successful harvest, which included Wampanoag leader Massasoit and about 90 of his people, which included women, according to Pickering.
"For three days, we entertained and feasted," pilgrim Edward Winslow wrote in a letter to a friend in 1621. Winslow attended the harvest celebration.
"Ultimately, what happens in Plymouth in the fall of 1621 is the highest level of diplomacy," says Pickering, adding that the shared meal was a product of the alliance between the newcomers and the Native people.
"It is their willingness to show them their ways that saves the English that second year. So, we should not be projecting any kind of distrust, animus, on that event. But we should recognize that their children and their grandchildren could not sustain it," he said.
About 90% of the Native population was eventually wiped out by diseases that came with the Europeans. And the respect the pilgrims initially showed the Native people eventually gave way to disdain and dehumanization.
"As the English population grows from those 52 English men, women and children that survived the first winter to the 25,000 or more that are here 20 years later, Native people are seen as being in the way of the commodities that the English want," Pickering says. "They want their land. They want them off that land. And so, you see a changing attitude from one of admiration to one of stereotyping and derision. And it's that kind of thought that enables them to want to push them off the land with no sense of guilt."
The pilgrims originally came to America in search of religious freedom but apparently not for all, says Peters.
"They sacrificed so much for religious freedom, but they didn't offer that same grace to the Indigenous people who lived here to begin with," she says.
Harvest meal
Today, Americans often eat traditional Thanksgiving foods that include turkey, stuffing, sweet and mashed potatoes and pumpkin pie. As to what was at the original three-day feast, the museum has a display of the foods that were probably eaten at the 1621 meal.
"You have roast turkey, roast goose, and you'll see all of the classic corn, beans and squash. There's maize, beans and squash," says Pickering, pointing out the foods in a display case. "And also, the standing dish of New England, stewed pumpkin, mussels, to represent all the shellfish that was eaten."
It's believed the Wampanoag brought deer they'd hunted.
"And there probably would be some cranberries, because that was the fruit of the season," Peters says.
Into the future
The Mashpee Wampanoag Tribe has begun initial proceedings to establish their own living history museum.
The town of Mashpee, located about 43 kilometers from Plymouth, is negotiating the potential transfer of three parcels of land to the tribe for a traditional Wampanoag village and living history museum.
Costa, who oversees the similar effort at the Plimoth Patuxet Museums, is keen for visitors to know that Native Americans shouldn't be relegated to the past.
"The main thing I want them to learn is that Wampanoag people are still here," Costa says. "I want them to think of Wampanoag people as not just in the past — or even Indigenous people as in the past — but as in the present still making their way, still teaching the public."
Native Americans Regard Thanksgiving With Mixed Emotions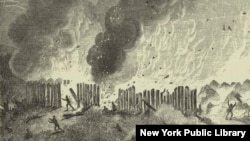 Each year on the last Thursday of November, families in the United States gather to celebrate Thanksgiving. It was originally intended as a day of prayer and gratitude — not just for good harvests but for a leader's good health or success in battle.
Today, the holiday revolves around a sentimentalized retelling of the 1620 landing of Puritan refugees at Plymouth, Massachusetts, and the harvest feast they shared with local Wampanoags.
That version omits the fact that 17 years later, Puritans would set fire to a fortified Pequot village, burning men, women and children alive.
Today, Native Americans regard Thanksgiving with mixed emotions.
"Native Americans eat and watch football just like other Americans," said Shawna Shale, a Quinault woman living in Fergus Falls, Minnesota. "But for some, it is a reminder of a dark past that is hard to celebrate."
She admits that she often wonders how differently life would have turned out if the Wampanoag tribe decided not to ally itself with the Plymouth pilgrims.
Thanksgiving memories
Many Native Americans never heard of Thanksgiving until they were sent to boarding school.
"[I am] a second-generation turkey eater, after my parents," said artist Roberta Begay, a Diné (Navajo) citizen living in Albuquerque, New Mexico. "It's a boarding school tradition. I never understood it as anything other than a time for a family gathering, eating and helping my grandparents by hauling water or going out for firewood."
Phoenix, Arizona, resident Reva Stewart, also Diné, experienced her first Thanksgiving in a Christian boarding school. She was 4 years old.
"We were given Thanksgiving dinner with the idea that we should be grateful that we were saved," she said. "Today, my family celebrates being together as a family, and we teach our children the traditional ways and not the colonizers' [version] of what happened in the past."
A sad anniversary
Amanda Takes War Bonnet is an Oglala Lakota journalist working as a public education specialist with a South Dakota nonprofit group devoted to ending violence against Indigenous women.
"My mother would always have a nice meal on Thanksgiving, with pies and everything homemade," she recalls. "It also meant hunting season had started, so the meal was held after the guys [came back from] hunting."
Thanksgiving now holds little meaning for her.
"Some years back, my son brought this huge turkey from his work to share with family. I didn't estimate the cooking time right, so we had to start the meal without it," she said.
"My son died in front of us from a heart attack," she said. "That big bird dried up in the oven, forgotten."
She never roasted another turkey after that.
"Maybe someday, we will heal, but for now, 'Turkey Day' is just a great holiday to not work and relax with a prime rib roast."
'A golden opportunity'
Oglala Lakota journalist James Giago Davies grew up in Rapid City, South Dakota, where churches and charity groups gave out free turkeys and all the "fixings."
"We were a poor Native family, struggling to survive," he said. "Thanksgiving was a golden opportunity to get extra food and have a good meal. We never thought of it beyond that immediate pressing reality, and I don't know of any families from my 'rez' who did. Maybe it is different now."
David Cornsilk, a citizen of the Cherokee Nation from Tahlequah, Oklahoma, grew up in a traditional household where Thanksgiving was never celebrated.
"My dad opposed it, saying there was nothing Indian people had to celebrate in America," Cornsilk said. "But he never talked about history. It was not until high school that I learned the truth about Indigenous history and then only because I had become a voracious reader of history."
Years later, Cornsilk married into a Cherokee family he describes as the "polar opposite."
"Where we were traditional, they were Christian. Where we rejected Thanksgiving, they embraced it and had a huge feast with a large family gathering," he said.
It is a tradition he has passed on to his children and grandchildren.
"The difference will be that my children and grandchildren know their history," he said. "We give thanks for our blessings and share our bounty in a land we love with the people we love."
'Takesgiving'
Lynn Eagle Feather, a Sicangu Lakota living in Denver, Colorado, says she lost her son to police violence in July 2015 and has been seeking justice ever since.
"Thanksgiving?" she asks. "You mean 'Takesgiving.'"
She plans to spend the holiday demonstrating outside of a Denver hospital where staff cut off the waist-length hair of 65-year-old Oglala Lakota elder Arthur Janis, without his or his family's permission, while he was undergoing medical treatment.
"This is Native American Heritage Month," Eagle Feather said, "and our people are still suffering."
Solar Panels Over Canals in Gila River Indian Community Will Help Save Water
In a move that may soon be replicated elsewhere, the Gila River Indian Community recently signed an agreement with the U.S. Army Corps of Engineers to put solar panels over a stretch of irrigation canal on its land south of Phoenix.
It will be the first project of its kind in the United States to break ground, according to the tribe's press release.
"This was a historic moment here for the community but also for the region and across Indian Country," said Gila River Indian Community Governor Stephen Roe Lewis in a video published on X, formerly known as Twitter.
The first phase, set to be completed in 2025, will cover 1,000 feet of canal and generate one megawatt of electricity that the tribe will use to irrigate crops, including feed for livestock, cotton and grains.
The idea is simple: install solar panels over canals in sunny, water-scarce regions where they reduce evaporation and make renewable electricity.
"We're proud to be leaders in water conservation, and this project is going to do just that," Lewis said, noting the significance of a Native, sovereign, tribal nation leading on the technology.
A study by the University of California, Merced estimated that 63 billion gallons of water could be saved annually by covering California's 4,000 miles of canals. More than 100 climate advocacy groups are advocating for just that.
Researchers believe that much of the installed solar canopies would additionally generate a significant amount of electricity.
UC Merced wants to hone its initial estimate and should soon have the chance. Not far away in California's Central Valley, the Turlock Irrigation District and partner Solar AquaGrid plan to construct 1.6 miles (2.6 kilometers) of solar canopies over its canals beginning this spring and researchers will study the benefits.
Neither the Gila River Indian Community nor the Turlock Irrigation District are the first to implement this technology globally. Indian engineering firm Sun Edison inaugurated the first solar-covered canal in 2012 on one of the largest irrigation projects in the world in Gujarat state. Despite ambitious plans to cover 11,800 miles (19,000 kilometers) of canals, only a handful of small projects ever went up, and the engineering firm filed for bankruptcy.
High capital costs, clunky design and maintenance challenges were obstacles for widespread adoption, experts say.
But severe, prolonged drought in the western U.S. has centered water as a key political issue, heightening interest in technologies like cloud seeding and solar-covered canals as water managers grasp at any solution that might buoy reserves, even ones that haven't been widely tested, or tested at all.
Still, the project is an important indicator of the tribe's commitment to water conservation, said Heather Tanana, a visiting law professor at the University of California, Irvine and citizen of the Navajo Nation. Tribes hold the most senior water rights on the Colorado River, though many are still settling those rights in court.
"There's so much fear about the tribes asserting their rights and if they do so, it'll pull from someone else's rights," she said. The tribe leaving water in Lake Mead and putting federal dollars toward projects like solar canopies is "a great example to show that fear is unwarranted."
The federal government has made record funding available for water-saving projects, including a $233 million pact with the Gila River Indian Community to conserve about two feet of water in Lake Mead, the massive and severely depleted reservoir on the Colorado River. Phase one of the solar canal project will cost $6.7 million and the Bureau of Reclamation provided $517,000 for the design.
Native American News Roundup November 12-18, 2023
These are some of the Native American-related stories that made headlines this week:
Oklahoma lawmaker, union boss, come close to blows in Senate hearing room
Oklahoma Republican Senator Markwayne Mullin, a former mixed martial arts fighter and a citizen of the Cherokee Nation, says he isn't sorry for challenging Teamster president Sean O'Brien to a fist fight during a Senate committee hearing on Tuesday.
Independent Senator Bernie Sanders, chairman of the Senate Health, Education, Labor and Pensions Committee, was forced to intervene.
This wasn't the pair's first clash. During a committee hearing in March, O'Brien and Mullin shouted at each other. That led to a series of angry exchanges on social media platform X. In June, O'Brien challenged Mullin to a fight.
"You know where to find me. Anyplace, anytime, cowboy," O'Brien said.
Mullin responded on X:
That fight never took place.
"People ask me today is this becoming of a U.S. senator," Mullin told FOX News. "In Oklahoma, you don't run your mouth like that, and if you do run your mouth like that, you're expected to be called out on it."
Read more:
Feds to fund Native Hawaiian-led climate resilience program
Democratic Senator Brian Schatz, chairman of the Senate Committee on Indian Affairs, this week announced $20 million in funding for the Kapapahuliau Climate Resilience Program to help the Native Hawaiian community mitigate the challenges of climate change.
"Through the Kapapahuliau Climate Resilience Program, the federal government is directly funding Native Hawaiian-led climate solutions for the first time ever," Schatz said. "This $20 million down payment — part of the Inflation Reduction Act's historic investment in climate action — recognizes the critical role of the Native Hawaiian Community in charting a path towards a sustainable, climate resilient future in Hawaii and beyond."
The Fifth U.S. National Climate Assessment, released earlier this week, says Indigenous peoples and their knowledge will be central to the resilience of Hawaiian and Pacific Island communities addressing changing climate.
Read more:
USDA to fund traditional Native American forestry in Oregon
The U.S. Department of Agriculture's Natural Resources Conservation Service has awarded $9.23 million to the Oregon Agricultural Trust (OAT) and its partners for projects using traditional Native American land management practices to restore Oregon's oak habitat.
Long before Europeans set foot in North America, Indigenous communities used fire to clear land for agriculture or roadways, rejuvenate plants, eradicate pests and avoid devastating wildfires.
Since 2000, wildfires have become larger and more frequent across the United States, and a growing number of localities have begun to embrace so-called "cultural burns" as part of the solution.
"Use of cultural fire, traditional fire, on the landscape usually entails people who are trained or have the wildfire qualifications," said Ka-Voka Jackson, program manager for the EcoStudies Institute, an OAT partner. "That usually entails fire trucks or water resources, the use of drip torches, other hand tools."
The project will work with tribes to protect Oregon's iconic oak trees. It will also give Native Americans access to oak forests for cultural use and environmental stewardship.
Read more:
Confusion in Oklahoma over state, tribal vehicle law
Tribal leaders in Oklahoma are outraged after a state police officer stopped an Otoe-Missouria tribal citizen for speeding and gave her two tickets: one for speeding and a another for failing to pay state motor vehicle taxes because she did not live on tribal land.
The U.S. Supreme Court ruled in 1993 that Indigenous Oklahomans could register a vehicle through their tribe if they reside inside reservation boundaries. The ruling also says the state doesn't have the authority to tax tribal citizens living on reservations.
Three of the 39 tribes in Oklahoma — the Cherokee, Chickasaw and Choctaw — have compacts with the state that allow tribe members to drive with tribal car tags wherever they live.
Members of the other 36 tribes that do not have compacts — including the Otoe-Missouria — are supposed to register their vehicles with the state.
Oklahoma Governor Kevin Stitt, says his main concern is that some tribal governments don't share vehicle registration information with the Department of Public Safety, making it a "public safety issue that puts law enforcement and others at risk."
Otoe-Missouria Chairman John Shotton suggests the state has not enforced the law until now.
"After over 20 years of cooperation between the State and Tribes regarding vehicle tag registration, it appears the State has altered its position of understanding concerning tribal tags," Shotton said in a statement. "This change was made without notice or consultation with all Tribes that operate vehicle tag registration."
Read more:
Judge Rules Against Tribes in Fight Over Nevada Lithium Mine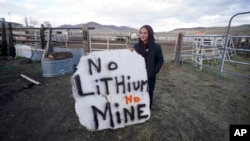 A federal judge in Nevada has dealt another legal setback to Native American tribes trying to halt construction of one of the biggest lithium mines in the world.
U.S. District Judge Miranda Du granted the government's motion to dismiss their claims the mine is being built illegally near the sacred site of an 1865 massacre along the Nevada-Oregon line.
But she said in last week's order the three tribes suing the Bureau of Land Management deserve another chance to amend their complaint to try to prove the agency failed to adequately consult with them as required by the National Historic Preservation Act.
"Given that the court has now twice agreed with federal defendants (and) plaintiffs did not vary their argument ... the court is skeptical that plaintiffs could successfully amend it. But skeptical does not mean futile," Du wrote Nov. 9.
She also noted part of their case is still pending on appeal at the 9th U.S Circuit Court of Appeals, which indicated last month it likely will hear oral arguments in February as construction continues at Lithium Nevada's mine at Thacker Pass about 370 kilometers northeast of Reno.
Du said in an earlier ruling the tribes had failed to prove the project site is where more than two dozen of their ancestors were killed by the U.S. Cavalry Sept. 12, 1865.
Her new ruling is the latest in a series that have turned back legal challenges to the mine on a variety of fronts, including environmentalists' claims it would violate the 1872 Mining Law and destroy key habitat for sage grouse, cutthroat trout and pronghorn antelope.
All have argued the bureau violated numerous laws in a rush to approve the mine to help meet sky-rocketing demand for lithium used in the manufacture of batteries for electric vehicles.
Lithium Nevada officials said the $2.3 billion project remains on schedule to begin production in late 2026. They say it's essential to carrying out President Joe Biden's clean energy agenda aimed at combating climate change by reducing dependence on fossil fuels.
"We've dedicated more than a decade to community engagement and hard work in order to get this project right, and the courts have again validated the efforts by Lithium Americas and the administrative agencies," company spokesperson Tim Crowley said in an email to The Associated Press.
Du agreed with the government's argument that the consultation is ongoing and therefore not ripe for legal challenge.
The tribes argued it had to be completed before construction began.
"If agencies are left to define when consultation is ongoing and when consultation is finished ... then agencies will hold consultation open forever — even as construction destroys the very objects of consultation — so that agencies can never be sued," the tribal lawyers wrote in recent briefs filed with the 9th Circuit.
Will Falk, representing the Reno-Sparks Indian Colony and Summit Lake Paiute Tribe, said they're still considering whether to amend the complaint by the Dec. 9 deadline Du set, or focus on the appeal.
"Despite this project being billed as `green,' it perpetrates the same harm to Native peoples that mines always have," Falk told AP. "While climate change is a very real, existential threat, if government agencies are allowed to rush through permitting processes to fast-track destructing mining projects like the one at Thacker Pass, more of the natural world and more Native American culture will be destroyed."
The Paiutes call Thacker Pass "Pee hee mu'huh," which means "rotten moon." They describe in oral histories how Paiute hunters returned home in 1865 to find the "elders, women, and children" slain and "unburied and rotting."
The Oregon-based Burns Paiute Tribe joined the Nevada tribes in the appeal. They say BLM's consultation efforts with the tribes "were rife with withheld information, misrepresentations, and downright lies."