A legislative proposal out of Washington may soon give hope to millions of illegal immigrants living in the United States, while at the same time sparking renewed fears of a system run amok and warnings that years of inaction have made the problem only more complex.
The plan, being floated by a group of Democratic and Republican senators, calls for a "tough but fair" path to citizenship that helps attract and retain high-skilled workers while ensuring immigrants who apply for jobs are in the country legally.
Groups like the Federation for American Immigration Reform (FAIR) are not impressed.
"To a certain extent this is déjà vu," said Special Projects Coordinator Jack Martin. "It basically is a rehash of the push that was made in 2007 to come up with a comprehensive immigration reform that could pass. And it did not pass Congress."
FAIR's biggest objection is the plan's path to citizenship for unauthorized immigrants, a provision it sees as nothing more than a general amnesty.
"The public basically opposes that because of the fact that they want people to come into our country legally, and they see the amnesty-type proposal as encouraging more illegal immigration," Martin said.
Yet that "tough but fair path" to citizenship is exactly what many groups that work with undocumented workers have been clamoring for, and something they say has been sorely lacking from the country's intense focus on immigration enforcement.
"It's almost like the Wild West where workers are isolated and they have very little rights and protection," said Ai-jen Poo, director of the National Domestic Workers Alliance and co-director of the Caring Across Generations Campaign.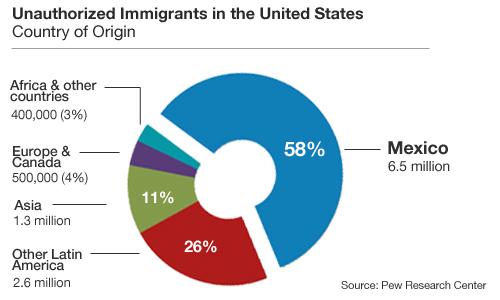 Family is key
The National Domestic Workers Alliance represents nannies, housekeepers and other caregivers, not all of whom are in the U.S. legally. Poo says many have already been given the responsibility of caring for the country's children and elderly — some of the most vulnerable members of society — although they themselves have nowhere to turn when victimized by crime or abuse.
"[They are] living in fear of immigration enforcement, living in fear that on your way to work you could be stopped at a checkpoint and deported immediately and separated from your own family," she said.
Other groups that work with undocumented U.S. immigrants worry that many immigrants find themselves in a similar situation — unskilled laborers with few trusted places to turn to for help.
The Pew Hispanic Center, a Washington, D.C.-based research group, estimates of the 11.1 million unauthorized immigrants living in the United States in 2011, the majority are in jobs that currently require little education and little or no certification, like construction, food service or even light manufacturing.
But Pew Hispanic Center Senior Demographer Jeffrey Passel argues those numbers tell only part of the story.
"The stereotype is a young man who is here maybe working in construction or agriculture, and there are a lot of those people," he said. "But 40 percent of the adult unauthorized immigrants are women. Those women and most of the adult men are in families. There's about four and a half million U.S. citizen children who have parents who are unauthorized immigrants. So we're talking largely about young working families."
Pew estimates that between 40 and 50 percent of the adult unauthorized immigrants in the U.S. are parents of U.S.-citizen children. Two-thirds of them have been in the U.S. for 10 or more years.
"This is a group that has come here, formed families and put down roots," Passel said.
Illegal immigration slowing
According to the Pew Hispanic Center, about 60 percent of the unauthorized immigrants currently in the United States — more than six million — are from Mexico; another 400,000 to 500,000 are from El Salvador, with significant numbers from Guatemala and Honduras, and smaller numbers from other Latin American countries. But Passel says the numbers of new illegal immigrants to the U.S., especially from Mexico, is falling substantially, in part because of a down U.S. economy and in part because U.S. enforcement measures are working.
"We have data that tells us that it's gotten much more expensive to hire a smuggler. It's physically gotten more difficult to get into the United States, to sneak in," he said.
Last May, a study by the Pew Hispanic Center found "the net migration flow from Mexico to the United States has stopped and may have reversed."
Meanwhile, the numbers of illegal immigrants from outside Latin America remain relatively small. According to Passel, several hundred thousand unauthorized immigrants in the U.S. come from India, China and other Asian countries, many of whom did not sneak into the United States but, instead, overstayed their visas.
Then there is the problem of the high tech and skilled workers that companies want to bring into the United States but cannot.
"We have major fashion designers who cannot get their models and their staff in the United States on visas that cap out in certain seasons," said Michael Wildes, managing partner of the immigration law firm Wildes & Weinberg. "America [sic] then gets marginalized because we're not effectively up to speed on the needs of certain commercial industries and corridors."
Targeting workers to stay
One of the sectors that has been most vocal has been high-tech.
"We have a large number of people — it's estimated to be somewhere in the range of 500,000 people — who are here on a temporary basis, and many of them face a very long backlog," said David Hart, director of the Center for Science and Technology Policy at George Mason University.
"There's no question that they are going to stay, that they add value to our country," he said.
But Hart warns many of them get stuck, unable to advance in their careers or move on from the companies that sponsored their entry into the country, and that ultimately hurts U.S. competitiveness and job creation.
"One of the things that they bring to that process are relationships with businesses and communities in their home countries," he said. "They can help to drive exports. They can help to create businesses that native-born Americans wouldn't have thought of starting."
The plan being floated by the group of eight U.S. senators aims to make sure "the world's future innovators and entrepreneurs" are not forced to leave.
But for groups like FAIR, concerns remain. Martin argues any plan that looks at increasing immigration levels — whether for skilled or unskilled labor — "flies in the face of what we think is appropriate."
"We have so many unskilled Americans who are out of jobs, and they also question the need for any expansion of skilled immigration because of the fact that we similarly have many skilled Americans looking for jobs who are out of work," he said.