Student Union
What Is 'White Privilege' and Whom Does It Help?
Following the death in May of black American George Floyd after he was restrained by police in Minneapolis, the national conversation in the United States has turned from the global coronavirus pandemic to racial and social justice.
Those discussions are often punctuated by complaints about "white privilege," which are controversial for some people. But the words do not always have the same meaning to all users.
"White privilege doesn't mean white people (aren't) murdered, doesn't mean white people (don't) live in poverty or suffer from bullying/mental illness. White privilege means we don't suffer these things as a direct result of the color of our skin," Twitter user @mullificent89 tweeted on June 9.
White privilege doesn't mean white people arent murdered, doesn't mean white people dont live in poverty or suffer from bullying/mental illness. White privilege means we don't suffer these things as a direct result of the colour of our skin. LISTEN #BlakeLivesMatter #ThisMorning

— 𝔄𝔦𝔰𝔩𝔦𝔫𝔤 🦙 (@mullificent89) June 9, 2020
"White privilege doesn't mean white people are *never* punished, just that they're regularly punished less harshly for the same crimes," said another tweet from @thermopanda_xl.
Your don't appear to understand what is being discussed. White privilege doesn't mean white people are *never* punished, just that they're regularly punished less harshly for the same crimes.

— Brad (@thermopanda_xl) June 16, 2020
Origins
Today's understanding of white privilege builds on concepts published in the 1930s by civil rights activist W. E. B. Du Bois, the first African American to graduate with a Ph.D. from Harvard University, and one of the founders of the National Association for the Advancement of Colored People (NAACP).
Du Bois argued that the poverty shared by poor whites and blacks should have united them. But whites had freedom of movement "to public functions, public parks, and the best schools" that blacks did not. Legal obstacles made it harder for blacks to vote, leaving politicians with more incentive to address white people's concerns.
"White schoolhouses were the best in the community, and conspicuously placed, and they cost anywhere from twice to ten times as much per capita as the colored schools," Du Bois said in his 1935 book "Black Reconstruction in America."
White voters — rich or poor — put public officials in office, Du Bois wrote, "and while this had small effect upon the economic situation, it had great effect upon their personal treatment and the deference shown them."
Voting rights and equal access to public facilities would only be afforded to blacks in stages — when the Supreme Court desegregated schools in Brown v. the Board of Education in 1954; when the Civil Rights Act of 1964 was passed to make discrimination illegal; and when the Voting Rights Act of 1965 was passed to end racial discrimination in voting.
Cliff von Howell, professor of African American history at Delaware State University, says Du Bois was making a class or economic point.
"He's saying how systemically the working-class white man and the working-class black man have more in common than they do with the elite class," Howell told VOA.
But "when power brokering is happening, the whites have a higher standing," Howell said, "because though they have little in common with the elite whites, they psychologically have nothing in common with the powerless Negroes. Thus, a constant fight for wages among what could have been natural allies fuels the racist system of oppression in America."
The term "white privilege" was used in 1988 by Peggy McIntosh, an activist and associate director of the Wellesley College Center for Research on Women, when she published "White Privilege: Unpacking the Invisible Knapsack."
"As a white person, I realized I had been taught about racism as something that puts others at a disadvantage," she wrote. But she hadn't been taught the flip side, she said, that white privilege "puts me at an advantage."
Today, the phrase is used passionately and widely in the context of racial profiling — police treatment of people as criminal suspects based on their race.
"White privilege means that essentially you don't have to go through any obstacles if at all, that other races have to experience consistently," said Thomas Brown, 18, a sophomore at the College of Southern Maryland. "That privilege is expanded across literally anything in life. That's what white privilege is to me," he told VOA.
Lyndsay Rivers, 19, a biotechnology student at the University of Maryland, said white privilege to her "means having a system of advantages at your disposal that no other race has, simply because you are white, and that said system puts black people and other POC (people of color) at a disadvantage in life."
Both Brown and Rivers are black.
White privilege and police brutality
The use of excessive force by police in recent incidents against people of color has brought the term to the forefront as a protest chant.
Observers point to the deaths of Freddie Gray, Eric Garner, Philandro Castile, Breonna Taylor and Floyd as examples of blacks being treated more aggressively in confrontations with police.
Gray, Garner and Floyd died in custody after being restrained. Castile was shot in his car while explaining to an officer he had a legal permit to carry his gun. Taylor was asleep in bed when she was shot by officers who forced their way inside her home. All but Taylor's encounter with police were recorded on phone video and went viral on social media.
Taylor's death prompted the passage in June of "Breona's Law," which bans no-knock search warrants used by Louisville, Kentucky, police.
"White privilege is knowing police officers aren't going to racially profile you. White privilege is never being told to go back to your country. White privilege is never having to hyphenate your American-ness (ex. African-American, Asian-American, etc.)" Twitter user @j13ohara tweeted on June 9.
White Privilege is knowing police officers aren't going to racially profile you.

White Privilege is never being told to go back to your country.

White Privilege is never having to hyphenate your American-ness (ex. African-American, Asian-American, etc.)

— jan (@j13ohara) June 10, 2020
Lessons learned
Many celebrities have also used social media and their late-night television programs to display comments and perspectives about white privilege.
"I know that a lot of white people bristle when they hear the word privilege, as in white privilege, because there are millions of white people who did not grow up with money or a good education or a solid family background or maybe even a family at all," "Jimmy Kimmel Live!" host Jimmy Kimmel said in a June 2 monologue.
But he said that picture changed for him when he pondered how often excessive force is used against people of color that is not captured on video.
"How often does this happen without a camera recording the whole thing? … And then we're shocked, and black people are like, 'Why are you shocked? We've been telling you this has been happening over and over again.' So, if you're wondering why people are angry and why they can't just march nicely in the street holding up their signs in a single file line, maybe that's why," Kimmel said.
"White privilege is a complex yet critically important concept," Erin Cooley, an assistant professor of psychology at Colgate University in Hamilton, New York, explained in written remarks to VOA.
"That said, more research is needed to clarify how to harness white privilege lessons to combat hierarchy. Further, continual education about all of the ways white privilege may shape different aspects of our society (e.g., wealth redistribution, police use of force, hiring/promotion decisions) is imperative to begin to address persistent systemic racism."
Ruby Rosenthal and Sarmat Misikov contributed to this report.

See all News Updates of the Day
Why Are Americans Less Confident in Higher Education?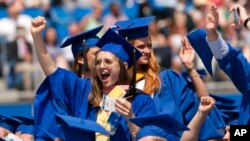 Only about 4 in 10 Americans say they have a "great deal" or "quite a lot" of confidence in higher education. Sarah Wood of U.S. News & World Report examines why and offers some solutions. (August 2023)
Research Helps Applicants Be More Competitive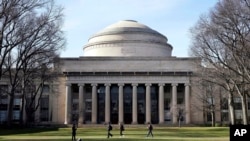 Between a third to half of all students admitted to the University of Pennsylvania and the California Institute of Technology feature high school research projects in their applications, and the MIT application even has a dedicated section for them.
Such projects can be "both a differentiator and an equalizer" in the admissions process: they can show your own individual drive and creativity, while also being accessible to students of all races and incomes. Read Janos Perczel's argument in The Hechinger Report. (August 2023)
Chinese Students Abroad Face 'A Tale of Two Fears'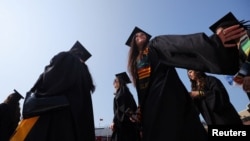 An op-ed in Politico argues that Chinese international students are often reluctant to discuss their country's politics. They suggest two reasons. First, they fear punishment for themselves or their families by the Chinese Communist Party. Second, as anti-Chinese sentiments surge in many countries, they worry about discrimination.
Read the piece by Jianyi Yang and Leslie Fu. (September 2023)
Racial Diversity at Johns Hopkins Could Be in Trouble
Johns Hopkins University, a prestigious research institution in Baltimore, Maryland, boosted its racial diversity by expanding outreach and financial aid, as well as getting rid of "legacy" admissions — those admitted because they have a relative who previously attended the school. However, the U.S. Supreme Court banned affirmative action in college and university admissions earlier this year. Now Johns Hopkins, and other schools, must find a way forward. Susan Svrluga and Nick Anderson report for The Washington Post. (August 2023)
Enrollments Are Down, Budgets Are Tight; One College's Answer: Pizza-Carrying Robots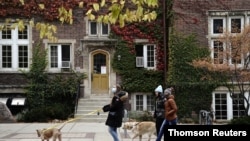 To cut costs, many colleges, including the University of Wisconsin-Madison, are using robots to deliver food in dining halls and at sports games. Students can order food with an app, and the robot will deliver it to them.
According to the robot's manufacturer, 64% of students surveyed say the service has kept them from skipping meals. Lauren Coffey of Inside Higher Ed has more. (August 2023)