Student Union
12 Campus Spots Feeling Just as Conflicted About the End of Summer as You Are
Let's be honest. By the end of the summer you're just a little bit ready for it to be over - to get back to learning, to all your extracurricular activities, and especially to all your friends. Summer can sometimes get a bit lonely, right? Even if you do know that it'll only take about a week until you're wishing for the relative peace and quiet of vacation. Here are 12 campus spots that seem to be feeling the same - longing for their students to return (but looking like they just might regret it when they do).
This library at Boise State University
This stadium at the University of Michigan
These bike racks at Arizona State University
This student center at the University of South Florida
This classroom at the University of Toronto
This street at the University of Washington, Seattle
This courtyard (and the computer center in the background) at Arizona State University
This chapel at the University of Chicago
This reading room at North Carolina State University
This dorm room at Vassar College
This passageway at Stanford University
This chair behind the campus center at the University of Washington, Seattle
See all News Updates of the Day
Union Support Grows Among US Graduate Students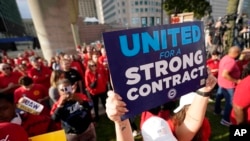 Labor unions are finding support among graduate students at U.S. colleges and universities, according to a new report.
Graduate students, upset by working conditions and pay, have held a series of organizing votes in the past two years, Times Higher Education reports. (September 2023).
Why Are Americans Less Confident in Higher Education?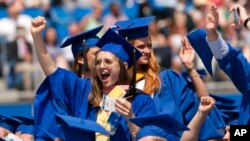 Only about 4 in 10 Americans say they have a "great deal" or "quite a lot" of confidence in higher education. Sarah Wood of U.S. News & World Report examines why and offers some solutions. (August 2023)
Research Helps Applicants Be More Competitive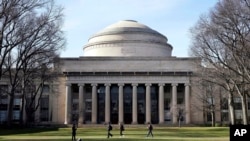 Between a third to half of all students admitted to the University of Pennsylvania and the California Institute of Technology feature high school research projects in their applications, and the MIT application even has a dedicated section for them.
Such projects can be "both a differentiator and an equalizer" in the admissions process: they can show your own individual drive and creativity, while also being accessible to students of all races and incomes. Read Janos Perczel's argument in The Hechinger Report. (August 2023)
Chinese Students Abroad Face 'A Tale of Two Fears'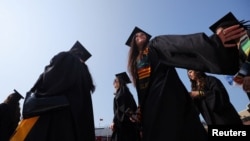 An op-ed in Politico argues that Chinese international students are often reluctant to discuss their country's politics. They suggest two reasons. First, they fear punishment for themselves or their families by the Chinese Communist Party. Second, as anti-Chinese sentiments surge in many countries, they worry about discrimination.
Read the piece by Jianyi Yang and Leslie Fu. (September 2023)
Racial Diversity at Johns Hopkins Could Be in Trouble
Johns Hopkins University, a prestigious research institution in Baltimore, Maryland, boosted its racial diversity by expanding outreach and financial aid, as well as getting rid of "legacy" admissions — those admitted because they have a relative who previously attended the school. However, the U.S. Supreme Court banned affirmative action in college and university admissions earlier this year. Now Johns Hopkins, and other schools, must find a way forward. Susan Svrluga and Nick Anderson report for The Washington Post. (August 2023)