Student Union
Could Your International Degree be Financed by Goldman Sachs?
Quite possibly, since the elite U.S. investment bank has been investing millions in educational startups. Students from countries like India, Nigeria and Indonesia have long struggled to finance their U.S. degrees due to limited access to loans, but these new startups could disrupt that. For example, in just the first quarter of 2022, one startup, Prodigy Finance, reported a 98% increase in the number of Indian loan applicants. Nick Cuthbert of the PIE News breaks down the financial projections. (May 2023)
See all News Updates of the Day
How Are Girls in Afghanistan Continuing Their Education?
After the Taliban retook power in Afghanistan in 2021, they severely limited access to education for girls. Yet a club founded in the U.S., Flowers for the Future, helps Afghan girls keep learning through Zoom meetings with U.S. students. Two students, one Afghan, one American, describe their journey with the program and what it's taught them about grit, resilience and the importance of learning. Read the essays by Mahsa Kosha and Emily Khossaravi in the Hechinger Report. (May 2023)
How Do College Sports Bring Together American and International Students?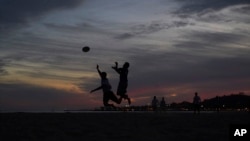 The game of Ultimate Frisbee has no referees and isn't governed by the official association for U.S. college sports. But it is intensely competitive, and students from Australia, China and elsewhere travel to the U.S. to play for the best schools. Andrew Smith of VOA Learning English reports on how college athletics can forge international friendships outside the classroom. (May 2023)
Is It Possible for Vietnamese Universities to Find Ways to Attract American Students to Study Abroad?
Vietnamese students now make up the fifth-largest group of foreign students in the U.S., according to the 2022 Institute of International Education's (IIE) annual Open Doors report. The report found 20,713 Vietnamese students studied in the U.S. in the 2021-2022 academic year.
But now some Vietnamese universities have recently begun trying to attract U.S. students to study in Vietnam, a goal that is challenging, some education experts told VOA's Khanh An. (May 2023)
Is Your Dream School in Good Financial Shape?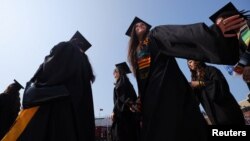 The global consultancy Bain and Company has released an interactive tool to measure the financial health of U.S. colleges. You can use it to see what might happen if enrollments decline, or if the U.S. enters a recession. Bain's analysis suggests many schools are not prepared for future economic shocks. (May 2023)