Student Union
International Students Find Family at Community College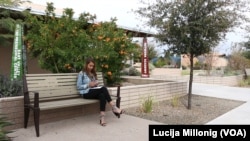 MESA, ARIZONA —
When Emma Seguy first arrived in the United States for school, she spent most nights reading the dictionary.
And crying.
Seguy was 16 when she arrived in Arizona from France, after convincing her parents to let her become an exchange student at an American high school. But adapting was more challenging than she expected. Her English language skills were not as strong as she hoped. She missed her family back in Paris.
But with the help of a loving host family and community, Seguy, now 20, survived and thrived. The family — total strangers when they opened their home to Seguy —provided emotional support and helped her succeed in her studies. They became a second family.
She also made American friends in her French class by helping them learn her native language. Within this community, she decided to stay on in the same town as her high school, continuing her studies at Mesa Community College.
"It was supposed to be only for 10 months," Seguy said. "And I ended up staying with them for three years, and they are still a big part of my life."
Mesa Community College is a big public community college with about 20,400 students who typically earn associate degrees after two years of study. It is about 20 miles from Phoenix, the state capital and largest city, in the hot and dry American Southwest.
Community colleges cost less than most other schools. That was attractive to Fabrice Hampoh, 23, from the Ivory Coast, when he first considered international study. His family does not have much money, he said.
Hampoh started college at the Universite de Cocody in the Ivory Coast, where he sought a bachelor's degree in sociology in 2014. But he dreamed of studying in the United States. Through the U.S. embassy in Abijan, Hampoh learned of a special U.S. State Department program called the Community College Initiative (CCI).
CCI provides scholarships to international students to spend up to one academic year at U.S community colleges, including travel and living costs. Hampoh applied to the CCI program in 2017, was accepted and was sent to Mesa.
Like Seguy's family, Hampoh's did not want him to go. He convinced his mother that he would have a support system waiting for him.
And like Seguy, his host family was welcoming and supportive. Hampoh said they treated him like a son. And they taught him how to survive in a foreign country.
For example, because CCI requires students to volunteer 100 hours of community service, Hampoh's host family asked him if he'd like to join their volunteer projects. He worked with them helping disadvantaged young Americans go to college and getting solar panel technology to Afghanistan.
Hampoh said his host father also taught him many important life lessons. Many international students like him arrive in the United States not knowing how to swim. In the U.S., many communities — especially in hot climates like Arizona — have public swimming pools or nearby beaches.
"He is actually the one who taught me from scratch how to swim," Hampoh said. "Now, I'm like a fish."
After completing her associate degree at Mesa last year, Seguy applied for Optional Practical Training (OPT), which allows international students with an F-1 visa to work in the U.S. for up to one year in a field related to their studies. She has applied her love of teaching and experience with a disabled aunt to working in special education at an elementary school in Mesa under the OPT program.
Seguy, like many graduates of community colleges, will move on to a four-year institution. She hopes to earn her bachelor's degree at Arizona State University, starting this fall, she said. After that, she plans to return to France.
But like Hampoh, she said the family that chose to host her and made her feel so welcome will never be far from her heart.
See all News Updates of the Day
International Student Says New Culture Can Unlock New Perspectives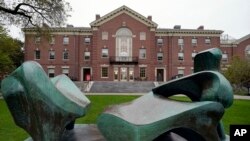 Alba Sinusia Lozano, a Spaniard studying at Auburn University in the U.S. state of Alabama, writes about adapting to a new culture in this column from The Auburn Plainsman student newspaper. (October 2023)
International Student Finds Forging New Life Tough but Rewarding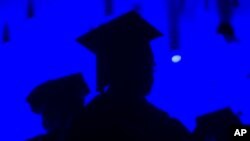 Kaitlynne Rainne, a student from Belize studying at Savannah College of Art and Design in the U.S. state of Georgia, writes about her experiences for the website Her Campus.
Studying abroad, she writes, has been "life-changing and the best thing I could've done for my future." Read her piece here. (October 2023)
US Schools With Highest International Student Admission Rates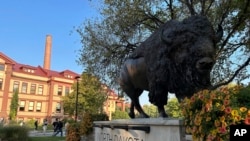 US News & World Report says the average rate of acceptance for international students at U.S. schools is around 42%.
Here, the magazine looks at schools with the highest admission rates, with at least one with a 98% admission rate. (October 2023)
Brazilian Studying in US Reflects on Her First Month on Campus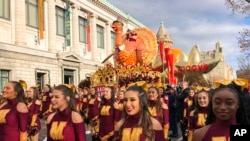 Julia Rabelo, a Brazilian studying in the U.S. state of Texas, has spent a month on campus, and she says she's learned a lot.
Here, she offers her top tips for students looking to study in the U.S. They include getting involved in campus organizations, keeping in touch with loved ones at home and remembering to have fun. (October 2023)
More than 200,000 Students Just Got Into College – Without Applying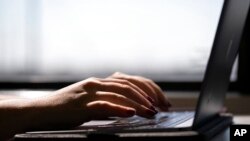 The Common Application, the largest application system in the U.S., automatically admitted the students based on their reported grades. The goal is to ease stress for students and fill seats. Nick Anderson has more in The Washington Post. (November 2023)